Interview: Brian Setzer
By Vintage Rock | November 29, 2021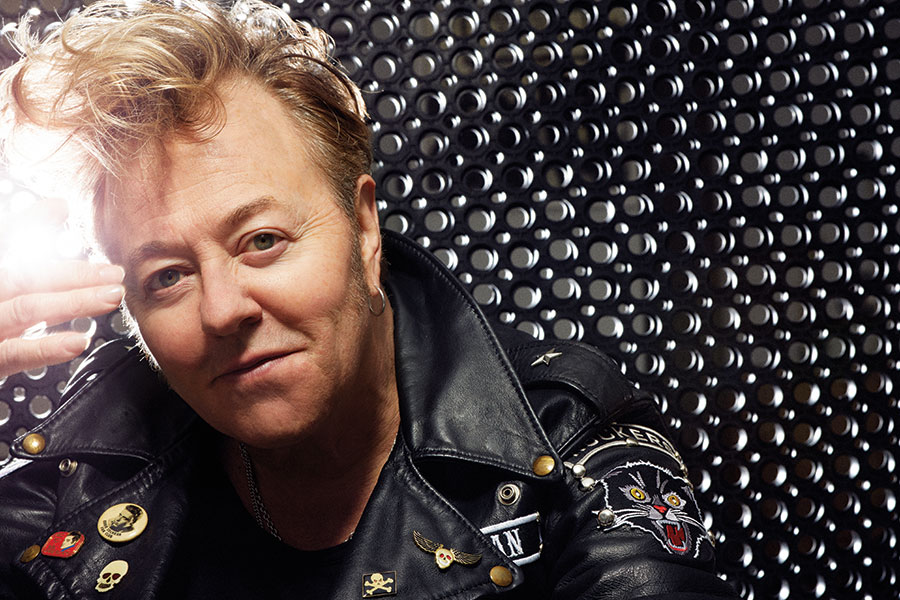 No tours, ears ringing night and day, and working with musicians he couldn't meet during the lockdown, Brian Setzer defies adversity with his latest studio album Gotta Have The Rumble… By David West
Brian Setzer holds the distinction of having championed not one but two musical revolutions. With Lee Rocker and Slim Jim Phantom as the Stray Cats he led the neo-rockabilly charge of the 80s, then a decade later he was at the forefront of the swing revival with The Brian Setzer Orchestra. If anyone has earned the right to relax and kick back, it's Setzer, but he's not resting on his laurels. 
Gotta Have The Rumble is Setzer's first solo album of new material since 2014's Rockabilly Riot! All Original. Recorded during the pandemic, the music began to take shape when Setzer found himself forced to stay home for the first time in, well, practically forever. "I don't know if it's a good thing, but I've become very comfortable," he tells us on the phone from his home in Minneapolis. "I miss the live music, but I really needed the break. You don't realise that you need these things until you're forced to do it. I'd been on the road for 40 years. I had some ear issues, so I let my ears heal and it also let me write music unimpeded. I think that's why this album went so well. Usually, when you're writing something you're thinking about the fact you've got a tour in a couple of months. I've got to get my clothes ready, I've got to pack up the house, someone has got to watch the dogs, all that. This time, there was nothing. I had to relax."
Gotta Have The Rumble finds Setzer working with producer Julian Raymond, whose credits include Cheap Trick and Glen Campbell, and it's the latter who provided the connection. "Julian has been kind of hovering around my world for a while," says Setzer. "I played on Glen Campbell's last record and that's how I met Julian. He put the seed in, 'We should do a record some day'. The magic words, 'I love reverb, I love the slap bass, I love the Gretsch guitar tone'. If you say those words to me, you get it. Reverb, vibrato, tape echo, that's my world."
With the US in lockdown, Setzer started collecting guitar riffs. "I have to turn on the faucet and when I get into that way of thinking, I'm obsessed with it and it just snowballs," he says. "When it's coming fast and furious, my wife will say, 'Come on, it's time for dinner,' and I won't even hear it. It will just be write, write, write." 
The Stray Cats celebrated their 40th anniversary in 2019 with their 40 album, and while both the Cats and Setzer's solo records are rooted in rockabilly, they're different animals. "If I'm writing songs for the Stray Cats, I don't want it to be about me, I want it to be about the band," explains Setzer. "I want to make sure we hear Lee playing the bass, I want some different drum things for Jim, but when I'm writing songs that turn out to be for myself, I'm selfish, it's about the guitar."
As songs came together, Setzer sent the demos to Raymond in Nashville, although the guitarist was initially sceptical about what they could accomplish working remotely. "I wasn't expecting much when
I sent them down to him, because I was like, well, it's got to be a band in a room," says Setzer. "And I was wrong. When it came back, I couldn't believe how great it sounded. I thought it wouldn't have that excitement without us all being together in one room."
The Stray Cats' 40 record was laid down with the band together in the same room. In the past, Lee Rocker would have to be screened off to protect the acoustics of his upright bass. "They put him in a room, we call it the fish tank because you can only see his head," says Setzer. "But on the Stray Cats' 40 record, [producer] Peter Collins figured out a way to put us all in the same room, like we were onstage. We even set up like we were onstage, and it was a great way to do it. Three guys in a room, a live record. But this record I just did was totally different."
For Gotta Have The Rumble, Setzer recorded his guitar and vocals in a Minneapolis studio, The Terrarium, without any other musicians present, a process he found liberating. "When you're making a record, one guy is on the phone, one guy is smoking a cigarette, another guy made a mistake, there was none of that," he says. "It was just me and the engineer. It was quiet, nice and dark, set the mood. We took a break when we wanted, instead of having a million people in there tripping over cables. It was nice, and when you're done, you go home."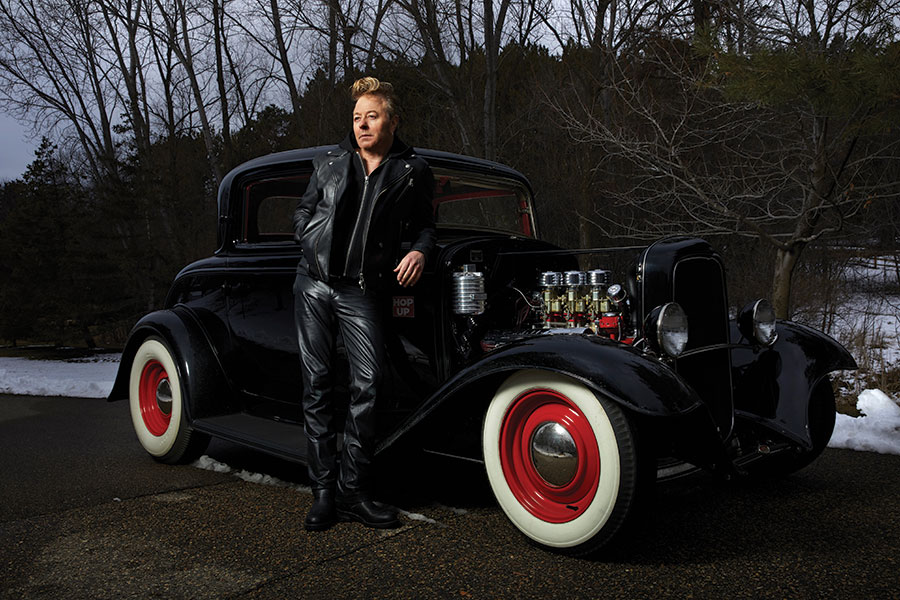 Joining Setzer on the album are bassist David Roe Rorick and drummer Victor Indrizzo, handpicked by Raymond, but at no point were the three players all together. "I didn't meet them, and I don't even know their last names," confesses Setzer. "I left it up to Julian because my thinking is you don't go to a shoemaker to get your car fixed. Don't tell the guy what to do, let's see what he comes up with. If you want me to play a guitar solo on a record, it's going to be a rockabilly solo. You wouldn't want me to do an Eddie Van Halen solo, you wouldn't call me for that, so why don't you just let me do what I do? And that's the way I feel about working with engineers and producers. Let them do what they do."
Rorick and Indrizzo have impressive resumes – the bassist has played with Johnny Cash, Rosie Flores and Chet Atkins, while drummer Indrizzo has worked with Chris Cornell, Avril Lavigne and Josh Homme. As soon as Raymond sent back the first track with the bass and drums, Setzer knew they were the right guys for the job. "They invented so many little parts that I didn't even tell them to do, I was kind of blown away," he says. "It doesn't matter how you wear your hair or what record you played on, if you get it, you get it. If it came back and I didn't like it, I would have got somebody else. With rockabilly, the real players get it and they love it. It doesn't matter if they play with the London Philharmonic, if they get this kind of music and are good players, it's a done deal."
"Gotta have the rumble" is a line that appears in the opening track Checkered Flag. Any time there's a rumble in the rockabilly world, it's hard not to think of Link Wray's classic instrumental or the Stray Cats' Rumble In Brighton, but in this case it was about Setzer reconnecting with his Gretsch guitar after his ears healed from tinnitus. "I really missed the rumble of that guitar," he says. "Because it's an archtop, I stand in front of the amp and the whole thing shakes – I've gotta have the rumble! I just thought that fit. I wasn't even thinking of Rumble In Brighton, I was just thinking of that guitar."
The tinnitus struck when Setzer was onstage in Amsterdam, and it cast a shadow over the rest of that tour and beyond. "It's incredibly nerve-wracking," he says. "I know Jeff Beck had it really bad, we spoke about it. It'll drive you crazy and the only thing to do is to just take a break. Basically, picture a tea kettle going off in your ear 24/7, it'll drive you mad." 
He'd been using the earplugs to dampen the volume of the high notes, but hadn't realised they'd worn out with age. "It was getting louder and louder on the stage, I was like, 'Why's everybody playing so loud?' It was the earplugs, so silly, I should have recognised it, but you hurry up and pack up and get on the bus, you don't take the time for yourself."
The ringing impacted more than just Setzer's musical life. "There was a time when just getting to sleep was an incredible task, it's a pain in the ass, but people have it a lot worse," he says. "Like I said, it subsides, you wear different things in your ears to mask it. And I missed the rumble! But I can do it all again, I can ride motorcycles, I can play my guitar through my amp, I'm very lucky. So, you guys that are blasting your guitar amps, wear some earplugs please."
Checkered Flag and Smash Up On Highway One belong to the long tradition of rock'n'roll songs inspired by hot rods, motorcycles and speed, subjects dear to Setzer's heart. "When I write something inspired by a hot rod, it's something I created," he says. "You can't just buy one. It isn't like a Bentley. If you have a lot of money, you can just buy that. A hot rod is something you create, it's a thing of beauty. It's also something about adrenaline, I really like that rush I get from going fast and driving something that shouldn't be taken that fast.
"You don't write about fenders, you don't write about headlights, you write about the feeling you get on that motorcycle. I'm not writing a song, 'I've got a '57 Triumph, it kicked up first start, and I filled it up with gas'. You're writing about the feeling you get, 'I'm blasting down the highway, everything was just a blur, my blood was pumping'. It's whatever gets you that feeling."
For Setzer, the key to any good song lyric is how well it communicates a feeling, and it's no good taking them too literally. "'She's a honky tonk woman', 'She loves you, yeah yeah, yeah,' 'We will, we will rock you,' it's just something catchy that makes you feel good," he says. "It's not Shakespeare, is it? It's about the feeling. My favourite lyricist of all time is Chuck Berry. It doesn't matter if it's a car, a girl, or a backyard barbecue, it's the way you put those words together. For a lot of people, a fast car or a bike would get you to that point, but lyrics to me are just emotions and words that sound good together. They don't have to be deciphered like a story."
Even as he's into his fourth decade of rockin', Gotta Have The Rumble shows Setzer exploring new sounds. He plays banjo on Rockabilly Banjo, there are strings on The Wrong Side Of The Tracks – "rockabilly with strings, that was a first for me!" – while the guitar sound for Smash Up On Highway One was achieved with a Coral electric sitar. Designed by Vincent Bell in the 60s, the electric sitar has a standard six-string guitar neck with an additional 13 strings on the body to create the resonance that imitates the sound of a sitar.
"I wrote that riff because I was inspired by Misirlou by Dick Dale," says Setzer. "I was playing that with the Cats, that really twists your ear. To me, it sounds almost like a minor-major scale, almost Middle Eastern. I thought, 'If I can write something that cool but that's not Dick Dale's' and I came up with that riff. The drummer came up with that Wipe Out thing, and there's a time change going on that's not in standard 4/4 time, so the bass player thought up how to slot his part in there. To me, that's moving the rockabilly genre forward, that's making it sound new. That's what makes me happy."