On The Radar – Bailey Dee
By Vintage Rock | November 29, 2021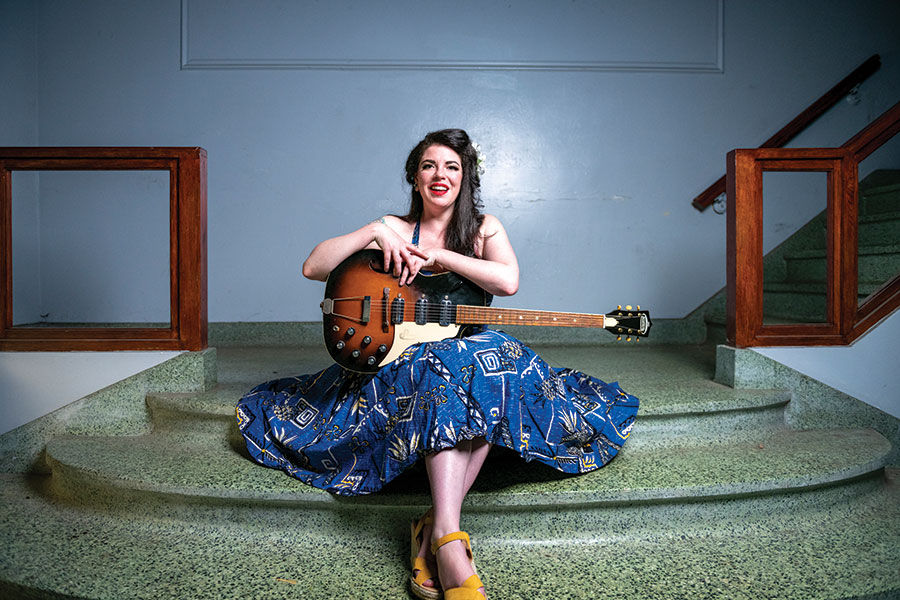 Since arriving in Chicago with only $40 to her name, Bailey Dee has covered multiple musical bases with her various bands. By David West
"I grew up in the church and always found such joy in singing and listening to music. I feel like it's a release for me," says Chicago's Bailey Dee.

A multi-instrumentalist able to play cello, banjo, mandolin, guitar and bass, Dee lit up the rockin' scene with her 2014 debut EP Rhythm In Here. She won the Rockabilly Female Ameripolitan Award in 2018, and this year performed at Viva Las Vegas backed by The Joel Paterson Trio, featuring the former Four Charms guitarist. "From a nerdy gal that just likes to play guitar in her room, now I'm playing huge stages with my guitar hero Joel Paterson. It's the coolest thing ever," says Dee.
What was your introduction to the Chicago roots music scene?
"I'm from Michigan originally, just a few hours east of here. I grew up in Lansing, Michigan. I got a job at this guitar shop there called Elderly Instruments because I played cello. Working there really opened playing music up to me and learning different instruments, just being more comfortable with music. While I was working there, I found three records that changed everything, a Big Sandy record, a Dave Stuckey record and a Four Charms record.
I thought they were all retro bands until someone was like, 'No, those guys are touring right now'. That blew my mind. I found out the Four Charms were from Chicago. My neighbours were moving to Chicago, I was like, 'Can I go with you guys?' They're like, 'Sure', so I put my stuff in the back of my friend's band van and drove out to Chicago with $40 in my pocket."
Your latest single is a ska version of Sea Of Love. How did that come about?
"Jump Up Records is this amazing ska and dub record label located here in Chicago and run by Chuck Wren, who is a music lover through and through. He's loves putting out music and encouraging artists to work together. We were asked to do a ska show, so we did a full set of it, and Chuck was like, 'This is amazing'. He asked me if I would do a split record with Roddy Radiation from The Specials – and you don't say no, right? I went into the studio at Legendary Recorders, which is owned by the drummer from a big ska band called Deal's Gone Bad, who's also the brother of one of the guys in JD McPherson's band, so it's all very incestuous here in Chicago. It was such a cool experience. I only want to play ska now [laughs]. It's one of our best sellers."
Have you thought much about the next step for your original music?
"I wrote a bunch of new music over this past year, because what else are we going to do with ourselves? I played some of it at Viva Las Vegas and we're going in to record in a couple of months with Joel and the band, so look out for that next summer. I wanted to take my time. I put out short records, I feel like EPs and 45s do a little better, but I'm leaning towards doing a full-length and want to take my time with that, so people get to know me a little bit better. I have a story to tell. What a traumatic year!"
How have you dealt with the lack of gigs over the last year-and-a-half?
"In Chicago, I feel like you have to hustle a lot. I played so, so much, I just wanted to have my dates filled, but then when you step back, oh, I don't have to do that. I can take time for myself and not be grinding so hard. I have a better perspective on what I should be doing, what my limitations are, what's healthy for me as a musician. Creating all the time is great, but you get burned out. I missed going out and seeing everybody. Being at Viva Las Vegas was like a huge drink from the chalice of the water of life, I missed this so much. It makes you appreciate it more."
Do you draw on your own experiences when writing?
"I feel like I write about my own experiences a lot. When I'm writing, it's usually a subject that sticks in my brain when I'm driving, then I try to write a story around that. Tip Toe Boogie was about me coming home late at night and my then-partner was not a night person. He didn't like it when I would come home late after being out bopping all night and just wanted to turn the music on and make a drink. 'What are you doing? I'm sleeping!' 'Sorry!'"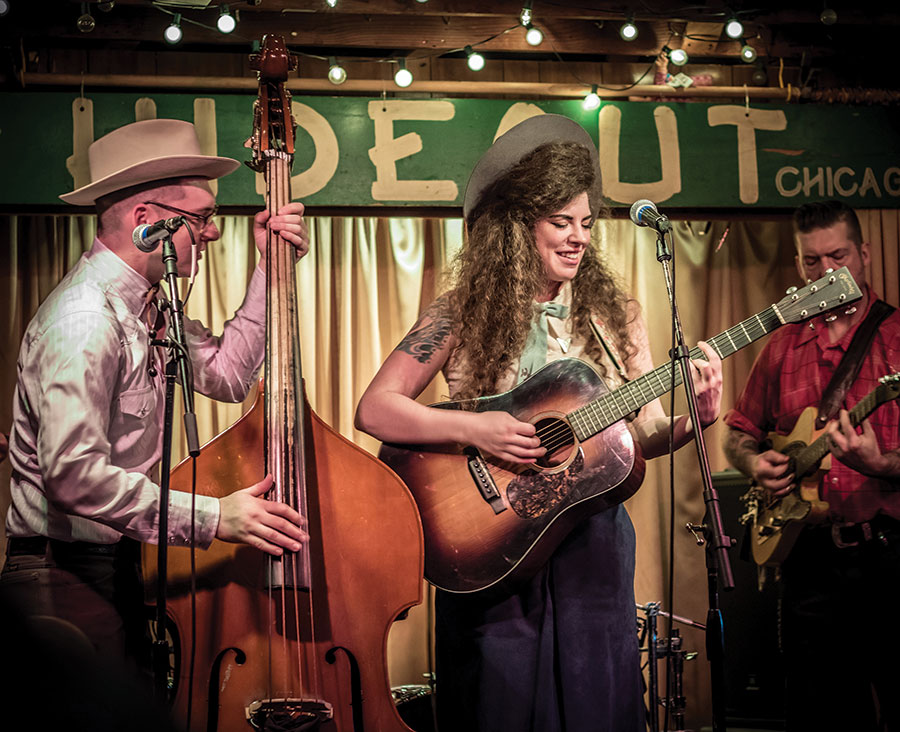 Did being named best Female Rockabilly at the Ameripolitan Awards in 2018 have a positive effect on your profile?
"I was nominated three times before that and was like, 'I'll just keep getting nominated, I'll never win'. It's just really cool to be recognised for doing this music, because a lot of times you feel like you're sitting alone in a room, nobody cares. Dale Watson and Celine, their whole camp, they're so supportive of roots artists because Dale came up doing the same thing himself, so he understands the trials and the tribulations. But it was definitely a surprise when I won. I was sick in the hotel room, I got really bad food poisoning, I was like, 'it doesn't matter, I won't win anyway', then
I woke up and my phone was buzzing, and I'd won! I think it has definitely been a profile boost, whatever that means, but whenever these events happen everyone says the same thing. I wish that we all could have won because we all deserved it. It sounds clichéd to say, but it's the truth. All these hardworking musicians deserve all the recognition they can get because it's difficult running your own business and writing your own music."
You play and sing with Jonas Friddle & The Majority, The Saluda Moonlighters, and The What For. Do they reflect different sides of your musical identity?
"I'm mainly a cellist, that's my main instrument, so when I first moved here, I started playing cello with a lot of old-time and bluegrass bands, that was my wheelhouse. A lot of our favourite rockabilly artists grew up with country, old-time music and bluegrass, so I think it's a very important place to start, to really appreciate the music that we love so much. I always love doing harmony stuff, gospel stuff, so Jonas Friddle, that's the band where I first started cutting my teeth, playing bigger shows and working in a recording studio.
"When you start mixing genres with your band, it gets kind of confusing, so I wanted to keep all of my things separate so that people know exactly what they're getting when they come and see us. My band focuses on rockabilly, jump blues and classic Chicago stuff, then The Saluda Moonlighters concentrate on the 40s through to the early 60s, classic country music, harmony-based material. We have steel, fiddle, guitar, the whole shebang and I get to wear my cowboy hat.
"Then, over the pandemic, my friends wanted to start a garage band with me. I've always really wanted to be in a trio, so I told them I'd play bass. I just wanted to diversify. If someone wants a 60s garage band, I have it, if someone wants a classic country band, I can do it, if someone wants a full rockin' show, you can hire the Bailey Dee Band. I just love music so much. I'm not a big TV watcher or movie watcher, when I come home I love picking up my guitar and learning songs that got stuck in my head throughout the day. Playing music with your friends is really better than anything."
Sea Of Love is out now on 7″ single from Jump Up Records.