Classic Album – The Blue Cats: Fight Back
By Vintage Rock | January 18, 2023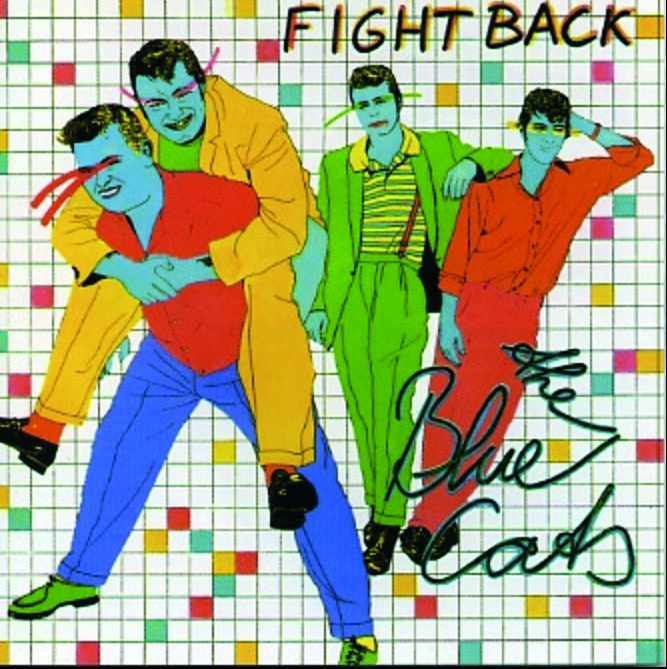 The Blue Cats' 1981 cult classic Fight Back, while often overlooked, is one of the stand-out albums to emerge from the neo-rockabilly era… By Jack Watkins
Running an eye down the album's 18-song tracklisting, record buyers in 1981 might have expected Fight Back to be a schizophrenic listening experience, mixing unfamiliar new material with reverential revisits to rockabilly oldies beloved by diehard fans.
In fact, there's nothing schizoid about it. The entire album has an electrifying energy. Although many classic rockabilly indicators are intact, the record also has a touch of the new-wave spirit of the late 70s and early 80s. With its lurid sleeve art, The Blue Cats' Fight Back may not be one for the purists, but it's a killer album that escapes easy pigeonholing. Mainstream journalists of the time simply called it neo-rockabilly.
According to singer Clint Bradley, the album title could be read as a statement of intent on behalf of the four band members. The original Blue Cat Trio, formed of Dave Phillips (vocals, double bass), the brothers Carlo (guitar) and Stef Edwards (drums), but which was really a foursome when you counted the saxophone of Clive Osborne (subsequently to leave the band before the recording of Fight Back to join the Dynamite Band), had recorded an authentic album for Rockhouse Records of straight rockabilly covers in 1980.
But an argument within the band had led to the departure of Phillips, just as the LP was nearing release. Tony Martin of Red Hot! Records, who had earlier issued a Blue Cat Trio EP on his small rockabilly label, quickly recommended Clint (vocals, acoustic guitar) and Mitch Caws (double bass), as replacements. The pair were known to him as members of Little Tony and The Tennessee Rebels, whose EP he'd also recently released on Red Hot.
Clint's appreciation of music was broad compared to the segregated mentality that existed among many on the rockabilly scene. He and Mitch immediately clicked with Carlo and Stef who were of the same mindset. However, to begin with they faced a problem. The new line-up played their first show in Eindhoven in September 1980 the moment the original Trio album was about to be released, as Clint explains.
"We arrived at the gig to be greeted by Bert Rockhuizen of Rockhouse with the album. It was the first that Carlo and Stef had seen of it since they'd recorded it. So we had to go and promote the album, even though, as far as we were concerned, we were one thing and the music on that record was another thing entirely. We wanted to change our name, but Bert wouldn't let us, so that Trio album ended up being released as The Blue Cats as a compromise.
"Fortunately, the Eindhoven audience has always been receptive to neo-rockabilly, unlike in the UK where it was difficult if anyone stepped outside of the box. We did play songs off the album – the Johnny Burnette and Gene Vincent covers – but already we were playing some of my new songs. Luckily, that Eindhoven gig gave us enough of a buzz to start including them in our sets back in the UK. By the time Fight Back came out there was already an awareness of some of these new songs."
The production on Bradley's vocal on the album's opening title track makes it instantly clear that Fight Back is not going to be another traditional, reverential rock'n'roll outing. "We wanted to match the power of mainstream, or at least the new wave music of the time, for potential commercial radio play," explains Clint.
"But we had to record it all very quickly, whereas those bands might be taking six months to make an album." Although Wild Night and Jump Cat Jump were done at separate sessions in different studios, Fight Back's other 16 tracks were recorded in three days at the Seaside Studio, Haarlem, in the Netherlands.
"We were still using a pretty rudimentary approach, going in and laying down the bass, drum, rhythm and lead guitars, the difference being we knew we needed to separate the vocals and backing vocals. The irony, of course, as we've learnt over time, is that the best performance is still when you just go into the studio and do it."
If the album sounds a bit like rockabilly on steroids, that was intentional. Without losing the feeling of spontaneity – the vocal energy, the screams and yells, echo, stinging guitar riffs, rumbling and clicking slap bass and the crisp snare drums that are the keys to so many successful rockabilly performances – everything sounds a bit bigger, faster and more dangerous. However, that created tension in the studio with Bert Rockhuizen, according to Clint.
"The engineer Jan Pieter Exalto was very receptive to what we did. But with Bert, creatively it was a real battle. He had a lot of kudos at that time for bringing rock'n'rollers over to Holland to record them, but he was no Sam Phillips encouraging people to experiment. When Carlo played that solo on Wild Night, he said, 'You can't do that, it's going to upset people.' Carlo answered: 'Sorry, I'm finished trying to sound like everyone else, this is me.'"
Wild Night, when released as a 7″ on Charly in April 1981, was made Single Of The Week in Sounds magazine which, with typically breathless exaggeration, called it "as dynamic a slice of rip-roaring body swirling rock'n'rollin' dynamite as you'll find this side of post-Army Elvis."
This was a time when the music press was showing considerable interest in new generation rockabilly bands like The Blue Cats, the Polecats and, inevitably, the Stray Cats. The latter, as Clint is at pains to point out, were no influence on the others at all, who were all playing gigs long before the New Yorkers had formed.
In fact, Wild Night had been written by Bradley while he was still a member of the Tennessee Rebels. "Three months before I joined the Blue Cats, the Rebels had gone on tour with the Polecats and the Flying Saucers," Clint continues . "We played this gig in Berlin and it was the first time I'd seen punks and Teds in the same room, just digging bands. It was the most fantastic experience and I started writing the song in the van immediately after he show."
Other Bradley originals include Love Me, complete with the kind of blood-curdling screams that predated psychobilly, which was popular in live sets – especially useful as the band grew in popularity and got gigs supporting The Clash. "We'd often open with Love Me if we did The Clash shows," he says. "The audience wouldn't know who we were, but they'd like that, and it would be a real ice-breaker with punk audiences."
Another powerful rocker, Who Stole My Blue Suede Shoes, typical of the band's quirky take on a traditional rock'n'roll theme, was a half-tribute to one of Bradley's great heroes, Carl Perkins.
"Of all the rockabilly greats, he was the one who made the most impression on me. I suppose it was because he was a singer-songwriter, unlike a lot of the other guys. We played a gig with him in Holland in 1980 and he said, "You guys are doing exactly what we did, you're taking the music and doing it your own way." What he was saying was if you want this scene to continue you've got to have an injection of original talent."
A good example of taking inspiration from the past without being trapped in it was Jump Cat Jump, which obviously suggests Gene Vincent's Jump Back, Honey, Jump Back, until a key change on Carlo's scintillating playing suddenly seems to morph into another Vincent classic Cruisin'. Clint also pays tribute to Stef's drumming on that track.
"Stef learnt to play in the jazz style, which you can see by the way he holds his sticks. The little flicks he does on that track, and when we play other Gene Vincent material, are just perfect."
The band have great fun with oldies such as Marvin Rainwater's Hot & Cold. The song was wild enough in its original form, but the Cats take it to a new level. Clint's vocal is very funny, and you can't help noticing that Carlo's playing is better than Roy Clark's, fine picker though the latter developed into.
"Carlo's always been sidelined because of the image thing, because he's not on the scene," says Bradley. "He refused, as he said, to 'wear the uniform', but Carlo at his best, I don't think there is anyone who can touch him. He's classically trained and even his high-octane solos are very musical, playing things within the melody that are quite jazzy."
Other old rockers covered on the album (along with Up A Lazy River, a Hoagy Carmichael ballad recorded by Gene Vincent), are Hank and Eddie Cochran's Tired & Sleepy, Bill Haley's Birth Of The Boogie and, most unexpected, Anthony Newley's Idle On Parade.
"We loved rockabilly as much as anyone else and when we did a cover we did it as best we could," says Clint. "We'd take a song like Hot & Cold and throw it into the pot. Mitch's bass playing was a big part of it, the way he was so into the groove – so rooted. No-one else had ever played double bass like that. When you ask the next generation of players who they rate, they all say Mitch. Listen to him on Wild Night and Fight Back, his playing is so raw, yet so embedded in the sound."
It's no secret that Clint is a massive fan of Westerns and Western music (see boxout), but in 1981 he was struggling to find a creative outlet for that. Live Fast Die Young, however, was a nod to his heroes Marty Robbins and Johnny Western.
"I really wanted to get one on the album that had a Western theme – not over complicated – with Merle Travis, Scotty Moore-type picking in the background, but then a big panoramic guitar from Carlo over the top of that. I'm really delighted how popular that song became, especially in Scandinavia, where they absolutely love it."
Fight Back was a record of its time and should have done so much better. The Blue Cats had received an offer to sign for EMI, but were tied to Rockhouse/Charly.
Despite being re-pressed several times and selling between 60,000 to 70,000 copies, Clint says the band never received any royalties. Yet he looks back without bitterness. "It was an exciting 18 months of teenage fun, a good thing to be part of. There was just so much creativity that came out of that period in music."