Soundtrack of my Life – Paul Ansell
By Vintage Rock | October 25, 2022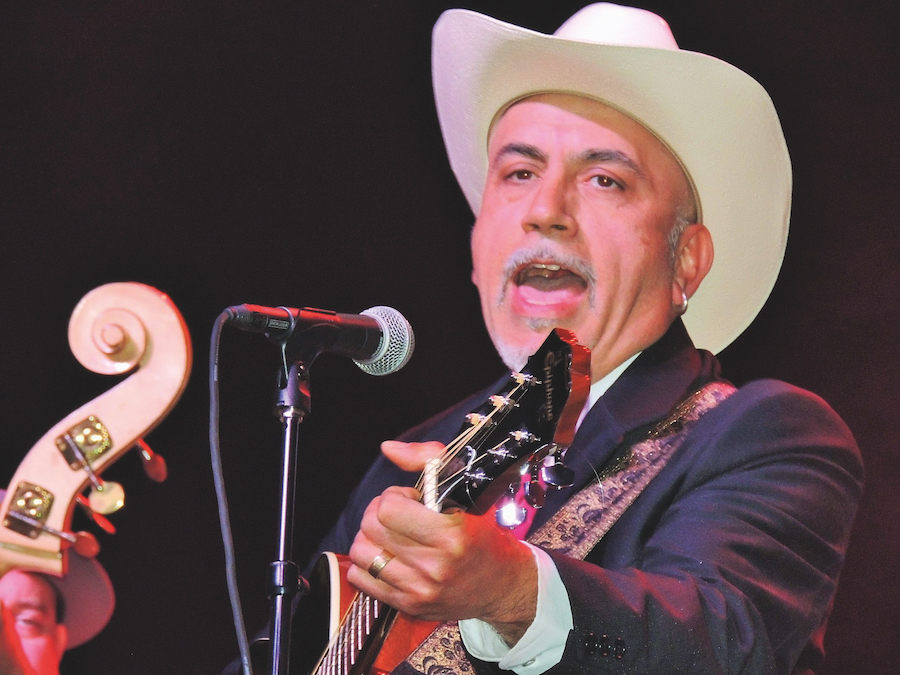 Hemsby regular Paul Ansell picks out a perfect 10 that set him on the path to rockin' greatness…
Paul Ansell arrived with his first band The Blue Rhythm Boys, before forming Number Nine in the early 90s. He's one of the most respected artists on the rockin' scene, frequenting festivals all over the globe – including the Hemsby weekender.
He's sung alongside Scotty Moore (with whom he recorded an album at Sun in 2003), Ray Campi, Mac Curtis, Reggie Young, Sonny Burgess and many others. As well as releasing a fine array of his own material, Paul and his band have a knack for recasting songs by classic artists including Jimi Hendrix, Iggy Pop, Radiohead and Bob Dylan.
We asked him for 10 tracks that changed his life. "Did I mention Ray Charles? Charlie Rich? Eddie Cochran? Chet Atkins? Muddy Waters?" mutters Paul. "Damn, I can't do this Top 10 thing…"
Elvis Presley –
Hound Dog,
1956
Top of any list from me must be the King. Hound Dog is the one that impacted upon me most. The way it tears into the first line, the groove and the wild drum rolls at the end of each verse. Then the energy builds before two of the greatest rock'n'roll guitar breaks of all time. Scotty Moore's beautiful sound – jazzy yet rockin' – the backing vocals with the handclaps… and finally Elvis's voice, the pure energy and belief in the picture he's painting. It's belted out, but he did 31 takes, and that's why he sounds rougher than usual.
Gene Vincent And His Blue Caps –
Be-Bop-A-Lula,
1956
My best friend's mum was playing an album that I remember being my first rock'n'roll life-changing moment. He told me it was Elvis, who I was yet to be introduced to, but I loved it straight away. We looked at the sleeve and it turned out the singer was a bloke called Gene Vincent, but this song had a mystique. It was restrained but wild, the guitar break was amazing, the band were slick, the brushes on the drums, the scream in the middle, the mad lyrics… What a song. 
Don Woody –
You're Barking Up The Wrong Tree,
1957
I was at a youth club hanging out with the Barnet Teds. Barking Up The Wrong Tree was one of those songs
I had to hear a million times, and it still hits me. The Teds would let rip, going back and twisting round, like early breakdancing really. It's the perfect speed-bopping song. The guitar of Grady Martin takes it to the next level, Don Woody knows how to deliver a slick vocal and though the 'woof woof' lines could make it a bit silly, there ain't nothing silly about this song. Teddy boy heaven.
Roy Orbison –
Only The Lonely,
1960
I managed to get my father to agree to a couple of funfair rides. As we walked towards them, I was totally struck by the intro, sung – I later found out – by the Everly Brothers. I'll never forget how the movement of the ride matched the song. In and out the chairs went, up and down, round and round, and this voice, like nothing you've ever heard. "Who is this?" "Son, that's the Big 'O'". The next record I got was Roy Orbison's Greatest Hits. 40 years later, the grooves are just about gone but it still sounds magnificent.
Johnnie Ray And The Four Lads –
Cry,
1951
My first heartbreak led me to Mr. Crybaby. There's a truly melancholic sound to this, mainly because of his genius at putting a song across, but also the fact that, at 15, I knew about heartbreak – or thought I did. This made me listen to those big-production songs with new ears, allowing me to later dig loads of things my young mind wasn't ready for yet. It's a potent song, sung with so much feeling it hurts. Me and Johnnie shared a few moments – and it's still a tune I love.
Dean Martin –
Memories Are Made Of This,
1955
This was a song I played 100 times on the pub jukebox, I found it so enchanting. I was 16 and could hear this must be someone Elvis dug. Yet it's not, it's this fella called Dean Martin. His voice is a thing of beauty: the way he delivers the lyric almost like he's had a drink. There's a light backing, I can't even hear drums. It's all about love, family, kids… just the most uplifting song. It's so simple, it sounds too easy, but try to capture magic like this with a handful of musicians and no overdubs and see how easy it isn't.
Hank Williams –
Wedding Bells,
1949
If it hadn't been for the film The Last Picture Show, I would've had to wait to be introduced to one of the greatest, Hank Williams. The film is full of his music, as well as Webb Pierce and others, but it was Hank's voice that stayed with me. His band could swing and his songwriting was something else, but this song really hit me. I could hear the lonesomeness in his voice. I could hear the blues coming out of a country record sung by a skinny little dude. And boy did it have soul. Man, did it have the blues. 
Creedence Clearwater Revival
–
Have You Ever Seen The Rain,
1971
The lyrics are baffling. The groove is everything. The vocal is perfect. A little piano and organ. But it's the bass and drums that drive this baby. It's one of those songs that takes you somewhere most can't. No one except CCR can groove like this. It makes no sense, but makes perfect sense. It's timeless, it's the music I was born to love. It's driving, it's soulful, but also a beautiful melody. The vocals are astounding and, unusually for a Creedence song, it has no guitar, but it's still killer diller. 
Washboard Sam –
Diggin' My Potatoes,
1939
This was the first blues song that got thrown to my young rockabilly ears. I was about 16, and the slap bass, washboard and mumbling words got me. It was about the groove. An awakening into the wonderful world of R&B, down-home blues, swinging blues. It was one you heard at rockabilly clubs and I'd recorded it onto cassette from a pirate station. The way his vocals become another language, the looseness, the guitar poking through. It's a great blues bopper that would go on to open the door to a world of blues for me.
Tom Waits –
Shore Leave,
1983
At 20, I'd been living on a diet of rock'n'roll, blues, country, rockabilly… then along came this guy. I wasn't narrow-minded, but I thought "What the f*ck is this sh*t? He can't sing, his piano playing ain't my style…" but then one of my friends suggested I read the lyrics as he sings. The penny dropped. It's wonderful poetry and showed me the world is your oyster when it comes to songs. It's about a soldier in Vietnam thinking how the same moon is looking down on his sweetheart. It's painting with words.