The new issue of Vintage Rock is on sale now!
By Vintage Rock | August 9, 2017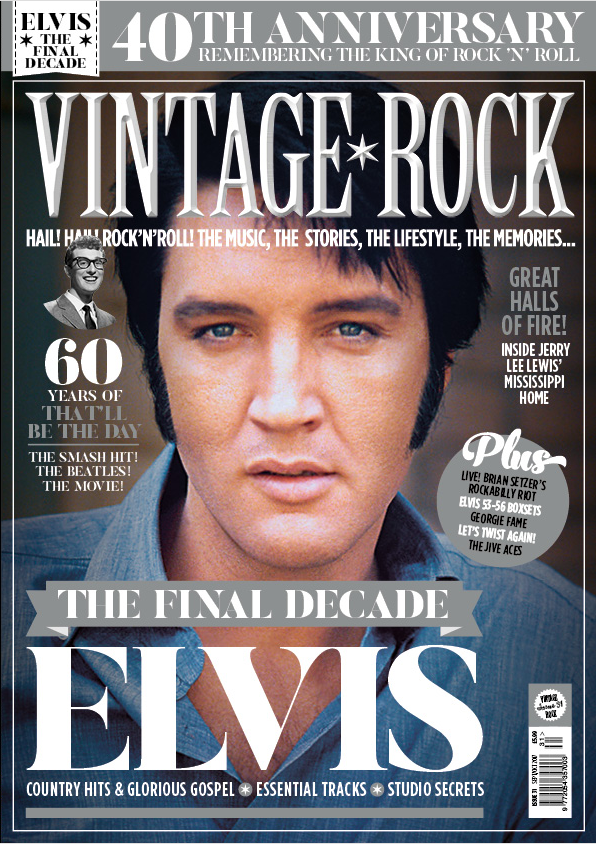 The latest issue of Vintage Rock is available now from WH Smith, independent newsagents and Easons.
Get your copy here.
Digital copies are available here.
We make no apologies this issue for marking the 40th anniversary of Elvis Presley's passing.
While Elvis will always be best remembered for his pioneering early records, we've this time chosen to celebrate his later years. There was much darkness, of course, in the final decade of Elvis' life: but the flipside were some outstanding records, even if they were delivered with a little less frequency than before.
We reevaluate the outstanding Elvis Country album, seemingly cut on the fly. We also look back on Elvis' glorious gospel tracks of the late-60s and 70s, which evinced an increasingly spiritual if vulnerable King of rock'n'roll.
There are revelations from Norbert Putnam, Elvis' 70s bassist, about Elvis Presley's studio sessions and his own way of working. Plus a crucial timeline that reveals that, actually, 1968 onwards were some of his most dramatic years, even before he started to quickly deteriorate…
The story doesn't shy away from painful truths, but these pages are a celebration. As the Reverend CW Bradley told the congregation at Elvis Presley's funeral: "Elvis would not want anyone to think he had no flaws or faults. But now that he's gone, I find it more helpful to remember his good qualities, and I hope you do, too."
There's plenty more elsewhere. Vintage Rock speaks exclusively to Crickets drummer and songwriter Jerry Allison about the remarkable story of the Buddy Holly classic That'll Be The Day, a transatlantic No.1 60 years ago. It seems recording an era-defining hit wasn't quite as simple as it seems!