The new issue of Vintage Rock magazine is on sale now!
By admin | August 18, 2016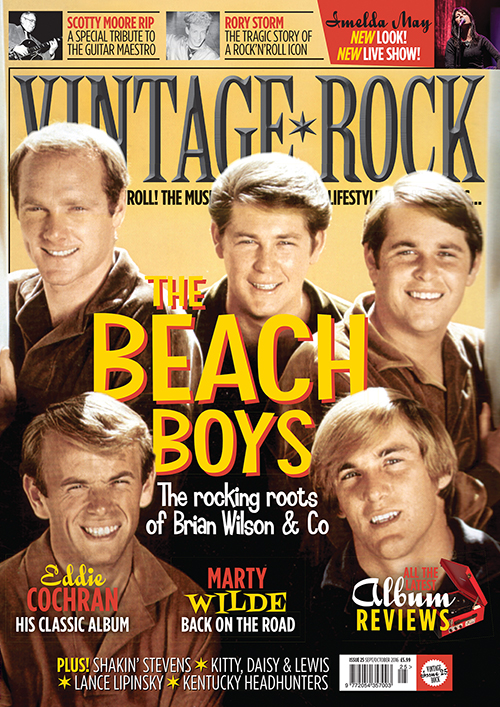 The new issue of Vintage Rock magazine is on sale now!
In Store £5.99 or online (£6.99 Incl.P&P)
First up, we're bringing a little bit of summer with us as our cover feature explores the surf rock roots of The Beach Boys. There's a whole lot more to the band's sound than their landmark album Pet Sounds and Randy Fox digs deep into their early years as one of the world's most exciting new rock'n'roll acts.
Elsewhere, we're serving up a tasty selection of classic artists and some of the best new talent on the block. Julie Burns tells the heart-rending tale of Rory Storm and the Hurricanes – the Liverpool rockers who were once tipped to be bigger than The Beatles (and gave Ringo his first big break). We also pay tribute to Scotty Moore, the legendary guitarist and Elvis sideman who passed away recently.
Marty Wilde chats with VR about his latest nationwide tour and we take a fascinating glimpse at the Nashville record stores who supplied the rabid record-buying public in the UK – including Mick Jagger and Keith Richards – during the birth of rock'n'roll and blues on these shores.
We catch up with Kitty, Daisy & Lewis to hear how their new album is shaping up as they prepare to push the musical envelope into unchartered territory and speak to Lance Lipinsky who is swapping playing Jerry Lee Lewis on stage to strike out on his own as a piano-pounding original artist.
The Eddie Cochran Memorial Album gets the once-over in our Classic Album feature and our packed reviews section includes the new-look Imelda May at the Summertyne festival in Gateshead as well as the first ever UK live appearance by the Kentucky Headhunters. On the albums front, we've got the new Elvis release Way Down, Shakin' Stevens' first studio effort in nine years and some cracking re-releases from The Crickets, Duane Eddy and Dion and the Belmonts.
Digital copies available here (£4.99)