The July/August issue of Vintage Rock is out now!
By Vintage Rock | June 14, 2017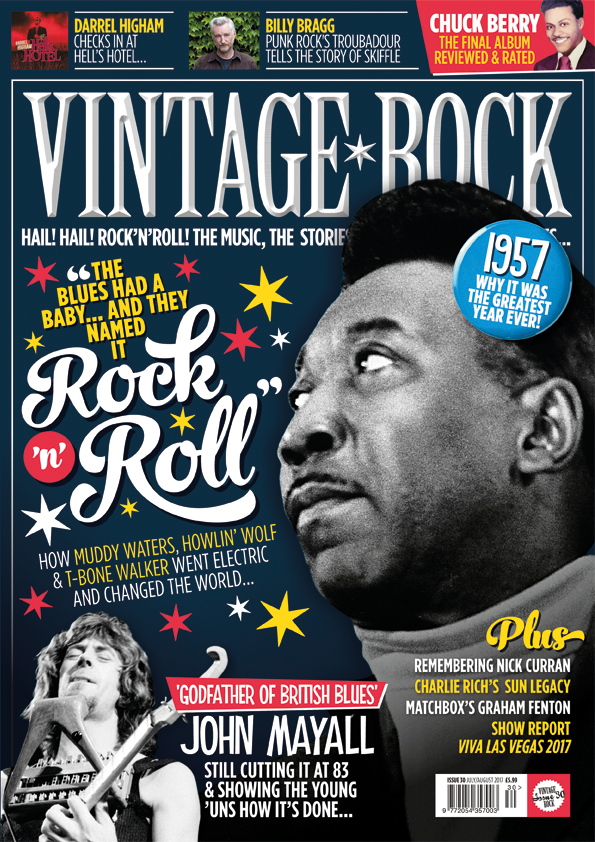 The latest issue of Vintage Rock is available now from WH Smith, independent newsagents and Easons.
Get your copy here.
Digital copies are available here.
This issue finds us slap bang in the middle of a couple of hugely important musical events of the 1950s. In the first, writer Johnny Black transports us back to the time when acoustic delta blues musicians fled poverty and segregation in the South to the more prosperous cities of Detroit and Chicago in the North, where people like Muddy Waters,/b> and Howlin' Wolf fuelled the explosion of electric blues.
The second event, ironically, involves the skiffle phenomenon in 50s Britain, when kids were enthralled by stripped down acoustic blues channelled through homegrown artists like Lonnie Donegan and Chas McDevitt.
Both of these musical explosions set the scene for the pop and rock music that was to follow in the 1960s. It's unlikely we'd ever have heard of The Rolling Stones without the influence of American electric blues; and who knows what would have become of the fledgling Beatles without the inspiration to become musicians that came out of the skiffle craze.
We also have first-hand experience of how this American music changed kids' lives in the 50s from Godfather of British Blues John Mayall and our own Vince Eager who got his start thanks to skiffle.
I hope you enjoy this trip into the past, whether you lived through it or not.