Remembering Kid Galahad
By Vintage Rock | August 2, 2022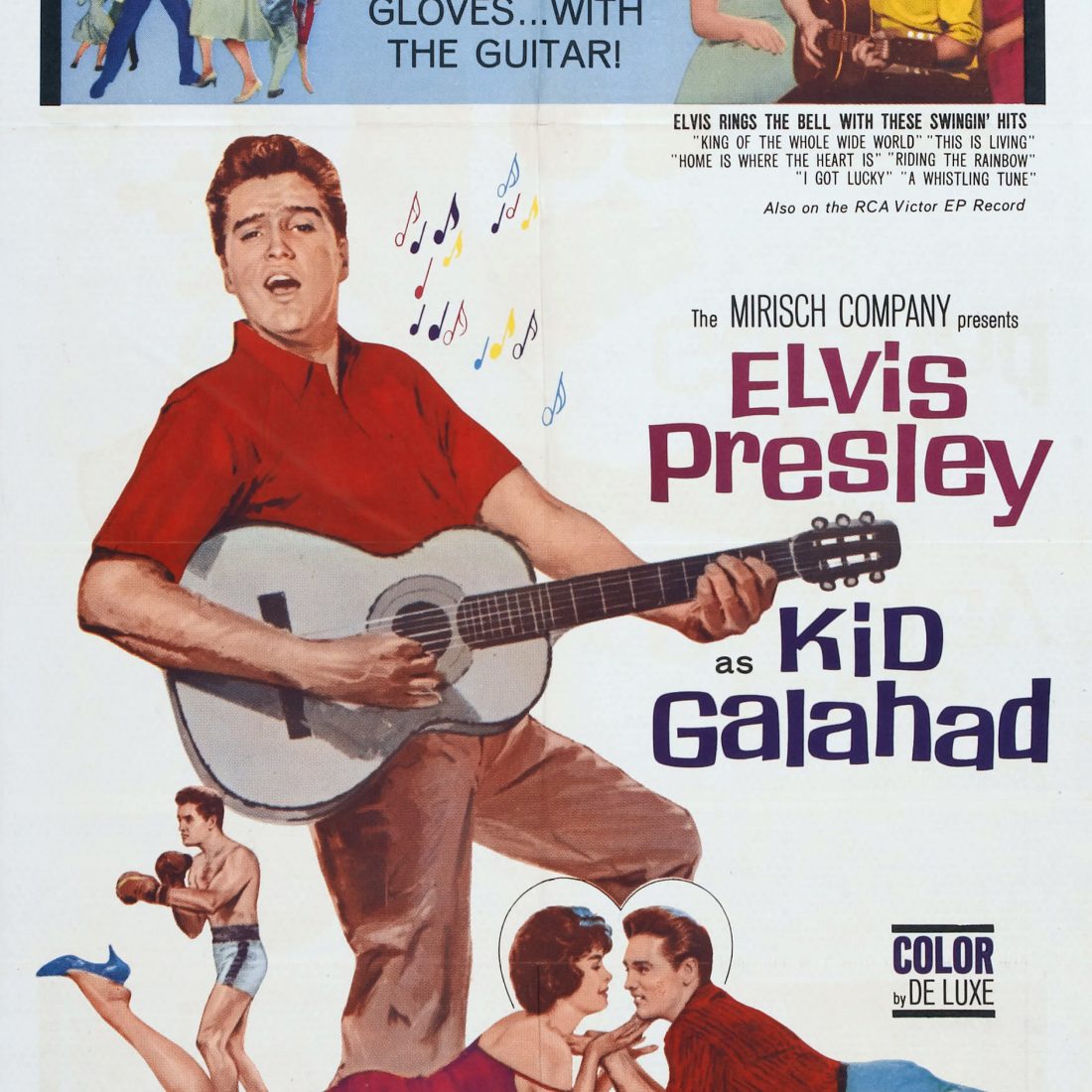 Elvis gave one of his very best performances in this lively remake of a Hollywood Silver Age classic. By Bill Dahl
The script for Kid Galahad wasn't exactly a virginal piece of work when it sailed over Elvis Presley's transom. 
It was a remake of a hard-boiled 1937 Warner Brothers flick that boasted a stellar cast headed by Edward G. Robinson and two young actors that would achieve cinematic immortality, Humphrey Bogart and Bette Davis (its director Michael Curtiz would helm Presley's King Creole a couple of decades down the line).
That original version, a gritty crime melodrama with plenty of underworld content, featured Wayne Morris as a young bellhop packing a dynamite punch that Robinson's no-nonsense promoter character transforms into a lethal pro boxer – the same part that Presley would take on in the full-colour remake. Morris didn't do any singing.
As you might expect, Presley's United Artists revival, directed by Phil Karlson, wasn't as darkly nourished as its predecessor, although there was once again a fair amount of action in the ring. Elvis acquitted himself reasonably as Walter Gulick, who assumed the boxing handle of Kid Galahad; ex-pro pugilist Mushy Callahan was his coach for the fight scenes, and he praised his pupil's ability. 
Kid Galahad was shot in late 1961 in Idyllwild, California and Hollywood with Elvis surrounded by top-notch acting talent. Flinty Charles Bronson, several years from his own appointment with iconic leading man status, was his trainer (he and Elvis reportedly didn't get along too well); Gig Young took over Robinson's mastermind role, and lovely Lola Albright (best-known as TV detective Peter Gunn's nightclub singer love interest) was on hand too.
Joan Blackman portrayed Elvis' girlfriend, just as she had two movies earlier in Blue Hawaii. Memphis Mafia mainstays Sonny and Red West, no strangers to throwing a punch or two away from the soundstage, had unbilled parts in the movie.
Naturally, Elvis' Kid Galahad was a thoroughly virtuous fighter, refusing to throw the biggest bout of his brief career despite immense pressure from threatening gangsters (his opponent was played by Orlando de la Fuente, then a leading welterweight) and emerging victorious against the odds, only to chuck it all and retire with his pretty features unscathed directly afterwards (much to the relief of Blackman, no doubt).
Only six songs were cut for the movie's soundtrack on 26-27 October, 1961 at Radio Recorders in Hollywood with the usual supporting crew, several of them summoned from Nashville: Scotty Moore and Hilmer "Tiny" Timbrell on guitar, pianist Dudley Brooks, saxman Boots Randolph, bassist Bob Moore, Buddy Harman and D.J. Fontana sharing drum duties, and The Jordanaires handling vocal harmonies.
King Of The Whole Wide World, the work of songwriters Ruth Batchelor and Bob Roberts, was the best rocker of the limited bunch, but Karlson frittered that tune away by having Elvis indifferently lip-sync it under the opening credits from the back of a moving Mayflower removal truck and obscuring its rhythmic drive with extraneous overdubbed strings and horns that gave the track more of a traditional film musical ambiance. 
A lively I Got Lucky, penned by Ben Weisman (reportedly the most prolific Elvis songsmith of 'em all with no less than 57 Presley songs to his credit), Fred Wise, and Dolores Fuller, was mimed in a somewhat more apropos picnic setting with Blackman at his side gazing adoringly (the pair even get up and briefly do the Twist as Elvis sings the bridge).
The other four numbers from the film – This Is Living, Riding The Rainbow, Home Is Where The Heart Is, and A Whistling Tune – were, to be honest, pretty forgettable. 
Instead of fleshing out those half-dozen numbers with non-soundtrack items to cobble together a full-length album for his legion of fans, RCA Victor simply released a six-song Kid Galahad EP that made a No.30 showing on the US singles chart in the autumn of '62. 
Released at the beginning of August of 1962, Kid Galahad was another huge silver screen success for Presley, who could do no cinematic wrong at that point of his career when it came to racking up tickets sold. Variety magazine placed it at No.37 in the year's top-grossing films. It seems all those shots of a shirtless Elvis dishing out potent punches in the ring couldn't help but translate to sheer box office magic.