Interview: Lee Rocker
By Julie Burns | June 1, 2021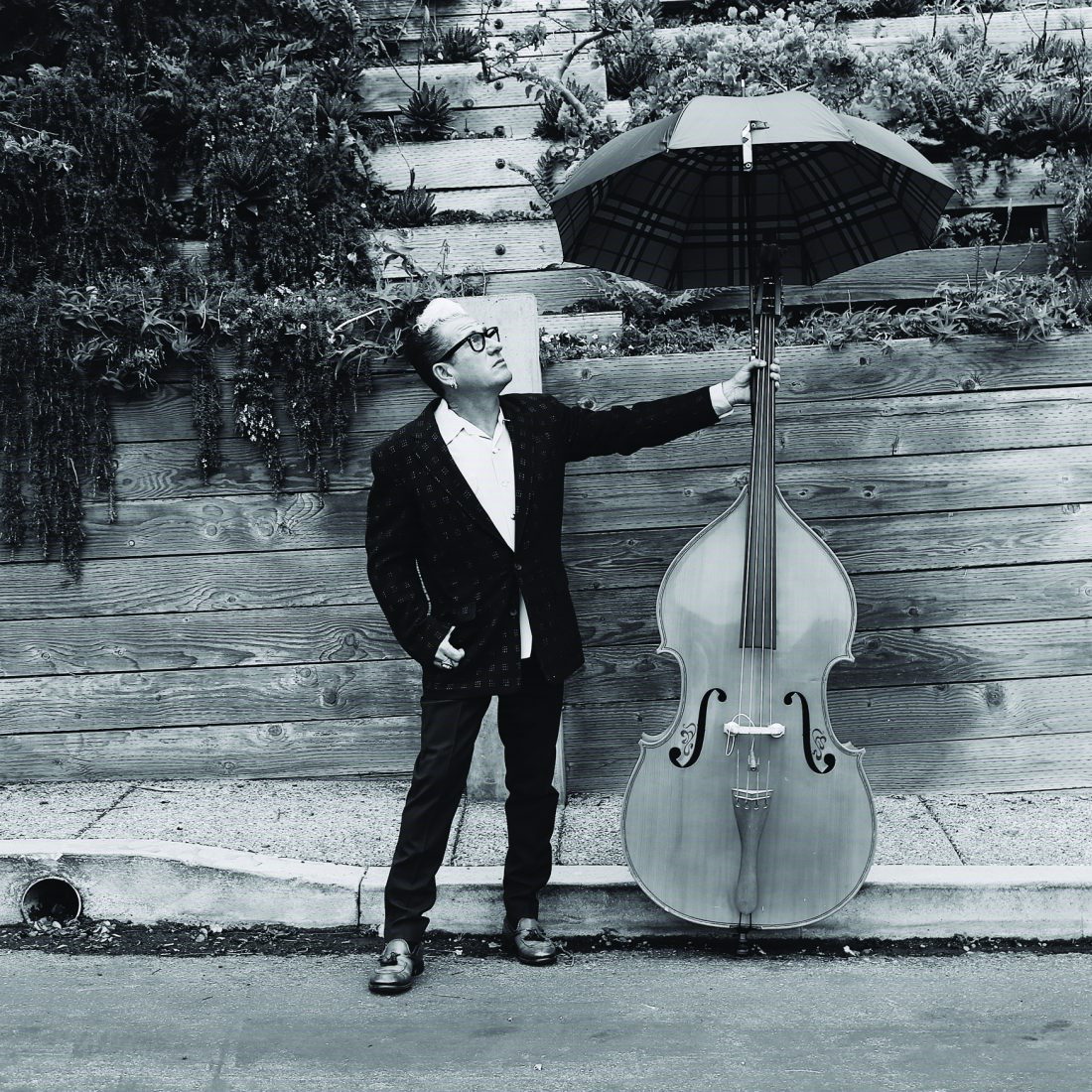 Some artists don't just produce a new album, they live it. So it is with Lee Rocker and his latest studio effort that has been inspired by a cross-country journey down Route 66… By Julie Burns
In the grand musical scheme of things, upright bass players don't often get to make their own solo records, but this is celebrated Stray Cat Lee Rocker we're talking about. His latest release is his 15th breakaway foray. What sets it apart from the rest, he says, is that it's his most personal record to date. Written despite, during, and even because of, the pandemic, Gather Round – out on Rocker's label Upright Records – is a spirited, feel-good party album, guaranteed to chase those blues away, a perfect antidote to chastened times. 
Like characters straight out of Jack Kerouac's On The Road novel, Rocker and his wife took off for Route 66 when Covid first hit. They clocked up 6,000 miles driving cross country to New York before returning home to California. The album was written as they traversed their way across some 20 states. 
Speaking to Vintage Rock via a Skype call from his Stateside home, Rocker's in ebullient mood. Pleased with the new album, he says the whole process has quite literally been a journey. "The pandemic, I guess, did affect it," he says. "I've been on the road so much these last 40 years, I'm not used to sitting still in one place. I found that really difficult – as it was for everyone, in different ways. My wife and I got in our Airstream trailer and it was a relief to get moving. It got me out of the house and into a better mindset. This record is like a journal or scrapbook. Writing through lockdown had me creating more personal things."
Besides a tribute to his long-standing wife, song content veers from his aggravation over the political state of the nation to his love of Elvis. Rocker waxes lyrical about the power of music, especially now: "It's so important. It can transport you, that's the beauty of music." However, the Cat hasn't skedaddled down too different a musical alley. The end result still rocks – like a cool soundtrack to a cult Jim Jarmusch film. 
The album's recording was as irregular as the times: "Usually, you're all in one room, you let it rip and see what you get." This time round, Rocker faced the challenge of remote working. "When we returned home, I went straight in the studio at Santa Ana," he says. "It was pretty solitary. Just me and the engineer in the control room, recording by myself, playing a lot of instruments. I had my band send me their tracks from home studios. It was time-consuming, but it enabled me to note every last detail. The energy and the passion, the sweat and the focus is in the result."
Unlike his last album, 2019's The Low Road, a covers collection, this offering majors on new material. Joining Lee on vocals and bass are his long-time Gretsch-toting guitarist Buzz Campbell (of Hot Rod Lincoln and Sha Na Na); country aficionado Larry Mitchell on drums; and new on piano, the talented Matt Jordan, whose previous beat was with the Reverend Horton Heat.
What with the creative changes that 2020 has entailed, producing the album as a soloist has been an "intense" and "liberating" experience, Rocker says. "This is not a collaboration where I'm saying, 'Jim, what do you think of this?' It exists much more in a vacuum." Speaking of Slim Jim Phantom, has he or Rocker's other bandmate Brian Setzer been in touch, to exchange pleasantries regarding the latest prize platter? Lee laughs. "No, though we are in touch on occasion, and have been through this tough year, just like old friends. The funny thing is," he shares, "we go so far back – to meeting in the neighbourhood as 10-year-olds – that we don't even mention music in our calls. There's a lot of water under the bridge." 
The band last came together in 2018, after a 10-year gap, reuniting onstage at the Viva Las Vegas festival – or "ground zero for rockabilly" as Rocker calls it. It kicked off a busy year spanning a world tour and the release of their tenth, well-received studio album, 40. The trio seem at ease whether performing together or pursuing their own passions.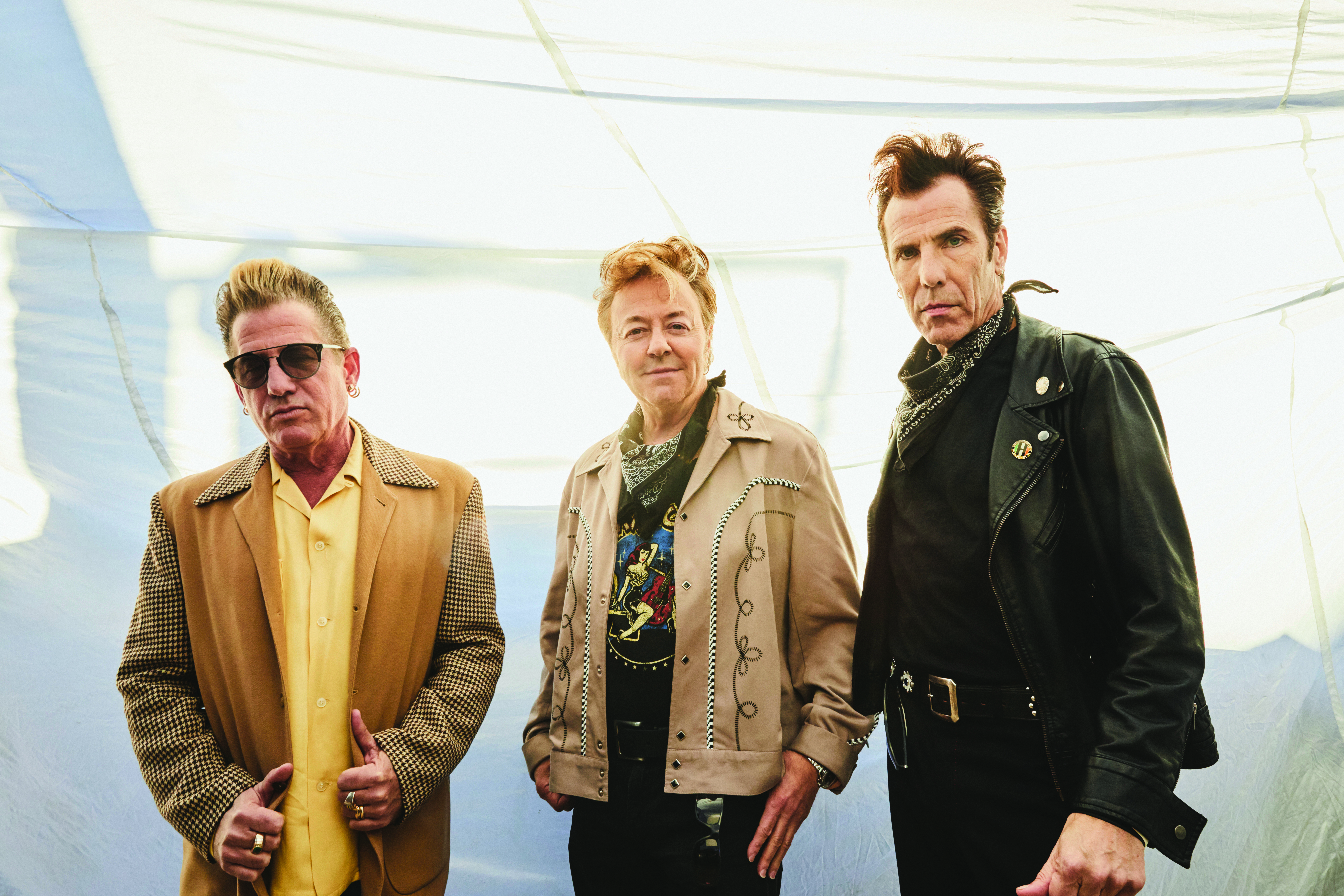 These days, Rocker likes to put his own stamp on things. Take, for example, the only song on the new album that predates 2020: the original version of When Nothing's Going Right, a track that first featured on 40. "I like different interpretations of songs," he explains. "I feel that this latest version has that spark of original fire." 
Likewise, Pitchin' And Grinnin' is a potent polemic on recently departed US president, Donald Trump. "I'm political in my personal life but not in public," he says. "I wrote this song as my statement on Trump, and about what's been going on in the States. How it's all been going in the wrong, divided direction. I know that we all can't agree on everything, but we should be able to agree we live in a democracy and that every four years we have an election that should be respected. I wanted an outlet and felt strongly about it. If I hadn't written it, I would have regretted it."
Warming to his theme of stories behind the songs, Rocker considers further album highlights. First off, the rollicking title track. "Gather Round captures something in that journey I made across America in these strange times," he reflects. "I feel like I'm rolling the window down, raising my middle finger in the air and waving it to 2020." 
In the opposite frame of mind, he cites The Last Offline Lovers, a tender song written for his wife of 33 years, Deborah.
As an acoustic departure, Rocker played all of the instruments on it apart from drums. Then there's the evocative Graceland Auctions, about Lee's "lifelong obsession with Elvis Presley". The first song he wrote on his road trip return took him just 45 minutes. Its lyric, "Everyone wants to own a piece of the cake," he says, refers to the King. "I toured Graceland in 1990 and took a stone out of the garden – and felt guilty afterwards. I said to myself: everyone wants a piece of the King. There's humour to it, yet a drop of melancholy, in retrospect, like everything Elvis."
Before finding fame as Lee Rocker, it was Elvis and Carl Perkins that changed the musical course of Leon Drucker's early life. With professional clarinettists as parents – his father Stanley in the New York Philharmonic Orchestra, his mother Naomi a music professor at New York University – like his sister Rosanne, who became a country singer-songwriter, he grew up playing classical music. "There was one rule in our house," he recalls, "play an instrument and be able to read music." 
Learning cello from the age of seven to 12, Lee soon moved on to electric bass. Next came a life-changing musical eureka moment, in which he discovered 'hoochie coochie' double bass player Willie Dixon, along with Elvis and Perkins' Sun sessions.  "The signature slap bass sound was something else," he enthuses. "The upright bass is the motor that moves rock'n'roll." 
Drucker is now regarded as an influential musician himself: a Bass Player Hall of Famer, and recipient in 2013 of Bass Player magazine's Lifetime Achievement award. He's rocked with the best: from The Rolling Stones and Ringo Starr to Willie Nelson, Leon Russell and John Fogerty. But his "unbelievable" double whammy has to be performing with both Scotty Moore and Carl Perkins. "There should be a rock'n'roll Mount Rushmore, with Carl's face carved upon it," he muses. "He really was an architect of rock. He was a kind guy who took me under his wing. We did a lot of TV shows and records together. 
"Recording with him at Sun Studios was an unforgettable high point. Before passing away in '98, he asked me to be his musical director but, sadly, we couldn't get the project to completion."
Rocker treasures a blue suede guitar strap that Perkins' son Stan gave to him at his father's funeral. A keen collector of musical memorabilia, one of Rocker's auction bids came close to claiming the holy guitar grail: Scotty Moore's gold Gibson ES-295, no less. As some compensation, to commemorate Moore's 80th birthday, Gibson reissued a run of 80 instruments, and Lee was pleased to acquire model number five. 
"I also idolised Scotty Moore," he continues. "In my opinion, there are two main guitar players in the history of rock'n'roll: Scotty Moore and Jimi Hendrix." Moore played on his 1994 album Lee Rocker's Big Blue, while he, in turn, played on Scotty and D.J. Fontana's 1997 LP All The King's Men. "We toured on and off for some years," he says. "He was a gem of a guy." 
Rocker also considers his father something of a formative influence, despite his operating in a different, classical field. "He was a vibrant entertainer, knew how to move and express, a rarity in that world," he explains. He thinks that's where he gets his own trademark on-stage antics from – lifting, twirling and spinning his bass
with boundless enthusiasm. "I like to be entertained, and one of the great things about rockabilly is the beat, the energy, the feel." Coincidentally, back in 1982, Rocker and his father were each nominated for Grammys – for best new artist and best classical performance respectively. Drucker senior played for legendary composers Leonard Bernstein and Aaron Copland, and was Grammy nominated again in 1991. He even played Rhapsody In Blue for the Woody Allen film Manhattan. 
Both now in their nineties, Rocker's parents are alive and well, still living in his birthplace, New York, and apparently proud of their son's musical achievements. With the Stray Cats, Lee has sold nearly 10 million albums and scored 23 gold and platinum records worldwide. In addition, the Rock and Roll Hall of Fame recently appraised Rock This Town as one of the 500 most important songs in rock. Would he like one of his own compositions to be similarly immortalised? "It's more a case of I do my work and do my best," he replies.
"I would like the Stray Cats to continue to be recognised but really, music is what touches you and what revs your engine. It's not about who wins what. I just love what I get to do and try to do something new, not tread the same ground. I've been playing bass since I was 13, I'm now 59. Every once in a while, I stumble across new things, and try to make infinite variations out of 12 notes. It's still endlessly fascinating."
Looking ahead, how does he feel about the prospect of touring anytime soon? "Raring to go!" he says with feeling. "I just really want to step back onstage." He adds that he's heard that "the music biz is feeling optimistic about the autumn of 2021," and that he is planning on starting to tour again in August, first in the States. There are dates lined up for Paris, Helsinki and Moscow, with UK shows also in the pipeline. Like the rest of us, Lee is also dying to get out and go to gigs again. "I'd go to see anything right now," he says. "I'll even go and see Britney Spears and have a good time!"
After 40-plus years as a renowned rocker, from feted band member to solo artist, what does being a double bassist mean to him? "The bass is such a physical instrument,
I feel as one with it," he says. "It's taller than I am; we are one. I always have that feeling. The upright bass has taken me round the world 100 times, paid my bills, and taken care of me. We're one and the same."