Soundtrack Of My Life – Sarah Vista
By Vintage Rock | April 26, 2022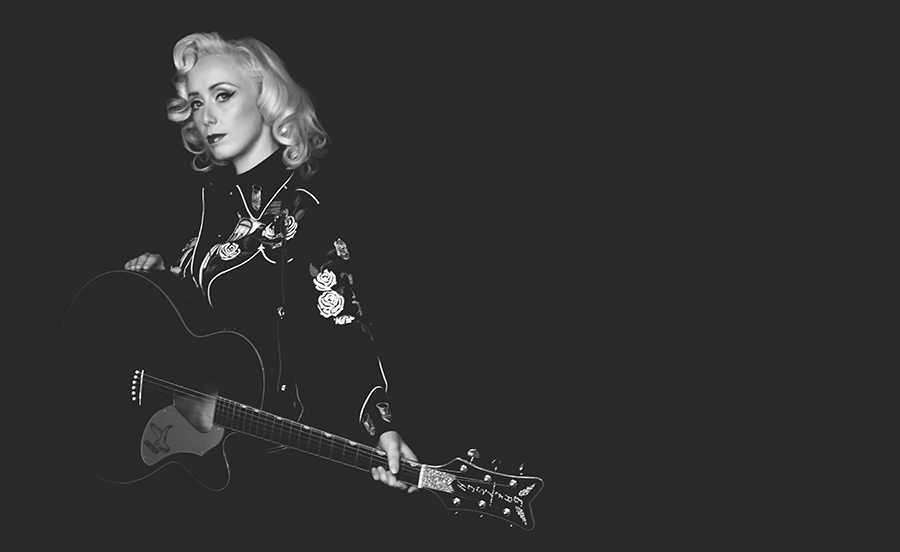 This six-shooter totin' Brit in black has a soft side, but don't tell anyone… Here are her 10 choice cuts
It's easy to lose yourself in Sarah Vista's world of wrong-righting murder ballads, ringing revolvers and western reverberations. We fell hard for her darkened charms on the release of 2016's deadly debut 45 I Wish You Hell, and when first album Killing Fever's fuller menu followed we fell still further, thanks to echoes of Nancy Sinatra, Loretta Lynn, Johnny Cash and a bit of Wanda, but all with a distinctly British edge. Since then, this gun totin' woman in black has continued her ascent with tours all over the world and landed the coveted Honky Tonk Female award at the 2020 Ameripolitan Awards in Memphis. She's been busy in lockdown, too, and next year promises the first single in yet another trilogy of 45s, a couple of collaborations, plus her follow-up long-player. On top of that, she has a western movie and an excellent song series of episodes called Sunday Saloon, all available at You Tube. You'll find more info at sarahvista.com, Instagram or Facebook. In the meantime, though, let's hear about her favourite records…
Johnny Cash and June Carter
–
Long-Legged Guitar Pickin' Man,
1967
I have a guilty penchant for the old his 'n' hers duet, and nobody does it better. I prefer this to the slushy end of the duet game and this one's got balls and humour, I love it. It reminds me of You're The Reason Our Kids Are Ugly by Lola Jean Dillon and L.E. White (made famous by Loretta Lynn and Conway Twitty), which hits the spot, too. I had fun writing a tongue-in-cheek homage called My Baby's Bad, a duet I'll be releasing sometime soon.
Billie Jo Spears –
Get Behind Me Satan And Push,
1968
My first drummer gave me an Ace Records CD he worked on called Good Girls Gone Bad. I'm a bit weary of references to the devil in song, but was knocked out by this – and the story of her being a teenager when she sang it?! She's a fighter, and this packs an almighty punch. I dig women singers, and anyone that hollers "A sassy lassie done stole my man, if that don't make me mad, nothing can" is alright by me. The strength of her voice against the horns is as sweet as candy, too.
The Johnny Burnette Trio –
The Train Kept A-Rollin',
1956
Johnny Burnette is a badass. I always think, "what would it have been like to be around when…" and I think Johnny Burnette was at the coolest end of the rockabilly posse; he was one of the punks really doing their own thing and making a statement. He's got that in-your-face, on-your-feet-NOW vibe in spades. Fuzztone is a big YEAH! [the trio's guitarist Paul Burlison may have accidentally invented distortion when he dropped his amp and damaged one of the tubes, prior to recording this tune – Ed].
Wanda Jackson
–
Hard Headed Woman,
1961
Wanda's one of the game-changing icons that helped prove us women weren't just to be looked at, at home cooking the tea or crying into our milk because some boy's left us. She hit the guitar and whacked those vocals out with a style all of her own and looked drop dead gorgeous to boot. She's one of the iconic ladies that made me think, 'I'm gonna get up, turn my troubles into something positive and make people listen'. She definitely holds the listener hostage on this one.
Ennio Morricone
–
The Ecstasy of Gold (L'Estasi Dell'oro),
1966
A wildcard, but it'd be wrong if I didn't put a Morricone classic in my Top 10, and this one's a contender for the most epic piece of music ever put to film – I'd fight that statement to the death. Edda Dell'Orso's vocal was the first time I realised a voice could be used as an instrument. The trumpets, bells, epic layers, the explosive climax… it's the soundtrack to a duel even without Sergio Leone's imagery. This makes me want to lock myself in a studio and never come out. 
Joyce Green
–
Black Cadillac,
1959
I love this song, and I love Buddy Moss' Going To Your Funeral In A Vee Eight Ford, the bluesy original it was based on, too. Songs about turning the tables on misery are what inspired my project, as let's face it, life's tough. Whatcha gonna do about it, though? Sit and whine and hate on other people, or get up, rev that engine and turn your pain into something that brings joy!? I like to approach writing songs with a sense of humour and this track is one that does just that, and really very well. A classic in Casa Vista!
Johnny Cash –
Man In Black,
1971
Cash at his most powerful. It's got his classic chugging rhythm and deep dulcet tones but boy, the lyrics! Political songs are a minefield, but this one makes a cool, strong statement without telling you what you should be thinking: "I'd love to wear a rainbow every day, to tell the world that everything's OK. But I'll try to carry off a little darkness on my back, 'til things are brighter, I'm the man in black." It may be a mad, bad world we live in, and "There's things that never will be right, I know", but we do have Johnny Cash.
Whistle Bait –
Lorrie and Larry Collins,
1958
What a duo these kids were. It's hard to believe Larry was 13 when he laid this down. I can tell why a lot of people refer to it as the first punk song, as it's got a wild edge. I had a great time at the Ameripolitan Awards, and one of my personal highlights was meeting and playing with Dakota Collins, my favourite American bass player – who is the nephew of the Collins Kids. He's a kind soul, super talented and has some great stories of growing up in the family, so when I hear this I think of his edgy style and character.
Gene Vincent –
You Are The One For Me,
1959
I'll deny it, of course, when I'm donning a six-shooter and wishing people hell, but I do have a soft side and this, for me, is the epitome of romance on record. I'm absolutely crazy about it and it's my go-to for an indulgent back-to-back session on the deck. There are a few versions kicking about, but it's master take number 9 that is, for me, the perfect mix. Simple piano, guitar and bass, the cascading piano solo, ugh, I go weak. Gene's voice, the emotion, "I tremble at your touch". Yes sir, I do.
Chance Halladay –
Bury Me Deep,
1960
A random choice, given I know little about it. I've been searching for years for more information. Someone dear to me managed to uncover a copy of the Bull Dog release, but I know little more than the two singles I can find. There's a suggestion it was someone else in disguise. If anyone can put my mind at ease, I'll be forever indebted! This reminds me a little of Sixteen Tons – I love the Tennessee Ernie Ford version. The production, the levels and layers and how they build and drop with his voice…