Q&A – Televisionaries
By Vintage Rock | April 26, 2022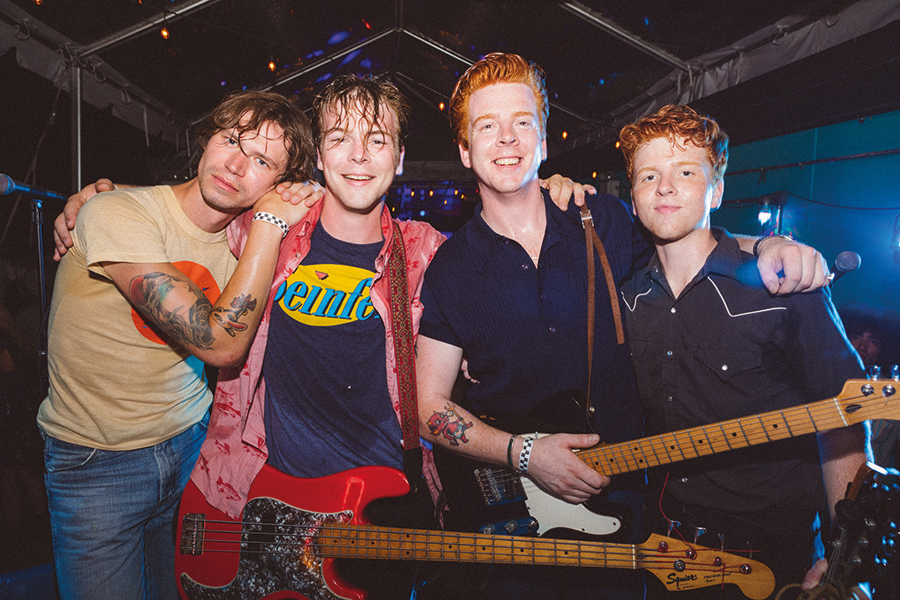 Three brothers from Rochester – and their best friend – are ready to take on the world with new album Mad About You. By David West
"All of our favourite bands that are families all hate each other now and they don't play together," says Trevor Lake. "We're like, should we continue to do this? But so far so good." Music has always been a family affair for brothers Trevor, Brendan and Austin. Their dad is a jazz drummer, and the three boys grew up jamming in the garage of their home in Rochester, New York, where they started blasting out punk rock before discovering surf music, 60s power pop and classic rock'n'roll. 
It's easy to hear those influences in Televisionaries, from the surf instrumentals of their Ram-A-Lam-A EP to the hair-raising rock'n'roll of Go Getter and the brothers' blood harmonies on the Spit On My Rubber EP with Bloodshot Bill. Now a quartet with the arrival of drummer Aaron Mika, Televisionaries are just about to unveil their new album, Mad About You.
How did your last single Charlotte Beach come together? 
That was a lockdown creation. I actually wrote that one and it came out really quick. Charlotte Beach is the popular beach in Rochester that everybody goes to and it's frankly a dump so I thought it would be funny to write a glorifying song about a really crappy beach.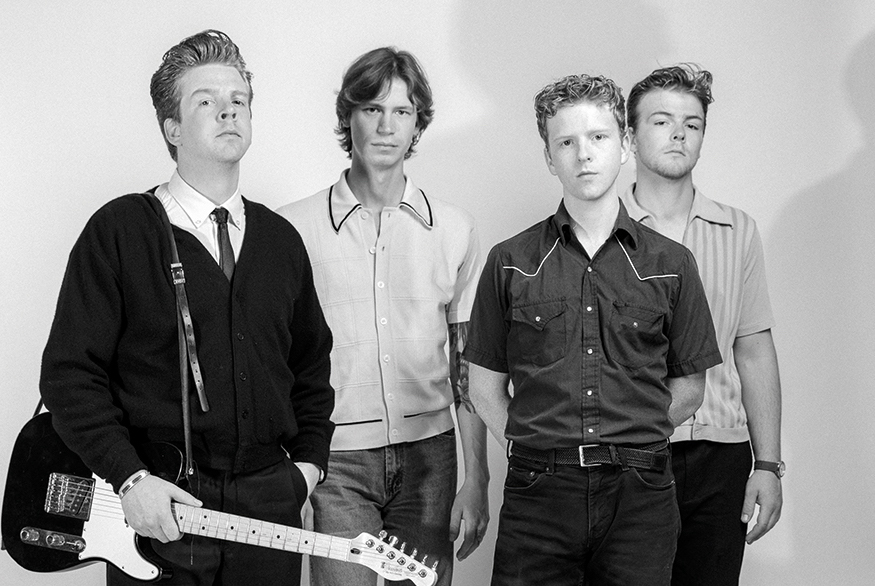 Were you going for that Beach Boys and 60s surf sound?
Yeah, that's a huge influence. We're all obsessed with The Beach Boys and were always more into vocal surf. We like instrumental surf, but the vocal surf just has something special – The Rip Chords, The Beach Boys, Gary Usher, that was all a huge influence and then Los Angeles late 70s, early 80s punk, The Adolescents, The Simpletones, The Crowd. Those guys were always very influenced by power pop, punk, beach, surf, just a mixture of everything. That's what our style is very influenced by.

Do you mainly gig around the East Coast of America?
We definitely play a lot on the East Coast. I've gone out to the West Coast to play with other bands, but we're mostly an East Coast band. We get up to Quebec, too, and tour around there with our buddy Bloodshot Bill. Even though we've been a band for about a decade, we're finally getting some headway. We're playing Viva Las Vegas in April, so I think there is a lot of travelling on the horizon. That's what we live to do.
How did you meet Bloodshot Bill?
I first saw him perform in Rochester, and then I'd follow him around. I'd see him in New York City and I'd bother him after he played, I'd give him my demo tapes. I would try to book him here and eventually Televisionaries got to play with him, and he really took a liking to us. We were instantly friends and he said, "Hey, why don't you learn some of my songs and we'll play shows together? You can back me up and you can play your own set." We get along so well, he's like another brother.
Where do you record?
Well, up until this summer we would record just in our basements. My brother Austin is a wizard at home recording so he would do it wherever. We recorded Ram-A-Lam-A in the living room at one of my houses, Charlotte Beach was in the basement at my last house but this Summer we recorded in the Lower East Side of Manhattan at NY Hed Studio with Matt Verta-Ray and Rocio Garcia who are two amazing people that recorded the new album, Mad About You. It's very Kaisers-influenced rock'n'roll, early Beat sounding stuff. It was really nice to get into an actual studio and just perform – they do the rest. We're at that point now where we like to go to the studio and have the professionals take care of it. It's really a beautiful set-up there, completely analogue. They're masters at their craft, so it sounds exactly the way we wanted our record to sound.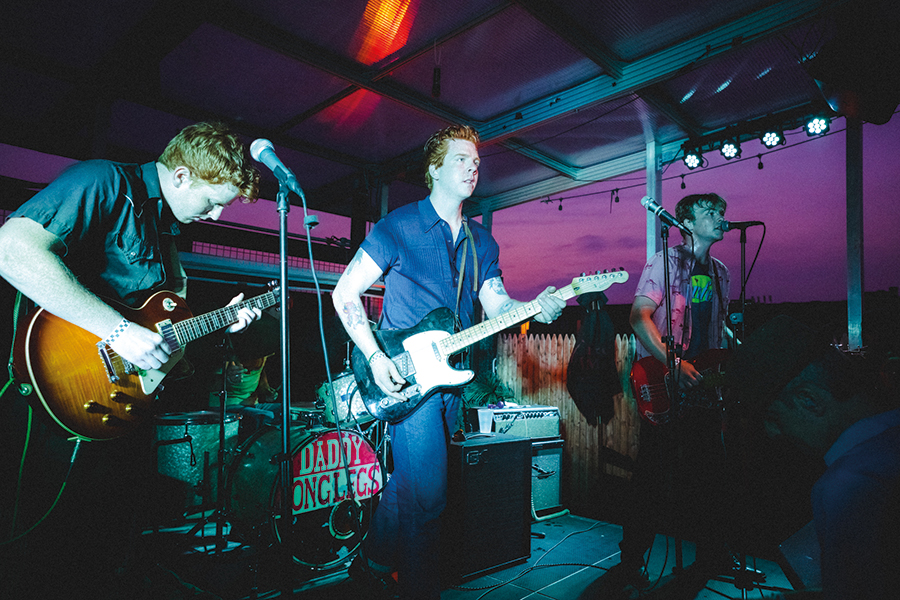 Do you collect vintage instruments?
More so myself and our drummer. My brothers are funny in that sense, you can give them any guitar or bass and they'll play it fine and make it sound fantastic. I give them a lot of credit for that. On the other hand, I've got a vintage amp. I don't have a vintage guitar because I find that I don't need to spend that much money to bring something around that could get destroyed and my life would be ruined, so I'd rather have a $500 Mexican Strat that I don't care if it gets stolen or broken. But I think the amp is the most important thing to have that's vintage if you're trying to achieve that sound. I play a '55 Fender Showman with a 90s Reverb Tank. For drums, we use Ludwigs, sometimes a 60s kit, and our drummer has an early-70s Vistalite which is awesome.
What have been the highlights with Televisionaries so far?
I'd say the most recent highlight would be doing that record in New York City and then before that would be playing the handful of shows up around Quebec and touring around there with Bloodshot. We'd just roll into mountain towns and there'd be tons of people that were excited to see us that didn't even know us. I don't know if it's the government or something, they put value on music. They like to get musicians coming into town, so they'll pay you to travel, that's just how they like to spend their money up there, I guess, as opposed to in the States where you're lucky to get a free dinner when you play shows sometimes. It's a different outlook there and we appreciate that. It's an amazing part of the world up in Canada that we'd never seen before. I think that's the best thing about being in a travelling rock'n'roll band, the things you get to see that a normal person wouldn't get to see off the beaten path. Being able to do all those things with your best friends and your brothers is as good as it gets. It's all a joy.
It must be nice to have your brothers around when you're away from home, but nobody knows how to push your buttons better than family!
That's a great point. We've only really had one issue and that was actually the first time we all went out of town as a band. My two younger brothers were going at it the whole time. I didn't know they had this squabble, but it's been sorted out. We get along great; we each have our role in the band. Essentially, I set the shows up and do the booking, the organisational aspect. My two younger brothers, they're so good at what they do, they get to kick back and just keep writing good songs.
Did the pandemic have a big impact on the Televisionaries?
We were pretty upset because we had a lot of momentum built up in the Spring of 2020 and great shows that were going to happen in the Spring, Summertime and Fall. After we got over the fact that those weren't going to happen, we re-evaluated things. When the pandemic hit, we were just a trio, just us three brothers, and I was living with Aaron our drummer. I just said, "Let's add Aaron on drums and we'll be up front singing and playing guitars together." We took that jump and then we really got down to the grind of learning and rehearsing the songs, so we were able to lock that in and I think the band is better than ever. If the pandemic didn't occur, that might not have happened. 
What are your hopes for 2022?
I just hope that all those shows happen. That's pretty much it. One thing we've learned over the past two years is you never know what's in the future. We hope we can get out there and play. We've had three records come out over this pandemic and haven't been able to promote them in the way we should have by playing out of town, so we really hope we have a chance to do that with this LP because we've worked so goddamn hard at it. We really want to be able to deliver the message to the people, that's our hope
Mad About You is out now via Nu-Tone Recordings