Issue 54 of Vintage Rock is on sale now!
By Vintage Rock | November 24, 2021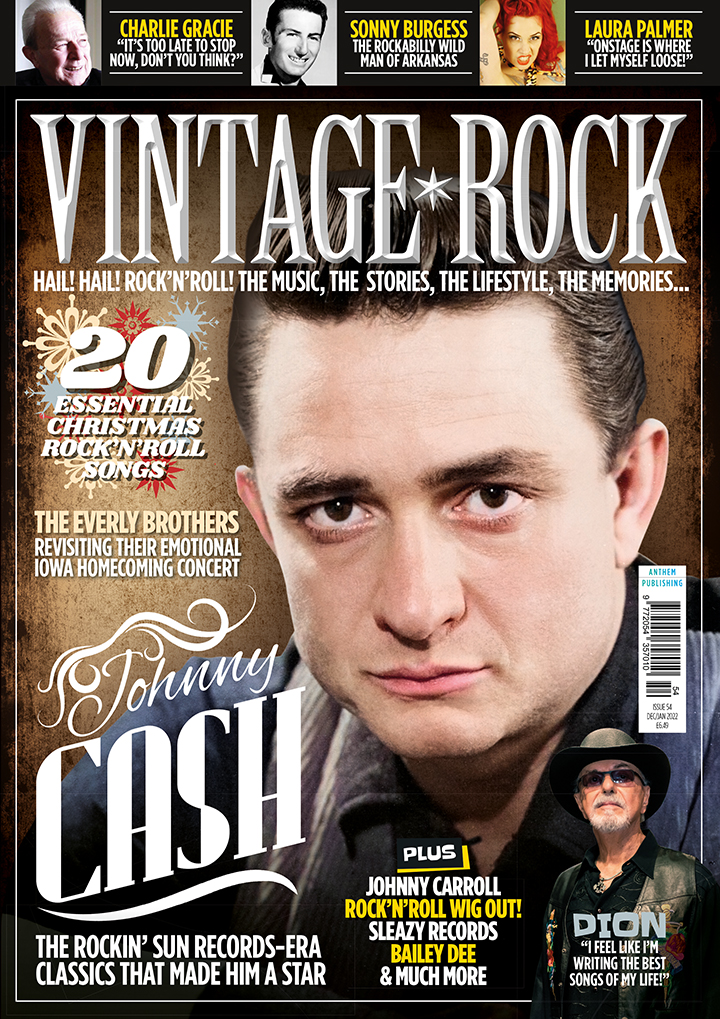 In the latest issue of Vintage Rock, we're rewinding the clock to Johnny Cash's Sun Records days for a comprehensive cover feature about his rockin' early material.
Elsewhere, we welcome back Dion DiMucci to our magazine for an exclusive interview. After last year's Blues With Friends, he's followed it with yet another star-studded studio album – Stomping Ground – which features the likes of Bruce Springsteen, Eric Clapton, Peter Frampton and Billy F Gibbons.
We also catch up with rock'n'roll favourite Charlie Gracie for in-depth chat, profile cult hero Sonny Burgess and tell the story of Johnny Carroll's 1978 long-player Texabilly.
The new issue also features interviews with multi-instrumentalist Bailey Dee and the feisty frontwoman of Screamin' Rebel Angels, Laura Palmer. And as a nod to the ensuing festivities, we've rounded up our 20 essential cheese-free Yuletide rock'n'roll songs. We also revisit The Everly Brothers' 1986 homecoming concert in Iowa and profile influential Spanish label Sleazy Records.
Our packed reviews section includes Elvis, Chuck Berry, Dion, Jerry Lee Lewis, Johnny Kidd plus many more.

Order Vintage Rock issue 54 online
Get the magazine delivered direct to your door by ordering your copy of Vintage Rock issue 54 directly from us today for just £7.49 (inc. P&P) here.
Download the digital edition
Get the digital edition from Pocketmags. Or find the new issue in the Vintage Rock app.
Not downloaded the free Vintage Rock app yet? Find out more about the app here
Find Vintage Rock issue 54 in stores
Available from WH Smith High Street, selected WHS Travel, Independents and Easons – priced £5.99. Use our handy Store Locator to find your nearest Vintage Rock stockists.
Subscribe to Vintage Rock and save!
Subscribe to Vintage Rock Plus today and get this issue for only £3.99, plus all our other fantastic subscriber benefits including the FREE digital issue archive, savings on the entire Vintage Rock shop plus the free monthly e-newsletter.