Vintage Day 2015
By admin | March 31, 2015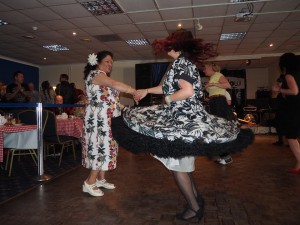 Great live music, a fantastic array of classic cars and a fine selection of stalls made the Vintage Day event another tremendous success.
AFC Wimbledon's Cherry red Records Stadium was transformed to a time gone by for A Rockin' Good Vintage Day VI with jive classes staged in the back bar and a hair and make-up salon and pop-up barbers shop.
The all-day event staged earlier this month got underway at 9.00 am with stall holders arriving early to set-up for trading. A photography studio was set-up in the Presidents Lounge to capture some great pictures of people wearing trademark outfits from a bygone era.
The DJs arrived to get everyone in the party mood and the 1950s airstream diner was set-up, along with a tea room for drinks and cakes. Rather surprisingly, the classic and custom cars started to arrive two hours before the gates opened to the public.
The Market Hall opened for business at 11.00 am with a wide selection of stalls. Vintage clothes and shoes, household items from days gone by and jewellery were all on sale and it all created a vibrant buzz as people started to turn up in their droves. As in previous staging of these events, there was a fantastic atmosphere with those in attendance smiling, laughing and shopping until they dropped!
Business was thriving at the tea shop with cakes, tea and coffee, all on offer, thanks to Neal, Geraldine and Sarah Richardson, along with Holly Piddington.
The day really got into full swing when the dancers took to the floor. It may have been only midday on a Sunday, but there were plenty of classy moves on display! Outside on a bright, sunny day, the car park started to fill up with classic and custom cars and the smell of gourmet burgers also pulled in a few punters!
The Music Room (back bar) is already packed by the time The Keytones take to the stage at 2.30 pm for their live performance. The band run through a brilliant 45-minute set filled with songs that Jive dancers can't get enough of, the dance floor is a mass of twirling circle skirts and joyous abandon.
After the band exit the stage, there is a Jive lesson with our co-host for the day, Miss Aloha from Hula Boogie, and the class is full of eager to learn novices, all with smiles on their faces.
The market stalls did great business with willing customers ready to buy up their vintage wares. Ladies with their newly curled 50s hairstyles and make up, complete with portrait photos in hand, exit the beauty parlour all day long.
Following the announcement of the winning Classic car, a Ford Anglia, The Keytones are back on stage and that signals a packed dancefloor once again. DJs keep the pace going until the end of the day.
Fujiyama Mama's Hot Rockin' Club organiser Jim Piddington said: "It was a great day with everyone going home happy, but needing a sit down from all the dancing, shopping and looking at cars. That was just the attendees and I think the staff who worked all day needed to go home and have a lie down in a dark room to recover! I was one of those, but I know that everyone involved went home smiling and content that they had worked their socks off to make the day a resounding success."
Jim wishes to also thank you all the DJs & security for their efforts and all the volunteers who made the event run smoothly. "Now let's do it all again on Sunday, 27 September," added Jim. It's a tribute to the event's success that a date has already been set for the next one.