Download the Vintage Rock app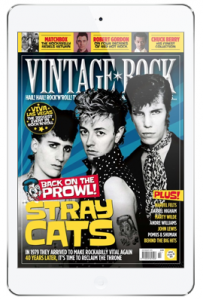 Vintage Rock's digital edition allows you to enjoy all the exclusive content of the magazine on the go, wherever you are and whenever you want.
Available as a single issue, or as a digital subscription, the Vintage Rock digital edition is the must-have app for anyone who is passionate about classic rock'n'roll.
Available on iTunes, so it's never been easier to find a way to read Vintage Rock magazine. Click here to see our latest digital subscription offer and save up to 27%.
How to download the Vintage Rock app
Order from our digital partner, Pocketmags

Vintage Rock app for Android devices via Google Play

About Vintage Rock magazine
Vintage Rock celebrates a time when music changed the world – 45s, youth culture and the odd thrusting pelvis. Spanning the dawn of the '50s and the seismic release of 'Rock Around the Clock' through to the early '60s and right up to the modern rockin' scene, Vintage Rock chronicles all the stellar artists and music, the enduring legacy of those early pioneers – and why it's still the best way to live. This special magazine rejoices in the music and verve of the greats like Elvis, Buddy Holly, Chuck Berry, Gene Vincent, Eddie Cochran, Little Richard and a host more, and speaks to a contemporary audience that relishes the vitality and flair of the era.
Featuring the finest writing, rare pictures, exclusive interviews, reviews of new singles and albums, and coverage of today's vibrant live scene, Vintage Rock is a unique magazine that relishes the vitality and flair of the music that started everything.
Great reasons to subscribe to Vintage Rock digital edition today!
Save 27% on the equivalent single issue price
Read your magazines on virtually any device at any time. Your subscription will allow you to read your magazines on your iPad, iPhone, Android device, Kindle Fire, PC and on Windows 10
Back issues are stored digitally, saving space, so can be taken with you anywhere at anytime on your favourite digital device
Just £21.99 for 6 issues per year (normally £35.40)
Not in the UK?Thats ok, get the same great deal when you subscribe to the app and pay in your local currency too!
EUR €24.99 / AUD $35.99 / USD $22.99
Want to get the print edition with collectable covers? Click here to check our Vintage Rock subscription offers