Interview: Jimmy Dale Richardson
By Vintage Rock | November 3, 2021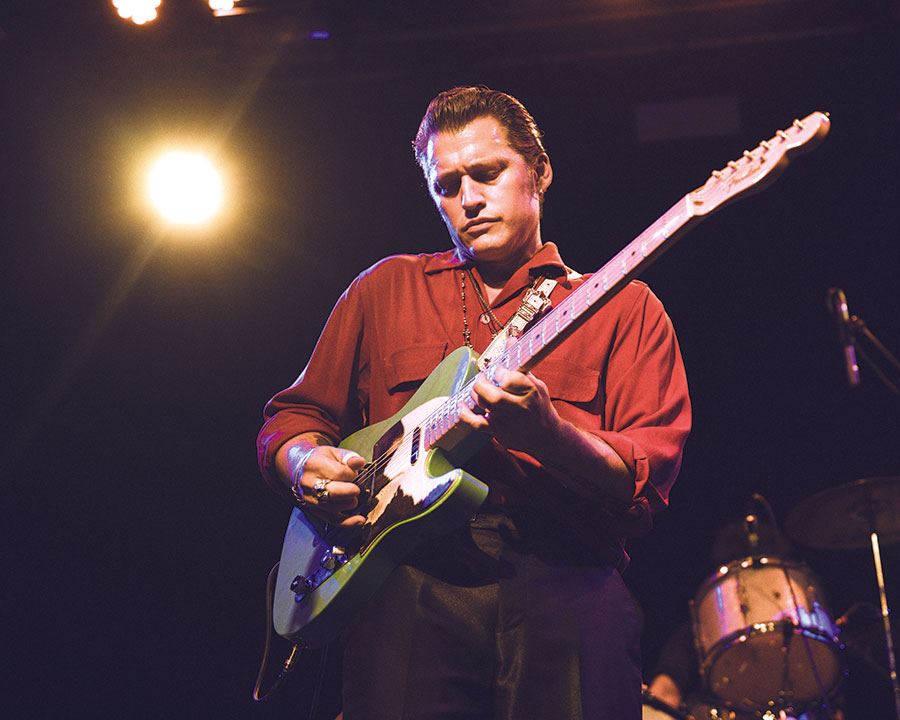 From recording an album in Nick Curran's bedroom to winning the Ameripolitan Award for Best Rockabilly Male, Jimmy Dale Richardson flies the flag for Oklahoma's rockin' scene… By David West
"It was something inside me. I feel like God definitely created me to do that," explains Jimmy Dale Richardson about his rockin' life. "I never really had a desire to do anything other than entertainment and music." Receiving his earliest musical education from his record-collecting dad, the Oklahoma singer and guitarist can turn his hands and voice to everything from rockabilly and hillbilly to jazz standards and 60s R&B. 
The 2019 Ameripolitan Award winner often shares the stage with his wife Lynn, who runs the Oklahoma Showgirls, bringing vintage glamour to the performances. Music runs deep in the family – Richardson's grandfather Hubert Pearce played the honky-tonk circuit from the 40s until the 60s, and now his dad plays upright bass in his band. Following his 2016 Wild Records album, Heartaches And Honkytonks, he's releasing new music on Jim Heath's Fun-Guy Records. 
Did your grandfather, Hubert Pearce, give you any musical or career advice?
"He did. I learned a lot of different tricks on guitar from my grandfather. Early on, I was somewhat afraid to fly because a lot of the famous musicians that I love, it seemed like they all died in plane crashes. He just said, 'When it's your time to go it doesn't matter where you are, you're going to go'. That really cured me, I can't hold myself back from a flight. I've been blessed in the last several years that my wife and I have been able to play at festivals in Spain and Italy, so it helped open my mind to the possibilities."
Why did you decide to start writing original music?
"To keep that tradition alive, to bring the idea that you can do roots music with integrity. It doesn't have to be corny, it doesn't have to be the same song in a different key for one or two sets. The idea is to mix it up. I learned that hillbilly, Western bop, honky-tonk, jump blues, roots, rock'n'roll, all in the same set gives a different flavour, different tempos, different sounds."
For Heartaches And Honkytonks, did all the musicians play live in the studio?
"Yes, it was great. I love doing that. I don't like to wear headphones and don't like to be isolated from the musicians that I play with. I like the live aspect of recording and I think it comes out a lot more raw, more original."
How did you get connected with Fun-Guy Records?
"I met Jim Heath [of The Reverend Horton Heat] at the Ameripolitan Awards in 2019, I was out there doing a showcase. I guess he watched it, came up and introduced himself to me and my wife and we hit it off. We kept in touch, then he came into town to play at the Tower Theatre here in Oklahoma City, and messaged me, asked if I wanted to come and do one of my songs that I wrote, She's Wild. While we were backstage, I played him the songs that me and Nick Curran and Smiley Jake Erwin recorded 20-something years ago. I said, 'You should put this on your record label'. He said, 'I'm not a record label'. He played it for Big Sandy and Big Sandy said 'you should definitely put this out', so he decided to go ahead and cut that. That was the first run, and it was amazing. Jim Heath and his family, they're really great people. Then I wrote a song for my dad, he had a '58 Buick. We recorded that last year. We cut that and did a new version of She's Wild, he put that out on a 45. Deke Dickerson mastered both the Dallas Barbershop Sessions and this new 45, so they're really a great bunch of people that believe in me."

How did you meet the late, great Nick Curran?
"Nick was playing in Kim Lenz's band with Smiley Jake Erwin, who I knew from Norman, Oklahoma. We had played music together here and there and just started performing music in Dallas, and Nick was part of that. We played around Deep Ellum  and stuff like that. We laid that stuff down literally in his bedroom after goofing around Dallas all day. We came back to rehearse and thought well, let's just record it, see what it sounds like."
And that became the Dallas Barbershop Sessions album?
"That's stuff that I cut 20-something years ago with Nick Curran and Smiley in the back of a barbershop that was Nick's apartment. We recorded that in Nick's bedroom on one microphone with an echo box tape delay. Nick stood by his bed with his guitar and amp, Smiley stood behind me with his bass, and I stood closest to the microphone with the rhythm guitar, and we cut that. I held onto it all this time because I didn't want it to be released on anything and be forgotten. It became a crusade to me to make sure it got out in the right way, and thank God it got in the right hands."
Have you found a strong sense of community within the scene?
"There's a lot of camaraderie that you find in the scene and I think that's the best way to go about it. It takes a team to advocate for what we're all trying to do, which is keep this music alive and to get people to understand it's a real tradition. If we don't keep it going, then it could very well fade away."
You've played with another great guitarist, TJ Mayes…
"I did, TJ being from Oklahoma as well. I think he's originally from Shawnee. Again, we said, 'Hey, you're in town, I'm in town, why don't we team up for some shows?' He's doing great things on Wild. We crossed paths there for a little while. I will say that one of the greatest things that happened with me and TJ is I was playing a show in Dewey, Oklahoma, and that's where I met my wife."
What have been your best places to play?
"The greatest experience was with the Summer Jamboree in Senigallia. That whole town was crammed in the streets. It was kind of an out-of-body experience. We just got to play Trees in Dallas with the Rev and Slim Jim Phantom from the Stray Cats and that was quite an experience. The best places are where the sound guy is in the pocket, he's nailing the tone and the sound. You can hear everything, and the crowd is energised. Those are the best times."
Did winning an Ameripolitan Award in 2019 give your profile a boost?
"Oh absolutely. That was the first real gig I got to play in Memphis. Dale Watson and Celine Lee are amazing leading that Americana, roots award deal, paying homage to a lot of the greats and giving us an opportunity to be seen by a bigger audience. Winning the award was a very humbling experience, too, and I had it given to me by one of my mentors, somebody I've always looked up to, James Intveld. That was really neat, standing on that stage and having him announce that."
Is it true that President Bill Clinton wrote to you after you recorded We'll Never Stop Crying about the 1995 Oklahoma City bombing?
"He gave me a letter of commendation. We cut that here at a radio station that's been around, I believe, since the 50s, KOMA. The only time that was available off-air was at three in the morning, so we went there and cut it then, then they played it on the TV stations and radio stations. Bill Clinton wrote me a letter, that was pretty amazing. That was my senior year of high school, and my high school was far from downtown, but we heard it at 9.02 in the morning when it happened. As far as my brother and I knew, our parents were supposed to be there at the building at 9am. Of course, we didn't have cellphones back then, so we were frantic. Coming from that possibility of losing our parents and everyone else losing their children and their family, that's how that came about. My dad overslept, so that worked out, but it was tragic for everybody. It just hit me to write a song about it."