Interview: Greg Townson
By Vintage Rock | November 3, 2021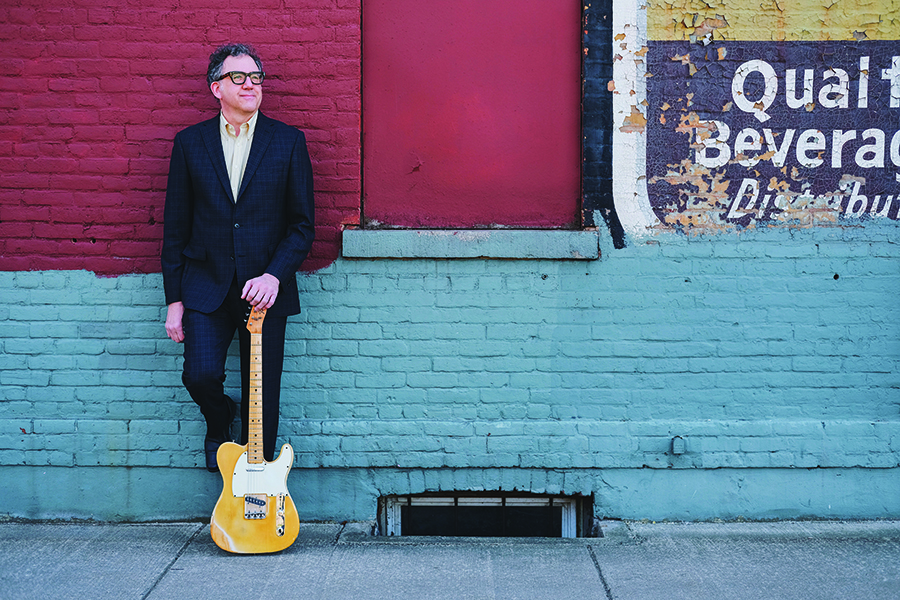 On his latest instrumental solo album, Greg Townson pays homage to his favourite female songwriters and takes off his Los Straitjackets mask. By David West
"It's definitely about the song," says Greg Townson. From The Hi-Risers to Los Straitjackets, with and without Nick Lowe, Townson is one of the busiest guitarists on the rockin' and roots scene, but the common thread throughout is his love of a great song. Off And Running! is his third solo album of guitar instrumentals, although it's a facet of his storied career that has taken on a life of its own. 
Townson decided to make his first instrumental solo album while on tour with Los Straitjackets. "Everybody in the band had their own record on the merch table, so I thought, 'I've got to do that,'" he says. "I had On Your Side, which was my first record of pop songs that I sing, and I put that on the merch table. 
"But it was so different from what everyone had just experienced from me up on the stage, because I'm playing all instrumentals up there, that I thought, 'Well, I better put an instrumental record on the table so it at least relates to what people have just seen'."
That led to the 2017 release of Travelin' Guitar, featuring a collection of songs sharing themes of travel and movement. "Then Vince and Magdalena from Hi-Tide Recordings loved it, they're like, 'Give us another one,' so I did More! Travelin' Guitar, and they wanted another one, so I did Off And Running! I just thought I'd do the one, but now I'm going in that direction."
Off And Running! was born during the pandemic lockdown. Townson had planned for a busy year of touring with Nick Lowe & Los Straitjackets, and the band had some time off in early 2020, so Greg recorded and released Just Name It, showcasing the pop and rock'n'roll side of his influences. 
"I had a 1 May release date goal in mind for Just Name It. When I met that release date and it was obvious that we weren't going to be back out on the road, what am I going to do?" he says. "That's where Off And Running! comes in." Having done some remote recording with Los Straitjackets, Townson decided to make another album, so he assembled a list of other artists he wanted to work with and started thinking about what they could play. "It was a way of connecting with musicians without being on the road and being able to see each other face-to-face or make music together in person," says Townson, who enjoyed focusing purely on arranging the songs, rather than writing them from scratch. 
"I'd just written all the songs on Just Name It and I'd really concentrated on pop songs – those are so hard to write," he says. "They don't sound like it, I try to make it appear like I haven't worked on them, but they really do take a lot of time, so I was ready to take a break from writing."
Townson had a recording of The Loco-Motion, written by Gerry Goffin and Carole King, left over from the More! Travelin' Guitar sessions as a starting point. "I did a song called Out In The Streets, which was written by Ellie Greenwich and Jeff Barry and originally done by The Shangri-Las," he explains. "Then I did a version of a song called Action Line, which was written by Dorothy Ashby, who is a jazz harpist. She did some groovy records for Cadet in 1967, '68, she's great. At that point, I realised that all these songs were written or co-written by women and I thought, 'Maybe it would be cool if I just did the whole record that way!' With instrumental projects, you want to have kind of a concept to hang your coat on so you can give it some form or shape."
Off And Running! features an appetising line-up of players, including The Hi-Risers' Todd Bradley, Pete Curry and Eddie Angel from Los Straitjackets, Lisa Pankratz and Brad Fordham from Dave Alvin & The Guilty Ones, Ray Jacildo from the JD McPherson band, and even DJ Bonebrake of Los Angeles punk rockers X. "I just wanted the people who are in my world that mean a lot to me. The nice thing was, when I'd call them, we'd talk on the phone for a while. I live alone and the pandemic… I hadn't seen anybody for months, so I wanted to connect with friends as well as great musicians."
With almost no vocals on the album, Townson's guitar takes the lead role. Where some guitarists have a 'Look ma, no hands,' approach to instrumental music and soloing, showcasing virtuosity as an end unto itself, Townson wants his guitar to sing, like a voice. He's inspired by players such as Hank Marvin and from growing up listening to his dad's Chet Atkins records. "Even though he was a virtuoso, he also could play very simply, within the song and within the melody," says Townson, but it was playing with Los Straitjackets that really pushed him to develop his approach to the guitar and take the lead role. "I'd always played instrumentals with The Hi-Risers as a change of pace, giving our voices a break," he says. "I love instrumentals, but it would always be like, 'We're going to have a breather, here's an instrumental'. With the Straitjackets, that's what we do – you've got to win over the audience with instrumentals, not your voice, not lyrics, not harmonies."
Adding to the challenge, Los Straitjackets have a strict 'no pedals' policy, so there's no hiding behind a swathe of effects. "It gave me a voice that I didn't have with the instrument before. It really was like singing with the instrument," he says. "When you're playing a melody, you want to add a little vibrato like you would with your voice, or sing it a little harder here, a little softer here – dynamics." That tied in with the fact that Townson has always been a songwriter, so he respects the music instead of seeing it as just a springboard for guitar gymnastics.
"That's the most important thing, putting the song across. And keeping it simple is important to me . You can do something in a solo section that gives it a little twist, but in general you're playing the song," he says, his aim to inspire people, not intimidate them. "I always had the mindset that you want the audience, the guitar players in the audience particularly, to say, 'I could do that!' instead of, 'I could never do that'. I'd much rather have people say, 'I could do that'. It's a good feeling, not, 'I'm going to give up the instrument'. It's definitely about singing the song with your guitar.' 
While the rockin' and roots scenes may be dominated by vocal artists, instrumentals have always been integral to the music. "When you look at the 50s and 60s, up until the mid-80s or so, there were always instrumental hits," says Townson. "At the top of the charts, there'd be some instrumental hit, so it makes sense for instrumental bands to be part of the rock'n'roll, rockabilly, R&B, roots music scene. It should have a place at the table."
Off And Running! arrives on 23 July and while there's still no sign of major touring starting back up, Townson wants to spread the word. "I will get out there and promote it somehow," he says. "I want people to hear this record, everybody plays so well on it. It's a unique record, it's got its own thing. It's only an instrumental record and it's not going to set the world on fire, but I'd like at least for people to give it a listen, because I think they'll get something out of it."
Off And Running! is out now via Hi-Tide Recordings