Soundtrack Of My Life: Lyndon Needs
By Vintage Rock | August 4, 2021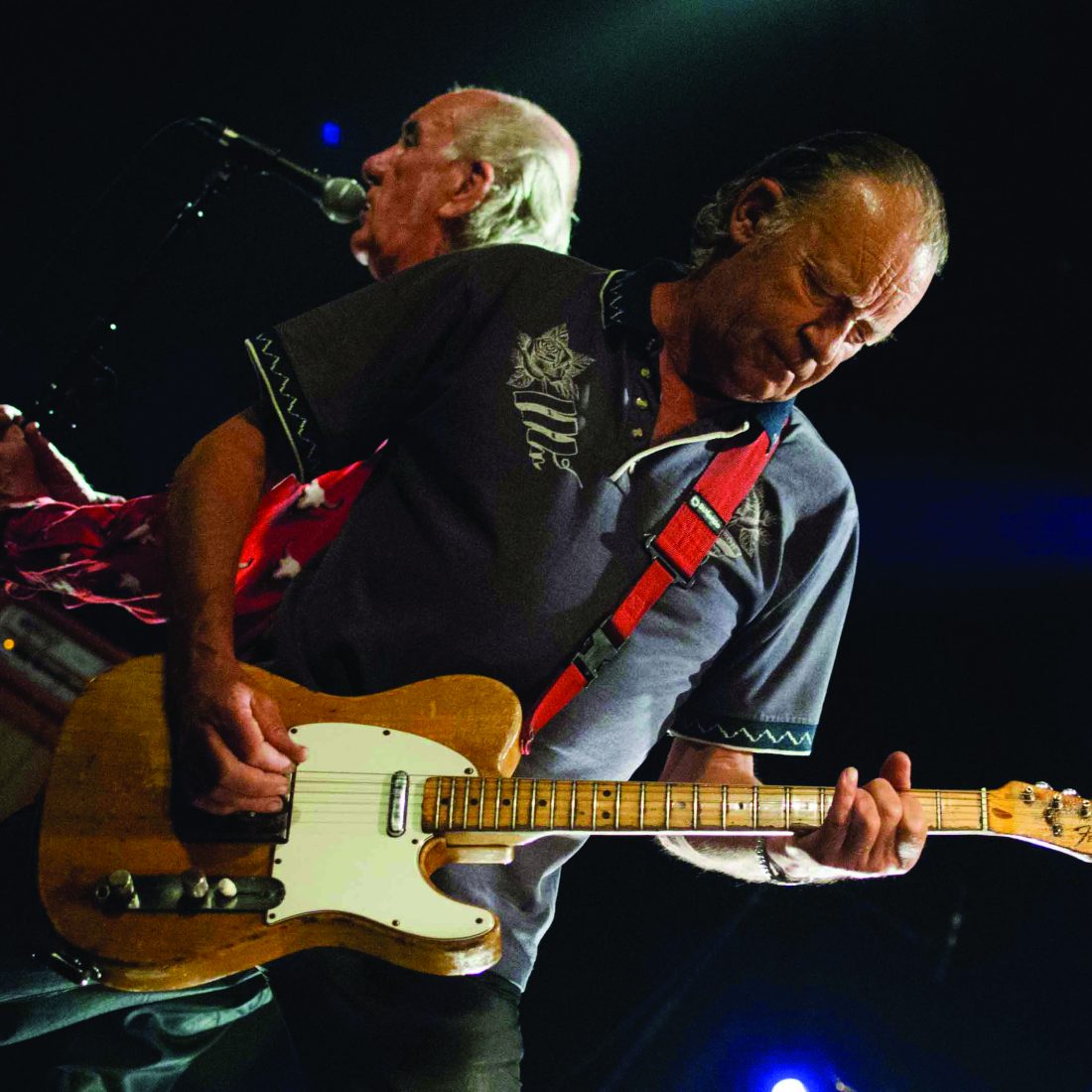 The Rhythm Rocker selects 10 timeless vinyl cuts that shaped his musical evolution…
Having fired up their crazy rhythm all over the globe for half a century, Welsh Ted icons Crazy Cavan And The Rhythm Rockers need no introduction whatsoever. So when the world lost the band's lead singer Cavan Grogan early last year it was met with great sadness by rock'n'roll fans – and represented the end of an era for the Wildest Cats In Town. 
Cavan's best friend, right hand man and white hot lead guitarist Lyndon Needs was an integral part of their pioneering sound and a huge inspiration to those that followed. "When The Polecats played our first gig there were about eight Cavan songs in our set," Boz Boorer told us last year. "We all wanted to be Lyndon Needs and jumped around like epileptic hillbillies." 
Here, Lyndon looks back to track the band's beginnings and the timeless records that helped shape their evolution – plus he tells of one particular vinyl fanatic who had a huge part to play in the captivating Rhythm Rocker story…
Man Of Mystery

The Shadows,
1960
My first guitar was a beaten-up acoustic I found in a neighbour's bin when I was 11. I had dreams of playing like Hank Marvin. My dad was helping me learn; he played double bass in a band in Newport in the late 40s. My cousin – and a fellow Rhythm Rocker – Terry Walley, was also learning, so we got together with my school friend who played drums. We practised The Shadows' tunes and used an old tape recorder for an amp. Whenever I hear Man Of Mystery, it takes me back to those days.
Boppin' The Blues

Carl Perkins,
1956
Terry's girlfriend lived on a caravan site and her father let us practise in the hall. My dad built me a five-watt amp and we were on our way. Suddenly, the door burst open and there stood a guy with long greasy ducktail hair, wearing a leather jacket with brass studs spelling 'Rock'n'Roll' – Cavan Grogan. He said, "Can you play any Bo Diddley?" I'd never heard of him. He started singing Bo Diddley and then Hi-Heel Sneakers and lent me two LPs: Bo Diddley Rides Again and the Dance Album by Carl Perkins.
Strange

Screamin' Jay Hawkins,
1964
Cavan said, "Do you want to be in my band?" We said, "Yeah!" Then he said, "I will be Count Dracula and you can be The Vampires". That was the last time I tried to play like The Shadows. Cavan was really into Screamin' Jay Hawkins and he wrote a song, I Put A Curse On You Baby – wild! The song Strange, the B-side of The Whammy, reminds me of Cavan quoting the lyrics: "How many wrinkles in a pimple?/ How many hairs on a head?/ How many waves in the ocean?/ How many crumbs in bread?" It's a classic.
Let Me Pass

Bo Diddley,
1965
I was now hooked on rock'n'roll music, I was still in school, aged 14. I would rummage around the junk shops looking for records and find plenty of 78s and 45s by the likes of Fats Domino, Chuck Berry, Eddie Cochran… All my friends in school thought I was strange listening to old rock'n'roll records when they were all into The Beatles and The Rolling Stones. I had a paper round and earned 10 shillings a week, so I had enough money to buy my first brand new record, Let The Kids Dance/Let Me Pass by Bo Diddley.
Flyin' Saucers Rock & Roll

Billy Lee Riley,
1957
Cavan told me about this guy, Danny Coffey, who lived in Newport at the 'Rockhouse' and had hundreds of American rock'n'roll records. Cavan introduced me to Danny and his wife Faye, and I was blown away with his collection – records from Sun by singers I had never heard of like Billy Lee Riley, Warren Smith, Sonny Burgess and many others. I just loved the echo sound; he called it 'rockabilly' music, the first time I ever heard the word. He sold me this, my first Sun record, for 10 shillings.
Slip, Slip, Slippin' In

Eddie Bond & His Stompers,
1956
I had just left school in 1966 aged 15  and started my first job, earning £4 and 12 shillings a week. After giving my parents £2 a week, that left me with £2 and 12 shillings, so I could afford to buy more records. Danny was going to America and finding more and more great unknown records that nobody wanted anymore. This is a great rockabilly track with blistering guitar solos played by Reggie Young. Another gem I bought from Danny for a pound, which was almost half my wages, but worth every penny.
Mama's Little Baby

Junior Thompson And The Meteors,
1956
I would visit Danny and Faye a couple of times a week, just wanting to listen to his rockabilly records. I became a bit of a pest, but they always made me feel welcome. While they were in America I would receive some boxes of records to avoid him paying customs duty. When they came home, I would give them to Danny and he opened them up. Danny didn't realise what great records he had found, and I was privileged to hear them.
Chicken Rock

Fat Daddy Holmes,
1960
This is one of my all-time favourite rockabilly instrumentals. A great echo-laden slab of rockin' joy played by Bill Bartlett, a teenage guitar wizard who, in 1967, was a member of The Lemon Pipers and then Ram Jam of Black Betty fame. The B-side of the record, Where Yo Is, is Fat Daddy Holmes, who provides spoken remarks over a  rockin' instrumental. For years, I've tried to find out the story behind this record – thanks to Vintage Rock, Dave Penny and Trevor Cajiao for solving the mystery!
Dust On My Needle

Barrence Whitfield And The Savages,
1990
When playing your records, you always pick up dust on the needle – what a great idea to write a song about the problem! The first time I heard of Barrence Whitfield was the Dig Yourself album. Cavan told me it was a wild rockin' LP and he wasn't wrong. Barrence is a cross between Big Al Downing and Screamin' Jay Hawkins. Dust On My Needle is from the Let's Lose It album. If you ever get the chance to see Barrence Whitfield and The Savages live, you will not be disappointed.
Old Black Joe

Jerry Lee Lewis,
1960
This is the version that inspired Cavan to sing and record on the album Our Own Way Of Rockin'. It became the most requested song when we performed live. Being a member of the band, we will always remember Cavan for this particular song – "Gone are the days when my heart was young and gay". Thank you Cavan for introducing me to rock'n'roll music and taking me on a trip halfway around the world playing my guitar. I really miss you, my friend, after all those years together.