Rock'n'roll Rehab: The Head Cat – Fool's Paradise
By Vintage Rock | October 5, 2021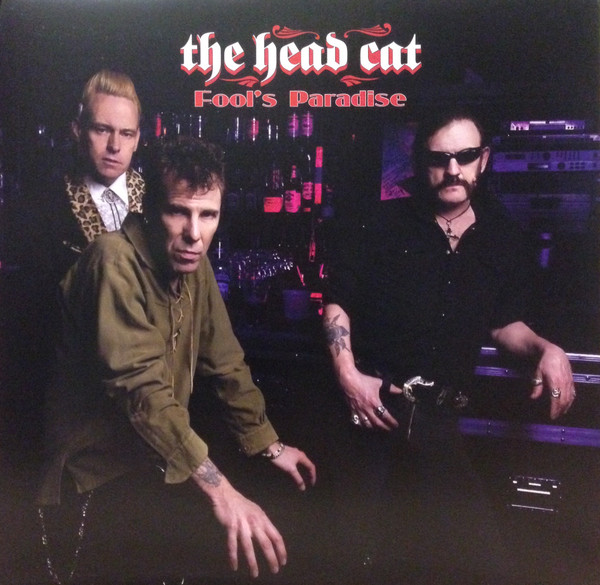 We revisit The Head Cat – Fool's Paradise, an LP where a Motörhead icon met a Stray Cat and Rockat to bond over their love of classic 50s rock'n'roll… By Steve Harnell
For many music fans, Lemmy Kilmister was the epitome of the hard living, hard drinking rock monster. His band, Motörhead, defy easy categorisation – too fast for hard rock, too slow for thrash, not shrill enough for metal. Yet few have hammered home their message with more force than the trio whose motto was "everything louder than everyone else". He may have made something unique out of them, but Lemmy's roots were placed squarely in the Big Beat. 
As the iconic bassist explains in his autobiography White Line Fever, he was right there in the delivery room for the birth of rock'n'roll. In fact, Lemmy was actually there before the conception and remembers the pre-rockin' days of Frank Sinatra and Rosemary Clooney.
Lemmy's introduction to r'n'r came via Bill Haley's Razzle Dazzle, then Rock Around The Clock and See You Later, Alligator, although he never rated The Comets as a band. "The first full album [I bought] was The Buddy Holly Story, which I got right after he died," he explained. "Actually, I saw him perform at New Brighton Tower. See, that f**ckin' shows your age – I saw Buddy Holly live!"
In the Lemmy documentary, he adds: "I used to get albums and singles from an electrical appliances shop. Buddy Holly's Wishing and Learning The Game, along with Eddie Cochran's Three Steps To Heaven and Somethin' Else."
Lemmy eventually followed up his Buddy album purchase with the Elvis single Don't Be Cruel. "[Elvis had] style, his look was great. He was really a one-off, but I thought he was inferior to Buddy Holly and Little Richard. The problem was that [Elvis] had really naff B-sides. Albums in those days could be a collection of the last six hit singles and the B-sides. So half of Elvis' albums were crap. He only started making good B-sides when he did I Beg Of You. 
"Buddy Holly never did a bad track, as far as I could hear. Eddie Cochran, too, was an idol of mine. He used to write and produce his own stuff, the first one ever to do that – a very inventive guy. [Cochran] and Holly were the ones who inspired me to play guitar."
Fast forward more than 40 years and Lemmy's love of 50s classics was given its fullest expression via a one-off collaboration with the Swing Cats (aka Stray Cats drummer Slim Jim Phantom and guitarist Danny B. Harvey from Lonesome Spurs and The Rockats) on the Special Tribute To Elvis covers album in July 1999,  which soon morphed into something far more substantial.
After the all-star trio of Lemmy, Slim Jim and Danny dashed off their cover of Good Rockin' Tonight at a rate of knots, they still had some time to spare at the studio for more.
The Head Cat was born when Lemmy began running through some of his old favourite tunes by Buddy Holly, Johnny Cash and Eddie Cochran, among others, on an acoustic guitar. His instant chemistry with Harvey and Slim Jim meant that the newly-formed ad hoc trio were able to rattle off a full album's worth of stripped-back material in double-quick time.
As Slim Jim notes in the Lemmy documentary: "These kids, without knowing it, when they're listening to Ace
Of Spades they're getting Johnny Cash, Chuck Berry and Eddie Cochran. That's Lemmy's influences."
Harvey adds: "We're playing what we got into as teenagers. It's why we started playing music in the first place. The music is too real and unpretentious, people can't help but like it."
Originally recorded in September 1999 as the Lemmy, Slim Jim & Danny B album, the record was re-released in 2006 with a reconfigured tracklisting under the title Fool's Paradise.
Nine of its 15 songs are Buddy Holly-related, including the piano-pumping opening title track. For the most part, Kilmister is pushing himself to the limits of his vocal range on the Holly material. The Head Cat's take on Not Fade Away is tougher than the Stones' famous cover, though Lemmy's at his poppiest on Take Your Time. The Motörhead frontman is also in melodic form on The Crickets' Tell Me How. However, Well… All Right is arguably a stretch too far and sounds a little laboured. 
Meanwhile, The Head Cat tear through Cut Across Shorty – Slim Jim's drumming supplies the majority of the momentum  – and their take on Lloyd Price's Lawdy Miss Clawdy is the album's highlight. There's a bluesy swagger to the three-piece's cover of Jimmy Reed's You Got Me Dizzy, with Lemmy supplying a more than decent harmonica part, too.
The trio pause for breath on the reflective Learning The Game and Harvey performs a delicate guitar solo on Peggy Sue Got Married. The guitarist also shines on Holly's Love's Made A Fool Of You, with Lemmy's vocal surprisingly tender. His sonorous tones are a perfect fit for Johnny Cash's Big River and there's a strong band performance on a closing rattle through Carl Perkins' Matchbox.
Fool's Paradise's rockin' charms are simple and unvarnished. There's a one-take unfussiness about the whole endeavour, which is really rather refreshing. It's a direct reference to the early days of rock'n'roll, when entire albums where laid down in a single session at breakneck speed.
Critics, though, were somewhat split by the LP. Bob Gottlieb praised the material for the fact that it was "not filled with the fireball frenetic energy that can often make rockabilly about as pleasant as the sound of a dentist's drill nowadays." For his part, Paul Jordan Sr. was far from complimentary, concluding that The Head Cat's album "sounds like karaoke from a biker's bar. Bad songs sung by bad voices."
Jordan Sr has missed the point here. Fool's Paradise is no-nonsense, authentic rock'n'roll made with real affection for the source material. Only a fool could overlook its enduring appeal.