Dion to release new album Stomping Ground next month
By Vintage Rock | October 4, 2021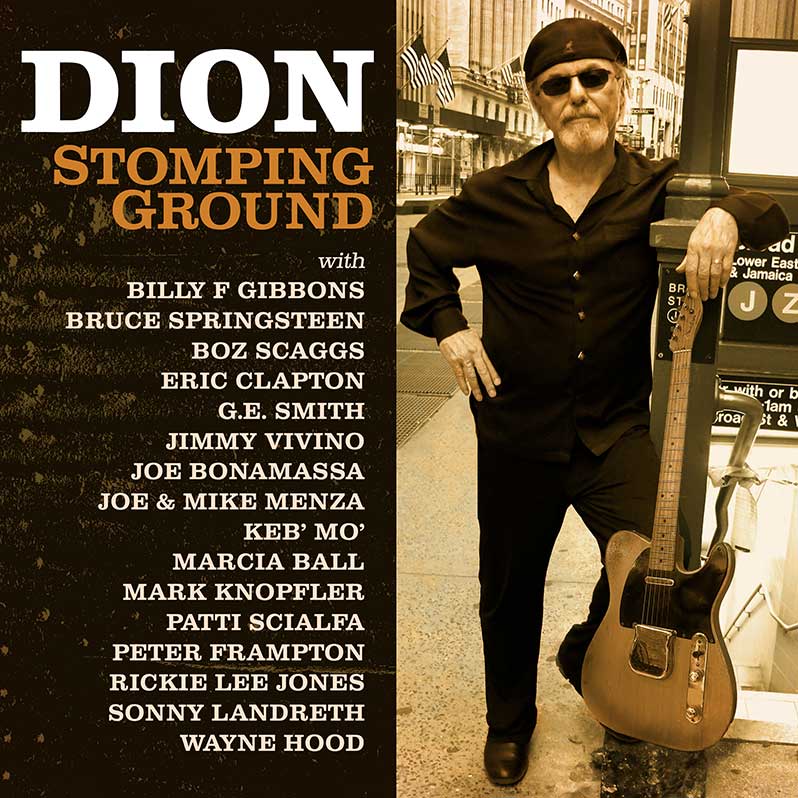 Dion is following up his critically acclaimed and commercially successful 2020 album release Blues With Friends with Stomping Ground, a new album that finds him collaborating yet again with some of the biggest names in rock.
Set for release on Friday November 5th, Stomping Ground was produced by Wayne Hood with Dion and will be released through Joe Bonamassa and Roy Weisman's KTBA Records. The album will be available digitally as well as on CD and as a two-LP vinyl set and can be pre-ordered here.
Most of the album's songs were written by Dion and his song writing partner Mike Aquilina.  Guest artists appearing on tracks with Dion include Boz Scaggs, Mark Knopfler, Eric Clapton, Peter Frampton, Patti Scialfa, Bruce Springsteen, Billy F Gibbons, Keb' Mo', Sonny Landreth, Joe Menza, Mike Menza, Marcia Ball, Jimmy Vivino, Rickie Lee Jones, Wayne Hood, Joe Bonamassa and G.E. Smith. 
The album was preceded last month with the release of I've Got To Get To You, a track featuring Boz Scaggs along with the father and son guitar team of Joe and Mike Menza.  This week marks the release of Take It Back, on which Dion is joined by Joe Bonamassa. 
Next month will see the release of Angel In The Alleyway that features Patti Scialfa (vocals) and Bruce Springsteen (guitar and harmonica).
The album's notes include a foreword by Pete Townshend who writes: "Dion, like a circling star that never fades, generates the energy and fire we need to pull ourselves up and start again. Dion is a star who knows well how to start again, how to keep shining. He looks at his watch every few years."
Beyond Townshend's contribution, Dion provides a track-by-track description of all the album's 14 selections, the sole non-original being Red House, the Jimi Hendrix song that has become a blues standard where he's joined by Keb' Mo'. Dion notes: "We had a blast grooving on Red House. I'm honoured to have him join me on this Jimi Hendrix cover/tribute. We did it as only we could. I think Jimi would approve!"  
In other Dion news. The Wanderer, a musical based on the life and music of Dion, will stage its world pre-Broadway premiere at the Paper Mill Playhouse in Millburn, New Jersey on March 24, 2022.  Michael Wartella (Wicked) stars as Dion, alongside Christy Altomare (Anastasia) as Susan, Dion's wife.
The Wanderer was written by Charles Messina (A Room Of My Own) and directed by Kenneth Ferrone (Cruel Intentions) and choreographed by Sarah O'Gleby. 
Stomping Ground tracklisting 
Side A
   Take It Back with Joe Bonamassa
   Hey Diddle Diddle with G.E. Smith
   Dancing Girl with Mark Knopfler
   If You Wanna Rock 'n' Roll with Eric Clapton
Side B
   There Was A Time with Peter Frampton
   Cryin' Shame with Sonny Landreth
   The Night Is Young with Joe Menza and Wayne Hood
Side C
   That's What The Doctor Said with Steve Conn
   My Stomping Ground with Billy F Gibbons
   Angel In the Alleyways with Patti Scialfa and Bruce Springsteen
Side D
   I've Got To Get To You with Boz Scaggs, Joe Menza and Mike Menza
   Red House with Keb' Mo'
   I Got My Eyes On You Baby with Marcia Ball and Jimmy Vivino
   I've Been Watching with Rickie Lee Jones and Wayne Hood