CD reviews – Elvis Presley and Eddie Piller
By Vintage Rock | February 1, 2022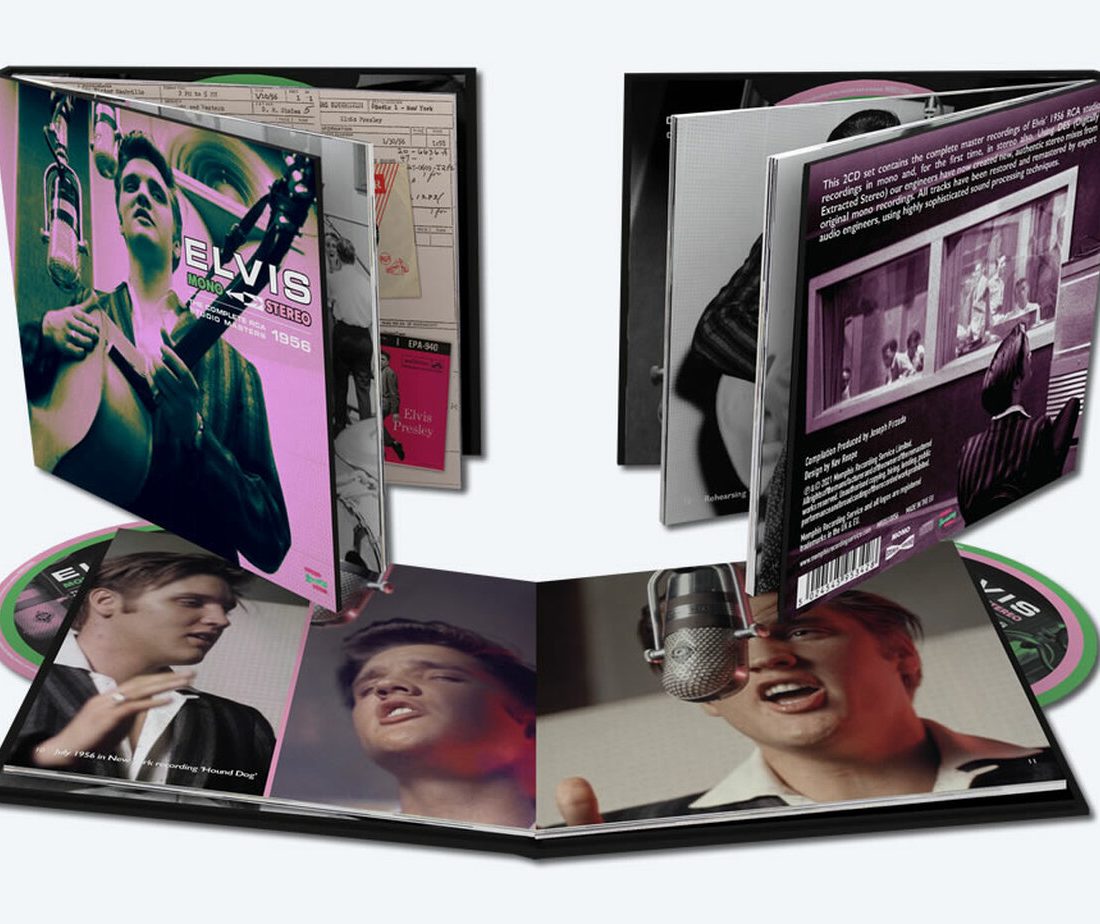 Elvis Presley – T
he Complete RCA Studio Masters 1956

(
Memphis Recording Service)

★★★★
As a perfect encapsulation of Elvis during his  breakout year, any self-respecting rock'n'roll fan will no doubt already own the King's RCA output in their original mono incarnations. The hook here, though, is that producer Joseph Pirzada has now created new stereo versions that create a fuller sonic picture across both horizontal audio channels.
Best appreciated on headphones, the Digitally Extracted Stereo tracks provide greater separation of Bill Black's bass and Scotty Moore's guitar. As befitted the times, of course, the majority of these arrangements were pretty stripped-back in the first place – Presley's maximalist studio productions remained many years away at this point.
The 'stereofication' of mono originals remains a hot topic amongst audiophiles – Beatles fans still get hot under the collar at the mere mention of stereo versions of most of their studio work, hence the stratospheric second-hand costs of their deleted The Beatles In Mono boxset. Despite the fact that neither Presley, his producer, or record label signed off on stereo versions of these songs at the time, this remains an interesting sonic experiment – and ultimately Pirzada refrains from any production gimmicks that move these too far away from the originals released during 1956.
And what of the music itself? Well the 30 tracks reflect the fact that even as a fledgling recording artist, Presley was already a preternaturally gifted performer. The peerless up-tempo numbers (Don't Be Cruel, Jailhouse Rock, Paralyzed et al) set the gold standard in contemporary rock'n'roll at the time and his covers (Tutti Frutti, Lawdy Miss Clawdy and Shake, Rattle & Roll) are pretty damn fine. Just three years into his studio career, he's matured quickly into a fine balladeer, too; the exquisite Love Me and How's The World Treating You among the many highlights here.
For those who may baulk at the stereo experiments, the full tracklisting is also included on a second disc in their original mono form. 
Steve Harnell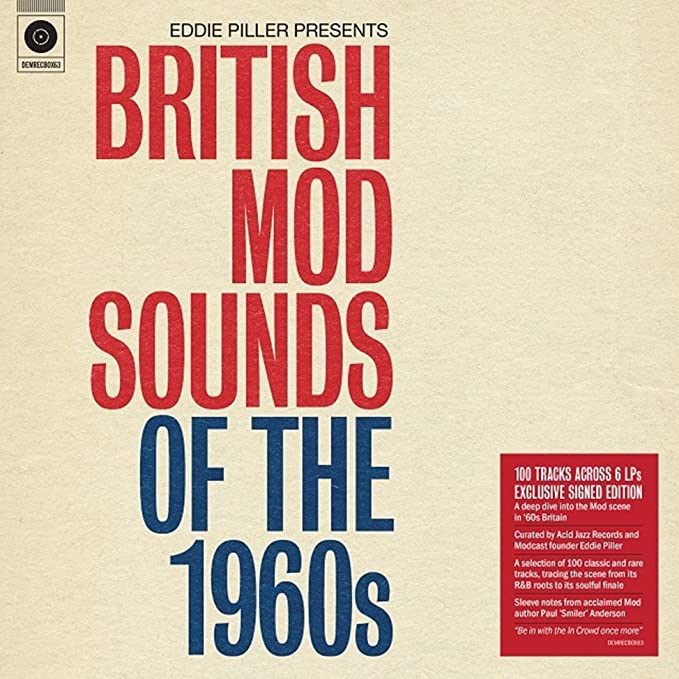 Eddie Piller – B
ritish Mod Sounds Of The 1960s (E
dsel)

★★★★
Over the past three years, Acid Jazz label founder Eddie Piller has turned out some stellar must-buy compilations. He's been behind two essential various artists selections partnered with actor Martin Freeman, 2018's Jazz On The Corner and its follow-up a year later, Soul On The Corner. He's also curated the well-chosen Mod Revival comp that took an in-depth look at the rebooted scene of the 70s and 80s.
Here, though, he returns to the Mod source for a 100-track deep dive into the genre's 60s roots. Deftly merging big hitters from the scene (The Small Faces, The Kinks and The Who in their previous incarnation as The High Numbers), the 4CD boxset also shines a light on an array of big names in their pre-fame days. Rod Stewart appears on a handful of tracks including the rare Engine 444, a short-lived project by Art Wood that boasted the complete line-up of The Faces before they'd found their feet. An understated Elton John features in his Bluesology days on Come Back Baby, a pre-T.Rex Marc Bolan trills through Desdemona, Bowie gives us his best Tony Newley on the baroque pop of Can't Help Thinking About Me and most notably Tom Jones dazzles on the thrilling Chills And Fever. We even get pre-Deep Purple Ian Gillan and Roger Glover on the sweet R&B of Put Yourself In My Place as part of Episode Six.
The Mod scene is already well served by smash-and-grab round-ups that include all the usual suspects but this is a far superior release that's arguably amongst the finest general overviews of the genre to date. Piller's exhaustive knowledge of the Mod scene really pays dividends on the rarer cuts included here. Some of the most eye-popping tracks are the deep cuts, from Dog Soul's impressive Big Bird to the soulful Otis/Stax feel of Tell Daddy by the All Night Workers.
And those not familiar with the Joe Meek-produced freakbeat of Crawdaddy Simone by The Syndicats are in for a squalling treat. It's an absolute monster. 
Quintessential Mod instrumental Madame Garcia comes from the always dependable Immediate label via Apostolic Intervention and the wonderfully named Bert's Apple Crumble by The Quik is packed full of finger-snapping Hammond organ goodness. Jazzier inflections occur courtesy of Timebox's Soul Sauce and Harold McNair's brilliantly head-spinning The Hipster. Floorfillers come thick and fast, of course, not least Cliff Bennett & The Rebel Rousers' dip back into rock'n'roll history for Good Times and the irresistible Keep A Hold Of What You've Got Now Baby by The Shots.
You'd expect Piller's taste to be pretty much unimpeachable, but nevertheless he's set the gold standard for all future Mod comps here.

Steve Harnell
Elvis Presley – L
ike A Black Tornado: Live at Boston Garden 1971 (M
emphis Recording Service)

★★★★
Something of a fan favourite amongst the Presley faithful over the years, Elvis' one-off gig in Boston on 10 November 1971 has long been doing the rounds as an import release on various bootlegs. Whereas their sound quality was often extremely variable, the show now finally gets the attention to sonic detail it deserves with a formal release.
With much of Presley's time on stage throughout 1971 restricted to the confines of Las Vegas, here he's let off the leash for a 12-date autumn US tour. And he's pretty much at the peak of his live powers, too, and still enjoying performing before the monotony
of repetition that affected his late-70s shows took hold. The TCB Band, as ever, are totally on the money throughout.
As if it wasn't grandiose enough, curtain raiser here Also Sprach Zarathustra now comes with heavenly backing vocals to send it soaring skyward before the band segue into a thrillingly breakneck That's All Right. A loose and funky rattle through I've Got A Woman then glides into excerpts from the slow gospel of Amen.
A terrific rendition of Proud Mary is among the early standouts with James Burton impressing thanks to some wonderfully fluid guitar solo fills. After a frantic You Don't Have To Say You Love Me, Presley and the audience get their breath back with You've Lost That Loving Feeling; Elvis is a little distracted at points but eventually snaps back into focus to bring it on home. 
The King has fun with the spoken word intro to Polk Salad Annie, before diving into a storming reading of the song that was often a highpoint of his 70s live shows, Meanwhile, drummer Ronnie Tutt excels as he skitters around the kit. 
An overly jokey Elvis rather gets in the way of a fine band performance of Heartbreak Hotel, although he recovers for a decent Blue Suede Shoes. Hound Dog is reinvented with a slow, bluesy intro – arguably no improvement on the studio original but probably designed to keep the singer interested in one of the most-played songs from his back catalogue. 
Meanwhile, a beautiful How Great Thou Art sounds like it was building to one of the centrepieces of the show but due to a technical issue on the soundboard the version we hear here is cut short at the mid-point.
After vein-popping climaxes to Bridge Over Troubled Water and a sublime I Can't Stop Loving You there's the briefest of respite for Love Me Tender. Suspicious Minds turns up the heat – you'll find better incarnations of this
at other live shows, though – and a sterling performance of Can't Help Falling In Love closes out the concert. 
Elvis had left the building, and within a couple of months was back to the grind of his Las Vegas Hilton residency. Here, for a glorious month, he was out in the wild and enjoying every moment of it.
Steve Harnell