On The Radar: The Young Barons
By Vintage Rock | August 4, 2021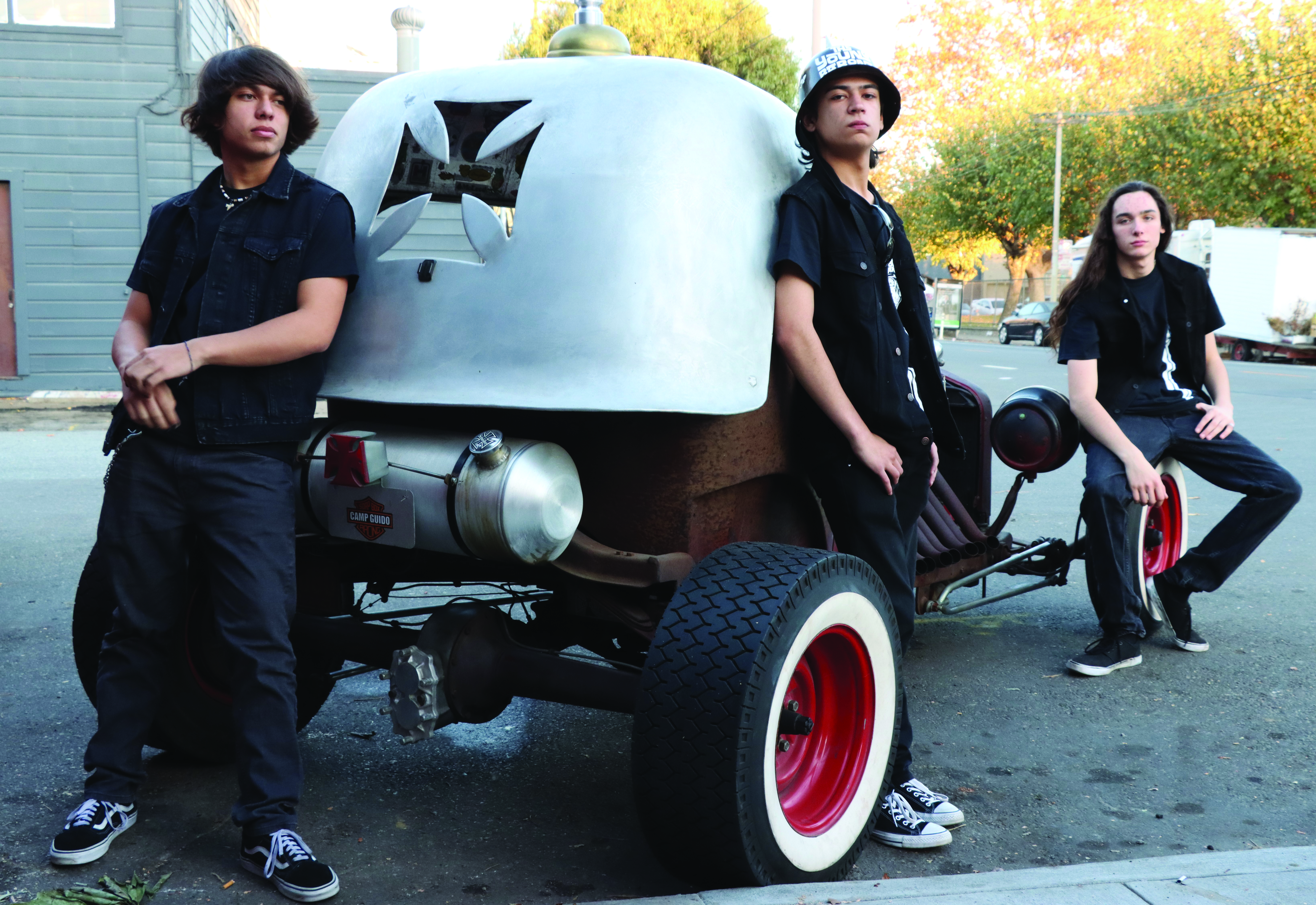 The irreverent teenage Californian three-piece who are making waves in the surf music scene on both sides of the pond… By Craig Brackenridge
Still in their teens, surf trio The Young Barons' debut LP Bitchin' landed in 2017 and earlier this year they released follow-up all-instrumental album Hella California. If that wasn't enough to pack in before their twenties, these Californian rowdies have already done hard time on the road with their previous rockin' combo The Lucky Boys. 
Now signed to the Coventry-based label Sharawaji Records, the trio are bringing fresh life to the established surf scene while injecting their own splash of irreverence into the world of big drums, twanging guitars and reverberating basslines. 
Speaking from his San Francisco home, drummer Justice James is looking forward to life after lockdown: hot rods, hot weather and maybe another appearance from the raunchiest member of the Cry Baby cast…
The Bay Area is pretty well known as the birthplace of thrash metal, what is the surf music scene like there?
The surf scene is strong, with bands like Aloha Screwdriver, Frankie And The Pool Boys, The Reefriders, The Gillbillies – you get a really diverse collection of surf styles. Bars like Winters Tavern in Pacifica host some of the best gigs I've ever seen and Cousin Mary has a killer surf show on KFJC 89.7 FM. 
Did you always intend to be an instrumental band, or is that something that evolved gradually?
It was actually seamless. Our first band, The Lucky Boys, were in the studio recording some original songs for our second release. I was 14 at the time, playing drums and doing lead vocals. My voice wouldn't stop cracking and I realised I had hit the voice-changing phase of puberty. That was going to force us to put the album on the shelf for a while. We had already recorded a couple of surf songs for The Lucky Boys' album, so we put together a plan. We would do a teen surf band and record a bitchin' album of our favourite songs. Right there and then, The Young Barons were born. Once we took off, we never looked back.
A lot of people would say surf music actually contains quite a broad range of styles. What have your main musical influences been?
I agree 100%. I don't believe that most people outside of the surf scene realise how diverse surf music really is. There are so many layers to surf, it crosses over so many genres. Each of the guys in The Young Barons has different and similar tastes. Collectively, our influences come from a wide range of swing, rockabilly, punk, metal and rock'n'roll from the 50s and 60s.
Your second album, Hella California, appeared at the beginning of the year. What has the response been like so far and how do you feel about the arrival of the vinyl release?
We've been getting a great response, people are really digging it. We had a record release tour planned from San Francisco to New York City and the pandemic derailed the whole cha cha. It also set back manufacturing of the album by several months. We couldn't wait to release the vinyl, having it delayed for so long was a drag. Every aspect of the album, from tracking at GetReel studios in San Francisco to the pressing and artwork, was done in California. 
Has the band's sound changed between the two albums?
The band's sound has definitely evolved. We've matured and gotten a lot better that's for sure [laughs]. When we recorded the Bitchin' album, we were only 14 years old and had a different guitar player. We replaced him by moving Anthony Denny from bass over to lead guitar. When we put out an ad for a bass player, Raul Martinez had the most enthusiasm so he got the gig, and as we went right to work, the new tighter, harder sound started to evolve.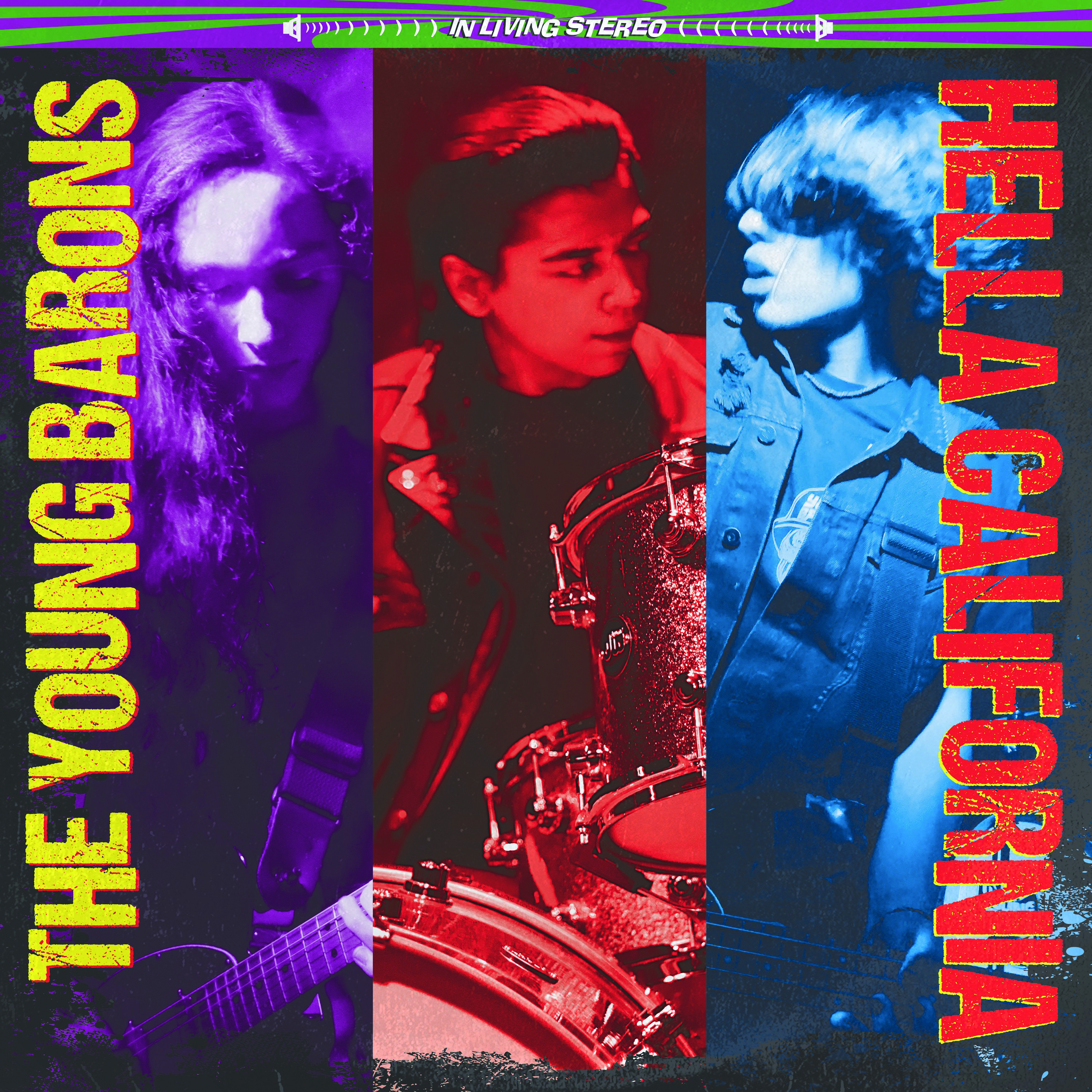 Your merch is very stylish – the helmet, in particular, will attract attention. Do you think eye-catching merchandise is important to keep the band on the road?
My father [Bob James of Del Bombers] toured a lot in his life, he watches out for us and taught us very early on that merchandise can be the difference between eating, or paying for gas to the next gig when you're first starting out. With this in mind, we made sure that we had some of the coolest swag on offer. Special thanks must go to Mark Harmon for the Roth Army/Young Barons surfer helmets.
How did you get involved with Sharawaji Records in the UK?
We were pounding social media with a couple of homemade videos and also started charting on Surf Rock Radio with songs from the Bitchin' album. Eventually, we got onto Sharawaji Records' radar and they reached out to us. After some talks, we joined the family. The label boss Michael is an awesome guy and we're very proud to be on the label with so many great bands.
The pandemic seems to have kicked live music in the backside. How has it affected you directly?
Yes, it's been a really rough year for everyone. Going from playing shows, recording and being a hard-working band to having it all stripped away really took a toll on us. Not being able to get out there and tour the album was a huge disappointment. We had big plans that had to be delayed until everything is safe again. I took the opportunity of being stuck in the house to take online classes at Berklee College Of Music, Anthony has been working on engineering and Raul is studying film. That kept us going while we were apart, but now we are seeing the light at the end of the tunnel.
What have been some of the live highlights of your career so far?
We started doing shows at a very young age, so every time we played in front of an audience was mind-blowing for all three of us. We've been lucky enough to play with bands like the Cadillac Tramps, The Blasters, Del Bombers and more. We've played the Scarlett's Family Reunion benefit gig in Pacifica to raise awareness for Rett Syndrome – my sister has Rett Syndrome. A really big highlight was playing with the legendary punk band X at the iconic Regency Theatre in San Francisco. It was a big stage, a huge crowd and our first backstage deli tray… awesome.
How do you see the rest of 2021 turning out for the band? Are you confident that you will be back where you belong onstage soon?
2021 looks promising. We started booking shows, with the first one being 4 July. It's all outdoor stuff, but at least we'll be back at it. We can't wait to tear it up again.
The Young Barons' lifestyle seems to consist of sunny days, gigs, cool venues, hot rods and the occasional appearance of Traci Lords. Is it that cool all the time?
Ha ha, I don't think anything can be that cool ALL of the time! The way I see it, your lifestyle is what you make it. We're lucky enough to live on the California coast, where killer shows, beautiful sunny days, hot rods and yes, even the occasional appearance of Traci Lords is always a possibility. What more could a teenager playing in a rock'n'roll band ask for