Classic Album: Chuck Berry Is On Top – Chuck Berry
By Vintage Rock | July 14, 2020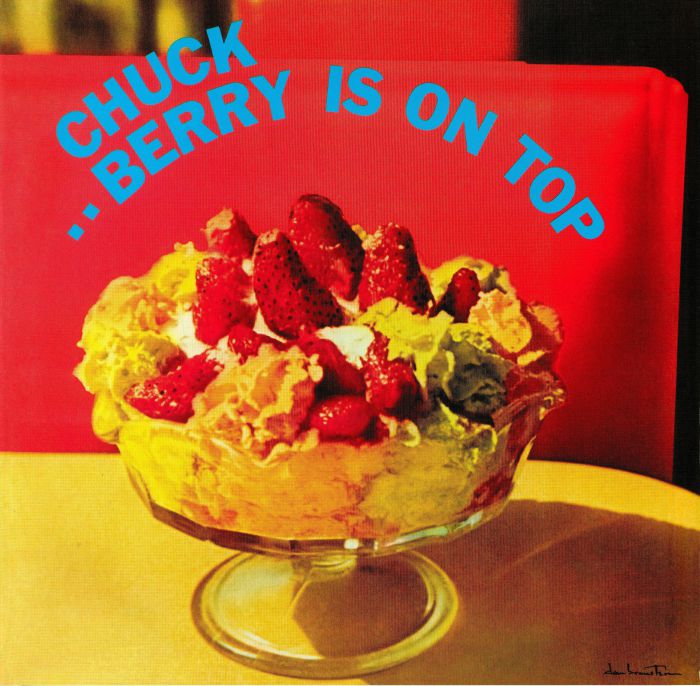 Its title was a light-hearted pun on the image of a strawberry-sprinkled sundae, but the double meaning was clear – and when Chuck Berry Is On Top hit the racks in 1959 its creator was soaring high after the most successful 18 months of his career…
In January 1958, Chuck Berry recorded the semi-autobiographical rock'n'roll epic Johnny B. Goode. Destined to become one of his greatest and most influential recordings, the song was released as a single in March and spent 15 weeks on the chart, rising to No.8 on the Billboard Hot 100 and No.2 on the R&B chart. It was the first of eight chart hits Berry would score that year – and four more would follow in the first six months of 1959.
During the same period Berry undertook more than 100 live performances, some of them on a successful tour of Australia. A highlight of the run was an appearance at the prestigious Newport Jazz Festival in July 1958, preserved on film for the documentary Jazz On A Summer's Day. Berry also added to his movie résumé by appearing in the 1959 film Go, Johnny Go! In addition to serving as a showcase for the song Johnny B. Goode, Berry's appearance went beyond a mere musical performance; as a supporting character in the film, he was awarded a sought-after speaking role.
'Berry's third chess LP was the capstone to an astoundingly creative period'
Now Berry was a recording and movie star, a songwriter and an in-demand live performer. His income soared, and he invested his profits wisely. In mid-1958 he launched Chuck Berry Music Inc, making him one of the first rock'n'roll songwriters to self-publish. At the same time he began construction of Club Bandstand, an integrated nightclub in one of St Louis' wealthiest (and predominately white) neighbourhoods, along with Berry Park, an amusement park/entertainment complex built on 30 acres of farmland just outside Wentzville, Illinois, which eventually included a nightclub, business offices, a campground and a luxury residence for Berry and his family.
Berry's third Chess LP, Chuck Berry Is On Top, was the capstone to an astoundingly creative period – and a financially rewarding one. As with Berry's first two LPs, the collection gathered several A- and B-sides from singles along with previously unreleased material.
Dropping the needle on side A unleashes Almost Grown, a musical diary of teenage frustrations and anticipations. Recorded on 17 February 1959, the song features backing vocals from the Chess vocal group Harvey and the Moonglows (including future Motown star Marvin Gaye) and recently signed Chess chanteuse Etta James. Released as a single in March 1959, Almost Grown scored No.32 on the Hot 100 and No.3 on the R&B chart.
Next comes Carol, one of Berry's greatest masterpieces on the foibles of amorous pursuits. Propelled by a trademark guitar lick and filled with vividly picturesque couplets such as "Climb into my machine so we can cruise on out/ I know a swingin' little joint where we can jump and shout," it's two minutes and 21 seconds of slice-of-life perfection. Recorded in June 1958 and released that August, the single hit No.18 pop and No.9 R&B.
Chuck Berry's first single Maybellene has been missing in action from his first two albums, but the classic finally reports for duty as the third track and adds a nice charge of adrenaline halfway through the first side of the album. Although it had been recorded three years prior to most of the rest of the album, it's an electrifying and welcome addition to the rock'n'roll party.
Sweet Little Rock & Roller is the next precocious bundle of electricity leaping out of the grooves at 33 and a third revolutions per minute. Recorded at a session held in September 1958, the single climbed to No.47 pop and No.1 R&B in the autumn of that same year.
The chronicle of the titular character Anthony Boy was drawn from the same recording date. A deliberate attempt to cash in on what would prove to be a short-lived fad for pop songs based on traditional Italian melodies, the unconventional 6/8 time signature and sing-song structure of the lyrics carried the patented Chuck Berry tale of a workaday teen life to new territory. While scoring a chart hit, the song's unusual structure perhaps held it back, only scoring No.60 on the Hot 100.
Closing out side A of the album, Berry unleashes the full force and majesty of Johnny B. Goode. Opening with a flurry of double-stop notes and with a turnaround containing one of his greatest guitar solos, this is the frantic tale of a "country boy" destined for rock'n'roll stardom, all delivered in just three verses. While the lyrics were to a large degree personal, Berry took care to alter the details to ensure that audience self-identification trumped any sense of autobiography. As a result, Johnny B. Goode is not just the tale of one rock'n'roll star: it's the story of every young music fan playing air guitar along with a hi-fi, singing into an imaginary, tightly-gripped microphone, or daydreaming of taking to the stage and rocking an auditorium of screaming fans. Berry further cemented the emotional bond by taking Johnny to the verge of stardom, ending the song with a "you know the rest" wink-and-nod embodied in the words,"Go, Johnny, go!" Released in March 1958, Johnny B. Goode rightfully spent 15 weeks on the Billboard charts, reaching No.8 pop and No.2 R&B.
'Propelled by a trademark guitar lick, Carol is two minutes and 21 seconds of slice-of-life perfection'
Side B continues the rockin' with the often overlooked Little Queenie. Although it covers much of the same ground as Carol and Sweet Little Rock & Roller, Berry's insistent rhythm transforms the song into a real shaker and stomper. Released as the B-side of Almost Grown in March 1959, Little Queenie managed a No.80 pop placing.
Although Jo Jo Gunne is not one of Berry's biggest hits, it's one of his most fascinating. An adaption of the traditional African-American folk tune The Signifying Monkey, the song's origins stretch back to stories and songs of the trickster Esu Elegbara, a popular mythological figure from the Yoruba religion of present-day Southwestern Nigeria and the adjoining parts of Benin and Togo, the ancestral homeland of many African-Americans. By the time Berry recorded his version of the song at a September 1958 session, Cab Calloway, Willie Dixon, Nat 'King' Cole and many other artists had recorded their own variations of the popular folk song. Berry transformed the song into his own with his usual wit, spicing it with contemporary American pop culture references. Released as the flip side of Sweet Little Rock & Roller, Jo Jo Gunne rose to No.83 on the Hot 100, delivering a slice of pure black culture to unsuspecting white teenagers.
Next up is one of Berry's masterpieces, the knockout 1956 hit Roll Over Beethoven. Berry's first fully successful example of songwriting was aimed directly at the teenage market, yet only scored No.29 on the Billboard pop chart upon its original release. Its influence proved far greater by defining the sound of rock'n'roll in a way no other hit single had before. The intro positively leapt out of radios and sent would-be guitar heroes scrambling to music shops, while the lyrics of humdrum teenage life transcended by rock'n'roll glory eventually marked Roll Over Beethoven as one of the genre's first great anthems.
In retrospect it seems almost astounding that Leonard Chess waited this long to include Roll Over Beethoven on a Chuck Berry album, but the arrival of the song midway through side B makes it worth the wait. The song provides the musical climax of the album, with the remaining three tracks serving as tuneful digestifs to the main course.
The lively rocker Around And Around provides a transition from the intensity of Roll Over Beethoven to the album's playful epilogue. Recorded in February 1958 and released as the B-side of Johnny B. Goode, Around And Around failed to chart but became one of Berry's most popular numbers, with cover versions by The Animals, The Swinging Blue Jeans, David Bowie and many others.
Berry brings the album to a close with two numbers revealing his love for music extended beyond rock'n'roll's usual boundaries. Hey Pedro is a light, Latin-spiced instrumental portraying the singer at his most playful; unfortunately it's marred by then-innocuous but now highly questionable caricatures of Mexican dialogue. Surprisingly, Leonard Chess originally released the tune as the B-side of Carol, giving up valuable record real estate for what might have produced another double-sided hit.
To close the album, Berry heads for the Pacific for inspiration with Blues For Hawaiians, a languid number showcasing his underrated slide guitar acumen. Recorded at the same February 1958 session that produced Carol and Hey Pedro, the track is a fine closer for the album.
Serving as a de facto 'greatest hits' compilation, Chuck Berry Is On Top quickly became one of Berry's top-selling albums, but its success marked the closing act of his golden age of hits. The four chart hits he scored during the first six months of 1959 were his only ones that year. In December 1959, Berry was arrested for violations of the Mann Act. News of the arrest immediately affected his record sales and live bookings. Two years of trials, re-trials and appeals followed, eventually ending with an 18-month stretch in federal prison.
Although Berry would return to recording and touring, his career never again reached the heights that produced the marvellous line-up of songs on Chuck Berry Is On Top. More than 60 years later, the album is among rock'n'roll's finest long-players.
Randy Fox