Soundtrack Of My Life – Greg Townson
By Vintage Rock | December 20, 2022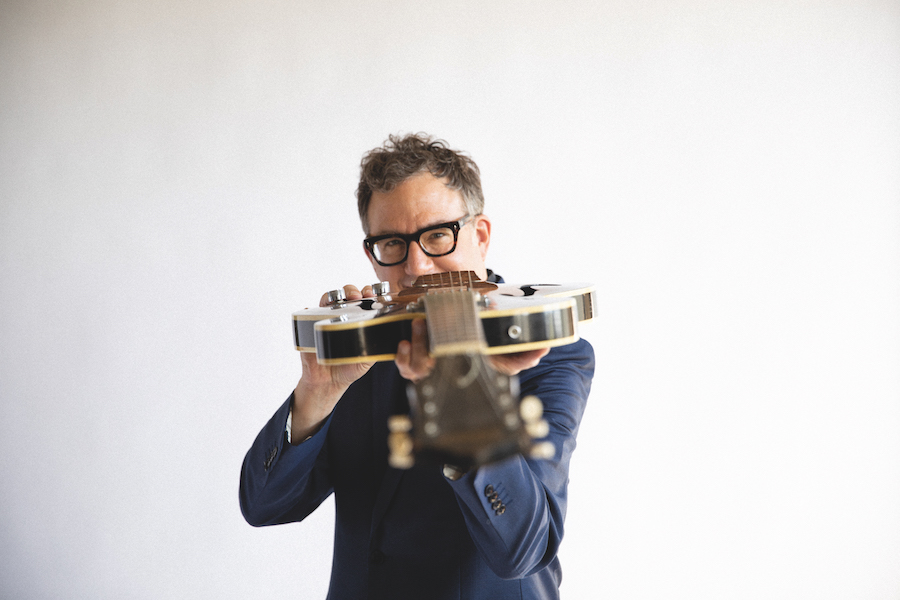 Photo by Will Cornfield
A diverse selection of vocal-free tracks make the cut for the acclaimed Rochester, NY-based guitarist
Greg Townson is one of the busiest guitarists on the rockin' scene. As well as playing with singer-songwriter Nick Lowe as part of his Los Straitjackets side project, Townson also performs with The Hi-Risers and is an accomplished solo artist in his own right. His latest album, Beyond The Horizon, the fourth in his Travelin' Guitar series, is a collaboration with Todd Bradley and Caitlin Moss on 10 original instrumentals. And keeping with that vocal-less theme, the Rochester, New York-based six-string slinger takes us through his 10 favourite instrumental tracks. It's an intoxicating stew of influences running from the lilting R&B of Bill Doggett's Honky Tonk through to the irresistible funk of James Brown's The Popcorn.
A LITTLE BIT OF BLUES –
CHET ATKINS,
1964
Chet Atkins was the first guitarist I was aware of and the first concert I ever saw. My favourite era is the 60s, when Jerry Reed entered the picture. A Little Bit Of Blues, written by Reed, never ceases to amaze me. I realise there are YouTube tutorials on how to play this song, but I don't want to know how he did it! I want this to be a mystery to me forever. Years after that first concert, I met Chet and had a brief conversation about how Don Everly's love of Bo Diddley impacted upon the intro to Bye Bye Love. It was a nice moment with a legend. 
HONKY TONK

–
BILL DOGGETT,
1956
I met Bill Doggett in my early 20s and he became a mentor. I learned so much, the most important being that the feel of the music is everything. This band – Shep Shepherd on drums, Clifford Scott on sax and Billy Butler on guitar – had one of the greatest feels of all time. Honky Tonk is their masterpiece but they cut so many great sides for King – perfect jukebox records. In 1991, I co-produced and performed on Bill's last LP, The Right Choice, at Rudy Van Gelder's studio. I played on two songs, including Honky Tonk. It was truly an honour. 
NEVER MY LOVE –
BOOKER T. & THE MG'S,
1968
From the moment I heard Green Onions as a kid, this band changed the way I thought about music. Have you met anyone who doesn't like Green Onions? I love the early stuff, but for me their greatest period was after Donald 'Duck' Dunn joined on bass as a full member. Doin' Our Thing is the album I go back to most often. They're on fire. Their cover of Never My Love, a song I previously hadn't paid much attention to, is the standout. Nothing has been a greater influence on how I think a band is supposed to make music. 
HAPPY TIMES –
A. TOUSAN (ALLEN TOUSSAINT),
1958
The 50s and 60s music from New Orleans has had such a big impact on me. There were so many songs I could have chosen, but why not go with the first instrumental I heard by one of the greatest, Allen Toussaint. It was released as a single and also on The Wild Sound Of New Orleans record. Written with saxophonist Red Tyler and engineer/studio owner Cosimo Matassa, it captures the combination of joy and sorrow I love about music from this region. Everything I've written probably has a touch of this in it. A perfect song to end this list! 
CROSSFIRE –
JOHNNY AND THE HURRICANES,
1959
When I was around 15 I found Johnny And The Hurricanes' Stormsville LP in the 25 cent bin at my local record store. I didn't know anything about them, but when I put it on I couldn't believe what I was hearing. There was incredible energy and attitude – Dave Yorko was playing some of the best guitar solos I'd heard. Then you had Johnny's honking sax, along with a very strange keyboard on top. They were barely out of high school and sounded like the ultimate teen-beat combo. When I heard their first hit Crossfire, I was hooked. 
THE POPCORN –
JAMES BROWN,
1969
Another mentor of mine was Alfred 'Pee Wee' Ellis, James Brown's bandleader during arguably his greatest years, 1966-'69. Pee Wee spent his formative years in my hometown of Rochester. I met him in the 80s, shortly after a long stint as Van Morrison's bandleader. He ended up joining our band, The Essentials, for several years. The Popcorn (with Pee Wee on organ) is one of his best arrangements with James. The twin guitar attack of Jimmy Nolan and Alfonso 'Country' Kellum was highly influential on me and everybody else. 
BLUE MOON
–
THE VENTURES,
1961
A selection by The Ventures should come as no surprise, considering they set the template for Los Straitjackets, and many others. The first records I heard by them were before they switched over to Mosrite guitars, and also before Nokie Edwards went from bass to lead guitar. I absolutely love that stuff (especially The Fabulous Ventures LP), but I have a soft spot for the Bob Bogle on lead guitar version of the band. His approach on Blue Moon, the single string melody into the chord solo with plenty of whammy bar, was a big influence. 
TWINE TIME
–
ALVIN CASH & THE CRAWLERS,
1964
So many instrumentals knocked me out as a teenager, but something about Twine Time sets it apart from the others. It's a party, but the mood of it sounds like several laws are being broken. It wasn't a total surprise when I learned years later the mastermind behind this was Andre Williams. I played on the same bill with Andre several times and only made the mistake of asking him about it once. Apparently he didn't make a penny off of it, which unfortunately is probably true. Nevertheless, what a record. 
AZTEC –
BO DIDDLEY,
1961
Bo Diddley recorded a bunch of instrumentals I loved during his time at Chess – Bo's Bounce and Bo's Guitar come to mind. My favourite was always Aztec, recorded at his home studio in Washington DC. Imagine my surprise when I found out Bo didn't play on Aztec at all! The guitar parts were all done by Peggy Jones, aka Lady Bo. Peggy was playing second guitar with Bo and made a major contribution to his records. How the song came out under Bo's name is a mystery. I recorded a version on my instrumental record, Off And Running. 
BAIA –
MICKEY BAKER,
1959
I can't remember when I discovered The Wildest Guitar by Mickey Baker, but I do know it's been next to my turntable ever since. I was already playing a Fender Jazzmaster, so seeing him with one on the cover meant I had to pick it up. Mickey became a big favourite and shows up on tons of recordings as a session player in NYC. Engineer Tom Dowd seems to have played a significant role, as whatever the effect he has on Mickey's guitar is all over the place in the stereo mix. Baia was the single and my favourite tune off the record.