Live Review: Hemsby #58 Rock'n'Roll Weekender
By Vintage Rock | September 12, 2017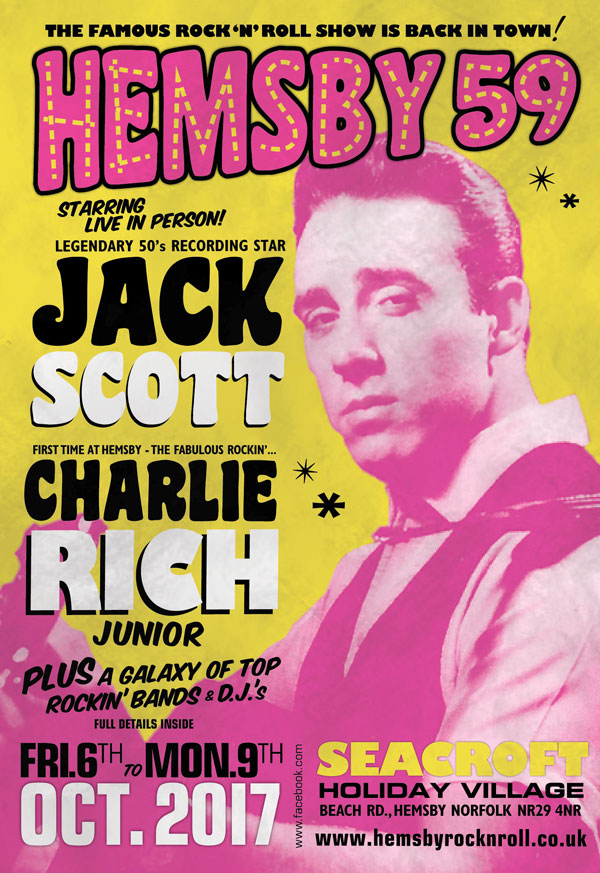 VINTAGE 50s rock'n'roll stars made a welcome return to the Hemsby Rock'n'Roll weekender in spring 2017, resulting in a near-record turnout at the longest running continuous 50s event in the UK.
NARVEL FELTS and HUELYN DUVALL were returnees, and despite long careers in 50s rock'n'roll and country music proved they were able to hold their own against competition in the excitement stakes with rockers half their age.
It was a markedly different Seacroft resort that welcomed fans from around the world, and a refreshed programme that gave dancers and listeners a choice of both entertainment and venue on the all-important Friday and Saturday night.





The vast Starlight Ballroom with its limited seating is no more, and the main focus is now the refurbished Harlequin Ballroom with excellent sound system and sightlines.
This is where the headliners and more traditional rock'n'rollers perform. A few hundred yards down the main Hemsby drag is the Hemsby Beach Copacabana Ballroom, home to the edgier rockabilly and psychobilly bands.
Both audiences came together on the final night, Sunday, creating a Saturday night atmosphere on what can sometimes be a slightly slower night as fans head for home and Monday morning work.
Friday Night: Huelyn Duvall
There was nothing to choose between the shows staged by Huelyn and Narvel, both now in their late 70s, both with voices undimmed by time. First up was Huelyn – Texas through-and-through, in a pink shirt, black tie and dark glasses. Backing him were GENE GAMBLER'S SHUFFLERS, and vocal group THE ROOMATES which meant the sound was exactly the same it was on the those first seven singles that he cut between 1957 and 1959 in studios as diverse as Nashville and Hollywood.





Duvall opened with the uptempo Comin' Or Goin', the B-side of his debut recording for the Challenge label, and followed it up with two other 50s originals, Juliet and Teen Queen, which was notable for the band's fine keyboard work. After Boom Boom Baby, Duvall confessed he had left the set list back at his hotel, but no-one had noticed, and there were no ominous pauses in a slick show.
Friday Night On A Dollar Bill was openly nostalgic, and he stepped outside his own prodigious songbook for his take on Elvis' arrangement of When My Blue Moon Turns to Gold Again, which allowed vocal group The Roomates to shine.





Duvall's guest guitarist, CARLOS A. DEBOSQUE, from Madrid, deserves special mention for his contribution, as the set continued with the Johnny Cash-like You Got Me Lying, and his originals Pucker Paint and Let's Make a Block.
Huelyn kept what is probably his best known number he kept until last, a storming and accurate version of Three Months To Kill, before his encore of Gene Vincent's Lotta Lovin'.
Saturday Night: Narvel Felts
Saturday night had Narvel Felts as headliner, the lofty veteran from Missouri who first recorded in the legendary Memphis Sun studio while still in his teens.
Backed by THE SHUFFLERS, and sporting a bright blue jacket, he opened with Chuck Berry's Roll Over Beethoven before concentrating on his own recordings, including early radio work, with tracks like Foolish Thoughts, and Cry Baby Cry. Particularly good was his take on Roy Orbison's Go Go Go, helped no end by a voice that can switch from tenor to near-falsetto with ease.





Between songs, he traced his own career, explaining that Orbison was actually in Sun studio when Narvel arrived for the first time, as a shy 17-year-old, along with Johnny Cash, and Jerry Lee Lewis in the piano booth. Which led, obviously, to Narvel's take on Great Balls Of Fire, before he reprised his own 1957 recording Kiss-a Me Baby.
Narvel was already looking back to rock'n'roll in the 60s with Pink And Black Days, which he performed here, but for his career, the best was yet to come. In the early 1970s, the hits took off with a string of country Top 10 discs, many derived from songs of the 1950s.
These included re-imagining of The Platters' My Prayer, Jackie Wilson's Lonely Teardrops and Margaret Lewis' Reconsider Me, all of which pleased the Hemsby audience who didn't care if the label was rock'n'roll, rockabilly or country, so long as it was Narvel performing.
This was Narvel Felts' record-breaking eighth performance at Hemsby, and judging by his reception on the night, he will always be welcomed back.
Sunday Night: Doo-Wop and More!
Sunday night at Hemsby is traditionally doo-wop night, and one of Europe's top harmony vocal groups, THE VELVET CANDLES returned for a fourth time to a heroes' welcome.
Resplendent in white tuxedos and black bow ties and brimming with confidence they hit the stage with Tonight, ironically first recorded by The Velvets (no relation). They could easily have run through doo-wop's greatest hits, but instead varied their sources from Clyde McPhatter's A Lover's Question to Norman Fox And The Rob Roys' Aggravation.
Augie Burr is lead vocalist and front man, but he and Eddie Peregrin swap leads depending on the song, and both have perfect voices – not to mention authentic accents – for the material. Memen Salvador is the only female member of the outfit, and she, too, takes leads on material such as Ben E. King's Amor, sung partly in Spanish. Notable, too, was bass voice Juan Ibanez who handled the monologue on The Gladiolas/Diamonds standard Little Darling perfectly.





The Velvet Candles also had a surprise guest, the Orbison-voiced MARCEL RIESCO, who joined the group for his take on Lana. The Five Keys' She's The Most and The Drifters' Fools Fall In Love proved popular with dancers who could find a space on the floor, but it was the group's final two numbers which illustrated why they are in the top flight internationally for doo-wop.
Few would take on the Dion DiMucci songbook, but the Candles do, and Little Diane was so great, they were called back for a second encore. Nonplussed at the ecstatic reception, they nailed it with Donna The Prima Donna and will no doubt be back sooner rather than later. Credit to their backing group, too, THE CHORD ROYALES.
It was hard not to feel sorry for THE SURESHOTS who had to follow them almost immediately. A more than competent four piece rockabilly outfit popular on the club scene did faultless revivals of standards including Barking Up The Wrong Tree, She's My Baby and Put Your Cat Clothes On for an audience still on a high from The Candles. Small wonder they drowned their troubles in the shots that gave their group a name…
Concentrating on Hemsby headliners is not to overlook bands that at lesser festivals would be headliners. PAUL ANSELL'S NO. 9 is a case in point. Fronted by Paul in his trademark white Stetson the outfit tread the line between country rock and rockabilly, and have been together in one line-up or another since 1993.
Paul has recorded at Sun, has an easy audience rapport, and has deserved wider recognition for some time. He has a great voice and immaculate choice of material on such tracks as Dwight Yoakam's It Only Hurts When I Cry, Train Of Love and Rock'n'Rollin' In Memphis Tennessee. Now signed to Ruby Records, he recently released a new 45, Sweet Baby Of Mine.
Similar comments apply to Marcel Riesco's TRULY LOVER TRIO. Now based in the US, Marcel must be one of the few authentic rockabillies from Uruguay, and is without doubt the only rockabilly from Uruguay with leather working skills! He has won awards worldwide, and got a great reception at Hemsby.
Meanwhile, At The Copacabana Club…
Among the many great acts to appear at the nearby Copacabana Club were the Friday openers, THE NEUTRONZ, a Raucous label act whose CD Motel Hell has been well received, more neo-rockabilly than psychobilly. Their take on Depeche Mode's Personal Jesus has won them fans. The GO-GETTERS from Sweden, regulars in the UK, headlined Saturday's show at the Copa and their take on Johnny Kidd's Please Don't Touch had real attack, and was far superior to the original.
Their source of material is eclectic, encompassing everything from The Undertones' Teenage Kicks to Larry Williams' Slow Down. Fronted by the charismatic Peter Sandberg, they raised the temperature in the crowded Copacabana until it was as hot as the original in Brazil.
No individual could see every band on the bill, but there were few disappointments and some pleasant surprises. "MAN IN BLACK", aka Kevin Black, with his Johnny Cash tribute was as excellent as his Hemsby debut a couple of seasons ago, and JAKE CALYPSO AND HIS RED HOT were hot, hot, hot according to those who saw them.
MISCHIEF, from Holland, are always reliable, and RUSTI STEEL AND THE STAR TONES live up to the reputation they've developed at club level. Personally, I hope never to hear SANDY AND THE WILD WOMBATS again, and I struggled to identify the originals they wrecked, but that's just me…
Any other downsides to the weekender? My pet hate – so-called disc jockeys who play louder than the bands. It robs a band of any immediate impact when they come on. Someone should gate them so this cannot happen. Mr Soundman – it's up to you.
Review by John Howard
Photography by Paul Harris
Hemsby #59 Rock'n'Roll Weekender runs from 6-9 October 2017. Get your tickets here now.