Vintage Rock Presents – Little Richard!
By Vintage Rock | September 6, 2018
In our latest Vintage Rock Presents special edition 132-page magazine, we turn our attention to the Georgia Peach, Little Richard.
Also lovingly known as the Originator, the Quasar Of Rock and the Real King Of Rock'n'Roll, Little Richard is a vital player in the evolution of music as a whole – from his outrageous persona and glitzy showmanship through to his mastery of songwriting and musicianship.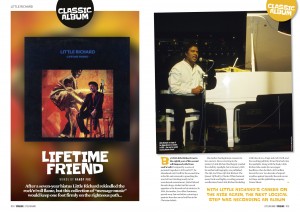 Inside, we explore Richard's career, from his problematic childhood and musical beginnings singing in traveling vaudeville shows, through to the present day. In particular, we shine a spotlight on his hit-making tenure at Specialty Records in the 50s, as well as his sessions throughout the 60s and 70s, and go on to survey his resurgence in the 80s, right up to his present-day activities.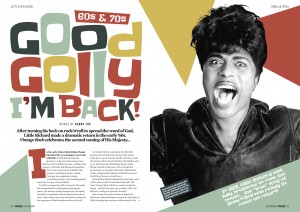 To add to that, there's features covering Richard's original red hot touring band, the Upsetters – including an interview with drummer Charles Connor, legendary producer Cosimo Matassa and Richard's firecracker sessions recorded under his guidance, and a trio of classic albums from across his career – Here's Little Richard, The Rill Thing and Lifetime Friend. Richard's fascinating relationship with religion is also covered, beginning with his infamous epiphany and on to his subsequent hiatus as a preacher, and including his stunning gospel recordings.
Elsewhere, we proffer our rundown of essential Little Richard sides, we investigate his many influences, plus we go behind the scenes for a look at his various film and TV appearances, including rock'n'roll flicks The Girl Can't Help It and Don't Knock The Rock, 80s hit comedy Down And Out In Beverly Hills and more.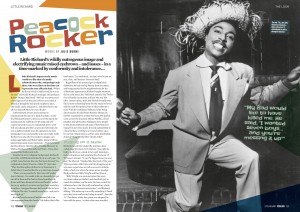 Finally, we scrutinise the inimitable image and gigantic personality of a shrieking, piano-pounding living legend!
Order your copy of this issue today for just £7.99 (inc.P&P) HERE.
Download your digital edition HERE.
Find this issue in store at Tesco, Sainsbury's, WHSmiths, Eason's and independent retailers. Find your local stockist HERE.
This issue also available in an exclusive fan pack, including 4 art cards for only £15! Just click HERE.
The fan pack offer is exclusive to the Anthem Publishing shop only, and served on a first come first served basis. Order quick before stock runs out!