Rockabilly Soundtrack Of My Life – Darrel Higham
By Vintage Rock | March 29, 2022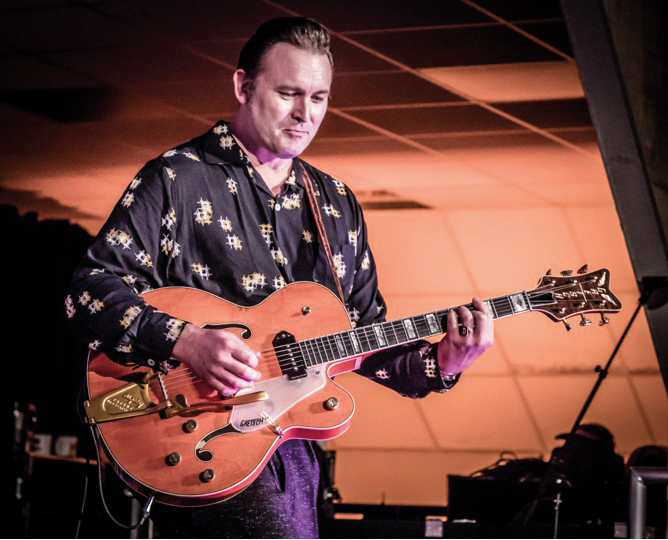 Homegrown rockabilly hero Darrel Higham formed his band Darrel Higham & The Enforcers in the mid-1990s. As a soloist he has collaborated with such artists as Rocky Burnette, Chrissie Hynde, Jeff Beck, Billy Lee Riley and Shakin' Stevens. He's also a member of transatlantic rockabilly outfit Kat Men, alongside Stray Cats' Slim Jim Phantom…
Henry Wilson
–
Are You Ready,
1958
I first heard this a good few years ago whilst in the US. I don't know why it had passed me by for so long but that's one of the great things I love about rockabilly; after all the years I've been into this music, I'm still hearing songs that were recorded back in the day that blow me away. I don't know anything about Henry Wilson or this song other than it's magnificent! A real fierce bopper with an excellent guitar solo, great swinging beat and superb vocals. I love this record so much I tracked down an original US copy a few years ago and it plays like a dream.
Mac Curtis
–
That Ain't Nothin' But Right,
1956
I first started going to rockabilly clubs when I was about 12 or 13 years old. The first club I went to was called The Kennel Club in Wellingborough. My mate used to take me in his pink and black Ford Consul MK2! This would've been about 1982/3. It was at this club I first heard the music of the mighty Mac Curtis and it left a huge impression on me. It's difficult to pick a favourite track by him but I've settled on this masterpiece. And to think that he had a release in the UK on Parlophone Records back in the 50s and no one picked up on his genius back then…
Hank Mizell
–
I'm Ready,
1985
I remember buying this on a repro 45 sometime back in the mid-90s and it blew me away! What a track! That guitar intro and driving beat. I think, like most rockabilly fans back in the early 80s, I'd had enough of hearing Jungle Rock; Hank Mizell's best-known song and a huge UK hit in 1976. In fact, I was sick to death of squares and smoothies singing it as a piss-take when walking about down the town as a young, quiffed-up rockabilly in the early 80s. Hank more than made up for all that with this fabulous bopper. And in recent years, I've fallen back in love with Jungle Rock again!
Luke McDaniel
–
My Baby Don't Rock,
1957
I had to have at least one track from the legendary Sun Studios from Memphis, Tennessee. But how can you choose just one? How can I choose just 10 favourite rockabilly tracks?! Well, it had to be done and so Luke McDaniel makes the list because this song is just so incredibly wonderful, it makes me forget about the mundane things in life, like politics. And with lyrics like "She likes a cutaway dress with a Monroe shake", it's actually more profound than politics will ever be, in my opinion.
Glen Glenn
–
Blue Jeans & A Boys' Shirt,
1958
I was introduced to the great Glen Glenn in 1977 and what a profound influence that was! Blue Jeans has one of the most devastating guitar solos I've ever heard (played by Gary Lambert). It's pure magic. Add to that, Connie Guybo Smith (Eddie Cochran's bass player) slapping the bass and Glen's wonderful vocals, you have a perfect rockabilly recording. I've been fortunate enough to meet Glen on a couple of occasions and I proudly own a signed photo of him that will eventually take pride of place in the House Of Bop when I dig it out of an, as yet, unpacked box.
Jackie Lee Cochran
–
Mama Don't You Think I Know,
1957
I've always loved this furious piece of rockabilly mayhem. It rattles along at 1,000mph and the bass playing is just superb. In fact, I'd go as far as to say it's perhaps my favourite slice of bass slappin' I've ever heard. And you have Merle Travis playing lead guitar! Let's also dwell on the wonderful drum intro, as well. All in all, this track is so good it'll make life seem absolutely perfect for the entire duration of the song. It's just a shame it doesn't last longer than two and a half minutes… To think this was released in the UK on a Brunswick 45 in 1957! [US Decca 45 pictured] Amazing.
Curtis Gordon
–
Mobile Alabama,
1956
They don't come more boppin' than this! Again, Curtis Gordon's songs take me back to my teenage years. His songs, in particular, were played to death at every rockabilly club I went into throughout the 80s and were guaranteed to fill the dancefloor. I've could've picked any of his tracks, really, but the intro to this song is just fabulous and the bass sound is amazing. You could be listening to Old Shep and be crying your eyes out but if you played this next, you'd instantly forget about your dead dog and start jumping around full of the joys of life. That's how good this is.
Bob Doss
–
Don't Be Gone Long,
1956
If you plied me with enough alcohol and asked the question of what could top my list of favourite rockabilly records, this song could well be it. I heard it back in the 80s and it became an instant favourite. The bass intro, snare sound, guitar solo and Bob's voice make this utter perfection and brings out the bopper hidden in us all. If I was only slightly tipsy and heard this being played at The Rockabilly Rave, I'd forget about my bad knee and dodgy back and hit the dancefloor like a whirling dervish. And then I'd pay for it for the next three months but it would've been worth it!
Jett Powers –
Go, Girl, Go,
1956
Back in 1996, I was playing guitar in Elvis: The Musical at the Prince Of Wales Theatre. A certain Mr PJ Proby was portraying The King during his 1970's period. I was never playing guitar on that part of the show, as my role was primarily to play the great Scotty Moore licks for the 1950's period. However, one day I ventured up into PJ's dressing room, as I wanted to tell him how much I loved this particular song, Go Girl Go that he had recorded in 1956 under the name, Jett Powers. We spent an hour or so chatting and he even sang this song for me! It's a memory I'll never forget.
Kenny Owens
–
I Got The Bug,
1958
For many years we used to open our set with this song. A great drum roll intro and superb beat propels this powerhouse track along and the insanely catchy chorus just makes this a winner. I never tire of hearing this song and it's another one that I had to track down on an original US 45, as it's that important a song to me.