Jimmy Page: Session Man
By Julie Burns | April 11, 2022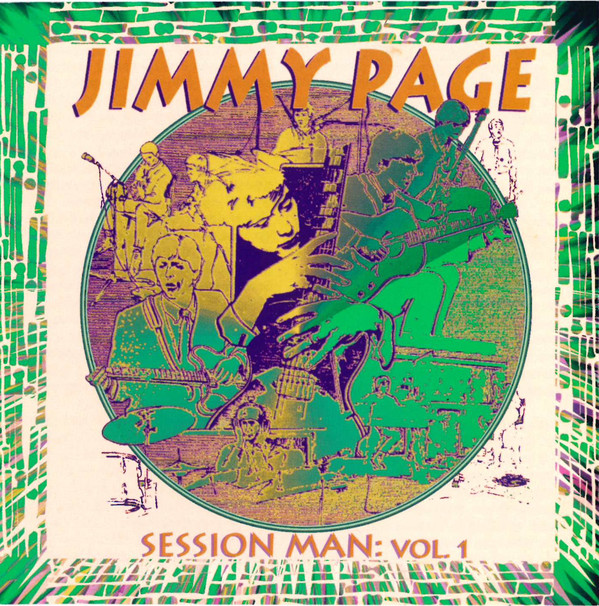 Before he became the father of hard rock, Led Zep legend Jimmy Page was one of the most prolific session guitarists of the 60s –  and of special note was his impact across evolving rock'n'roll… By Julie Burns
Like many six-string heroes of his generation, it was Scotty Moore who first inspired Jimmy Page to pick up the guitar.
At the age of 12, the future Led Zeppelin founder's world was turned upside down when he heard Moore playing Baby Let's Play House with Elvis. Before long, Page joined a skiffle band led by his school chemistry teacher and a year later in April 1957 was featured on BBC talent show All Your Own. Interviewed by Huw Wheldon, the youngster said he planned to go to university to become a research chemist in biology – and that he aimed to find a cure for cancer. By the next decade, however, his career calling clearly lay elsewhere. In the late summer of 1968, Page would famously form the legendary Led Zeppelin. Before that – and ahead of his Yardbirds years – he packed a whole lotta rocking in his more anonymous guise of super session guitarist on London's buzzing 60s studio circuit. 
His skills on predominantly a 1960 Gibson Les Paul Custom and a Danelectro 3021 can be heard across literally hundreds of recordings: so prodigious was he, that, according to Rolling Stone, "the full scale of Page's session discography may never really be known." 
Cross-genre, his repertoire knew no bounds. He contributed to anthemic tracks by The Kinks, The Who, The Rolling Stones, to incidental music for The Beatles' movie A Hard Day's Night, via Donovan, Rod Stewart, Paul Anka, Jeff Beck, Tom Jones and many more. 
He also worked with an array of female artists: from Nico to Brenda Lee; on Shirley Bassey's iconic Goldfinger, to Marianne Faithfull's As Tears Go By; Top 10 hits of Kathy Kirby's sassy revamp of Secret Love, Lulu's signature Shout and Petula Clark's Billboard Hot 100 No.1 Downtown. 
Given his later hard rock style, it's intriguing to find out how Page's formative session time influenced the era's rock'n'roll output. While still a student at Sutton Art College in Surrey, Page was talent-spotted at a gig at London's Marquee Club. Alongside the likes of Jeff Beck and Eric Clapton, he was already honing his craft with bands such as Cyril Davies' All Stars and Alexis Korner's Blues Incorporated. Offers of recording work quickly ensued. He cut a dazzling debut with the Duane Eddy-style instrumental Diamonds, a No.1 for three weeks.
Penned by Jerry Lordan, the songwriter behind The Shadows' worldwide hit Apache, it was performed by the ex-Shads duo of guitar ace Jet Harris – the first British musician to use the electric bass in 1958 – and drummer Tony Meehan. The crackling collaboration showed real chemistry between Harris' de-tuned Fender Jaguar electric guitar parts and Page's rhythmic filler on acoustic. It was 1963 and Page was yet to turn 20. Thereafter frequently booked as a top 'guitar team' together with Big Jim Sullivan, Page was already one of the most sought-after session musicians in Britain.
Early in 1964 came the first of several sessions for Dave Berry, kicking off with a badass version of Presley's My Baby Left Me. Commenting on Page's contribution on the Premier Guitar website, the late Sullivan remarked: "I remember the great solo that he did on that session – it's one of the best constructed rock solos on record. The amount of recordings we did together was amazing." That summer, Berry's subsequent The Crying Game made it to No.5 in the UK Singles Chart and was later used as the theme song to the award-winning 1992 thriller directed by Neil Jordan. Its assertive flipside, Don't Gimme No Lip Child meanwhile, attracted attention again in the 70s, thanks to its cover by the Sex Pistols.
From April '64, Page was working wonders across eight sides for Billy Fury. The first, the big ballad
I Will was released alongside Nothin Shakin' (But The Leaves On The Trees) – well remembered for Billy's upbeat performance on pop TV show Ready Steady Go! Thanks to its pulsating fairground feel and Page's propulsive guitar solo, the revved-up result even elevated Eddie Fontaine's '58 original.
The track was one of many that featured the key quartet of the future Led Zep double whammy of Page and John Paul Jones, plus Big Jim Sullivan and drummer Bobby Graham. As per their typical arrangement, Nothin' Shakin' had Sullivan playing lead electric guitar with 'little' Jimmy on rhythm, and Jones on bass. Page shines on some other Fury solid cuts: It's Only Make Believe/Baby What You Want Me To Do (July 1964); I'm Lost Without You/You Better Believe It Baby (January 1965); and Give Me Your Word/She's So Far Out She's In (July 1966). 
Ever the creative chameleon, Page solidified Screaming Lord Sutch's eccentric Screamin' Jay Hawkins-inspired 'horror rockers' into catchy curios. Best of the bunch was the Joe Meek-produced Johnny Otis song Bye Bye Baby and its B-side, She's Fallen In Love With The Monster Men. Prior to this, his 12-string guitar work helped impart a surprisingly American R&B/Johnny Cash-ish sound to The Kinks on one of their biggest early recordings, I'm A Lover Not A Fighter. 
Conversely, when Brenda Lee was seeking to update and adapt to the new British Invasion sound she came over to Blighty to find it. Produced by Mickie Most at North London's Decca's 2 studios, they chose Is It True? as the A-side, and wanting to be the first woman to record it, Brenda selected Ray Charles' R&B stomper What'd I Say as its flipside.
Belting it out like she was channelling Janis Joplin meant the latter was replaced in the States with the tamer Just Behind The Rainbow. However, Is It True? peaked at No.17 in the UK and the US, earning a gold disc. Speaking to Vintage Rock in 2019, Brenda recalled: "I was pleased with the new sound of this. Produced by Mickie Most and featuring this scorching guitar solo by someone so young, I was amazed he could do it. That was the very talented Jimmy Page."
Similarly, and in common with other great bluesmen such as Howlin' Wolf, piano-pumper Otis Spann crossed the Atlantic to milk the UK's blues renaissance. His 1964 track Stirs Me Up is unique in so far that rather than Page's trademark guitar, he instead plays harmonica – with Eric Clapton on six-string duty instead. 
Fast forward to 1968 and rock'n'roll was shifting gears, into more experimental territory. Embracing this change was Johnny Hallyday. The fourth track on his album Jeune Homme, À Tout Casser was an unexpectedly wild and psychedelic number, featuring backwards echo and wah-wah guitar that displayed a memorable Whole Lotta Love-type riff. It was the very same stuff that Page was trying with The Yardbirds and which would punctuate his later output. 
PJ Proby – whom Jimmy had worked with on his 1964 UK Top 5 hit Hold Me – was perhaps the last link between Page's session work and the formation of Led Zeppelin. In fact, Proby's 1969 track Jim's Blues showcased the whole Led Zep line-up prior to them recording their first album. With John Paul Jones booked to arrange and perform on Proby's Three Week Hero LP months before joining Page, Robert Plant and John Bonham for The New Yardbirds, he invited all his new crew to join in.
Consequently, the bluesy track is reminiscent of Zeppelin's cover of the Muddy Waters classic You Shook Me. In contrast to the very many sessions Page had played on, Jim's Blues sounded most like the distinct style of Zeppelin. Remembering his formative years with fondness, Page said all his early rock'n'roll session work was 'invaluable' for what came later.  
STUDIO STAIRWAY TO SUCCESS
For a unique insight into the Led Zep luminary's pre-fame musical world, look no further than the two-volume compilation album series Jimmy Page: Session Man (AIP Records, a subsidiary of the Bomp! label; first volume released 1989 with its second in 1990). Not to be confused with its earlier vinyl predecessor, a visually similar bootleg titled James Patrick Page: Session Man (Slipped Disc records, 1979), this choice selection features 42 rare recordings by various artists spanning 1963-1968, all of which showcase Page's youthful yet gifted guitar finesse. 
Alongside the likes of Billy Fury and Brenda Lee lie more obscure but still jumping gems. These include Roll Over Beethoven by Pat Wayne And The Beachcombers; See You Later Alligator by Wayne Gibson & The Dynamic Sounds; Honey Hush by Neil Christian And The Crusaders; and Train Kept A-Rollin, the Scotty McKay Quintet's 1968 take on Johnny Burnette. 
The biggest reveal, however, is from the man himself. Page's self-penned solo cut for Fontana, in February 1965, was She Just Satisfies b/w Keep Moving. Jimmy even sings in a surprisingly muscular style on the A-side given his soft spoken tones. "There's nothing to be said for that record except it was very tongue-in-cheek at the time," Page later told Creem magazine. "I played all the instruments on it except for the drums and sang on it, too, which is quite, uh, unique… It's better forgotten." 
Fans might beg to differ. It can be seen as a bridge between session work and Led Zeppelin, a remarkable taste of extraordinary musical things to come.