On The Radar – Mimi And The Miseries
By Vintage Rock | December 20, 2022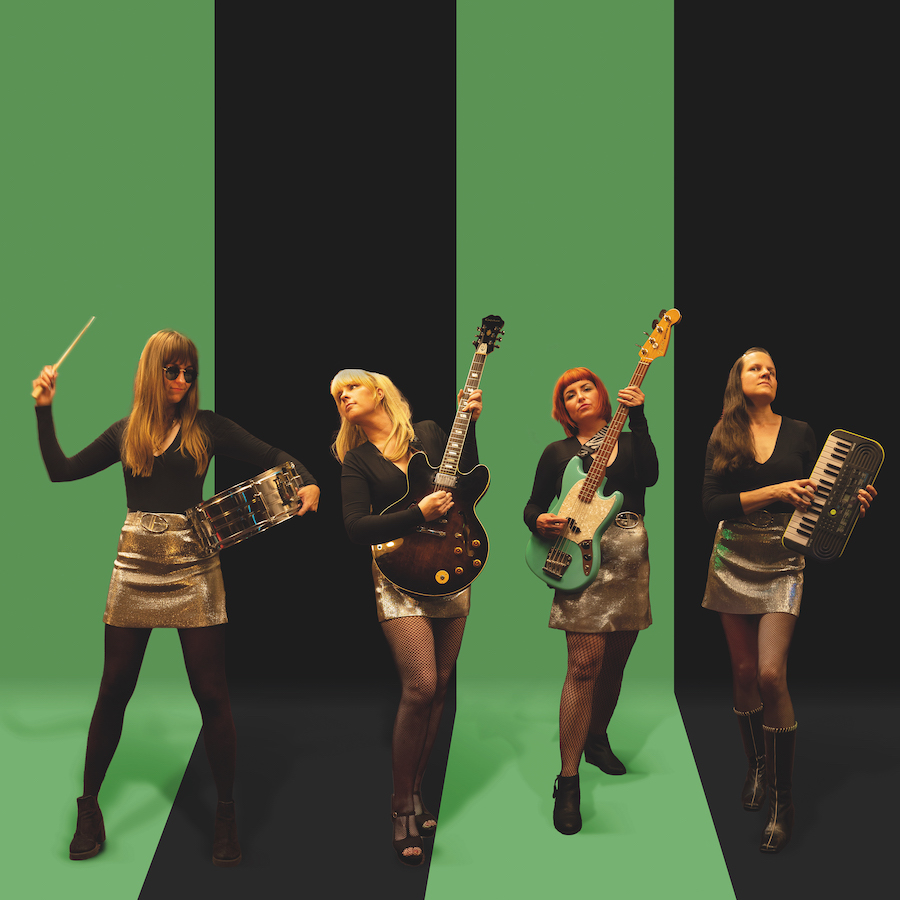 The fabulous foursome from the West Country made a splash with their debut EP. Now they're bringing their party-loving garage rock to beat fans on both sides of the Atlantic. By David West
One phone call can change your life, at least so it proved for Mona Misery, bass player in Bristol's garage rockers Mimi And The Miseries. Mimi, guitarist and lead vocalist of the quartet, had fronted bands in the UK and Australia, and was feeling the itch to get back onstage following a break from performing, so she reached out to Mona on the spur of the moment. "It was a drunken message in the middle of the night: 'I think you should join my band!'" explains Mona. "I woke up in the morning, like, OK." Joined by Myna Misery on keys and Mickey Misery on drums, the quartet are already the new darlings of the beat scene, gearing up to conquer first Bristol, and then the world.
How did The Miseries get together?
Mimi: "It began during the second lockdown. I started jamming with Monday, the original drummer. I posted a video of one of our jams and people began offering us gigs, so I was like, 'OK, let's make a proper band'. I didn't expect it to get that much attention really, but because the 60s garage rock scene is a real community, people were happy to see girls playing in that style. They just really liked it."
Were you playing original music from the start?
Mimi: "We played some of my old songs and a lot of covers. Mona is the main songwriter."
Mona: "I never really wrote whole songs myself until, over the course of the lockdown, I got an Apple Mac and Garageband. I've got all the bits and bobs here, so I started putting songs together and they came out well. I was really surprised and shocked – yay, I can write songs!"
Mimi: "They're so good and then they just kept coming."
Mona: "We write quite differently. I layer things until they sound good, and Mimi can just write things all as one. Her songs arrive fully formed and mine come together gradually over time."
How did your EP come about?
Mimi: "The EP was released through Bristol label This Could Prove Fatal. We chose to release it on CD because of the massive wait on vinyl but then Outro Records in L.A. offered to release the vinyl version of the EP, so that's being pressed at the moment and should be ready in a month or two. Then we're going to go over to the States to record a single with Outro and play some shows in California. Steve Pilace from the label contacted us, he's really lovely and encouraging, so that's nice. He's released some of our friends' bands in L.A. –The Premonitions and Lost Cat – so it's really cool to be on that label."
Where did you record the EP?
Mimi: "We recorded at Bink Bonk Studio in Bristol – we did it in a day with Mat [Sampson] the sound engineer. Such a great little studio, it's in a basement in Redland. It's all analogue, he's like a magician. We're really happy with it."
How did you choose the songs on the EP?
Mimi: "We were determined that there would be at least two originals. I really wanted to do Movin' Out because it was recorded in 1964 by The Teemates and it's always been one of my favourite 45s. I contacted one of the original members of the band, Bobby, and told him about our plans and he was so excited. He loves the version we did, so that song is quite a special cover. Mona wrote the two originals: Party! really suits what we're about – a party band – but the message is quite controversial and wild, it talks about drugs, booze and fags."
Mona: "It's just a bratty song."
Mimi: "With Stop Following Me 'Round the message is about being independent women, being empowered and not needing male attention. That's had a lot of good feedback live. We were just going to do two songs at first and we thought, 'We're quite well rehearsed, we can do four in a day'. We probably could have done more, to be fair, but we wanted to keep it as an EP."
And you recorded Otis Redding's 1964 classic, Security?
Mimi: "I grew up with 60s soul, so doing an Otis cover is amazing. Then, when I heard the Thane Russal version, I realised sounds like that would really suit us. I brought it to rehearsal and it was really sloppy at first because it's got all these intricate parts but once it came together it felt really good to play. There are some really tricky bits. We have to do this gallop and that can go so wrong, but we all seem to have it down."
Is there a vibrant garage rock scene around Bristol?
Mimi: "It's always been a fruitful and active music scene, but not necessarily a 60s garage scene. It's going that way now, there are a lot more bands in that genre. There are a lot of psych bands as well. There's a good reception for it and a lot of garage bands come through Bristol now."
Mona: "All the members from the different bands support each other, they aren't snobby about genres. You'll see me at stoner rock gigs or pop-punk gigs. It's like a big village in Bristol, everybody knows each other."
Where else have you played?
Mimi: "We haven't really played that much out of Bristol yet. We played a gig in Rochester and Medway which was really exciting because that's where some of my favourite bands were born. We've been offered shows in London, but we haven't been able to play them because of the logistics. We can't really take our gear down, it's not cost effective."
Mona: "We're fairly new, we've only really been going a year. We've been quite picky with what we do. We don't want to overplay Bristol, or we don't want to take a gig that's not going to give us a good audience. We're quite selective."
Mimi: "We all work full time. We've got our own lives, so we rehearse once a week. We get together and hang out, but we haven't played every gig we're offered because it doesn't make sense. We're not teenagers,
we have to be able to afford the fuel and have a place to stay, so we can't take too many risks. I think the next few shows will be really good, because they're Beat festivals. We got offered a gig in London for the end of the year. One in Sheffield looks pretty good in November with The Morning After. Then Berlin Beat Explosion will be really good, so we'll hopefully meet new people and it's playing a different city, so we get to experience that."
How important is it to have your image fit the music?
Mimi: "We try to keep it fun. We have some matching outfits, but it's been really hard to keep that up because it gets hot or you get rather fed up wearing the same things or someone doesn't like it. Some of the girls don't really like wearing dresses. It's very classic for girl groups to dress up and be quite theatrical in their presentation and I think it's really beautiful, but we're not showgirl-like. We're more laid-back and casual, but we do try to wear matching outfits when we can."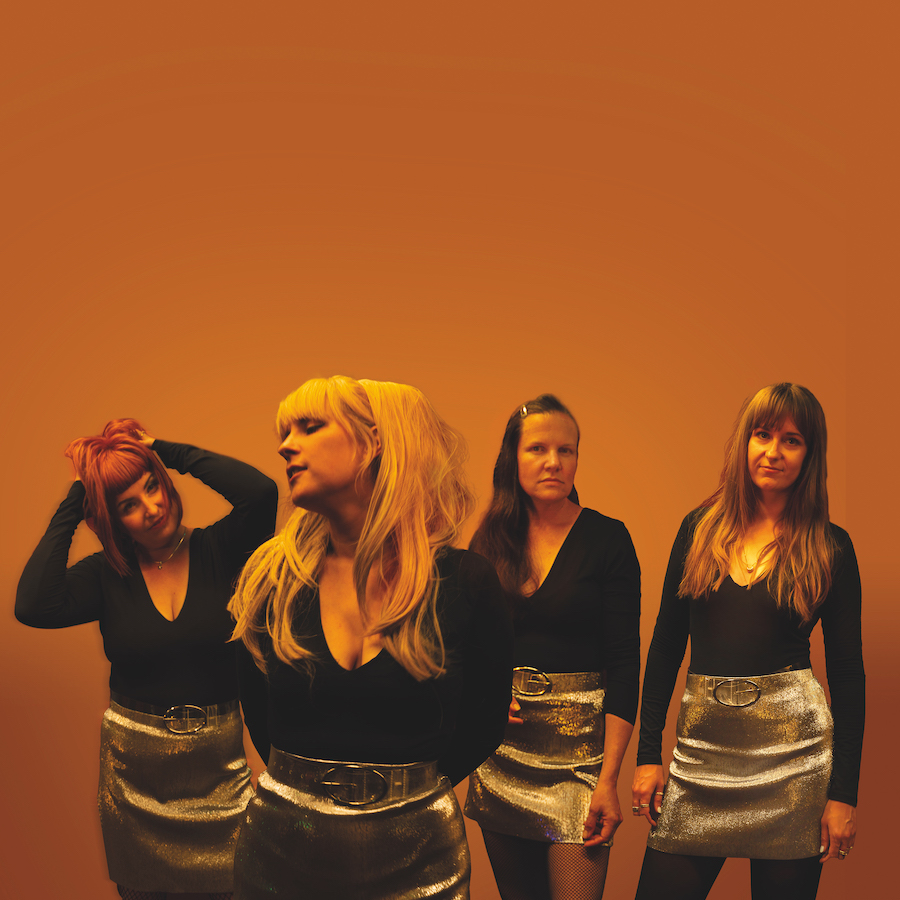 How far along are you with writing songs for a debut album?
Mona: "We've got a bunch. We need to concentrate on rehearsing those songs. We also need to do some more writing. I've got a few bits and bobs but I need a big chunk of time with no one around so I can spend hours and hours."
Mimi: "Me and Mona want to write more collaboratively to see how that works. We just write individually at the moment, so it would be really cool to do something together."
Mona: "We should go away together on a songwriting weekend."
Mimi: "Oh my god, I'd love that! Or just come and stay at my house."
Mona: "We'd have to properly leave Bristol otherwise we'd never get anything done. We're too busying partying, there's no time for anything else."