On The Radar – Mack Stevens
By Vintage Rock | November 9, 2022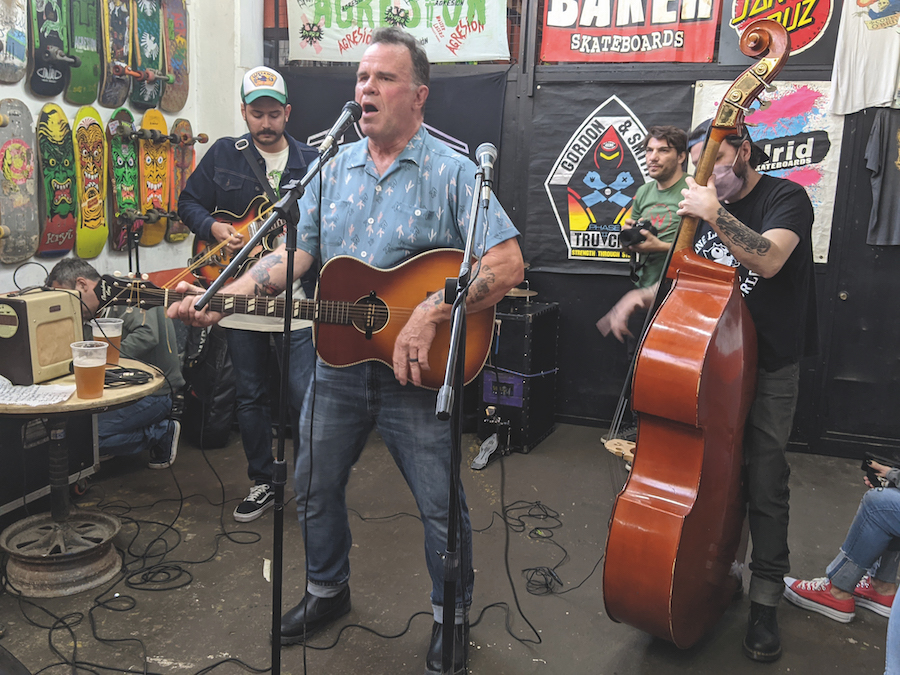 The Texas Cat Music king gives us the lowdown on his unconventional tribute to Sun Records, bringing the gospel of raw rockabilly to Argentina, and the enduring appeal of lo-fi recordings … By David West
For 30 years, Mack Stevens has dished out what he calls Hardcore Texas Cat Music or, in layman's terms, the real rockabilly deal. Stevens grew up singing in church, but it didn't seem to stick.

"I got sucked into that gospel world when I was 13 or so," he explains, "but man, that world was not for me. Never did feel genuine." 
Ditching the hymns, Stevens embraced the raw, sound of early rockabilly. "The music set me free," says Stevens, who met his wife Karina at the inaugural Viva Las Vegas festival in 1998. 
When Vintage Rock talks to the singer, they're busy packing up to move from Texas to Karina's hometown of Buenos Aires. It's no leap into the unknown, however, as Stevens recorded his new album Ain't That Right: An Unconventional Tribute To Sun Records in Argentina's capital city, reinterpreting the songs that first ignited his passion for Cat Music. 
What made you pick Buenos Aires to record Ain't That Right?
I do most of my serious recording now in Buenos Aires. I've got a place there that I use, King Studio. That's owned by Pablo Hadida, a steel guitar wizard there and he has this great, funky little studio. He really has the sound that I was after. Otherwise, I record in various houses or apartments there, it just depends. My album before this one, Best Rockin' Place, was recorded in a house, all in one room live to a reel-to-reel Sony from 1961. The only microphone for the whole thing was a little pencil mic that came with it. The fidelity was suitably low, but it got the sound I wanted as well.
Did you do 2015's Bop N' The Blues with just one mic, too?
Yes, it sure was, with Los Paganos Del Ritmo, the Rhythm Pagans. We did the first LP and then Part Records in Germany put out a second Paganos one called Psycho Breakdown, done the same way – just one microphone. It's really good, primitive stuff and I've got about 35 songs in the can for a third release if I can find somebody that wants to put it out.
What's the secret to recording that way?
We leave mistakes intact, we set a little coffee table between us and sit in a circle. I'll be in the front with my rhythm guitar and the microphone pointing towards me. The guitarist sometimes will use a little Pignose amp and we'll set that off to the side, pointed obliquely at it, and the mic will pick that up but not as strongly as the rhythm guitar and the vocal. Same for the bass fiddle, he'll sit opposite the guitarist with his bass. We'll run through several tests –
15 seconds or so of a song – and we'll know when we hit the right balance, and then we try not to move.
Do all the musicians you used on Ain't That Right come from Argentina?
Yes. On this album I used several different players, most notably Sammy Páez on guitar. He's a 28-year-old guy from about an hour outside of the city who's spent most of his life listening to Carl Perkins. I needed a last-minute guitar player about three years ago to fill in on a gig and he stepped right up.
I thought, man, this guy's great, so two years ago I sent him recordings of Sonny Fisher, the Starday Rockabilly singer who made only four records, and said, 'Learn the Sonny Fisher style.' He was able to replicate Joey Long's guitar licks on my album Best Rockin' Place, so I used him for almost all the guitar work on this session. For one song I recorded back in 2018, Lonesome Old Jail by D.A. Hunt, I had Fernando Couto playing on that one.
That song really got the whole idea of the project going. I thought, 'I'll record more of these Sun songs that nobody's ever paid attention to', which is the whole point of it. It's unconventional. Patricio Germano, he's been my upright bass player since probably 2008. He's the most solid bass player I've ever played with, and then on about four songs we used another bassist, Jonas Etchi, a good friend of Sammy's. On drums we had Carlos Rotondaro, I call him Charlie Rotten. He's a great drummer, he actually plays his drums, he doesn't just beat on them.
Is there a strong rockin' scene in Argentina? It's not the first place that you think of for rockabilly…
I know, it's strange, but yes, there's a really good scene. A lot of the bands are more into the neo-rockabilly thing but I'm like a missionary going in and telling people about Carl Perkins, Charlie Feathers and Sonny Fisher. Outside of the city, there are discos where they dance to rockabilly. It's fun.
Those are some of the best crowds to play for, too. No money whatsoever there really right now, the economy is not the greatest, which is one of the reasons we're going down there – the dollar versus the peso is just astronomically good. We've got our house sold and I sold my Sun Records collection, including a 45RPM of D.A. Hunt – there are only three known copies of that, and I sold it last week.
It must have been heart-wrenching to sell your collection…
It's the second near-complete Sun collection I've owned. For the first one, I needed five records to have everything.
I sold that back in 1997 just ahead of a well-needed divorce, that bought my freedom. And then this one, my wife Karina, who I've been married to since '98, she's really been supportive.
We got to talking finances and such… the fact is I can go down there and get that evil socialised medicine that Americans seem to hate. I can even pay out of pocket and do much better than I ever could here, medically, and, of course, booze is cheap, meat is cheap – and it's the best meat on Earth. I've got so many friends and family down there now, we thought, shoot, we need to go on down there. So, selling the collection to help this was a great thing – no regrets whatsoever.
You didn't pick the obvious Sun hits for your new album. What was the plan?
None of the songs are done like the originals with the exception of Every Night by The Jones Brothers. I did it pretty close to that style but instead of a vocal quintet and the guitar, it's two guitars and just myself and Sammy. The only overdubbing or multitracking we did was on that one song. We did Carl Perkins' I'm Sorry I'm Not Sorry but we didn't do it as a country shuffle, we did it as an out-and-out slamming rockabilly. We even covered Bobby Wood's Everybody's Searching, which is a record that was pressed as a promo for Sun but never issued. It wasn't even sent out to DJs, it had some sort of publishing or promotional problems so they just yanked it from distribution. That one was just a teen pop, clap-your-hands thing, and we did it Johnny Cash-style.
You've got your own label, Freedonia Records. Why did you decide to put this album out on Bear Family?
When Bear Family made the offer, I jumped at it. They've got distribution and they'll press up a thousand copies. It's going to have a companion CD which will have a couple of alternate takes and some other Sun material that I've recorded through the last 25 years or so. That'll be a nice bonus. A lot of those are home recordings and oddball things, live recordings on the radio and such.
Your very first album, released in 1993, was on a German label, too.
It was! A marvellously terrible thing called Bop Rock Rockabilly on Eagle. That one I recorded in East Texas with an old guitarist called Johnnie Patterson. He had done rockabilly in the 50s and went on to play with Charley Pride and Bob Wills and such. It being my first record, I sent them the four-track master tape… oh my, they took that and mixed it in stereo. Two guitars and bass fiddle, they put it in stereo, no echo, it was just flat. I was horrified.
I have mixes here at the house that are so much better. It was a shaky start but got my foot in the door at least." ς

Ain't That Right is available now on Bear Family Records. Head over to bear-family.com for more details.