Story Behind The Song: Jackie Wilson – Reet Petite
By Vintage Rock | November 9, 2022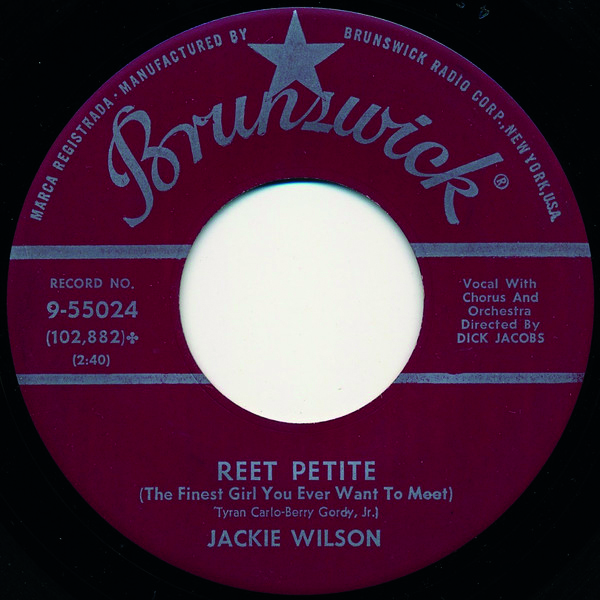 Party anthem. Posthumous monster hit. Jackie Wilson's all-time classic 1957 single didn't just kickstart the great man's solo career, but also provided the foundations for the rise of Hitsville USA. By Martin Ruddock
Jackie Wilson's first solo single Reet Petite is the scourge of all quiz intro rounds. It's just too recognisable. Sometimes (clunkily) subtitled 'The Finest Girl You Ever Want to Meet' (or sometimes 'The Sweetest Girl in Town'), it's never needed anything but that cheeky, rhyming title. From the song's parping, laughing brass fanfare of an intro to Wilson's elastic vocal gymnastics, it's two minutes 40 seconds of pure, joyous swing, stuffed to the gills with hooks. Chosen as a solo vehicle for rising star Wilson, then 23, it was a sleeper hit, but was also exactly the calling card that the explosive young Detroit singer needed.
A former welterweight boxer, Wilson had risen to prominence at the turn of the 50s with Billy Ward's Dominoes, a storied vocal group that he joined as a teenager in a show of bravado – approaching Ward after a show, he bragged that he could sing rings around lead vocalist Clyde McPhatter. 
"Billy sent one of his fellows to listen to me at an amateur talent night at the Paradise Theatre in Detroit, and he said he'd try to help me," Wilson told Melody Maker in 1972. "Four or five months later, when Clyde was leaving to form The Drifters, I got the call. I didn't dare tell my mother, though. I just packed up and left." 
Wilson ended up the star of the show. A charged performer, playing to packed houses of swooning women, Jackie was a heavy influence on a young Elvis Presley. But by 1957, Wilson wanted out of Ward's outfit. "I'd learned all I could," he clarified in that same interview, "and it seemed that Billy wasn't aiming to go any further than Las
Vegas, which was where we were spending most of our time. I hadn't had a chance to play in the black field at all."
Manager Al Green had negotiated Jackie a contract with dormant Decca subsidiary Brunswick. Just before Wilson put pen to paper, Green died suddenly, and his assistant Nat Tarnopol assumed management duties, at which point another ambitious young musician from Detroit entered the picture. "I started with a young man that owns a small recording company, I think it's… Motown?" Jackie mischievously told Don Cornelius in a 1971 TV interview for Soul Train. Wilson had previously crossed paths with Berry Gordy Jr. on the boxing circuit. Now Gordy, hungry for success as a songwriter, had a song for him. 
Co-written with Berry's sister Gwen and friend Roquel 'Billy' Davis (under the moniker Tyran Carlo), it lifted its title from Louis Jordan's 1947 number Reet, Petite And Gone, playing to Jackie's vocal dexterity, and his swaggering loverman image. 
An unusual and challenging song to pull off, Wilson later commented that the only other performers who could have managed the task as effectively as himself were Bobby Lewis or Screamin' Jay Hawkins.
Cut in the summer of 1957 with producer Dick Jacobs, Reet Petite was indeed tailor-made for Wilson, who absolutely went to town. He sings call and response with the brass section ("Oh, oh, oh OH!"), playfully roosters about ("Look-a-bell, look-a-bell, look-a-bell, look-a-bell, Ooh-wee!"), and screams gutturally ("She's allll-right"). But Jackie saves his party trick for the chorus line, turning its title into a tongue-twister with some outrageous rolled r's before pouting the rest of the refrain.
Released in August, it reached No.62 on the Billboard Hot 100 by late 1957, and No.6 in the UK. A succession of other sides penned by the Gordy-Davis songwriting team would follow over the next 18 months, with the heart-wrenching ballad To Be Loved reaching No.22 on the Hot 100 in summer 1958. This hot streak culminated in the irresistible Lonely Teardrops topping the R&B chart and breaking into the Top 10 on the Billboard chart.
However, Gordy and Wilson would part company by early 1959. Frustrated at not being allowed to pen the B-sides of their 45s for Wilson, Gordy approached Tarnopol asking him to reconsider this policy, but was turned down by the manager. Struggling with money following an expensive divorce, and nursing ambitions to produce and create his own stable of talent, Gordy set up the embryonic Tamla Motown at home. "You can go broke with hits if someone else is producing them," he later rued.
Gordy would have the last laugh on Tarnopol, though. He'd laid a foundation for his future the previous year after sitting in on an audition for Brunswick by a talented young vocal group named The Matadors with Tarnopol. After Tarnopol rejected the group, Gordy snapped up Smokey Robinson's troupe, renaming them The Miracles.
After Gordy's exit and a period of being groomed as an all-round entertainer by Tarnopol, Wilson would continue to have soul, R&B and pop hits through to his fateful on-stage collapse in 1975. Never fully recovering, Wilson died in 1984, aged 49.
The same year, Reet Petite was used for an amusing stop-motion music video by Giblets Animation, which showed a Claymation version of Jackie morphing to match his vocal hi-jinks. After the film was broadcast on an episode of BBC arts programme Arena, Reet Petite was reissued and topped the UK charts for four weeks.
Perhaps the animated Jackie Wilson is now better known than the real thing, but almost four decades since his death, his joyous howl still haunts the airways. He's alright.