Soundtrack Of My Life – Terry Wayne
By Vintage Rock | August 2, 2022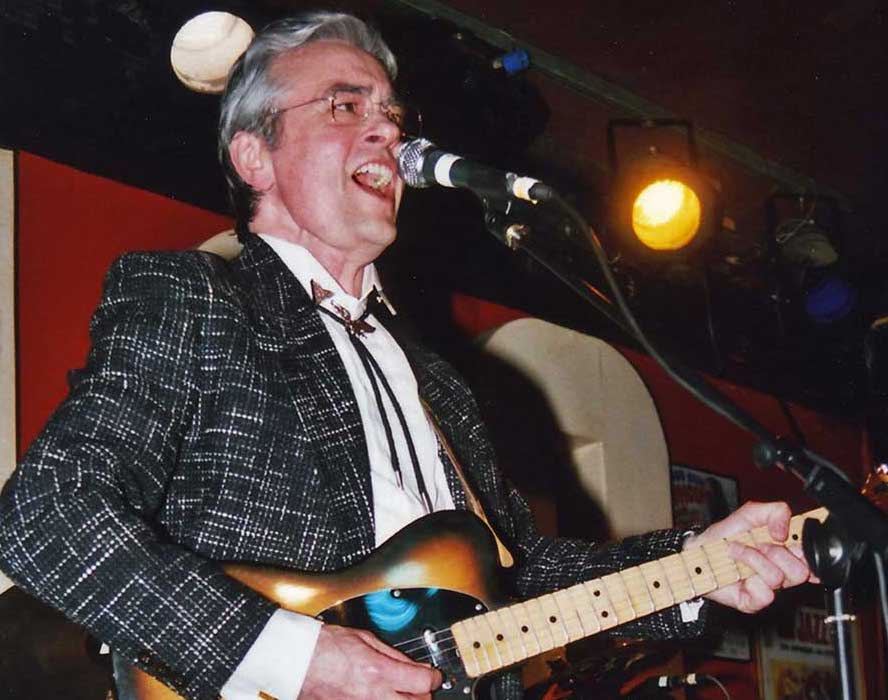 With a father who was both a rockabilly DJ and a guitarist, Terry was immersed in 'billy from the day he was born. Listening to tracks from the likes of Big Bill Broonzy, a 40s legend among fingerpicking-style guitarists, Terry developed his own style of playing. At the age of 16, he was introduced to Columbia Records A&R man Norman Newell, who signed the teenager to a three-year deal. Terry's first record was a cover of the Carl Perkins classic Matchbox – unfortunately his excellent vocal performance wasn't equalled by his support musicians, who weren't of a rockabilly background. It did, however, lead to a big break for Terry who stood in for Jerry Lee Lewis who had left the UK after the scandal surrounding his marriage to his 13-year-old cousin. Terry later appeared on TV shows such as the Six-Five Special and he became popular on the theatre and American airbase circuit. He now lives in Sweden, where he still fronts a successful rockabilly band.
Move It On Over – Hank Williams (1947)

 
My father's hobby was collecting country music records and he was the proud owner of a collection that included artists such as Roy Rogers, Tex Ritter, Merle Travis and Hank Williams. On one occasion, he played this track by Hank Williams came up. I was immediately hooked and in no time was singing along. As well as becoming my favourite track, it also proved to be a game changer as I had been given an old Spanish acoustic guitar by a neighbour and upon hearing this I wanted to play it. 
The Shot Gun Boogie – Tennessee Ernie Ford (1950)

 
My father was an avid listener to Two-Way Family Favourites on a Sunday lunchtime on the Light Programme BBC radio station. It was here that you could listen to a lot of the new records around, as they were played as requests by the families of servicemen serving overseas. My father, who was a great guitarist, was keen to point out upon hearing Shot Gun Boogie, that we were listening to a style of country music that was something different. He later declared that this track heralded the beginning of rock'n'roll. 
Glory Of Love
–
Big Bill Broonzy (1956)

 
My life and my guitar playing certainly wouldn't have been the same without the musical influence of the amazing American folk and blues artist Big Bill Broonzy who played fingerstyle guitar. As the composer of over 300 songs he bought an earthiness and light-hearted approach to much of his work. In the 50s he was one of the leading figures of the US folk revival and an international star. Cut in 1956, the tracks on Big Bill Broonzy Sings Folk Songs catch Broonzy in fine form near the end of his career.
Whole Lot Of Shakin' Going On
–
Jerry Lee Lewis (1957)

 
I'm convinced that when I first heard this track my hair stood on end, I couldn't believe what I was hearing. Up until this record I'd been concentrating more on country, blues and rockabilly guitar, then Jerry Lee came along with his rocking piano… I challenge any self-respecting 50s rocker not to admit that Jerry Lee changed their lives. Possibly the greatest irony in my career was that when Jerry Lee left the UK in 1958, I was chosen to replace him on the bill.
Blue Suede Shoes
–
Carl Perkins (1955)
This was a milestone in rockabilly. I was getting really confident playing guitar by the time this record was released, but hearing Blue Suede Shoes made me realise that I had a long, long way to go if I wanted to be anywhere near the standard of artists like Carl Perkins. The breaks in the beginning of the song where he sings: "Well it's a one for the money, two for the show etc," was amazing. I'd never heard this style of timing. The manner in which the track swung changed my approach and opinion of rockabilly. 
Matchbox
–
Carl Perkins (1956)

 
I first heard this track around the same time as Blue Suede Shoes. The beat gave me the same excitement I had felt when I first heard Whole Lotta Shakin'... I covered this track recently in Sweden where I met Carl's original drummer, 'Fluke' Holland. We were both playing on the same bill at a concert and a fan of mine showed him an actual copy of my Columbia recording of Matchbox. Fluke said: "That can't be true, we'd only just recorded the original in America". But it was true, and it gave me a real thrill. 
It's Late
–
Ricky Nelson (1959)

 
The guitar playing of James Burton on this record is iconic and heralded as the beginning of Rick's commercial success. Up until this point Joe Maphis had been playing lead with Burton on rhythm. The different two styles was significant in Ricky's success: Joe played with a plectrum and was very fast, whereas James had a natural talent for fingerstyle. The early tracks of Nelson, with Joe on his Mosrite double-neck guitar, didn't rock nearly as much as Burton's fingerstyle on a Fender Telecaster. 
Good Golly, Miss Molly – Little Richard (1958)

 
I loved this song because I could do it. I think the previous Little Richard songs were beyond the means for most people to perform, but this one was vocally much more manageable. Its rhythm and arrangement was outstanding and very different to the early ones. For some reason I could relate to the lyrics more than most of his recorded material. The likes of Lucille, Tutti Frutti, Slippin' And Slidin' had rhythmic styles that were difficult to emulate and I think that's why not many people tried. 
Rock Around The Clock
–
Bill Haley & His Comets (1954)

 
This was another milestone moment for me. The guitar solo really pricked my ears up and, despite having played with members of the original Comets from time to time, I have yet to find out who really played the solo. Most people attribute it to Franny Beecher but it hasn't been confirmed. I also find the lyrics somewhat banal, but the instrumental line-up that included steel guitar, accordion and a drummer heard playing 2/4 with rim-shots made it stand out from other rock'n'roll tracks. 
Blue Moon – Elvis Presley (1956)

 
My interest in music started when playing country, bluegrass and rockabilly with my father. This track is one of the songs we originally played as a waltz in a bluegrass style. Our version was based on the original by Bill Monroe and it was quite a long time before we heard the Elvis version. I fell in love with this track and became the biggest fan of Scotty Moore. I was already a fan of Chet Atkins, but to hear his style of guitar being played in this fashion really opened my eyes and ears to Elvis and all the brilliant songs he recorded.