Story Of The Song: Hey! Baby
By Vintage Rock | May 25, 2022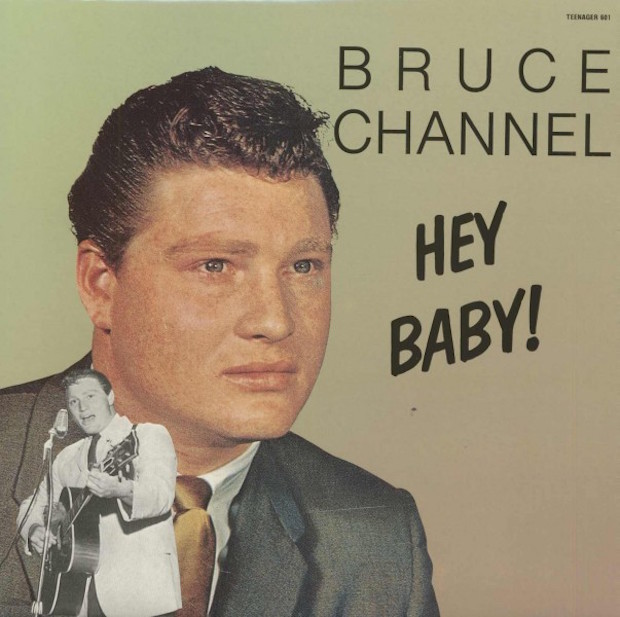 Delbert McClinton's harmonica and a simple piece of instantly memorable songwriting has meant Hey! Baby's simple charms have endured for six decades, making its way on to one of the biggest soundtracks of all time and becoming an unofficial World Cup anthem… By Sheree Homer

A hit single with a double life, Bruce Channel's Hey! Baby first secured the top spot on the Billboard Hot 100 on 10 March 1962. A quarter of a century later, it found fame once again when it was selected for inclusion on the multi-million-selling soundtrack to the movie Dirty Dancing.
Channel's first glimpse of stardom, though, happened in 1958 when he guested on the Louisiana Hayride.  In his audition, he sang Marty Robbins' A White Sport Coat and Ain't I the Lucky One, and was hired on the spot. Afterwards, the Hayride's manager Tillman Franks recommended that he change his name from McMeans because it didn't have any "marquee value". For his stage moniker, Channel took his mother's maiden name, but Franks decided it should be pronounced the rather more exotic Chanel.
Hey! Baby is a collaboration between Channel and Margaret Cobb. He'd been introduced to Cobb by her brother, Buddy. Channel recalled: "Margaret and I had been trying to write together, and one day, she said, 'I have the chorus of a song.'

She sang it to me, and we started messing with it. Hey! Baby didn't take that long to write. Within a day, we had it pretty well together. I then took the words and went home with it. I worked several days on Hey! Baby, trying to come up with a melody that would fit. My brother, a friend of ours, and I would go on a paper route, and we'd sing it [a cappella in a doo-wop style.] They'd sing, 'Baby, baby, baby, would you be my girl' and keep that going while I'd come in singing 'Hey, hey.' 
Within a year, Channel and Cobb had come up with almost 30 songs. Armed with Hey! Baby, Dream Girl and a couple of other collaborative efforts, Channel took the songs to Major Bill Smith who owned a studio in Fort Worth, premiering them on guitar at Smith's home. The following week, Channel was ensconced in Clifford Herring Studios where he met Delbert McClinton and his band, The Straitjackets. McClinton ended up collaborating on Hey! Baby with memorable results, picking up the harmonica on its second take. although Channel wryly remarked: "Nobody told him to do it." The session's musical director, Marvin Montgomery, also thought that the tune needed an additional instrument, duly providing piano on the third and final take.  
Smith pressed up a couple of thousand copies, threw them in the back of his Chevy Corvair, and went to every radio station within a five state area of Texas, in the hopes of getting the record played. LeCam Records originally issued the single, but when local radio stations, such as Houston's KILT and Dallas' KRLD, secured its No.1 position on their playlists, sales soared. Smash Records then took over national distribution. 
The record's success led to a multi-city tour, the Spring 1962 edition of the Show Of Stars, which also featured Brook Benton, Fats Domino and several others. On it, Channel sang Hey! Baby and What'd I Say.  However, in order to participate, he had to have orchestral charts; Channel didn't have any, so he had to pay Paul "Huckle-Buck" Williams' sax player $300 to write some. 
Upon his arrival home, Channel was informed that he'd be performing some concerts in England, but McClinton would have to stay behind. It didn't go down well with Channel who told Smith: "I'm not going to England without Delbert – his sound is half the record."  
Arrangements were made, and for a month they performed in the UK, which included a few shows with The Beatles: "One night backstage, John Lennon asked Delbert to play his harmonica for him as he really liked that sound. Delbert pulled it out of his pocket and played him a little bit. John asked, 'How do you do all that? My harmonica just has a button to change keys.' Delbert replied, 'Just keep practising. It'll come to you.'" Lennon later integrated what he'd learned from McClinton on his harmonica parts for The Beatles' Love Me Do and Please Please Me.  
Lennon was so fond of the song he included it on his own personal jukebox alongside tracks by the likes of Chuck Berry, Little Richard, Gene Vincent and Larry Williams.
Throughout the years, several artists have covered Hey! Baby, including Anne Murray, Arthur Alexander, Jerry Lee Lewis, Conway Twitty, Ringo Starr and Alabama. It was even reworked by Austrian dance music artist DJ Ötzi as an unofficial theme song for the 2002 World Cup and hit the No.1 spot in the UK.
However, the original found a second life when it was featured on the Dirty Dancing soundtrack. At first, plans were afoot for actor Bruce Willis, then signed to Motown, to record a new version but Major Bill Smith argued the case for Channel's original to be used instead. Channel saw the movie when it premiered and remembered liking it but was unsure whether it would be a hit or not. Of course, the movie soon grew into a worldwide box office smash: "It really turned out to be a boon for me as a songwriter and as an artist." 
In 1978, Channel moved to Nashville to primarily concentrate on songwriting. He acknowledged: "If an opportunity had opened up to me as an artist, I would have taken advantage."  He wrote or co-wrote several No.1 songs, including Party Time by TG Sheppard, Don't Worry 'Bout Me Baby by Janie Fricke, and As Long as I'm Rockin' With You by John Conlee and still keeps his creativity burning to this day,  commenting: "I still write when the mood hits me." ς