Issue 52 of Vintage Rock is on sale now!
By Vintage Rock | July 21, 2021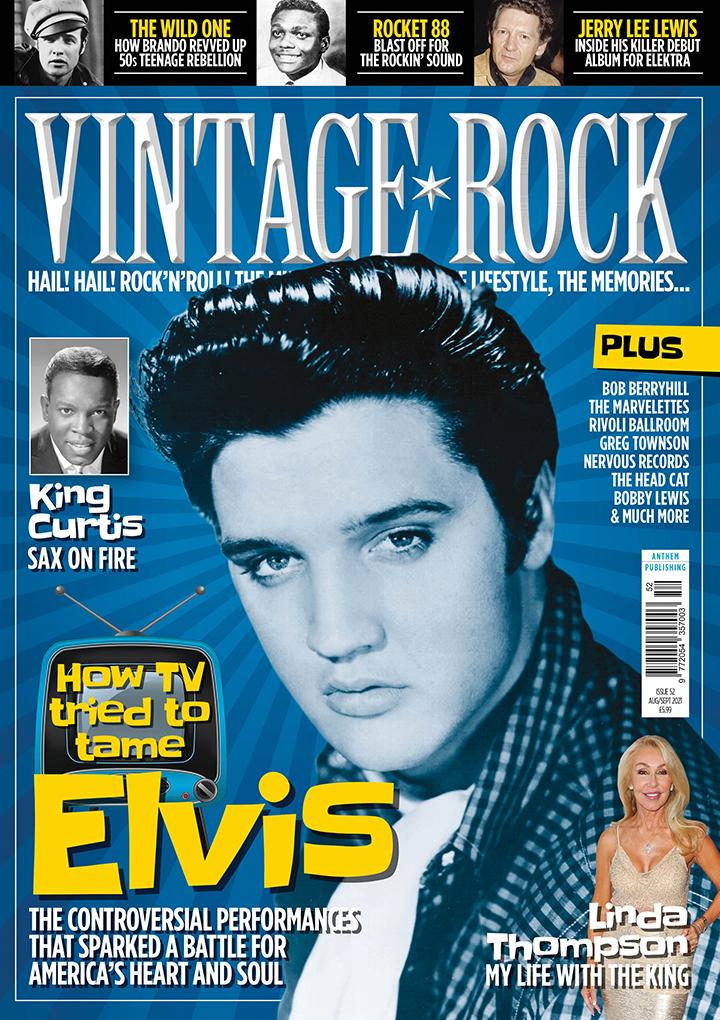 In the latest Vintage Rock we take an in-depth look at how TV tried to tame Elvis following his controversial appearances on the small screen in 1956.
Elsewhere, we also meet the King's partner of four-and-a-half years, Linda Thompson, who reveals all about her life with Presley in the 70s.
We talk to guitarist Greg Townson about his latest instrumental album, Off And Running, and catch up with "genre fluid" rockers The Strays plus retro blues trio GA-20.
As iconic movie The Wild One is reissued on Blu-ray, we look at how Marlon Brando prompted a generation of teen rebels as brooding leading man Johnny Strabler.
Jerry Lee Lewis' eponymous 1979 debut for Elektra is our classic album and we also profile King Curtis and Bobby Lewis. Find out more about the genesis story of Nervous Records and take a look inside the doors of London's last vintage dancehall, the Rivoli Ballroom.
We also meet The Surfaris' Bob Berryhill and revisit the raucous Fool's Paradise LP by supergroup The Head Cat, while our packed reviews section features Darrel Higham, Elvis, Brian Setzer, a must-own Specialty Records compilation and much more.

Order Vintage Rock issue 52 online
Get the magazine delivered direct to your door by ordering your copy of Vintage Rock issue 52 directly from us today for just £6.99 (inc. P&P) here.
Download the digital edition
Get the digital edition from Pocketmags. Or find the new issue in the Vintage Rock app.
Not downloaded the free Vintage Rock app yet? Find out more about the app here
Find Vintage Rock issue 52 in stores
Available from WH Smith High Street, selected WHS Travel, Independents and Easons – priced £5.99. Use our handy Store Locator to find your nearest Vintage Rock stockists.
Subscribe to Vintage Rock and save!
Subscribe to Vintage Rock Plus today and get this issue for only £3.99, plus all our other fantastic subscriber benefits including the FREE digital issue archive, savings on the entire Vintage Rock shop plus the free monthly e-newsletter.