Soundtrack Of My Life – Andrew Himmler
By Vintage Rock | May 5, 2021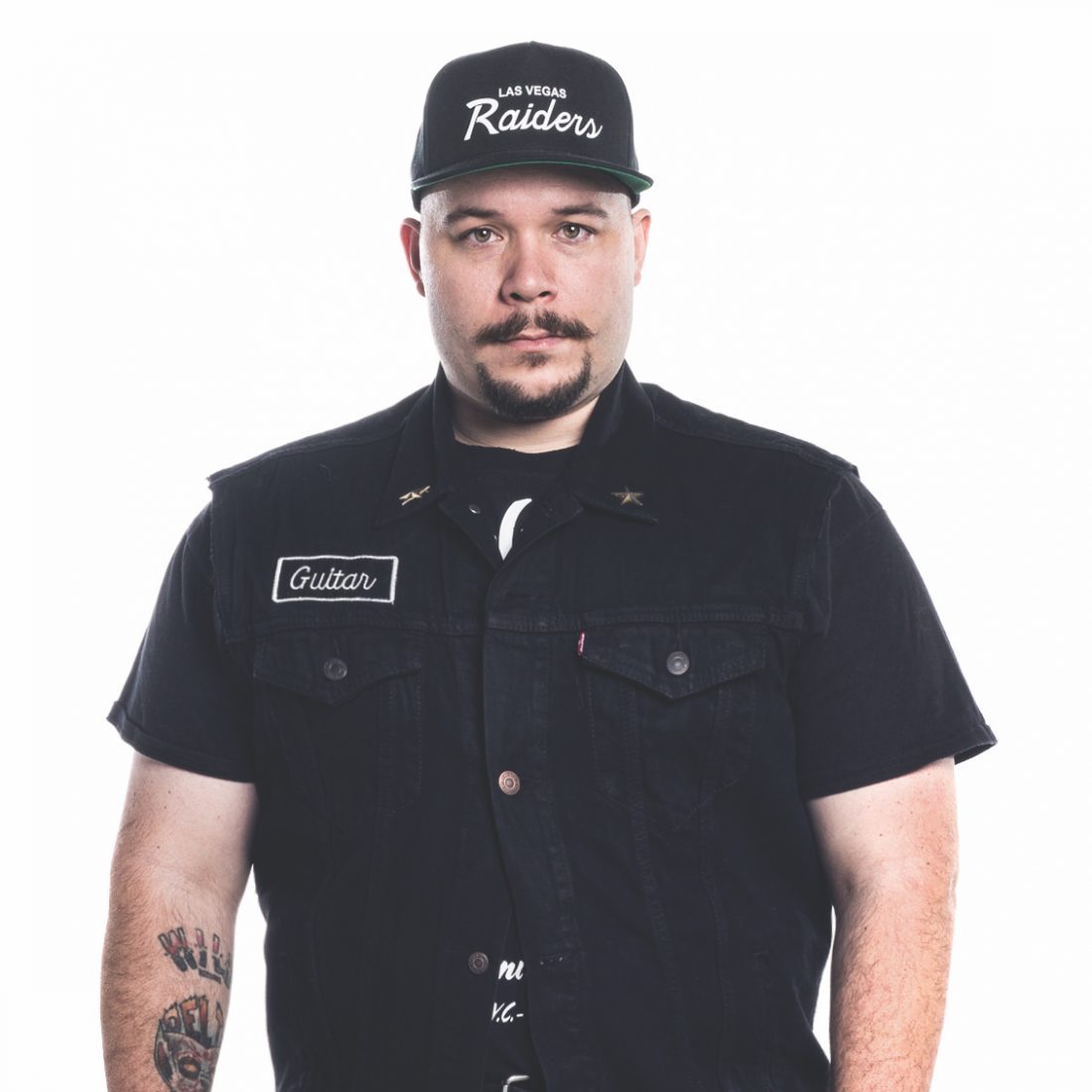 The Beatles were the rock'n'roll entry drug for The Delta Bombers' gritty Las Vegas-based guitarist
Last time Vintage Rock met up with Delta Bombers guitarist Andrew Himmler, he described his band as "a meat grinder of lots of old American music". Theirs is a sound that plants them at the vanguard of an elite few who have successfully managed to modernise roots music, drawing from 50s rock'n'roll, swamp blues and country, without losing an ounce of authenticity. The Bombers recently unleashed excellent country-rockabilly 45 Save Me, the last in a series of four self-released singles entitled The Pack. The four-piece are currently locked down in the studio writing new material for their upcoming new album, due soon on Wild Records – keep an eye on their social media accounts for more information. They've also just (gleefully!) announced their first live show for August. As a founder member, Himmler's sturdy licks are at the beating heart of the band's appeal. Here, he shares the 10 tracks that shaped his life…
The Beatles – I Saw Her Standing There, 1963
I remember hearing this and seeing the live video as a 10-year-old and being dumbstruck. I simply couldn't comprehend how these guys, who seemed decades older than me, could make these sounds. This was the late 90s, but I had no idea this music was considered old. To me, it was just as relevant as the dumb pop music kids were listening to. After playing it over and over, I ran to school and told my friends about this track and they looked at me like I was an alien. It started my obsession with rock'n'roll.
Bo Diddley – Who Do You Love?, 1956
Bo taught me that music doesn't have to be something you make up. Music can literally be you. His music was the embodiment of his personality and soul. This song is boastful, it's a young buck puffing his chest out and proclaiming he's a force to be reckoned with. Bo was so influential on the entire musical universe. His melodies and rhythms were everywhere, the whole world ripped him off. His nursery rhyme-like cadence and African rhythm is the pure essence of what music was, is, and can be. 
Ronnie Dawson – Up Jumped The Devil, 1994
When you're on a dancefloor at 1am and the intro to this plays, you glance up with a devilish grin, looking for anyone that will meet it. It's time to bop son! It embodies everything I love about rock'n'roll: it's dangerous, menacing, hard and mysterious. I love songs that are a little different. This track is several steps down from what a normal guitar's range is – it gives it an extra bottom end that can't be compared. Ronnie's calculated lyrics and rhythm guitar make it a dancefloor killer.
Howlin' Wolf – Smokestack Lightning, 1956
Holy shit. The first time I heard Howlin' Wolf sing, I didn't think he was a real person. He must be some made-up character. Boy, was I wrong! Someone suggested that I listened to Howlin' Wolf when they realised I liked The Beatles and Gene Vincent and I've never been the same since. I remember the hairs on the back of my neck standing up as I listened to, "Tell me baby, where did you stay last night?/ Don't you hear me crying?" He was able to bring so many emotional moments to life. 
Gene Vincent And His Blue Caps – B-i-Bickey-Bi, Bo-Bo-Go, 1957
Another track I could not possibly understand. It's alien – a foreign language, but I love it. Cliff Gallup's dancing guitar was all I wanted to play for years. I could never quite get the licks, but it didn't stop me trying. This track says so much about what it was to be young in the 50s – you don't really know what you feel but you're just trying to get it out. The background screams from the band add to the rawness. They felt it when they were playing it and you feel it.
Luis & The Wildfires – Let's Party, 2010
This song, on a compilation our earliest bass player Oscar Chong gave to me, changed my life. It let me realise there are people making real rock'n'roll now! I remember the disc including Rockin' Ryan, Chuy & The Bobcats and other Wild Records artists. It was hard to understand how they got their charge and angst to make the records sound so real, like  Howlin' Wolf and Gene Vincent. My band, in its infancy, was hell-bent on copying or trying to figure out this recipe to make our own sound. 
Neil Diamond – Solitary Man, 1966
I didn't realise what a special relationship I had with music growing up. I thought everyone stole their parents' vinyl collection and loved almost everything in it. This sounded like Neil had been through some stuff – stuff I wanted to go through. It was romantic and sad, but sounded like life. It showed me that high art in music doesn't just take place on a Beethoven or Mozart chart. It takes place every time an amazing songwriter lays pen to paper. This track helped me understand what songwriting is.
Creedence Clearwater Revival – Bad Moon Rising, 1969
After the Beatles wormhole, I went backwards through time to Carl Perkins and Son House and came clear out the other side. This is a rockabilly song that came out at the height of the Flower Power era. Turns out you don't need 50s Cadillacs, Sun Records or a stand-up bass to make real rockin' music. John Fogerty's songwriting left a very high bar and an inspiration that music doesn't have to be tied to a specific time period or genre. He wrote and played what he felt.
Son House – Death Letter, 1965
Having travelled down the rabbit hole The Beatles opened the door to, I flew past Carl Perkins and Elvis and landed at the source: "I got a letter this morning, how do you reckon it read?/ Oh, hurry, hurry, the gal you love is dead/ I grabbed my suitcase, I took off, up the road/ I got there, she was laying on the cooling board." I couldn't relate, but I hung on every word. His voice sounded so anguished, sincere, sorry and authentic. Masochistically, I aspired to the experience that led him to be so sorrowful but sincere. 
Otis Redding – My Lover's Prayer, 1966
Maybe music isn't all about Les Pauls and Stratocasters. Otis is another example that sometimes what human beings are able to do in music seems otherworldly. His voice touched something deep in me. I remember listening to this and weeping, hoping whatever situation surrounding my life partner and I would work its way through and she would understand my immature ways. Music has the ability to completely relate to us, yet we can still wonder how in the hell Otis can sing like that!