On The Radar – Dylan Kirk & The Killers
By Vintage Rock | May 5, 2021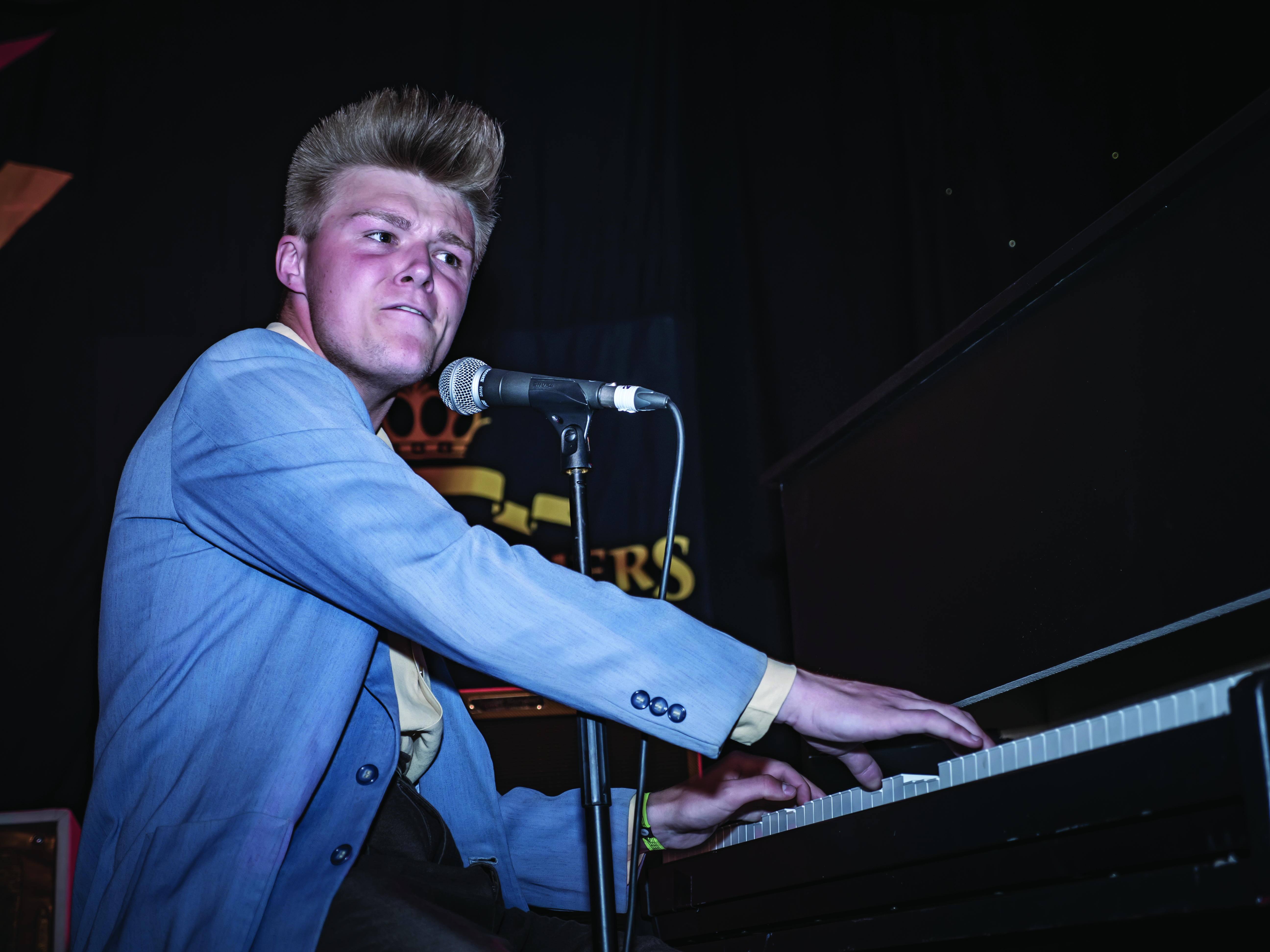 The young piano pumper from Kent tells us about first discovering music, his love of Jerry Lee Lewis and recording a rockin' debut LP. Words by Douglas McPherson
When a young man sits down at a piano at a rock'n'roll gig, it's hard not to be reminded of Jerry Lee Lewis – especially when he boogies into High School Confidential and Whole Lotta Shakin' Goin' On. But although Dylan Kirk is happy to list Lewis as an idol – and there's a nod to his nickname in the identity of Dylan's band, The Killers – the 20-year-old keysman from Kent is determined to establish himself as an artist in his own right.
On his debut album, Introducing Dylan Kirk And The Killers, he blends ivory-infused covers of Johnny Kidd and "Groovey" Joe Poovey songs with his own original material – and when he switches to guitar for Down The Line, it's not the expected Jerry Lee number, but a song by London psychobilly band Guana Batz.
How did you get into rock'n'roll?
I was about five when it came on the radio in my dad's car. The beat hooked me straight away, and from then on I didn't really like any other music. My first influence was Elvis, then I delved deeper and found Jerry Lee. As the years have gone by, I've found artists that not many people have heard of. When I discover a track I haven't heard, it's like a new song to me, even though it was recorded 60 years ago.
Did you have friends who were into the same music?
I was on my own with it, really. At school, I was kind of the outcast. I dressed differently and did my hair differently. I never knew there were other people like me until I went to my first weekender, the Shakedown, in 2015. Everyone was listening to the same music as me. I just fell in love with the scene.
When did you start singing and playing the piano?
I used to sing along with the tracks, but wouldn't perform in front of people. I was kind of a shower singer. That changed when I started playing piano at the age of 15. My dad said, 'You need to start showing people what you can do'. He took me to a pub with a piano in it and said, 'I want you to play and sing'. I was nervous, but I played Whole Lotta Shakin' Goin' On and got a massive clap. After that, I wasn't shy anymore.
Did your family have a piano at home?
My nan had a little keyboard in the loft that my granddad had bought in a car boot sale, so I started learning on that. I used to put the records on at a slower speed, and learned by ear. These days, I have a real piano that we gutted and I put a Yamaha P-125 keyboard in that, so it looks like a real piano on stage. If I could play a real piano at every gig I would, because nothing can imitate that sound. But most venues don't have pianos, the way they used to. 
How did you form your band?
My brother was working in Whitstable and there was a pub that had a lot of rockabilly bands. The guy who ran the pub was actually a drummer called Stix Outram. My brother told him I was into that kind of music, so we met and had a rehearsal with him and Richard Gunson, who was a psychobilly bass player in the 80s, and that's how the band started. The first name was Dylan Kirk And The Killer Combo, but we thought that was a bit of a mouthful, so we cut it down to Dylan Kirk & The Killers. The current line-up, on the album, is Luke Nicholls on bass, Sam French on guitar and Shaun O'Keefe on drums, but at gigs it's different all the time due to their work commitments and whether or not they can make it.
You also worked across the Channel with a French band, as Dylan Kirk With The Starlights…
That's been put on hold now, but we met when I went to the Blue Monday Festival in France. They'd find me gigs abroad, I'd send them songs, we'd rehearse when I'd get there and then we'd go and play a gig. The French scene has a different atmosphere, I think. There are more Teddy boys in France than in the UK.
Tell us about your new LP, Introducing Dylan Kirk And The Killers…
There's a lot of different sorts of covers – things that didn't have a piano in the original version, but which I thought might sound good with piano. There's also some normal piano stuff, like Ten Long Fingers, which is like an anthem for piano players, and some original material that I wrote.
What inspired your song, Junkie? 
I had a dream about what life would be like without rock'n'roll. I made drugs a metaphor for rock'n'roll: I'm a rock'n'roll junkie and I need it in my life to keep me going. It's like I'm addicted and I need a needle and a record to keep me going.
What does the future hold for you?
During the first lockdown, I had lots of time to think, and I feel like my performance has been a bit poor – not that people will agree! But I feel I can do a lot more. So once we get back to live work, I'm going to have something a bit different. Not changing the music too much, but performance-wise. It's going to be a different me. I've been trying to work on stuff that people will remember me for, so people go, 'That's a Dylan Kirk song', not, 'He's covering a Jerry Lee song'
For further information, visit facebook.com/DylanKirksKillers