Pat Capocci – The Wizard Of Oz
By Vintage Rock | March 3, 2021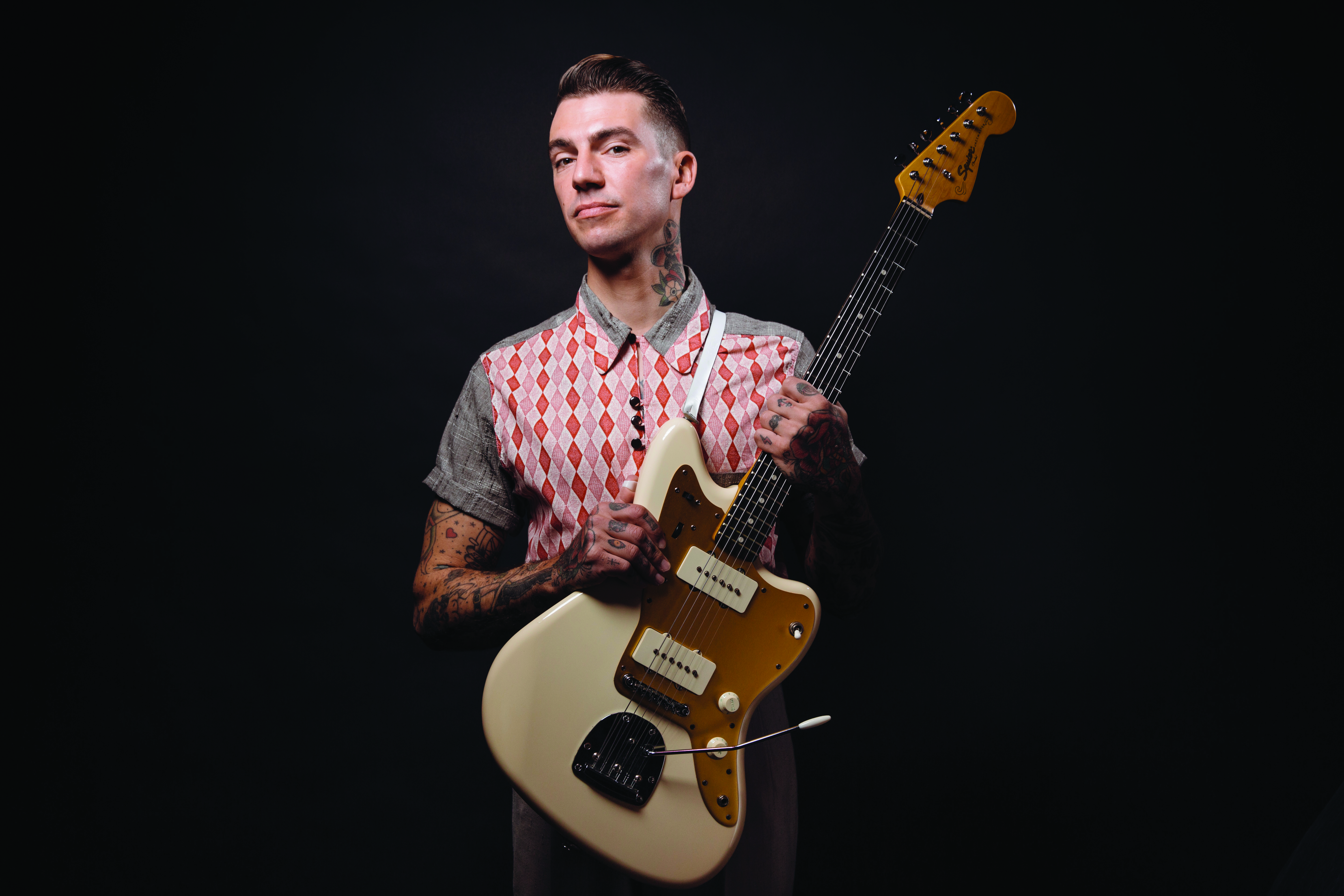 They do things differently Down Under, and sureshot guitarist Pat Capocci is at the vanguard of Aussie rock'n'roll.  Julie Burns delves into a decade of hard graft that has allowed this slave for the beat to heat things up…
Based a world away in New South Wales, Pat Capocci first formed a band in his teens. Now in his late thirties, the seasoned guitar whizz continues to prove his credentials on the international rocking circuit. From the UK's Rockabilly Rave, Hot Rod Hayride and Rhythm Riot, to Spain's Screamin' Festival, Germany's Waldorf Weekender and Viva Las Vegas, the dynamo from Down Under never fails to bring a fresh perspective to the US/Euro roots scene. Authentic, yet confident in his own distinct musical identity, Capocci thrills and kills with trademark thunderous guitar, savage rhythms, and a stack of smoking, self-penned songs, an inspired blend of Western swing, country and blues – even a snatch of jazz. No surprise then, that he's grown to be widely regarded as Australia's best modern practitioner of rockabilly. In the past 10 years, the prolific performer's released a handful of adventurous albums on labels including Press-Tone, Wild, Devil Wind and Ruby. Over to the ultimate Aussiebilly to tell us more…
There are shades of Ronnie Dawson in your work… do you ever consciously channel great guitarists when you play?
It does happen, more so from playing solo or jamming, you get a familiar riff. My original version of this was actually a lot slower – a similar riff, different groove. The guys who played on the record, from Belgium [Clark Kenis, bass; Lievan Declercq, drums; Walter Broes, producer] sped it up, and so I guess, yes, the final version does sound a little Ronnie-style. I have every respect for Ronnie by the way, he was great.
How big an impact did guitar greats such as Charlie Christian, Johnny Guitar Watson, Merle Travis, Django Reinhardt and Grady Martin have on you?
They meant everything – a strong influence, a direct link to where I wanted to go. Everything about them – the tone, the phrasing, the style, mattered. I had a chance to play with some of the greats over the years. Yet I hope when I play today, it sounds like my own style. Guitar-wise, I now favour the Jazz Masters series such as the Squier J Mascis model. Not what you'd call the guitarist's guitar – it has a different pick-up combination and bridge – but it suits my needs and is super-robust on the road.
Any other musical influences?
Yep! More guitar heroes also include Dave Biller, Junior Watson, TK Smith, Jimmie Vaughn, Kid Ramos and Dangerous Dan. On the roots/rocking side, a mixed bunch spanning Carl Perkins, Merle Travis, Deke Dickerson, Bob Wills, Little Walter, Hank Williams, and Joe Maphis. I'm also open-minded about all musical styles, thanks to my Dad. He encouraged me to listen to a wide remit and learn something from it, rather than criticise it for being different. That's stayed with me, and reflects in my influences and playing still today.
To backtrack, how did a boy from New South Wales first get into rock'n'roll?
Largely through my Dad. I was always into skateboarding and surfing and, growing up in the 90s, punk rock was its soundtrack.
I remember being into '77 UK stuff such as The Clash, The Jam and The Undertones. Then harmonica and bluesy vibes began to spark my interest and I amassed an epic Chicago blues vinyl collection. At the time, it seemed like I was the only one into this stuff. While the other kids were into mainstream bands like Limp Bizkit, I'd listen to all the rootsy stuff on my Walkman and have greased-back hair.
Assuming Australia had then only a rarefied roots revival scene, how did you cut your teeth, musically speaking?
Aged around 13, at school I had a '77-inspired punk band playing Buzzcocks, The Clash, the whole English thing. Two years on, I met Ezra Lee who I'd seen around locally – his dad played bass in a cool local band, Johnny Green's Blues Cowboys. By then, me and Ezra were inseparable, jamming away, and went to as many of his dad's gigs as possible. We even got asked to do a 'turn' before we knew what we were doing! That band and the pub – The Grand Junction Hotel – gave us a great musical grounding and education. At 16, I joined my first full-time band, The Torpedos. Having been taken to see them by my Dad one Saturday night, by the following Saturday, I'd tried out for their guitar spot and was playing my first gig. They played everything within roots music, and we played everywhere – pubs, clubs, parties, weddings, on the street. I stayed for about two years, learned loads about music and playing, travelled, and had good times.
How does the Aussie rock'n'roll scene compare today?
There was, and still is, a distinct Aussie RnR scene. Back then, it was super-small and passionate. As a teenager, when my Dad took me to local bars and clubs, there was a lot of solid blues being played. Not much rockabilly but a mix of country and western and blues, being played in a progressive way. As to Australia's scene and that of Europe and the US, the difference first came home to me at shows such as my breakthrough gig, the Screamin' Festival, in Spain. The scale of the audience attending European festivals is something else. Going to the UK was also special. Growing up on British TV and comedies, it felt like a homecoming.
As you don't have one set band as such, what's your usual arrangement?
Depending on where and when the gigs are, the line-up changes. In Australia, there's three bass players and various drummers but integrally a similar line-up. My brother Damo [Damien Lawson] still plays double bass 99% of the time. In the UK, it tends to be Walter Broes and the crew or The Domestic Bumblebees. In the US, it's often The Rhythm Shakers. We're like a modern touring band and have to take into consideration all our domestic lives at the same time. Most of us still run regular jobs. In my case, my wife and I run a barber shop [Flying Tiger in Freshwater, New South Wales] 9-6pm six days a week – and I'm an early riser, I get up at 4.30am. This stems from when I was younger. I first picked up a guitar aged six or seven, and was soon getting up every day at 5am to practise for a few hours. Now we have Alfie our Jack Russell terrier, I get up to walk him down the beach, then maybe get my board out and surf for a few hours. Not a bad life!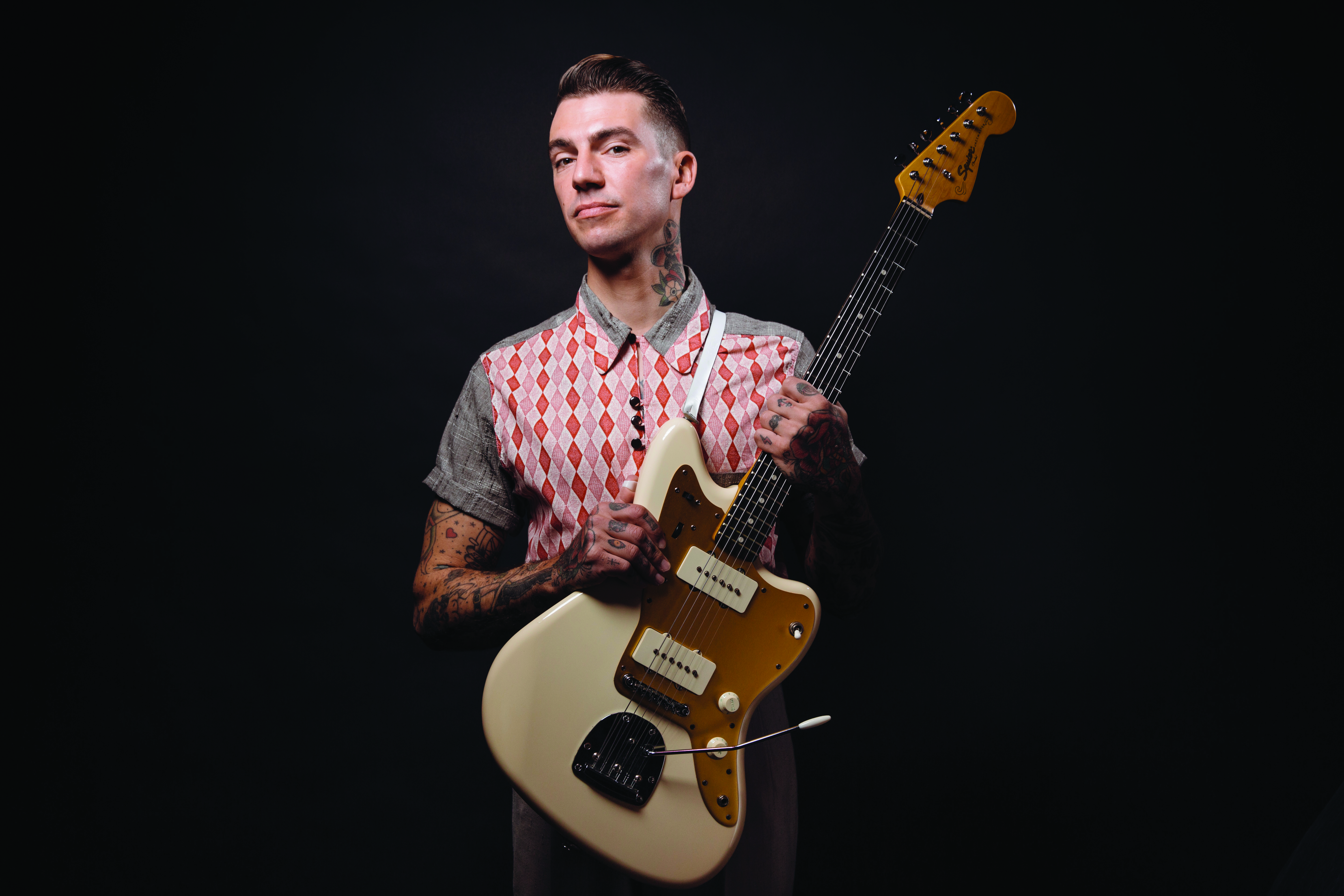 Now acclaimed as Australia's best modern practitioner of rockabilly, what's your take on your music?
To play good music first and foremost. To create an authentic sound and stay true to core 50s values. For the listener, it's got to put a smile on their face. It makes me happy doing my thing, celebrating good times with the crowd.
How important is songwriting to you?
Most artists I rate most write their own material. Press-Tone label owner Dingo first pushed us into penning our own stuff. As far as myself and the other guys, we listen to a wide variety of music from different eras and genres. We hope that by bringing together all our experience, it creates something fresh, while paying tribute to the past. Lyrics are important, being conscious what you write about and telling a story.
I like to make every single record different in feel. You can't just go through the motions, banging something out that everyone's heard before. It's true to say you're only as good as your next gig or record.
What are the highlights of your recording work so far, and why?
A few of the Call Of The Wild CD tracks, plus some completely different-in-feel numbers on the More Thrills Than Ever CD, are some of my proudest songwriting moments. On the Preston Rockabilly series, I really like a release I did with Reverend Horton Heat on his label Fun-Guy Records – Capocci's Crawl, a sleazy instrumental. Of the older ones, the Pantherburn Stomp CD on Wild Records is pretty adventurous. As to singles, Slave To The Beat, Firefly – with Marlene Perez of The Rhythm Shakers – and Pharaoh Of Love felt like big ones.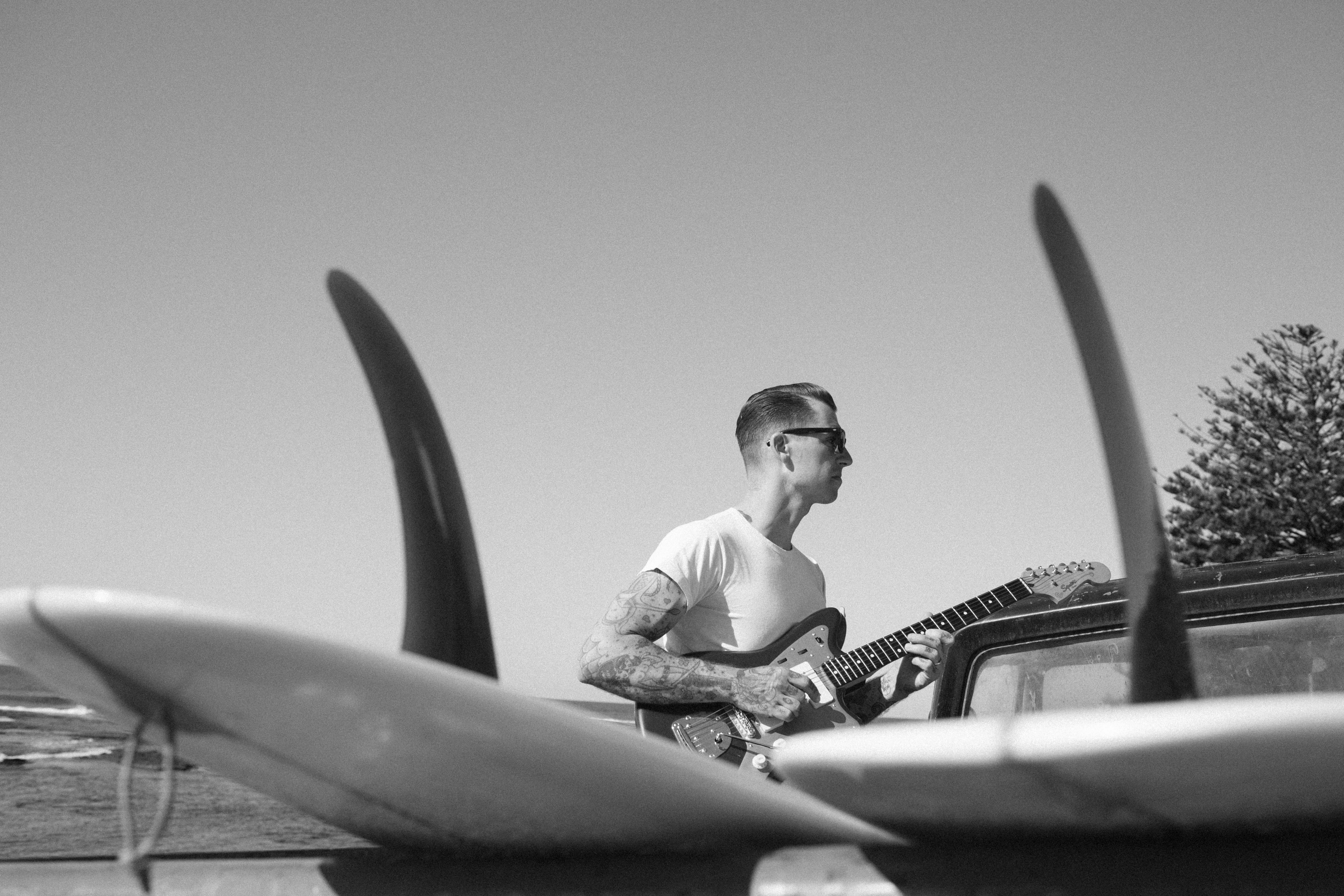 And now you're signed to Spanish label Sleazy Records?
The latest single [Hot Hot Heat] is on Sleazy. The good and unique thing nowadays with digital streaming is that we can work with a couple of labels. As we're doing Spain's Screamin' Festival again next June, we'll maybe cut another single, or a whole record around that time.
You have great record cover artwork. How important is product and personal imagery to you?
All credit to Chris Wilkinson on his always cool artwork. I met Chris at the Rockabilly Rave about eight years ago, when he was playing drums for us. He showed me his artwork and it was really eye-catching – kind of space-age 50s meets contemporary.
I think artwork's important in getting the initial message across. Sometimes the listener judges the visual before the way you sound. As far as my own image, I work with different photographers and videographers. Hand-in-hand with artwork, personal image is important as the first thing people register before they hear you. I remember The Sureshots came to Australia, and they really influenced me in the way that they dressed and played. 
What's been your most momentous gig?
Playing Northern Spain in the Basque region was a beautiful experience, at the Azkena Rocks festival. Just massive. We played the matinee in the square to about 6,000 people, then played that night to maybe double the number. It was great to be on the same bill as Chris Isaac who played later, and John Fogarty. A great mix of rock and roots, it gets big names across the board, such as ZZ Top to Iggy Pop and JD McPherson.
Any special memories on having worked with other artists such as Deke Dickerson, Big Sandy and Justin Townes Earle etc?
Probably none we can repeat to readers! Friends such as Deke and Big Sandy are always a highlight to play alongside, their stagecraft is awesome.
An especially great memory I have is playing with JD McPherson and guitarist TK Smith. After we played Viva Las Vegas, we drove back to the desert, and JD and the guys came over for a barbecue. If you see the footage on YouTube of our session for Sugar Moon, it all looks well-rehearsed, but it was locked down in half an hour. We all had separate parts, like Western swing bands back in the day. I thought that was super-cool.
Haven't you been known to 'impersonate' a certain much-loved star?
That one time involved a big Australian music festival that I wanted to attend. Roads in all directions were blocked off. Being cheeky, we rolled the car all the way through, until we got to the final gate. When security asked us to state our business, we wrongly told them that we were one of the bands appearing. When asked our name, I answered Bob Wills And The Texas Playboys! It felt so bizarre to think of him playing Sydney in 2016 but we got in no problem, so thanks to Bob, he saved us 100 bucks each entrance fee!
Photography by Daniel Boud