Six Strings Of Fire: Top 10 21st Century Guitarists
By Vintage Rock | March 3, 2021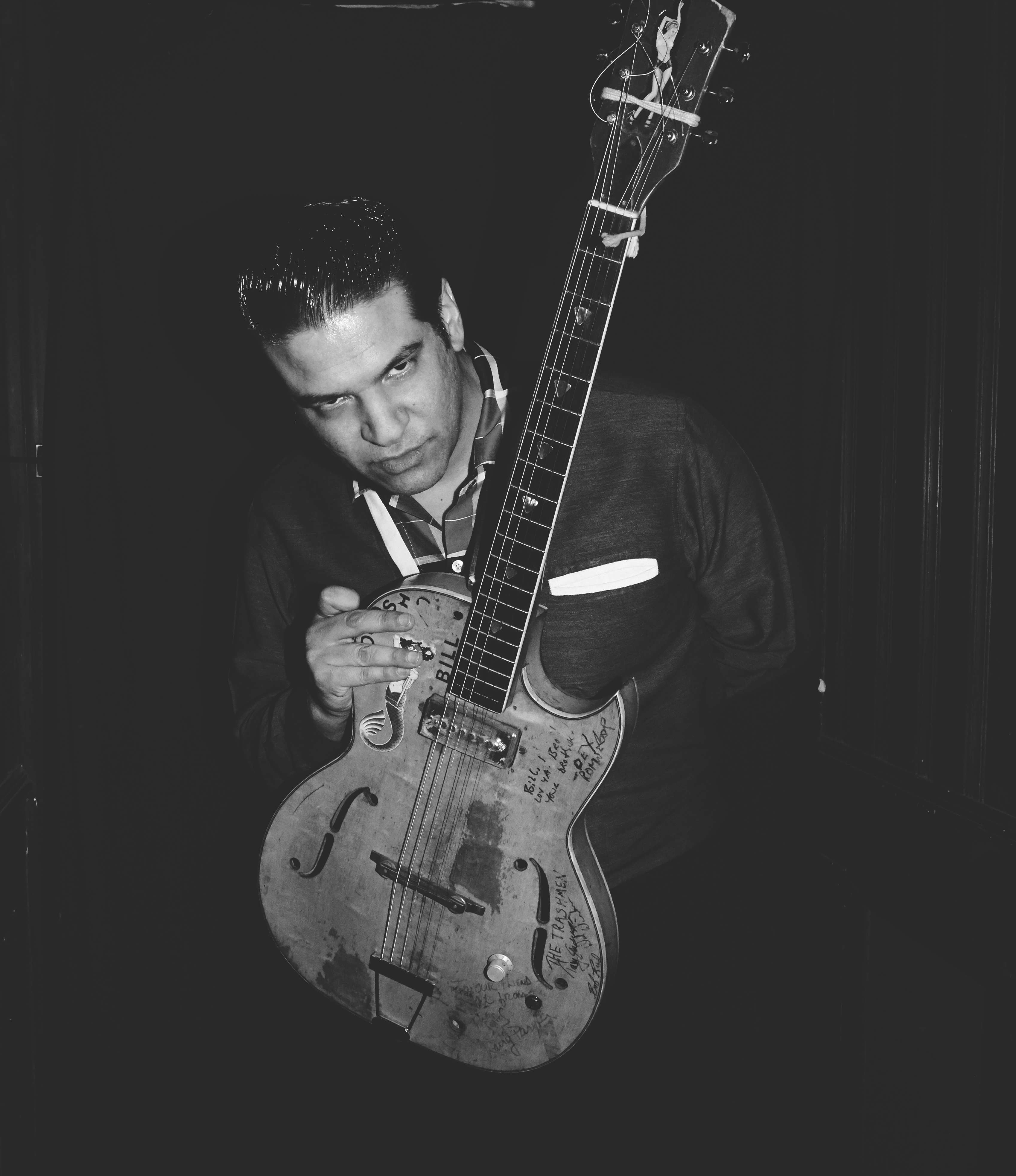 From Scotty Moore and Eddie Cochran to Mark Harman and Brian Setzer, the electric guitarist has defined the sound of rockabilly and roots music. Here are 10 of the hottest players in today's scene. By David West
10 Dan Edwards – The Rayford Brothers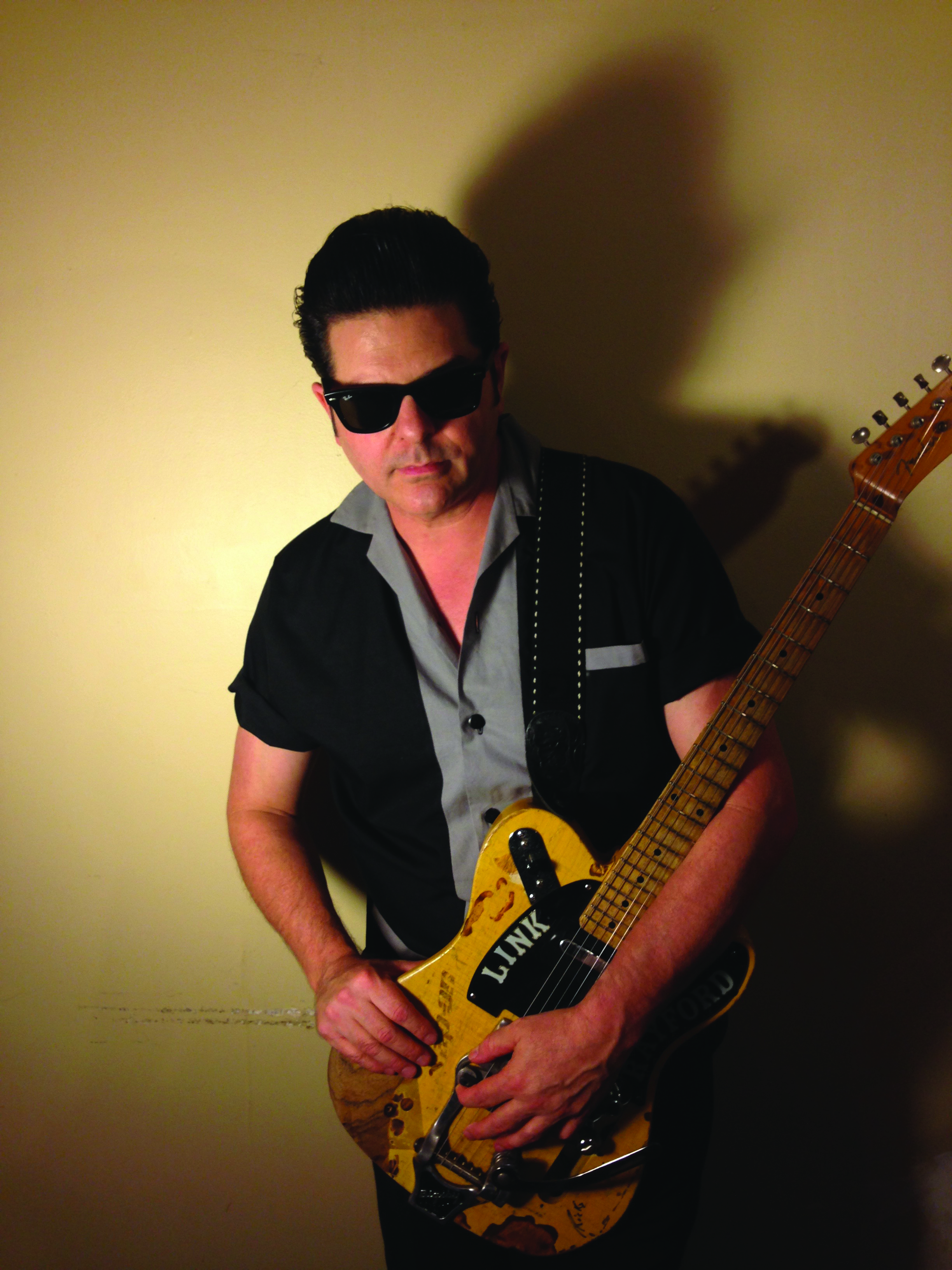 "For me, it's combining styles. Country and blues mainly, R&B with a little Southern twang is roots to me," says Dan Edwards, aka Link Rayford, who took his band's name from an episode of classic sci-fi show The Twilight Zone. Armed with his "home-built No-caster" guitar, Edwards has played with Gene Vincent's Blue Caps, rocked with Slim Jim Phantom, jammed with Lemmy and gigged with neo-rockabilly kingpin Robert Gordon at California's Hootenanny festival in the 90s. 
"I think it was the second one, Chuck Berry was also on the bill," says Edwards. "Robert was pretty easy to work with, he sent me the material from New York ahead of time. A few of the tunes were just Robert with a drum machine and guitar, not meant for people to hear, but it's what he had available." Soon after, Edwards met Gordon's old musical partner – and the source of his stage name – Link Wray. "I was thrilled," he says. "Link was like a fictional character to me. I remember feeling starstruck for quite a while after, his guitar playing had tonnes of attitude." 
Essential listening I'm The Wolfman, Bring It On Home
9 Ashley Kingman – Big Sandy & His Flyrite Boys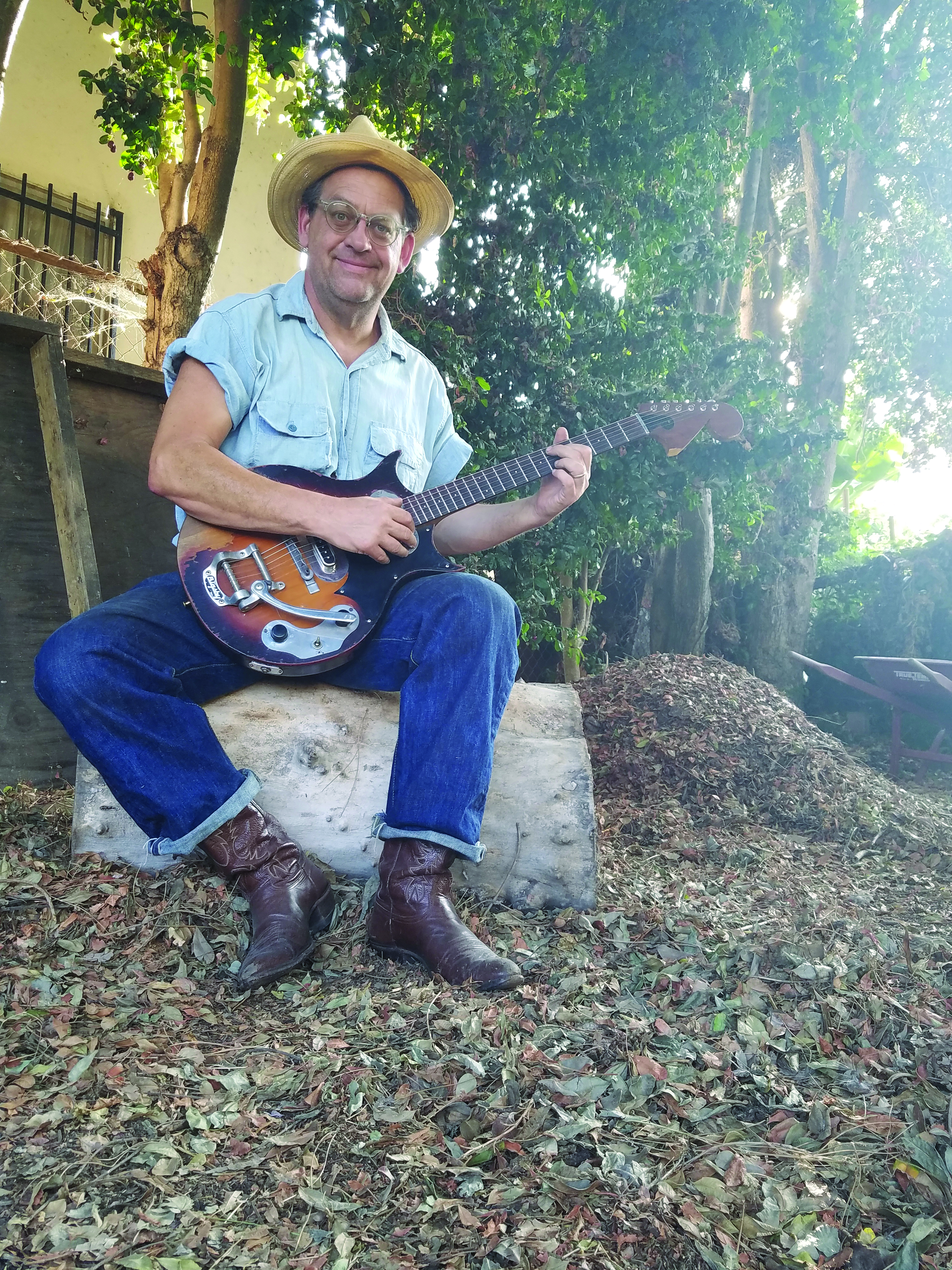 "People have always said to me, 'You can make the hairs on the back of my neck stand up'," explains London-born Ashley Kingman. The guitarist had a similar reaction the first time he heard Big Sandy & His Flyrite Boys before he joined their ranks. "I'd never seen anything that good, everything was off the charts," he says. "I thought it was a little bit of a lost art."
With his 50s Magnatone Mark V, built by the great Paul Bigsby, Kingman is a fixture in the house band at the Viva Las Vegas rockabilly festival, backing legends such as Janis Martin.
"The music has meant so much to me, it's been nice to be part of making it grow," he says. "People come up and say, 'Man, you play your ass off!' You feel a bit humbled. You think, 'I must be doing something right'. Most of it comes off the top of my head. It's all about how you say it, not so much what you say. Some people can say a thousand words and still not get their point across, and some people can say one word and tell you everything. Music's the same."
Essential listening Yes (I Feel Sorry For You), Chalk It Up To The Blues
8 Bloodshot Bill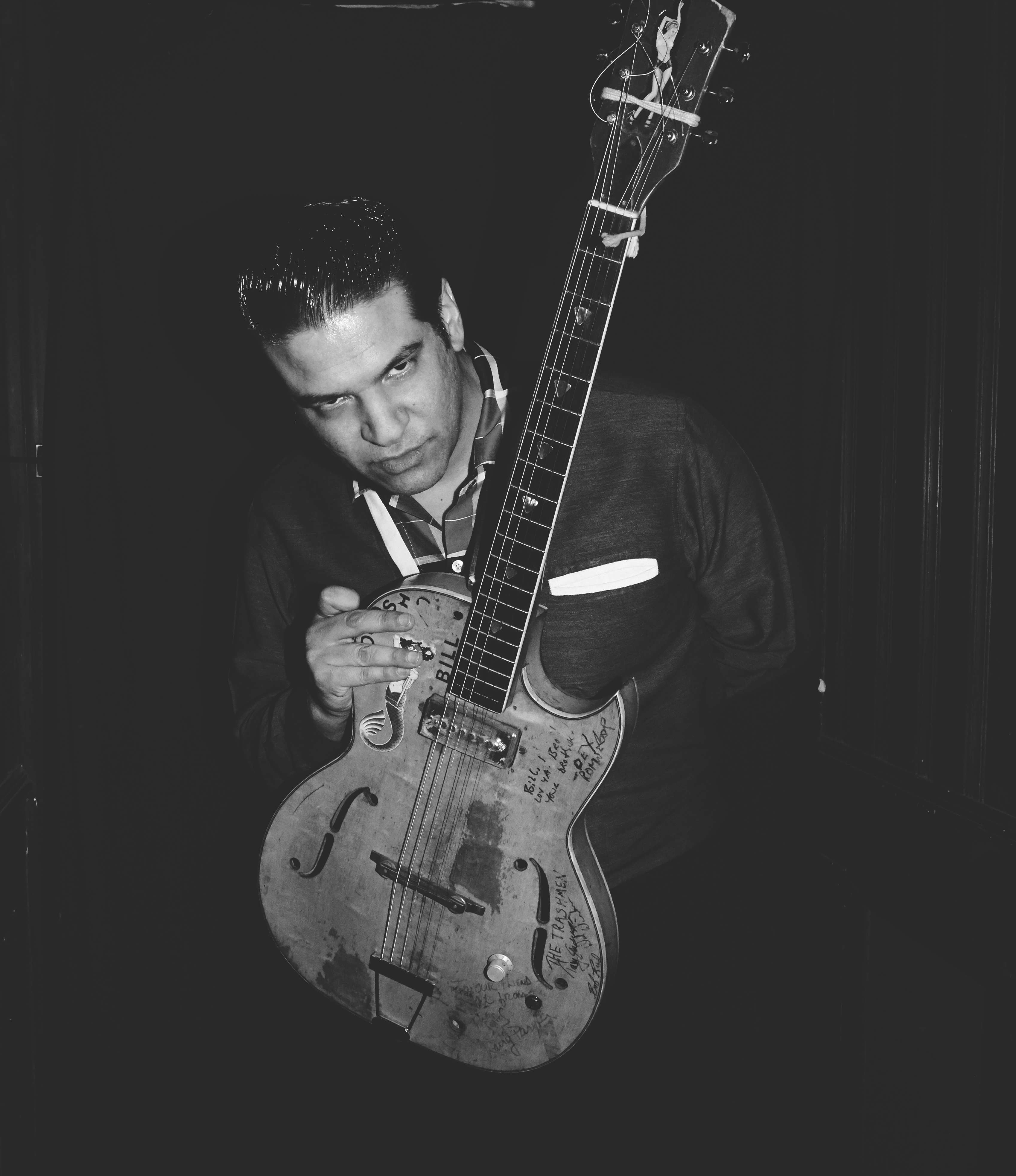 A wild tornado of energy, Bloodshot Bill was a self-described late bloomer on the guitar. "In high school, my friends and I thought it would be cool to start a band, but everyone wanted to play guitar," he says. "One of the guys finally got one and I asked him to show me some chords. After struggling for five minutes with that, I decided I'd play drums instead. Years later, I wanted to write my own songs and figured it was better to try that on guitar than with drums."
Link Wray and Scotty Moore are two heroes, "but I'm into most anyone with style," says Bill, "the more primitive sounding, the better! I've never been into guitarists that play a zillion notes, that just bores me. Gimme some zit-faced teenager strumming in E with the tremolo turned high and I'm in heaven."
Onstage, Bill can be found manhandling a battered and bruised Kay Galaxie, blasted through a small tube amp – the perfect combination for his raw sound. "It doesn't have a tone knob, so there's less thinking involved right there, which suits me just fine," says Bill about the Galaxie. "They really don't make stuff like they used to."
Essential listening Know Myself, My Heart Cries For You
7 Deke Dickerson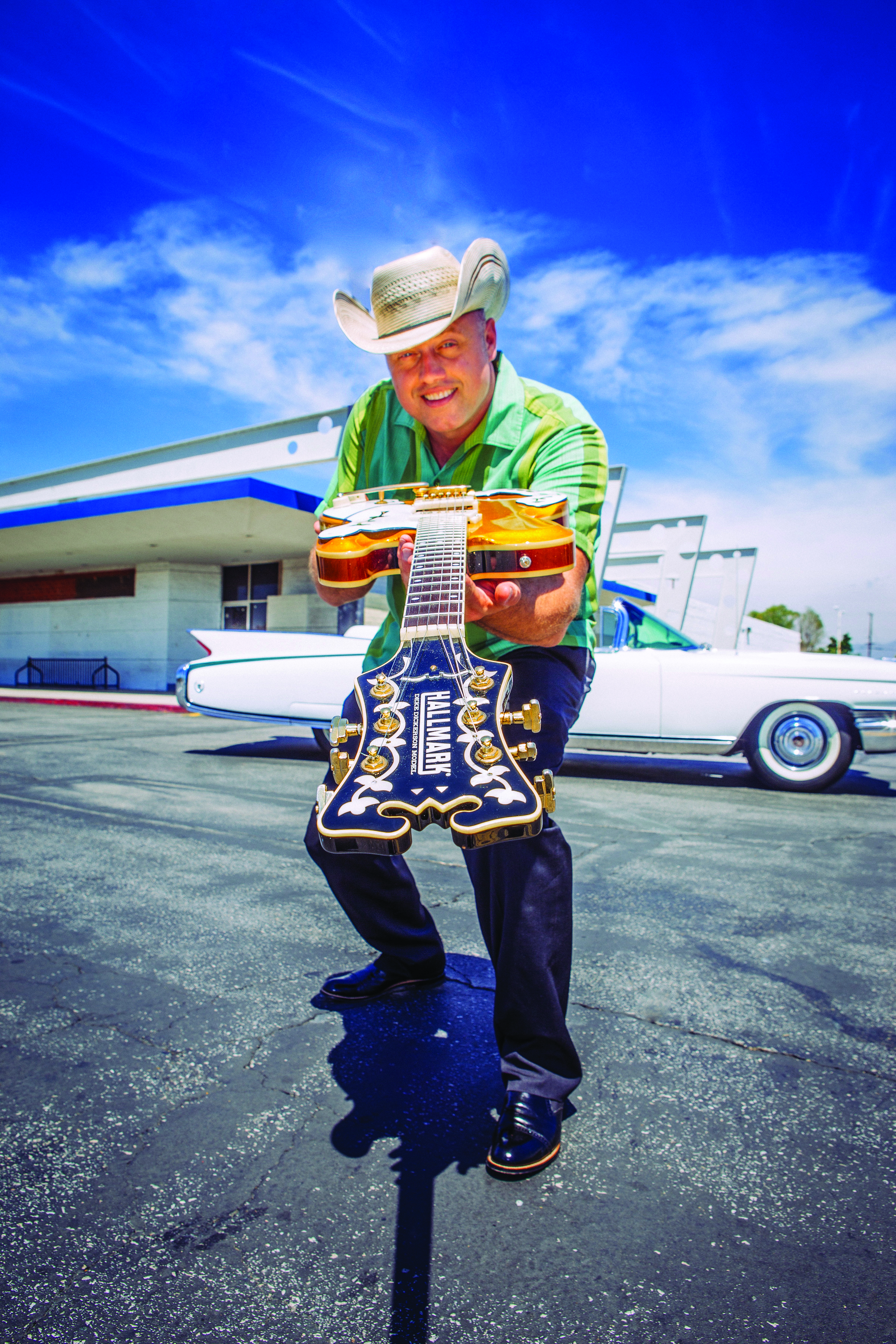 "I saw Chuck Berry on TV when I was really young, doing the duck walk, and said, 'This is what I want to do!'" declares the St Louis-born Deke Dickerson. As a youngster, Dickerson taught himself to play after one lesson, "from a hippie at a local music store. He told my dad that if I didn't stop listening to Buddy Holly, I'd never be a great guitar player. I quit taking lessons immediately."
With his custom Hallmark Deke Dickerson guitar, he's recorded at Sun Studio with J.M. Van Eaton, and cut film soundtracks for Johnny Knoxville. "Less is more," says Dickerson about his style. "You can always tell somebody who doesn't 'get' our music because they play too much. Rockabilly, hillbilly, doo-wop, surf, our music is simple and fun. You start doing too much 'virtuoso' stuff, it's just not correct."
For 10 years, Dickerson's Guitar Geek festival shone the spotlight on roots masters. "I wanted a guitar festival with cool guitarists, instead of the w**kers that you always see at those things," he says. "I brought in my heroes to headline, like Duane Eddy, Nokie Edwards and Dick Dale, as well as showcasing lots of great obscure guitarists. It was a blast."
Essential listening I Might Not Come Home At All, Wear Out The Soles Of My Shoes
6 JD McPherson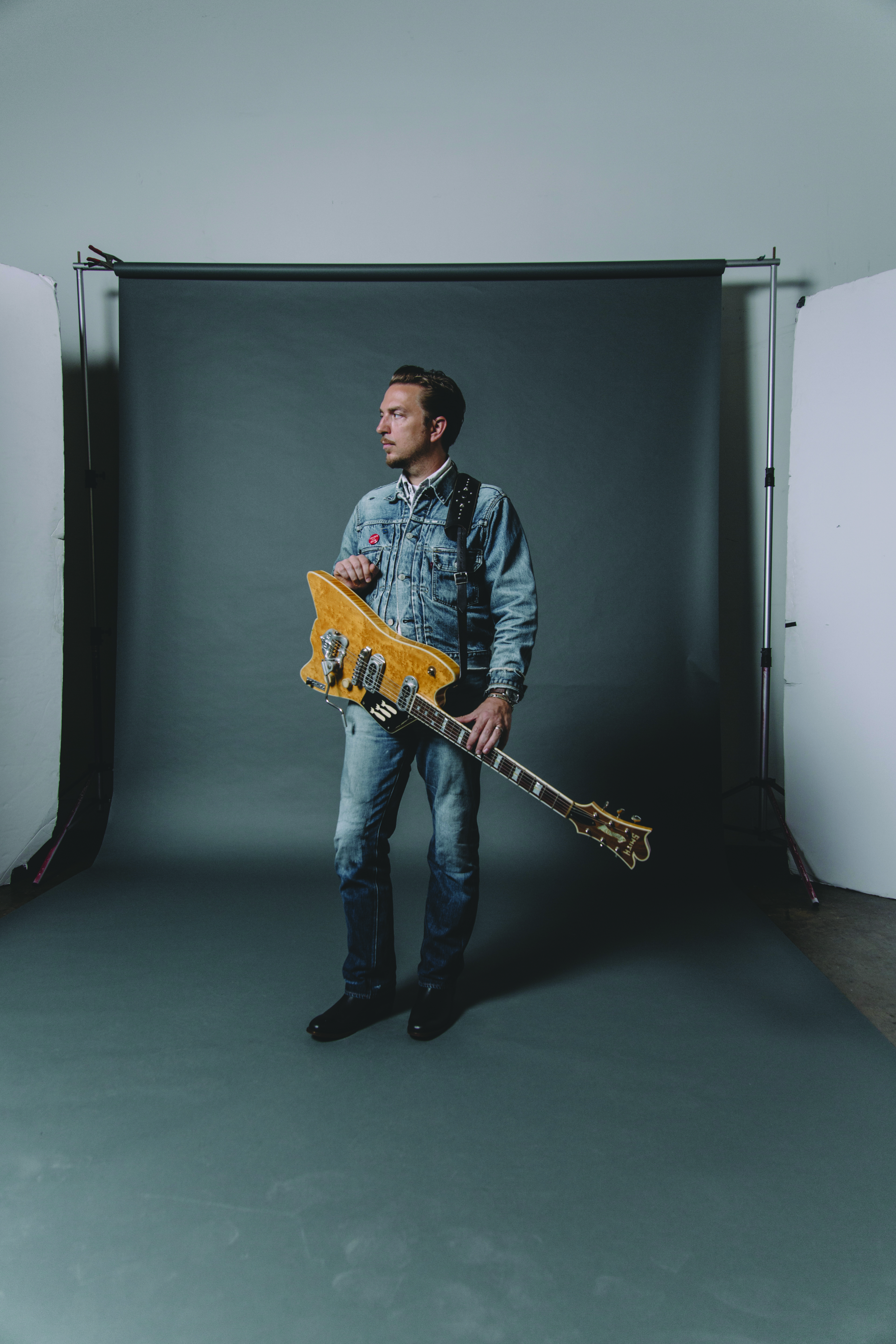 "Sounds and attitude are more fascinating to me than the correct application of the Lydian mode with 32nd notes," says JD McPherson, whose guitar heroes include Chuck Berry, Wilko Johnson, Bo Diddley and Link Wray. "I enjoy technical players, too, but I'll never be able to be one of those. My pinky doesn't work well enough."
JD's instrument of choice is a TK Smith custom build. "It's such a cool guitar that it fools people into thinking I can actually play it!" He must be doing something right, having toured with his fellow Oklahoman Wanda Jackson. McPherson picks his solo on North Side Gal as a sterling example of his work, "because it's a recording of me genuinely having fun," he says, "and maybe the solo to Let The Good Times Roll, because it's literally just a descending major scale. My good friend Joel Paterson, who actually is a genuine guitar hero, was on tour with us, and between sets, he kept humming the solo and saying, 'Why is that so catchy?' I was like, 'because it's just the major scale, Joel!' We laughed about that a lot. Sometimes the most simple thing is the answer. It usually is!"
Essential listening North Side Gal, Let The Good Times Roll
5 Darrel Higham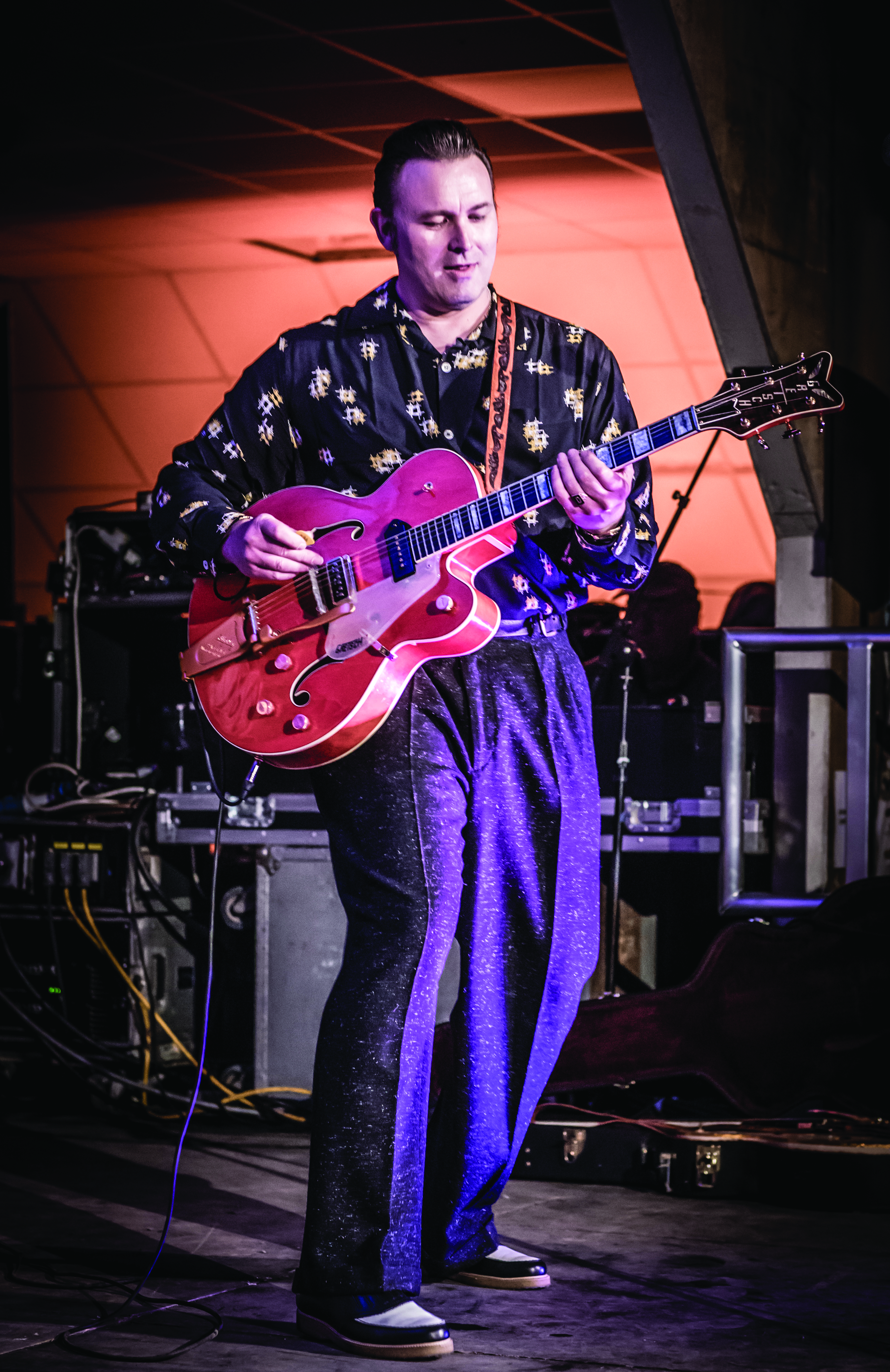 "You have to feel the music," says British guitarist and bandleader Darrel Higham, who brought rockabilly to the charts with Imelda May, and has performed with legends including Sonny Burgess, Billy Lee Riley and Royce Porter. He was inspired to start strumming after hearing Eddie Cochran, and taught himself to play after one unsuccessful guitar lesson at school. "The teacher showed us how to play One Man Went To Mow on one string and I thought, 'That looks far too difficult for me,' and I never went back."
Higham believes his job is to put the song first, like his idol Cochran.
"I think he downplayed a lot of his playing skills because he realised it's dance music at the end of the day. People want to dance, sing along and have a good time," he says. "It's not really about being technically brilliant, it's the feel. That's everything. You can be as technical as you want, and there are some unbelievably technical rockabilly players out there, but I also love listening to players that just close their eyes and hit the guitar as hard as they can."
Essential listening Right Amount Of Wrong, Wild Woman
4 Austin John – The Hi-Jivers
"It's dirty, unpolished and real-sounding to me," says Austin John, the guitar-slinging engine behind Nashville R&B outfit The Hi-Jivers. John started out listening to Jimi Hendrix and classic rock until he heard Stevie Ray Vaughan's Texas Flood. "From then on, blues music became my passion," says John, whose playing has the propulsive drive of his bluesmen idols, who never relied on a drumbeat to make a crowd dance. Apparently, it's all in the fingers. "Johnny 'Guitar' Watson taught me so much about attacking the strings as hard as you can. He used the flesh of his fingers on his right hand to really snap the notes," says John. "Hollywood Fats has been a huge influence as well. His use of saturated reverb on his guitar playing is monumental. I've been obsessed with reverb tanks ever since I heard him use one!"
John's sound often comes from the blissful union of a Fender Strat through a '58 Deluxe. "It makes me think of Ike Turner playing guitar on Otis Rush's early recordings. That's the sound!" The guitarist is busy writing for the next Hi-Jivers album, and has just finished a blues LP of his own, which he calls "a labour of love record".
Essential listening Something's Gotta Shake, Knee High & Risin'
3 Pat Capocci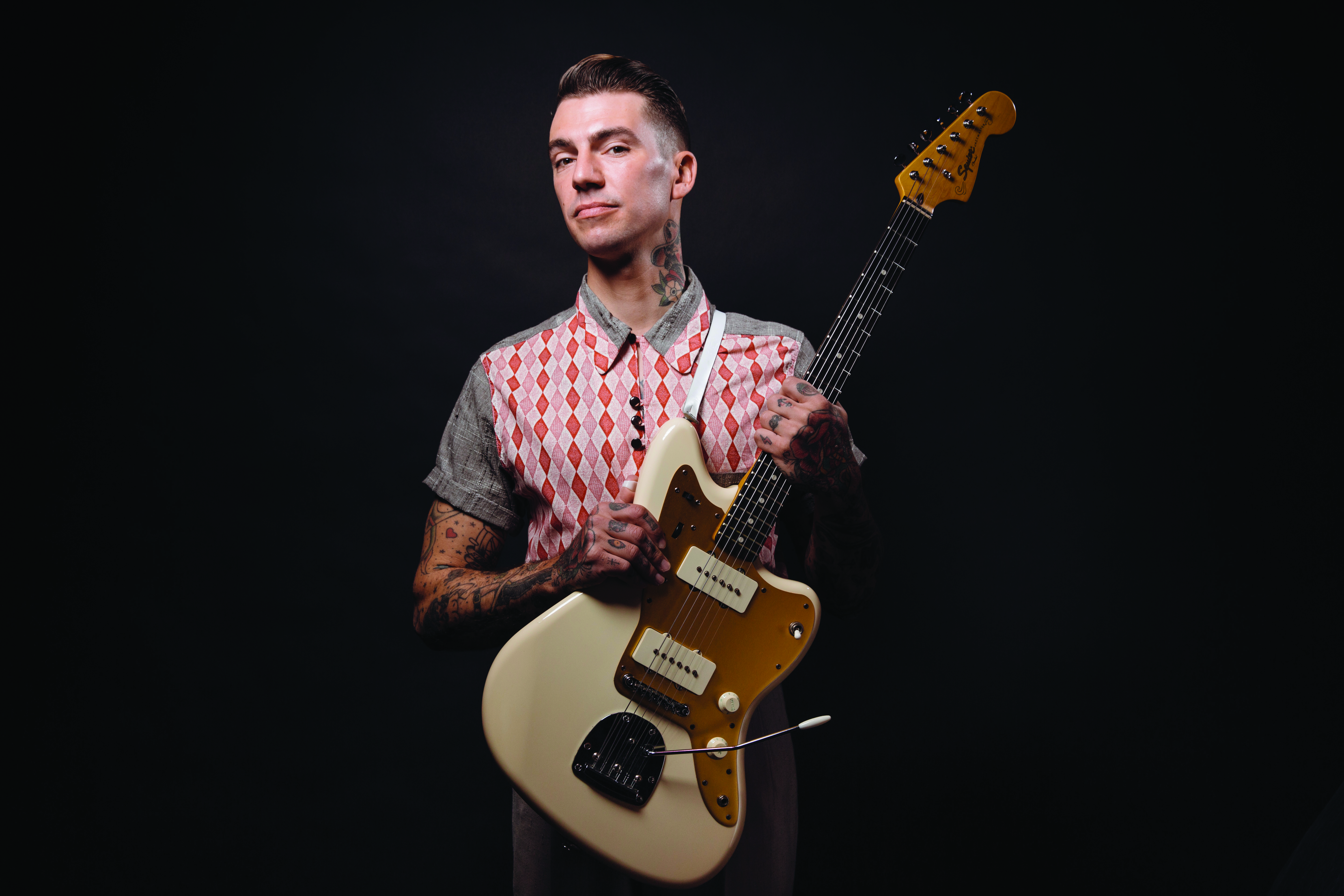 Growing up in New South Wales, Australia, the first guitar player on Pat Capocci's radar was his father. He remembers "walking into our music room at the family home and seeing dad playing and singing, all the while trying not to show his frustration as I'd just interrupted the song at a good part."
Capocci's own playing is an attempt to "combine everything that I've learnt and been influenced by and restate it in my own, authentic, personal manner that's uniquely me." These influences include "Johnny 'Guitar' Watson for his wild timing, Charlie Christian for his melodic and structured selection of notes, Django Reinhardt for his speed and cheekiness, Magic Sam for his simple and straight-to-the-point note selection and Barney Kessel for his amazing intellect and song structures."
His main guitar is a Squier J Mascis Jazzmaster, but he's been known to wield a 1949 Gibson L-50, a Fender Telecaster and even a Flying V. "To be honest, I feel it all comes down to what's in the subconscious mind, and how your hands react to those memories; how and where you place them and how much or little pressure you use. When all of those things connect and are flowing freely, game on!"
Essential listening Slave For The Beat, Hot Hot Heat
2 Al Dual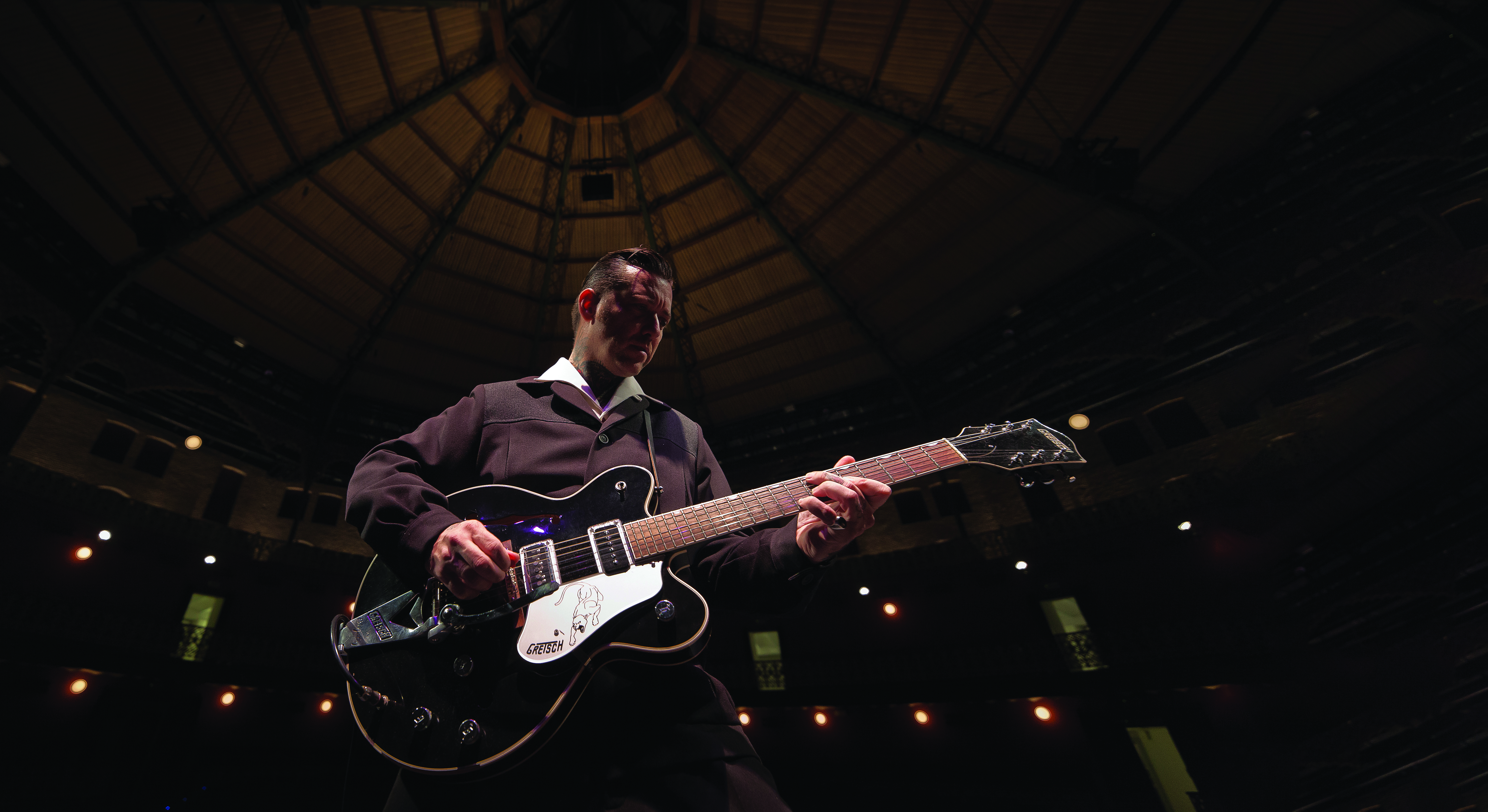 "I don't pretend to play like anyone else, I try to give each song a different stylistic treatment with the guitar," explains Al Dual, whose first inspiration was the twanging tones of Hank Marvin. "I was only 11 when I first listened to him and I remember that I was in shock."
Dual's next revelation came when he heard jazz great Charlie Christian. "That day, I realised that all the references I had studied before had been born from Charlie's guitar," he says, "it was just at that precise moment when I focused my studies on that man from Oklahoma and started to look for a style with its own voice, like the pioneers did in the early 50s."
Dual's incredibly nimble hands on the fretboard are equally adept at rockabilly, country, surf and R&B, and his talents have attracted the attention of Gretsch, who built him a "curious and exclusive" Gretsch Panther TCB 6137 Prototype.
2018 saw the Spanish maestro inducted into the Rockabilly Hall of Fame and win an Ameripolitan Award. These days, he's running his own label, Mr Panther Records, and remains dedicated to his life's mission, to "play rock'n'roll with its own character".
Essential listening What A Trip We Lived, Young Love
1 Paul Pigat – Cousin Harley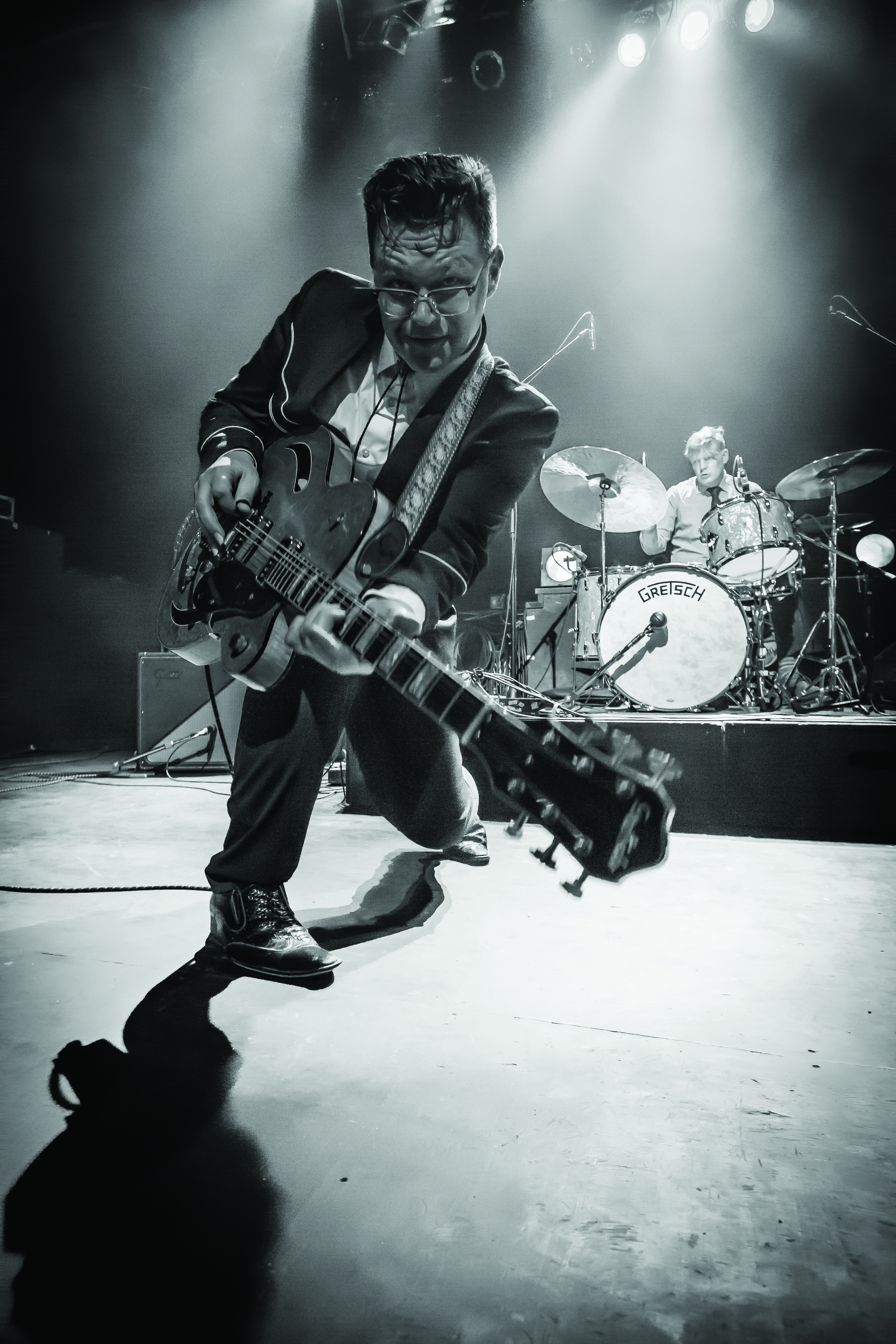 "I'm not exactly sure what was the first reason I picked up the guitar," says Paul Pigat. "I was pretty solitary as a kid and it was something I could do alone. I thought it might help me meet people, but it just made me stay in my bedroom trying to figure it out." Equally fluent in the jazz styles of Tal Farlow and Charlie Christian as the hot licks of Danny Gatton and Albert Lee, Pigat's hunger for musical sustenance led him to a degree in Classical Theory And Composition. "My thinking was that if I was going to do this for a living – there certainly wasn't anything else I was remotely interested in – then I better figure out how this all works."
He's thrown himself into understanding his instrument on every level, co-designing the Gretsch Synchro-Club with their master builder Stephen Stern, calling the model
"a combination of all things I dig about Gretsch guitars with a little bit of quirkiness". Opening for Brian Setzer on Christmas Eve in his Toronto hometown was a high-water mark. "But when it comes down to it, every night's a highlight if the band is cooking and the crowd is jumpin'!"
Essential listening Leave This Town, Deep South
Photos by Bill Mean, Susie Delaney, Black Wilkins, Daniel Boud, Rickshaw Theatre