Eddie Cochran cut more quality rock'n'roll in the space of a few years than most singers with five decades behind them. We've sifted through his back catalogue to bring you our Top 20 tracks…
Despite the comparably small catalogue left us by Eddie Cochran before he was so cruelly struck down, it's disproportionately good. In his short life, Eddie conceived a rare portfolio that stood him apart and, furthermore, he was by no means a one-trick pony. This, of course, makes it almost impossible to slim down to just 20 songs, let alone put them in some kind of discernible order of merit.
Aside from the God-given skills that singled him out as one of his era's finest songsmiths, listening through Eddie's solo material in its entirety reminds us of his astounding agility as a guitarist. Ask any one of the respected musicians of the 50s and 60s who are still with us – or indeed any musician in the world today – and they'll doubtless share our admiration for Cochran's jaw-detaching ability to thrill with a six-string. The sound of Eddie nonchalantly dancing up and down the fretboard of his iconic Gretsch 6120, or strumming out those instantly recognisable rhythms on his Martin acoustic, is one of life's simple pleasures. As such, any listing of Eddie Cochran tunes, in any order, is guaranteed to bring joy to anyone who calls themselves a fan of rock'n'roll – this is just one of those rundowns… Enjoy!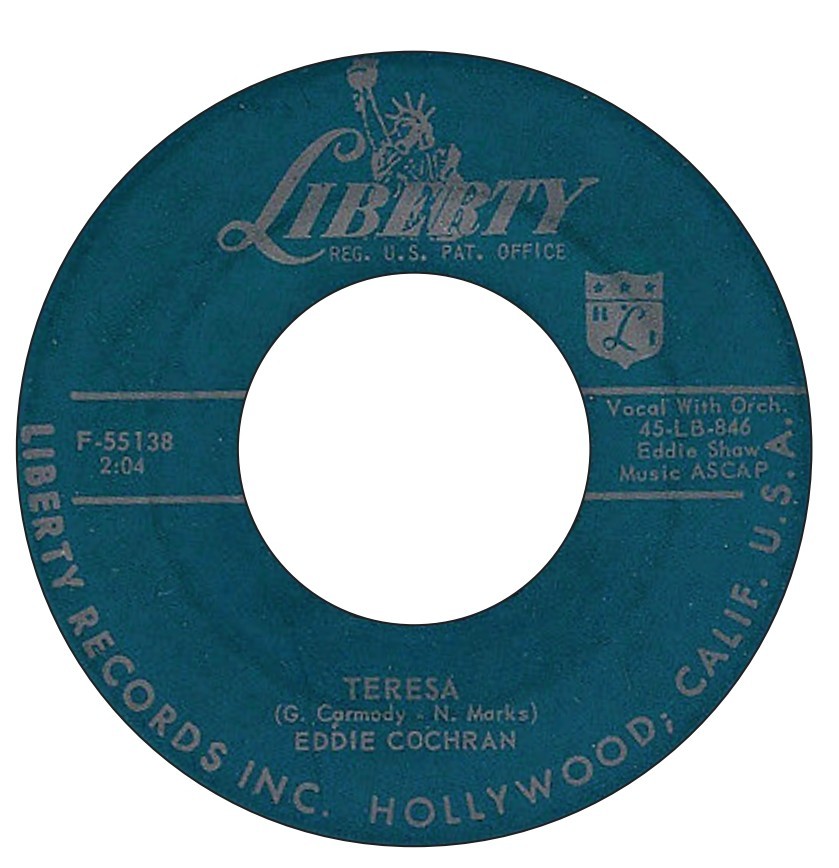 20) TERESA
LIBERTY
(1958)
While we're generally more inclined towards his rockier fare, Cochran could certainly handle a ballad and this is our pick of his woozier fare. A simple, charming love song in every sense, housing the quirkiest of honey-hued hooks from (unknown) female accomplices who flirtatiously echo his words, we're certain this crooner made many-a teenage girl go instantly weak at the knees. Billboard's reviewer was a little more flippant, writing, "This is a rhythmic, folk-type ballad with a chick chorus in the backing. Comes thru for okay results but flip may be stronger." Frustratingly for Eddie, then searching for another hit to match 1957's Sittin' In The Balcony, the public agreed and Teresa didn't trouble the charts.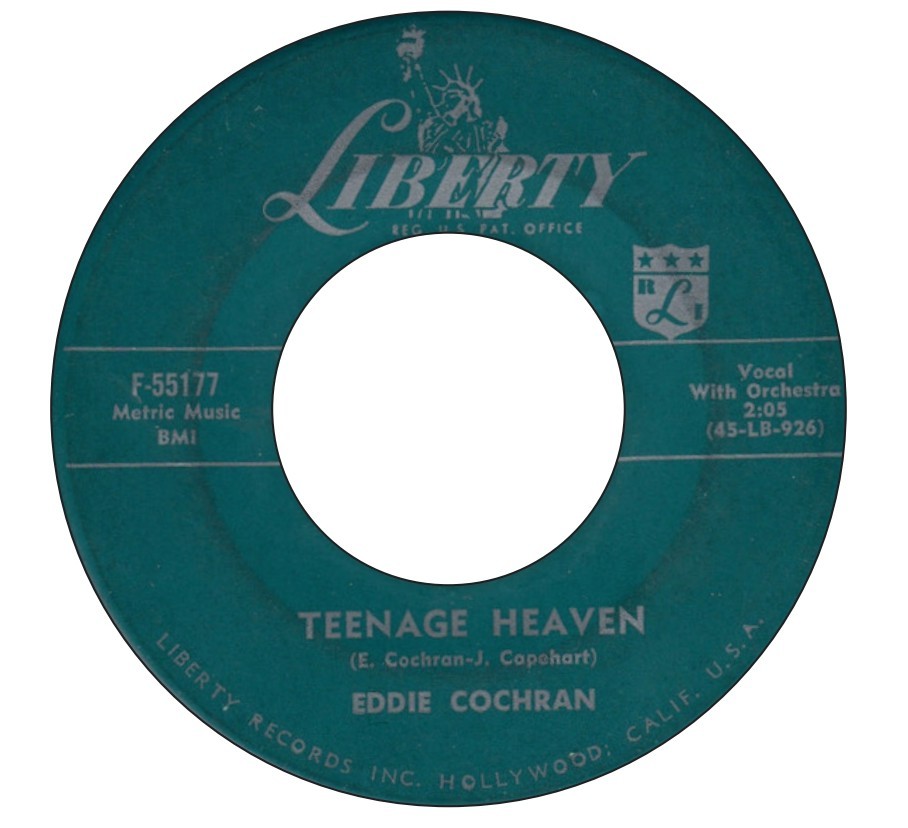 19) TEENAGE HEAVEN
LIBERTY
(1959)
By the time of the 1959 Liberty session that spawned this modest hit, Eddie was well established and, as a result, Teenage Heaven was augmented by a much fuller production, more boogie-woogie fun than the menacing rock'n'roll of his earlier sides. While two versions were cut at that January session in Hollywood, the ample talents of bop saxophonist Plas Johnson were very much to the fore when Alan Freed introduced Eddie and his 'crazy guitar' for an on-screen performance aired to movie-goers as part of rock'n'roll exploitation movie Go, Johnny Go! The swaying melancholia of I Remember was a sweet-sung contrast on the flip (and edited out of the film), but didn't help the chart trajectory – Teenage Heaven stalled just inside the Billboard Hot 100.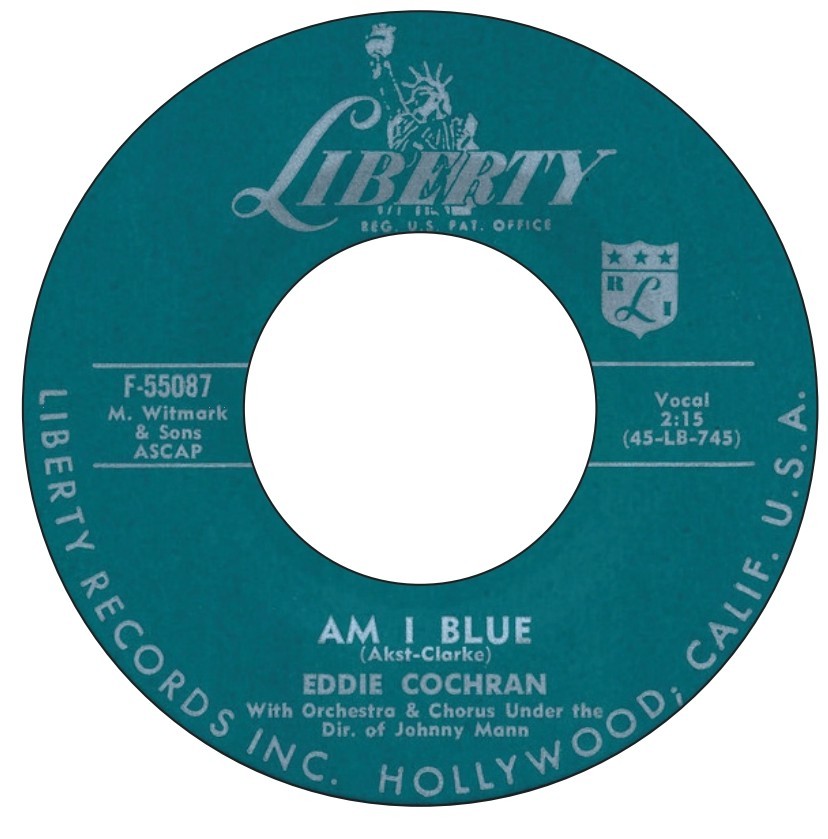 18) AM I BLUE
LIBERTY
(1957)
Between Eddie's fretting prowess and Bing Crosby's equally proficient guitarist Perry "Bunny" Botkin, this stonking rockabilly take on an old movie standard put the musicianship upfront. Beginning with a rising four-part vocal harmony from the Johnny Mann Chorus, this burst out of the gates via a rat-a-tat snare that introduced the supple jazzy inflections that line the verses – a clever contrast to Eddie's searing solo, that erupts from out of its midst. Completing Eddie's third Liberty o. ering, A-side ballad Drive-In Show also makes plenty of Best Of lists, distinct for the fact that it featured Eddie on ukelele. However, when Eddie sung "Bet my peanuts to a candy bar", listeners heard something else entirely (!), perhaps halting its rise up the charts…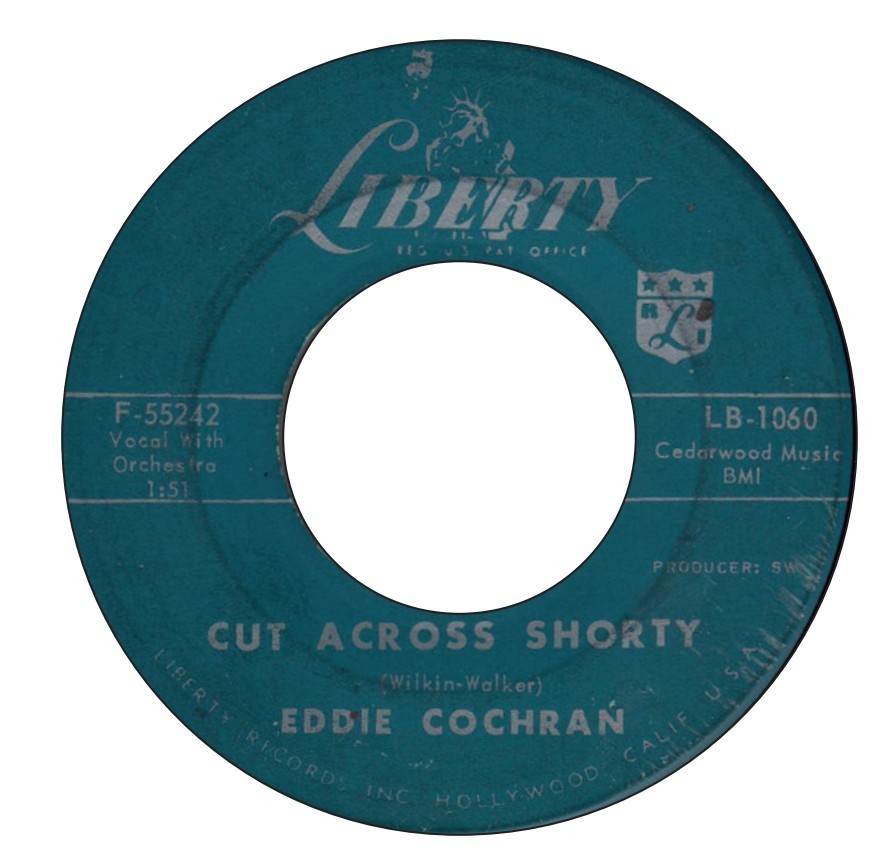 17) CUT ACROSS SHORTY
LIBERTY
(1960)
Written in Nashville by Wayne Walker and Marijohn Wilkin, and made famous by 'Mister Country' Carl Smith, Eddie's spruced up recasting of Cut Across Shorty found him revisiting his country days with noticeable relish. In the esteemed company of Sonny Curtis and Jerry Allison from The Crickets, Eddie first cut a version at the original tempo, but it was the rockier, speeded-up take that found favour as choice plattermate to his first posthumous single Three Steps To Heaven, also recorded during that session. With this final track in the can, producer Snu. Garrett remembers Eddie departing the studio for the airport to catch a flight for the UK. Cut Across Shorty was to be the last song ever recorded by Eddie Cochran.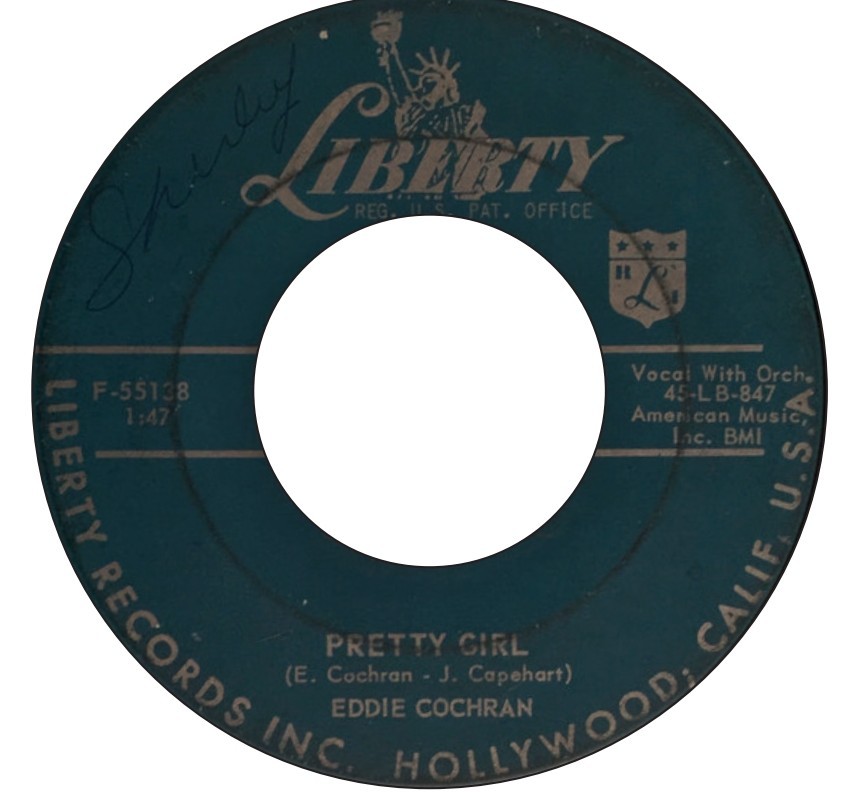 16) PRETTY GIRL
LIBERTY
(1958)
A marvellously unrestrained rockin' pedestal for his aesthetically pleasing female company of the time, Pretty Girl could be found nestled on the flip of the aforementioned doe-eyed ballad, Teresa. Eddie's manager and pal Jerry Capehart had a hand in the writing and, once installed at Liberty Record's own Custom Recorders studio in September 1957, Eddie, bass fiddle player Connie "Guybo" Smith and drummer Earl Palmer amassed over 30 failed attempts at di. ering tempos before they eventually gave up. It wasn't until January the following year that they returned to the track, finally nailing it with the addition of some spritely work on the 88s – likely from Ray Johnson (brother of sax player Plas Johnson).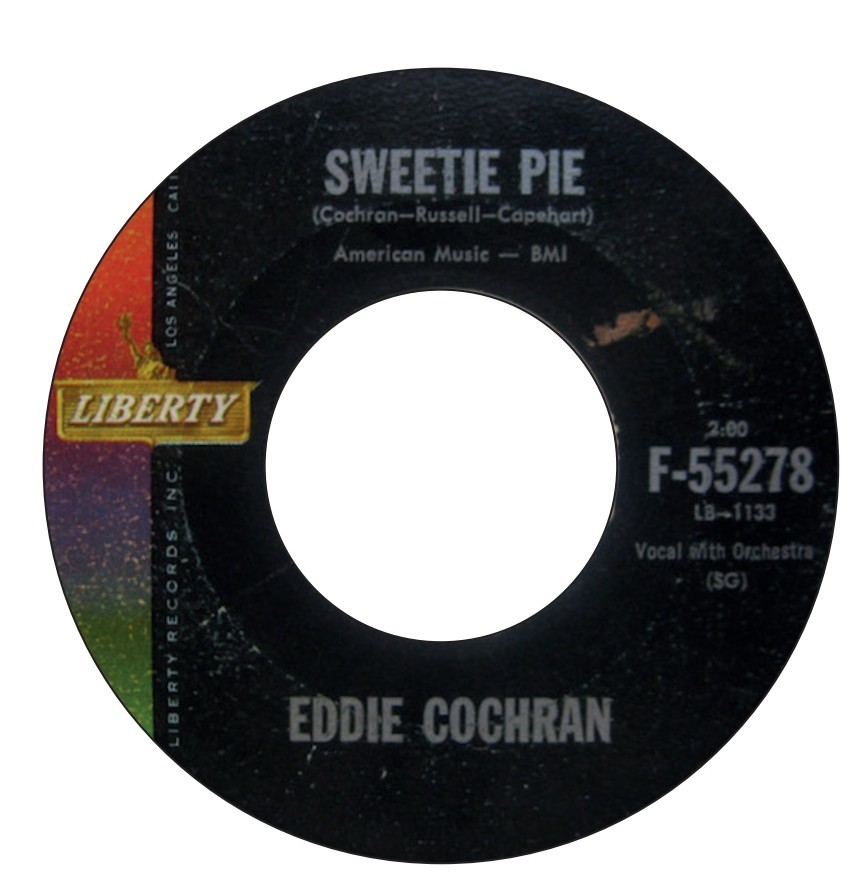 15) SWEETIE PIE
LIBERTY
(1960)
Eddie made a friend in co-star Johnny Russell while filming Untamed Youth in 1956 and the two ended up co-writing a few tunes together the following spring including the jaunty single One Kiss, and this rather more excitable o. ering. It was during a long summer holed up in Gold Star in 1957 that Sweetie Pie was laid down alongside a host of other winners including Drive-In Show, Am I Blue and Twenty Flight Rock. The Johnny Mann Chorus were in fine voice and "Bunny" Botkin once again augmented Guybo and Cochran on rhythm. Shelved at the time, Sweetie Pie was finally issued via Decca-imprint London soon after Cochran's death and, complete with its unique humming hooks, overtook the A-side (Lonely) to squeeze into the UK Top 40.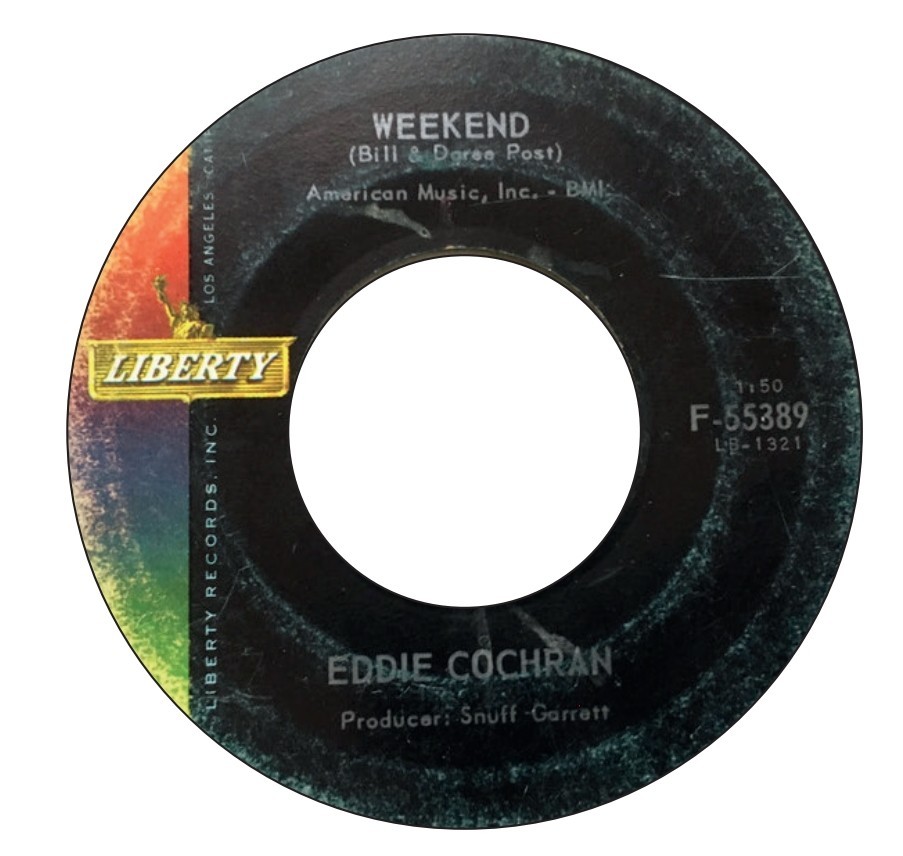 14) WEEKEND
LIBERTY
(1961)
A two-minute ode to the simple wonders of the weekend, this Snu. Garrett-produced confection celebrates staying out late, cat clothes and moonlit views, yet makes sure to snarl at authority, in this case a nosy policeman whose flashlight tries to ruin the fun. Guybo had assembled a regular band by the sessions in April 1959, and The Kelly Four assembled at United Recording Corporation Studios on Sunset Boulevard. "[Eddie] could play anything: jazz, country, blues, rock and roll – slow, fast, anything you want", remembered bass player Dave Schrieber. "I was amazed." It wasn't until after Cochran's passing that Decca rediscovered this track and issued it, backed up by Sharon Sheeley's marching ballad Cherished Memories. It reached UK No.15.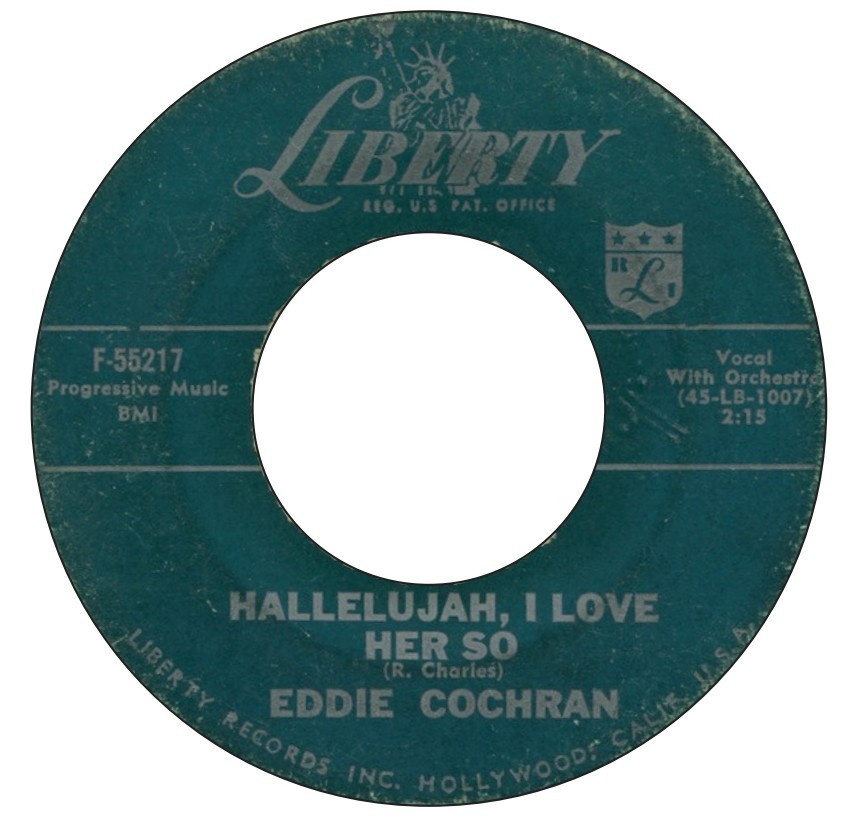 13) HALLELUJAH, I LOVE HER SO
LIBERTY
(1951)
While it floundered in the States, Cochran's luxuriant string-drowned recasting of this Ray Charles album track soared to No.22 in the UK. Perhaps it would have fared better at home had he dispensed with those overbearing strings, overdubbed as an afterthought a few months later and no doubt added to increase its selling-power. We have a hunch they had the opposite e. ect. The original, recorded in August '59 together with The Kelly Four, is leagues ahead. Who needs strings when you've got the tasteful pitter-patter of a flighty piano line and Eddie's equally playful fretwork as he spars delightfully with the horns midway through – utter magic. Cochran performed this during his fateful trip to the UK on the Marty Wilde-fronted TV show Boy Meets Girls.
12) PINK-PEG SLACKS
UNISSUED (
1956)
First demoed with Hank Cochran at Gold Star's modest $10-an-hour studio B in April 1956, Pink-Peg Slacks was Cochran's first proper stab at the newfangled rockabilly sound and clearly gave a sizeable nod to Carl Perkins' Blue Suede Shoes, released a month or so earlier (and rapidly rising up the charts at the time). Eddie took on lead vocals for that session and cut it again solo that summer. It's as impulsive as his catalogue gets and remains one of his early unschooled triumphs, preceding a busy run of session work that saw him quickly gaining traction. With its nimblefingered licks and chatty narrative, it boded extremely well for things to come. While unissued at the time, the track was released by RockStar in 1981, and appears on Bear Family's Somethin' Else: The Ultimate Collection.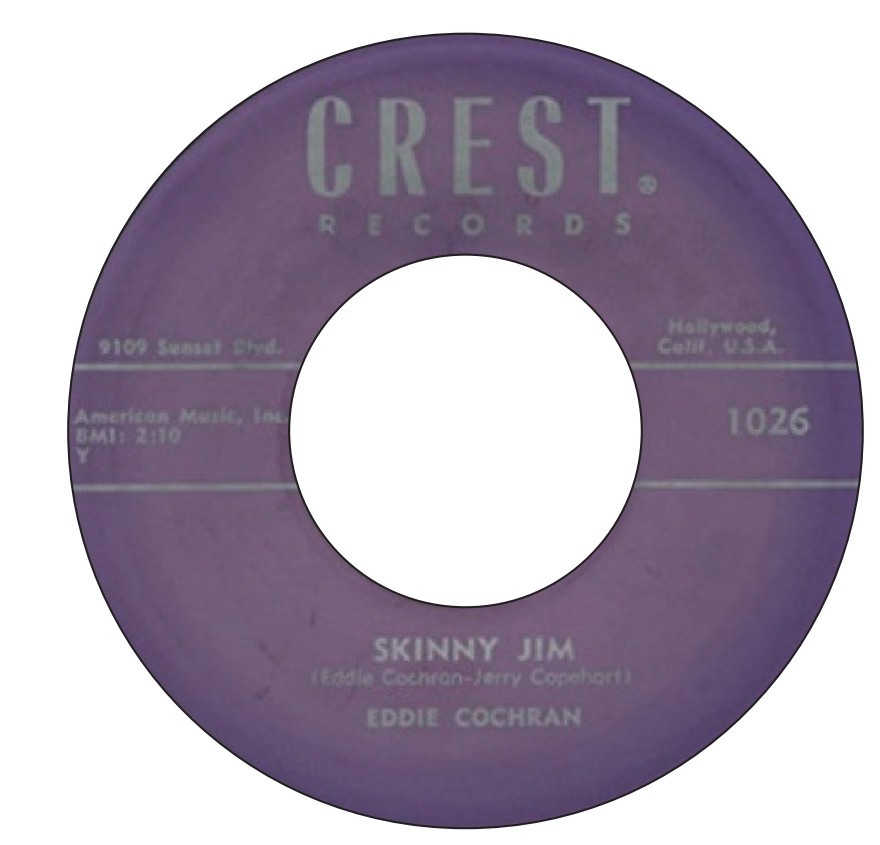 11) SKINNY JIM
CREST
(1956)
When Eddie first broke out on his own, his manager and co-writer Jerry Capehart managed to snag him a one-single deal with Crest Records, and this 45 was the rousing end product. Cut during a money-saving joint session with fellow Crest alumnus Gene Davis, this bristles with the adolescent brio that has ensured its enduring status as a stone-cold rock'n'roll classic. The excitable Jerry Lee-esque piano overdubs hammered down by Ray Stanley added a hot streak of class, but for us there was frankly no need and we favour the simpler piano-less version. Backed by the solid balladry of Half Loved – a co-write with Stanley – Skinny Jim spotlighted the teenager's monumental guitar skills as he tears up and down the fretboard.
10) MEAN WHEN I'M MAD
LIBERTY
(1957)
Billboard's preview hardly waxed lyrical about this skulking rockabilly side, merely dubbing it "an e. ective rock and roller". Nonetheless, Liberty hoped Johnny Mann's clever vocal arrangements and Cochran's infectious snarls would help smoochy plattermate One Kiss follow Sittin' On The Balcony into the Top 20. Alas, no such luck. While the fuller, slinkier single production has undergone many-a spin on the Vintage Rock stereo, it's the simplistic, head-on demo version of this track that we keep going back to. Cut at the end of 1956, and found on an acetate in Eddie's private collection, this features Jerry Capehart slapping out the rhythm on a box. Both versions can be found on Bear Family's Somethin' Else: The Ultimate Collection.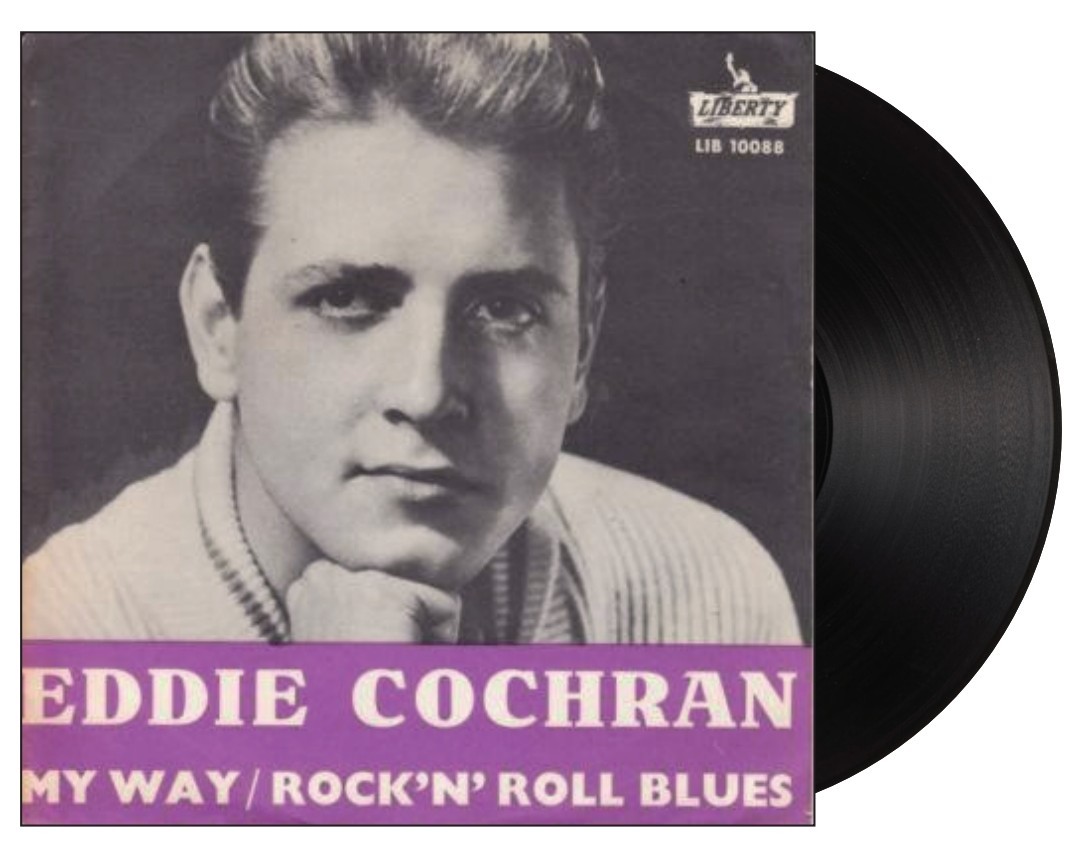 9) MY WAY
LIBERTY
(1963)
Laid down in the same January 1957 session as his Teenage Heaven single, My Way is another to feature the largely unsung, yet quietly ubiquitous, tenor sax sessioneer Plas Johnson, here engaged in a bristling duel with Eddie's wandering licks. My Way is a propellant rocker in amidst the catalogue with the requisite parent-baiting lyrics to maintain that rebel aura (and somewhat misogynistic when reexamined in 2020). It's lip-curling stu. , as Eddie slurs, "I was born a tiger, I always had my way/ Nobody's gonna change me, this or any other day." The US gave this posthumous release the cold shoulder, but UK rock'n'roll fans welcomed it for a 10-week stay in the charts, settling at No.23.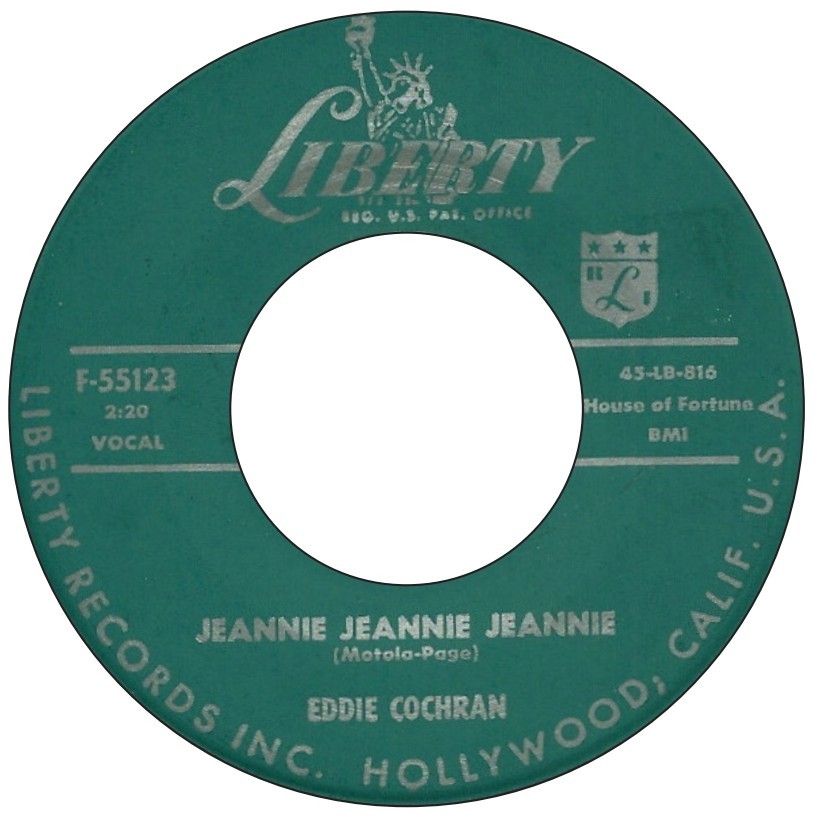 8) JEANNIE, JEANNIE, JEANNIE
LIBERTY
(1963)
According to the song's co-author and one-time Liberty recording artist Ricky Page (who wrote it with husband George Motola), Eddie was hired by Guyden Records to play guitar on a session for sister-trio The G-Notes, who were recording an earlier version of this track, titled Johnny, Johnny, Johnny. Eddie immediately fell in love with the tune and asked it he could record it himself, but by the time his own Jeannie, Jeannie, Jeannie had reached the racks in January 1958 (The G-Notes released theirs in March 1959), there were plenty of new rival rock'n'rollers jostling for position, which explains his poor Billboard placing at No.94. Still, a posthumous release in the UK fared better, finding the Top 40 in 1961.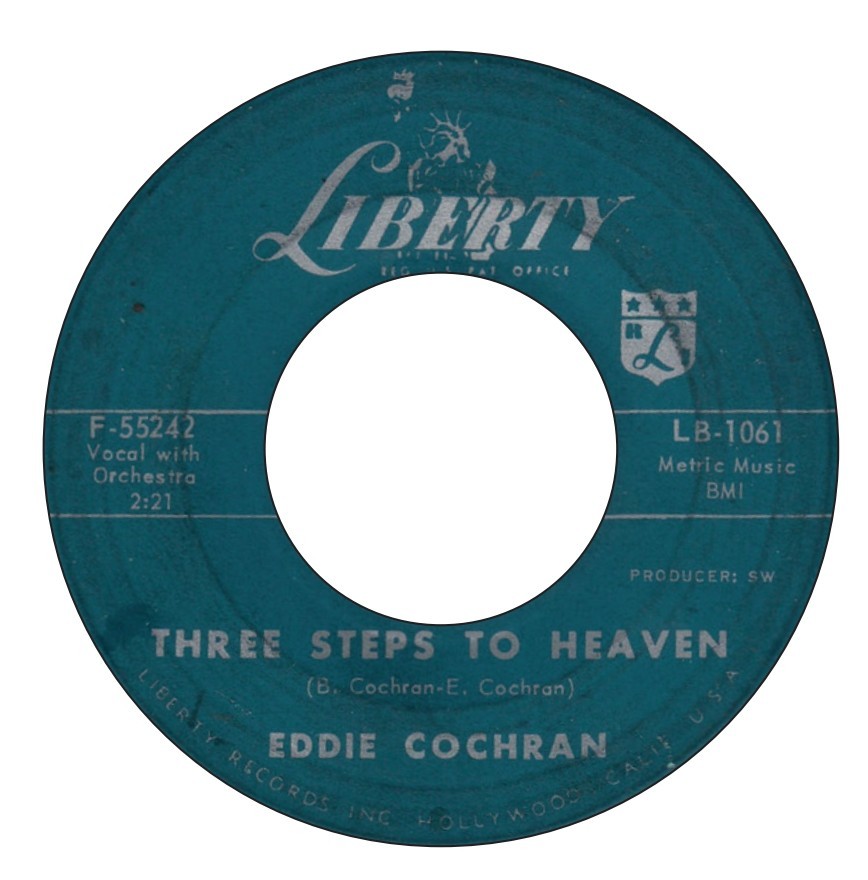 7) THREE STEPS TO HEAVEN
LIBERTY
(1960)
A lucrative Gold Star session in January 1960, with Liberty sta. producer Snu. Garrett again manning the controls, got the new decade o. to an e. ervescent start when Three Step To Heaven, the first track on the agenda, was nailed fifth take. This time Cochran and the ever-present Guybo (on electric bass) were again ably aided by The Crickets' Sonny Curtis on guitar and his bandmate Jerry Allison stamping out their intuitive Tex-Mexinfluenced rhythm. But none could have known how poignant a recording it would be. Just over three months later, Eddie was killed in an horrific car crash in England. Released in tribute soon after, Three Steps To Heaven went to the summit of the UK charts, unsaddling The Everly Brothers' Cathy's Clown.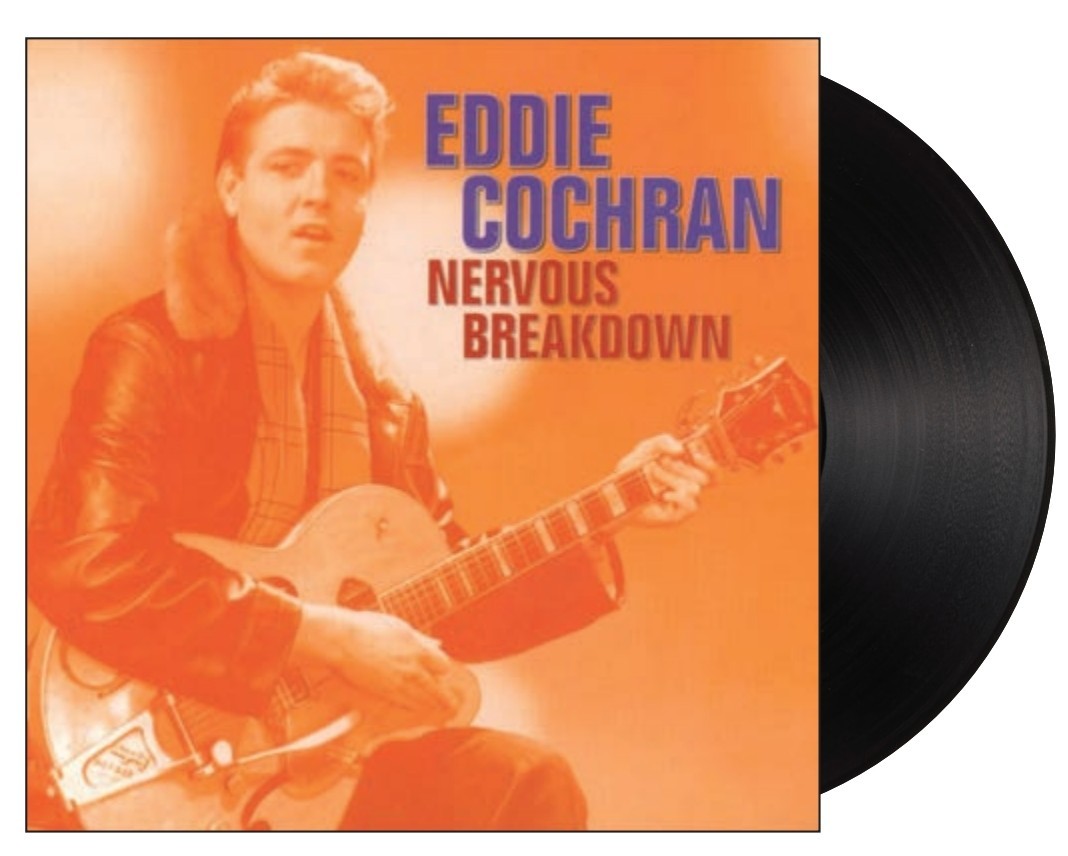 6) NERVOUS BREAKDOWN
LIBERTY
(1963)
The secret weapon that made this track so utterly moreish came from the interplay between Guybo's creeping bassline, Cochran's Summertime Blues-esque acoustic guitar strums, and his shivering, vocal delivery – all mirroring a fragile mental state. First demoed via several takes in 1958, and then recut in November of that year, Nervous Breakdown was reportedly put together line-by-line with soon-to-be TV star Mario Rocuzzo, who detailed the doctor's worrying diagnosis as Eddie fired o. guitar ri. s. The duo's meticulous work would go to waste, however, when Liberty decided it was too weak to follow-up C'mon Everybody. Wanda Jackson had a go in 2011 too, for her Jack White-produced album The Party Ain't Over.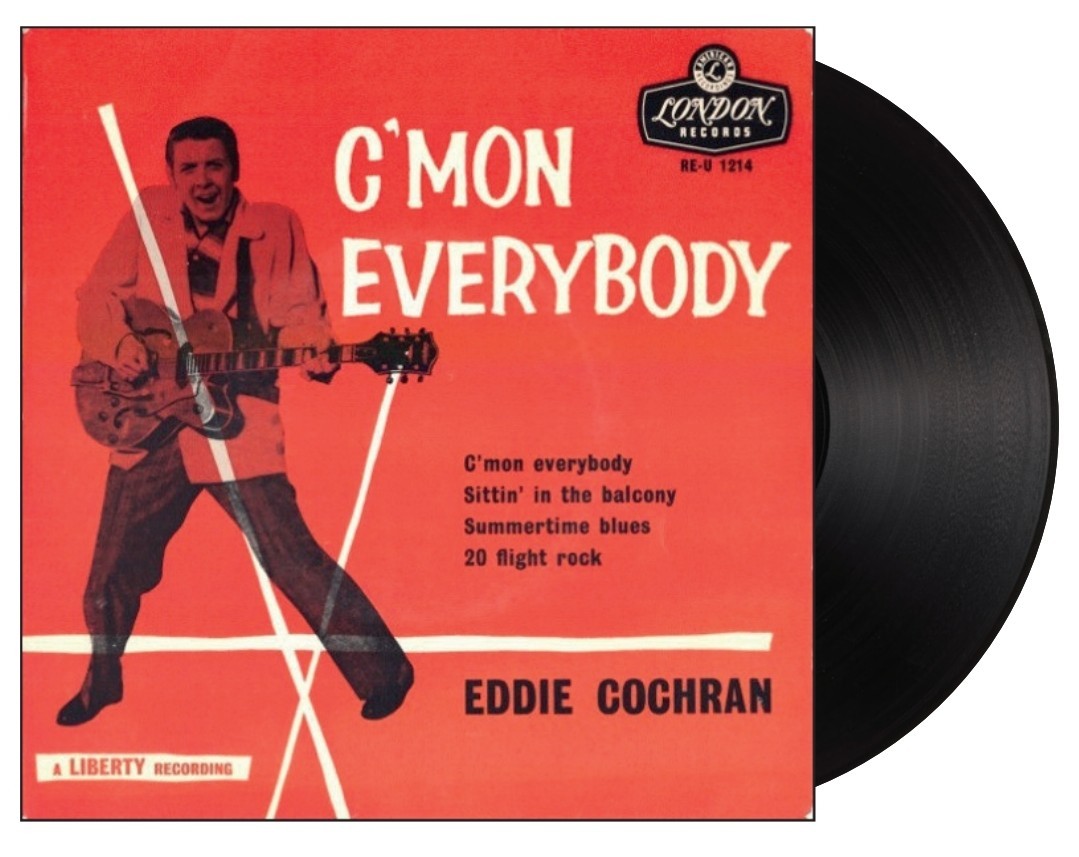 5) C'MON EVERYBODY
LIBERTY
(1958)
Wrapped up in just three hours in October 1958 with the usual line-up of Guybo and Earl, plus Ray Palmer on the 88s, this rockin' perennial began its life as Let's Get Together, until – sensing something wasn't quite right – Eddie re-tracked the vocals with his now infamous rallying cry, snatched from the song's opening lyric. The tempo was nudged up and another huge hit was surely on the cards, particularly after TV exposure on both American Bandstand and Town Hall Party brought it to millions. Alas, for some reason or other it didn't catch as Summertime Blues had a few months earlier, just squeezing its way into the US Top 40. It fared better in the UK, storming to No.6, Eddie's highest placing over here. Now, of course, it's a standard.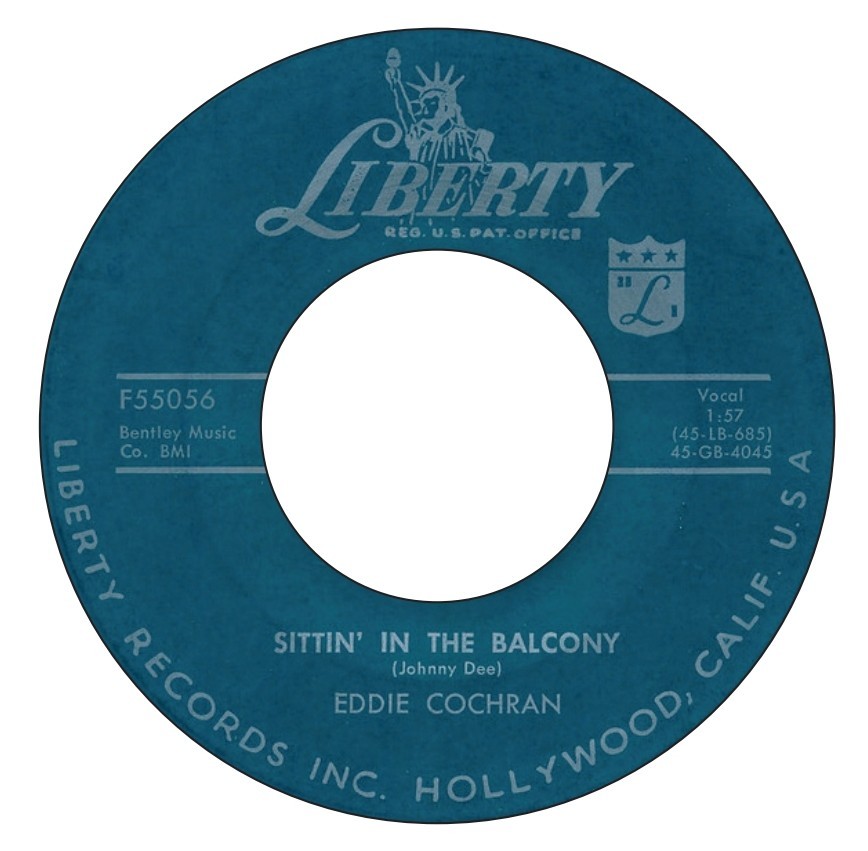 4) SITTIN' IN THE BALCONY
LIBERTY
(1957)
Having lost out to ABCParamount in his bid to purchase the distribution rights for Johnny Dee's red hot regional hit Sittin' In The Balcony, Liberty Records cofounder Si Waronker set his rival campaign in motion and commissioned his newly signed rebel rocker Eddie Cochran to do the business – and in a hurry. Within a few days Eddie had made the track his own and, in spring 1957, the two tracks went oneonone in a closelyfought contest for Billboard glory. Cochran's take eventually won out, landing at No.18, while – no doubt gutted – Dee floundered at No.38. "I cut Sittin' in the Balcony and didn't like it at all", Cochran told NME at the time. "But it went on to sell a million – and I was the most surprised of all." Eddie was on the upsurge.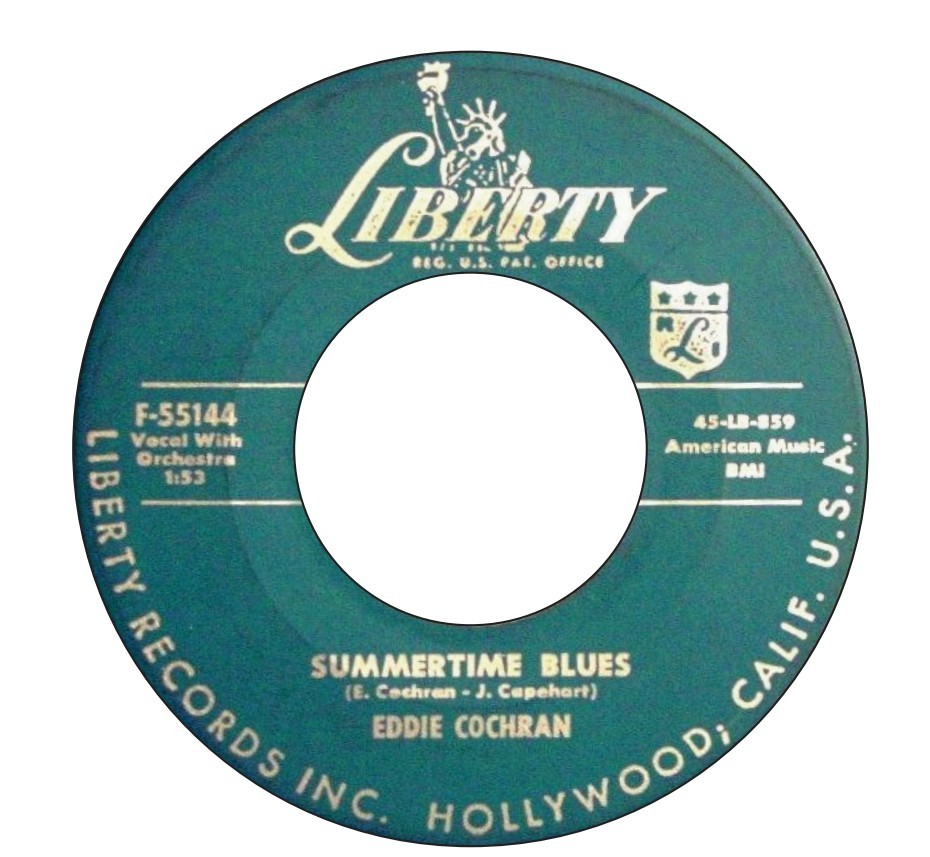 3) SUMMERTIME BLUES
LIBERTY
(1958)
Centred around one of rock'n'roll's most simplistic – yet refined – acoustic guitar motifs, and given its attitude by Eddie's rebel tear, it was left to Guybo's penetrating upright and Earl's crackling rhythm to bring it home. Penned together with Jerry Capehart, keen to introduce a song about "the hardships of summer" as opposed to the norm, Summertime Blues became (somewhat contrarily) the feelgood hit of Summer '58 – and Eddie's biggest Billboard success, reaching No.8. This muchrevered 45 was recorded when Eddie was a mere pup at only 19 years old. Unbelievably it was originally lined up to play second fiddle to Sharon Sheeley's far less o. ensive Love Again, but when DJs favoured the former it took its rightful place as the main event.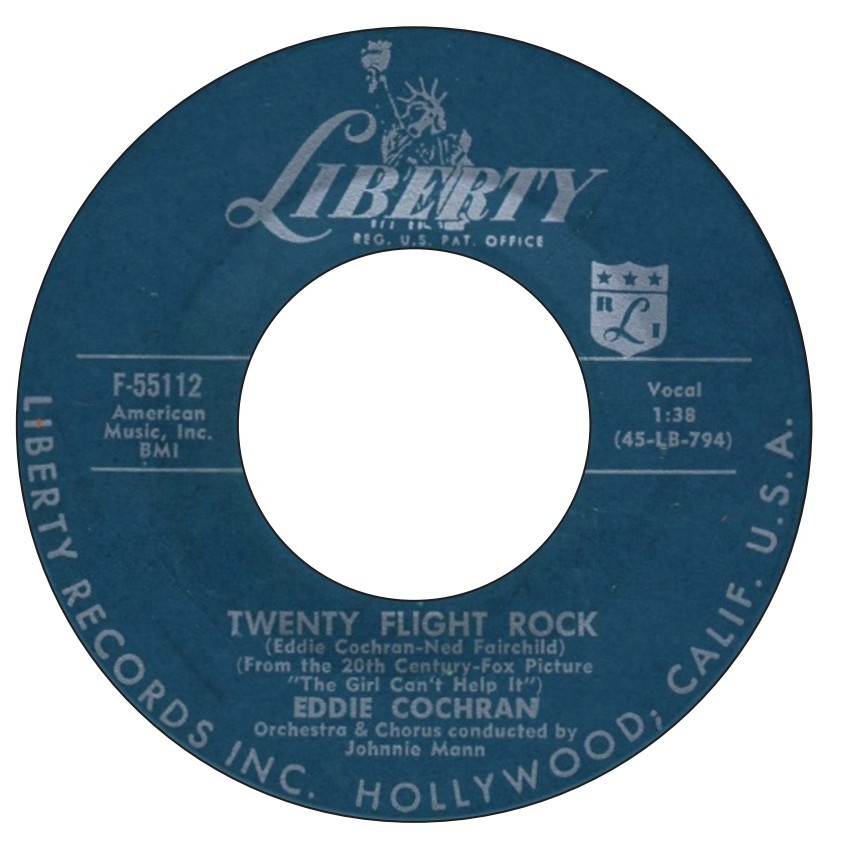 2) TWENTY FLIGHT ROCK
LIBERTY
(1957)
Eddie famously mimed this track in 1956 rock'n'roll flick The Girl Can't Help It, a role secured when director Boris Petro. approached him in the studio. Cochran was flabbergasted at his good fortune. Penned by Eddie together with Ned Fairchild, this stairclimbing rocker was first cut in L.A. in the summer of '56, with righthand man Guybo providing his watertight rhythm on the upright, while Jerry Capehart bashed out a rudimentary beat on a soup carton. Cochran recorded a second version the following year and this was the one that Liberty issued as a single, with slick rocker Cradle Baby holding up the flip. It was, of course, thanks to a rendition of this song that a youthful Paul McCartney found favour with John Lennon and was let into The Quarrymen, soon to morph into The Beatles.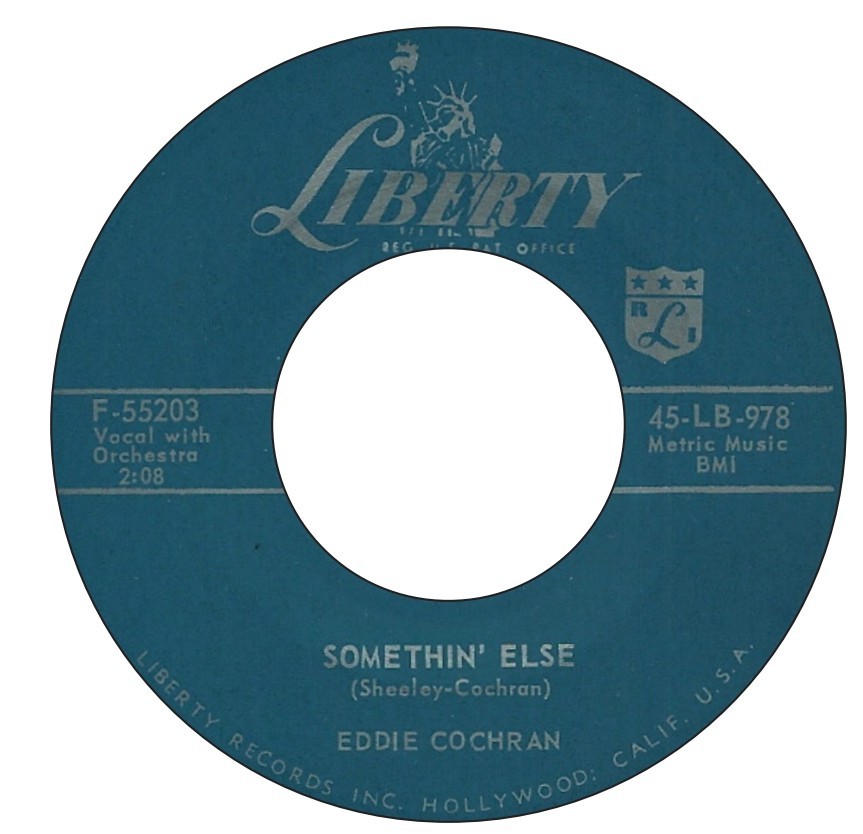 1) SOMETHIN' ELSE
LIBERTY
(1959)
Written by Cochran's significant other Sharon Sheeley together with his elder brother Bob, this alltime Cochran classic is an ode both to the fairer sex and the automobile. Here, we find our protagonist skint and admiring his dream girl from afar, before finally summoning the courage to make his move having acquired the keys to a '41 Ford. This plentyspun perennial was recorded with Eddie providing both bass and guitar over a corking rhythm supplied by regular sticksman, Earl Palmer, one of New Orleans' finest. UK audiences fell hard for its charms, elevating it to No.22, while it managed No.58 in Eddie's homeland. Notable admirers included Gallic rock'n'roller Johnny Hallyday, whose rework (Elle Est Terrible) made No.1 in France, while in Blighty, punk legends the Sex Pistols paid their respects with a No.3 in 1979.