THE SHOW MUST GO ON! – The Jive Aces
By Vintage Rock | April 6, 2020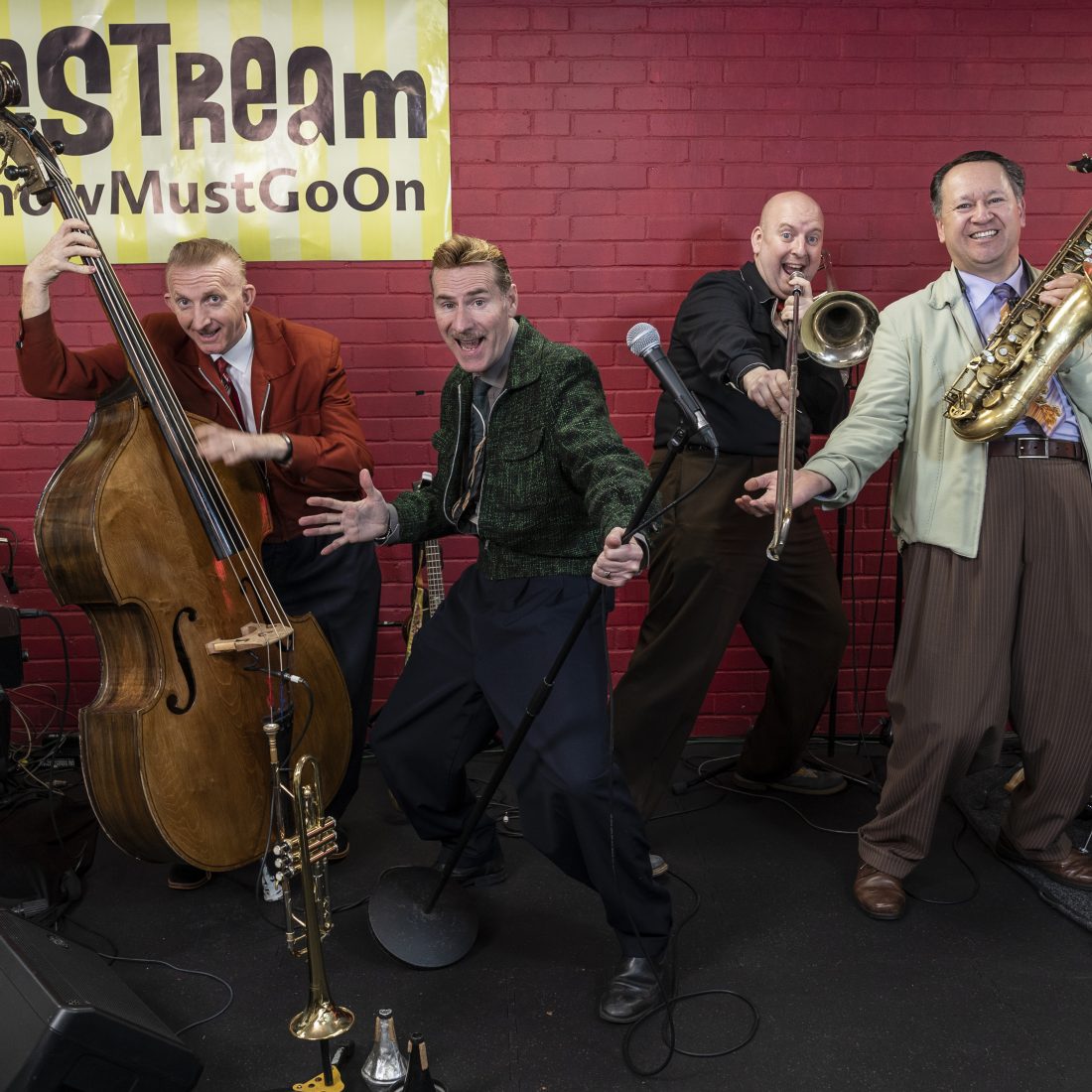 The Jive Aces, UK's No.1 swing and jive band and Britain's Got Talent semi-finalists, have decided to bring comfort and fun to their fans and those isolating at home during this period of social unrest due to the Coronavirus.
Since 17th March the band, well known for putting even grumpy Simon Cowell in a good mood, started their own live stream on Facebook from their rehearsal studio in East Grinstead and people from all over the world tuned in to watch the band. The show soon caught on and became very popular and within a few minutes, 10,000 were streaming and peaked to 16,000 views on the rewatch. The band christened the live stream "Jive Stream, The #Show Must Go On"
After the lockdown took place, the band relocated to the live stream from their home and went live from the "red brick room" and, despite some technical and network issues, to begin with, the band haven't missed a night of live stream. Even while keeping to the guidelines and necessary preventative precautions due to the virus.
Fans are watching live from all corners of the globe: England, Scotland, Wales, Italy, France, Spain, Germany, Canada, America, and even New Zealand! There was even a couple watching the show on their TV screen and decided to make T-shirts with the exact logo "Jive Stream, The #Show Must Go On" on red T-shirts representing the wall and sent us a photo.
The band have been performing uplifting jive, swing and rock n roll tunes and the feedback is very positive: "Hope you do another live soon. It made me smile even though all this heartache…thank you to you all!". "Brilliant. Thank you so much. It came just at the right time today. Was feeling very down. Made a huge difference. Love you all". "Merci beaucoup guys! You're bringing' sunshine to the quarantine!".
The show goes live every day at 8.30pm GMT. The format of the show is quite informal, to the surprise of many, the band known for their hallmark yellow suits perform in simply smart retro clothing and ask the viewers for song requests. They also have started quizzes where people can win prizes. Rock n Romance vintage clothing reproductions and Big Finish (official Dr Who audiobooks
producers) have both donated prizes to win too.
Ian Clarkson lead singer of the Jive Aces said: "We had all our shows, including a US tour, cancelled and all our performer friends had the same thing happen. The people that come to our gigs and are on our Facebook page etc are all in self-isolation and loads of them asked us to do a live stream. So we did the first one and to our surprise we had thousands of views! Now we are a week in and the feedback is lovely. We are also encouraging other musicians and performers to do the same. We are the artists. We can't go down, it is our job to keep everyone else up! Hence our motto, "The Show Must Go On!"
The Jive Aces, who became famous for making even Simon Cowell smile, received the prestigious Boisdale Music Award for "Best Band" presented by Jools Holland. They also have quite a collection of awards for their contribution to music and constant charity work, including one from the Variety Club for their efforts in drug prevention. Their hallmark yellow suits have appeared on many world-class stages from Glastonbury to the Montreux Jazz Festival, and on TV shows such as the Allan Titchmarsh show, Strictly Come Dancing and Children in Need to name just a few.
They have also worked with many of the top names in the business, including John Travolta, Van Morrison, Status Quo and their recent charity single was produced by Mike Stock of Stock, Aitken and Waterman fame.
To watch their live stream simply go to Jive Aces Facebook page at 8.30pm UK time, it's on every day.