A Rockin' Good Vintage Alldayer – Kingsmeadow – Kingston Upon Thames
By admin | September 30, 2015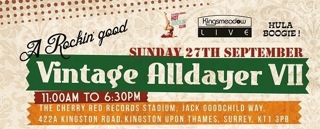 By 11am the vintage market was up and running with the main bar packed out with stalls selling 50s clothes, jewellery, hats, household items and there was even a mermaid sitting on the bar to admire. The beauty parlour was buzzing all day with people getting their hair and make up done in a vintage style or just getting a little trim from the barber topped off by having their day captured on film in the photography studio.
Outside were more stalls with furniture and cushions for sale along with Shakey's Diner and the fantastic food offerings.  If their delicious Burgers or Hot Dogs hadn't filled the gap you could munch your way through some popcorn or candy floss and If that hadn't satisfied you!! The Rockin' Good Vintage Tea Room was doing a roaring trade in homemade cakes and buns.  The tea and coffee all served out of vintage Tea pots into vintage cups.  It really made the atmosphere in the music room outstanding.
The DJs on the day lead by Miss Aloha played some blinding Rock and Roll and 50s R&B tunes which kept the jivers jiving and the strollers strolling all day. If you couldn't jive, there was a chance to learn the basics in the jive class.
The Brilliant band on the day was "Fever" and they played 2 storming sets which kept the dancefloor packed.
The car park outside was full of Classic cars and bikes and the winner of the People's choice award was "Poison Ivy" owned by Glenn Blake.
From 11am until 6pm, time was rolled back to the50s.
The sun shone, the chrome of the classic cars and bikes sparkled and the people smiled.