Subscribe to Vintage Rock and receive 2 Jerry Lee Lewis and Eddie Cochran CDs worth £25*!
By admin | November 7, 2014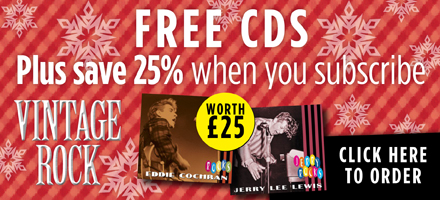 The festive season is slowly creeping up on us. So here at Vintage Rock we wanted to bring you this very special subscription offer that will make the perfect gift this Christmas!
Subscribe to Vintage Rock this Christmas and we'll send you two free CDs* worth £25 – absolutely FREE to either keep for yourself or give as a gift. Plus you will save 25% on the shop price of the magazine. If you are buying the subscription as a gift, we'll send you a free gift card to give the recipient on Christmas Day.
Your free gift:
Jerry Rocks
Here are 33 Jerry Lee Lewis songs from Sun and Mercury. Some are well known ('Whole Lotta Shakin", 'Great Balls Of Fire', etc.), some are less well known ('Boogie Woogie Country Man', 'I'm On Fire', etc.) but one thing they all have in common is that they ROCK!
Eddie Rocks
Eddie Cochran was one of the original architects of rock 'n' roll, and he has been reissued extensively since his tragic death in April 1960. This compilation, however, is the first to compile all of Eddie's solo rockin' tracks in one place!
Click here to order a subscription and claim your free gift.
Your unmissable subscription offer:
FREE CDs from Eddie Cochran and Jerry Lee Lewis, worth £25*
Save 25% on the magazine store price
Pay just £26.95 every 6 issues by Direct Debit
Never miss an issue with free UK delivery
Buy as a gift subscription and receive a card to give on Christmas Day**
Offer ends 31 December 2014. *Sorry, free gift and 25% saving is available to UK residents only. Free gift is subject to availability and we reserve the right to substitute this gift with an alternative of similar value. Your subscription will start with the Feb 2015 issue, on sale in January, unless requested otherwise. If you are buying a gift subscription, subscribe before 10 December 2014 to ensure that your gift card reaches you in time for Christmas Day.
We also have some great savings for overseas and UK credit/debit card orders. Click here to view all of our offers
USA readers, subscribe here.