Imelda May Back WIth New Single
By admin | March 12, 2014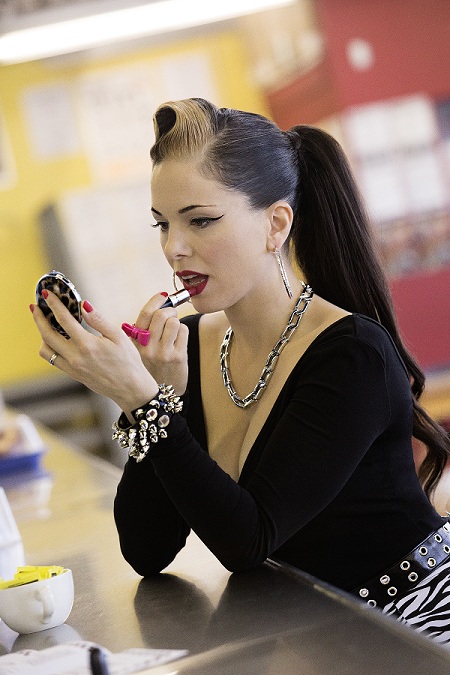 Rockabilly songstress Imelda May returns this month with a brand new single entitled 'It's Good To Be Alive', out on Decca March 3rd.
May also headlines at London's Roundhouse on St. Patrick's Day on the 17th March!! Should be a killer way to celebrate!
)
Here's some more info!
"Ireland's reigning queen of rockabilly, the truly unique Imelda May, is back with 'It's good to be alive', the ultra-catchy first single from her soon to be released album 'Tribal'. The track will be available on iTunes from March 3rd.
The track is a perfect slice of everything that makes Imelda special. From it's classic, roots/rockabilly hook, it's scintillating guitars and her powerful, yet sultry, voice.
Since the release of her raucous debut, Love Tattoo, back in 2009, Imelda has been one of the most strikingly original talents in the music arena, taking her infectious blend of rockabilly, jazz, blues and torch songs from the back rooms of Dublin pubs to the biggest festivals in the world.
Next up was the double gold album Mayhem in 2010, which she took on the road bringing some good old-fashioned rock'n'roll spirit to audiences worldwide. With her live shows widely acclaimed, she has picked up fans as diverse as Jools Holland, Jeff Beck and Bono who dueted with her at 2 sold out 02 shows in Dublin 2011.
Far from mellowing with motherhood Imelda sizzles more than ever with her leather-clad attitude, returning with a brand new album of hard-edged anthems. Imelda is pinning her colours to the mast with music which celebrates the great rock'n'roll sub-culture and her own 'Tribal' allegiances."
To take a look at teaser for the album go here:
To pre-order the album go here:
http://store.universal-music.co.uk/restofworld/imelda-may/imelda-may-tribal-bundle/invt/0602537753246?utm_source=SocialOther&utm_medium=Referral&utm_campaign=ImeldaMayTribal140203
and to receive a free MP3 download from the new album go here:
http://zaphod.uk.vvhp.net/vvreg/8791-327409
More info at:
www.facebook.com/ImeldaMayOfficial
Selected upcoming shows
Tunbridge Wells Assembly Hall
6th March 2014
http://www.assemblyhalltheatre.co.uk/imelda-may
Bristol Jazz Festival, Colston Hall
9th March 2014
http://www.bristoljazzandbluesfest.com/
St. Patricks Day Show
THE ROUND HOUSE
17th March 2014
www.roundhouse.org.uk/whats-on/productions/imelda-may-0
Autumn Tour to be announced