On The Radar – Jason Starday
By Vintage Rock | December 7, 2022
Emerald Records' latest protégé talks to Sheree Homer about his love of the musical giants of the 50s and their influence on his new EP…
After learning the ropes from his father, who fronts Berlin rockabilly outfit Wayne Starday's Trailer Kings, son Jason has just taken his first steps into the recording studio. The fruits of his labour is the four-track Songs From Teen-Ville EP, a collection of jivers and ballads that's all set to turn a few heads. The young singer has been immersed in the scene ever since 2009, and states: "It's a way of life for me – the music, the garments, the hair… oh man, I love the 50s."  
Who are your musical influences? 
I really admire Ricky Nelson, Sam Cooke, Ronnie Dawson and James Hunter. My biggest musical influences, though, are Johnny Cash and Elvis Presley. My mother and grandparents listened to them, so I grew up with that kind of music – a lot of country and rock'n'roll. I could sing many of Cash's songs when I was a little kid. I didn't understand the English lyrics then, but I sang funny alternative words that sounded similar. 
At what age did you start singing and playing guitar? 
My first time on stage was at the Roadrunners Paradise in Finowfurt, Germany, in 2009 with my dad and his band Desperado 5. I was six years old and played a little guitar. My father showed me my first chords and I started to learn the instrument properly when I was 14, teaching myself with the help of YouTube tutorials. I guess one of my first songs was Somewhere Over The Rainbow.
How did you get involved with Randy Richter, owner of Emerald Records?
Axel Praefcke, owner of Lighting Recorders Studio, told me that I should send my tape to Randy and if he liked it, maybe he'd release it – I crossed my fingers and waited for Randy's answer. Randy replied that he really enjoyed it and wanted to release it on vinyl. I was so happy.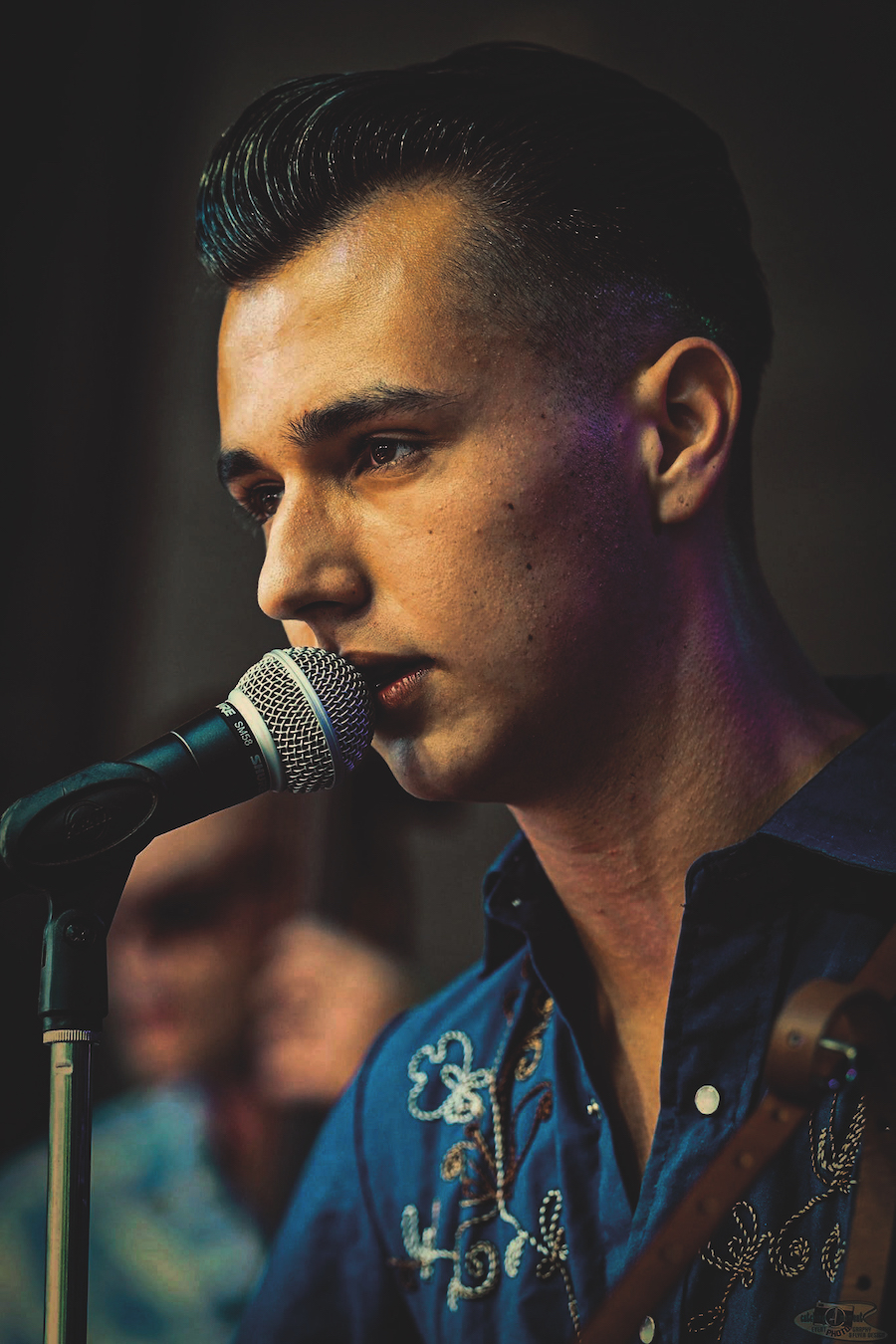 You're a big fan of the teenage sound, in particular Ricky Nelson. What is it about that type of material that you enjoy and which song in the genre has influenced you the most? 
I really idolise Ricky and his music. Every instrument, every break, just everything fits so well into the songs. Lonesome Town, I Will Follow You and Travelin' Man have influenced me the most out of his back catalogue. I've listened to them so many times in a continuous loop. I love that dreamy sound; it gives me a feeling I can't describe. 
Who have you got in your band on the EP? 
It was The Round Up Boys – guitarist Michael 'Humpty Dumpty' Kirscht, Axel Praefcke on drums and Kevin Weber on upright bass. We also had three special guests: Holger Niemeyer on piano, my father Wayne on rhythm guitar and Doc Puky on tenor saxophone. Luckily, The Round Up Boys know the secret to creating an authentic sound. They played exactly as I had imagined – I was really impressed when I listened back to the takes. 
Tell us about cutting the four tracks in the studio… 
They were laid down over a weekend in April at Berlin's Lightning Recorders Studio. It was my first studio experience so we only recorded four songs. Little Miss Tease and Tears Of Misery were cut really quickly –I think we did them in only two or three takes. Down The Road was really hard. We recorded live, so every time we made
a little mistake, we had to start all over again. I stopped counting when we got to 20 takes, but I think we got it in the end with the 23rd! 
Has anyone in the scene given you any particularly valuable advice? 
In 2019, Paul Ansell played a show in Berlin. I went backstage with my father, and had a really good conversation with Paul. He told me that you have to feel the music; it's all about the feeling. I finally understand what he meant by that.