Spotlight: Having Fun With Elvis On Stage
By Vintage Rock | July 19, 2022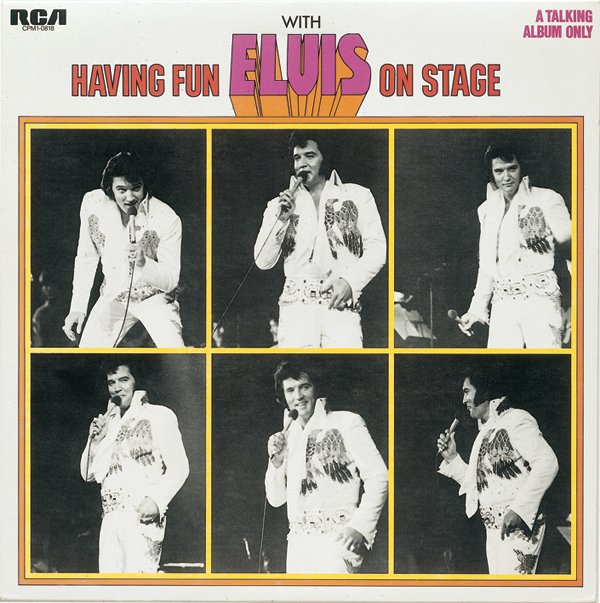 An album made entirely of Elvis's between-song banter and on-stage jokes didn't exactly set his fanbase alight, but the ever-resourceful Colonel was always cooking up new ways to seek out the dollar… By Randy Fox
On 19 August 1974, Elvis Presley opened a two-week run of shows at the Las Vegas Hilton. It was his second engagement of the year in Sin City, coming after a two-week run in January and three national tours in the intervening months. While Elvis's set list had changed little since January, there was something new and significant for fans attending the shows.
Outside the concert hall, the merchandise booths were hawking an exclusive, new Elvis album. "Unavailable in stores!" cried the merchandise sellers as they waved copies of Having Fun With Elvis On Stage. The LP (and 8-track) featured the words "A TALKING ALBUM ONLY" on both the front and back covers, but few fans fully understood the meaning of that odd phrasing.
Once home, fans eagerly played the album only to discover the oddest and most frustrating release of Elvis's career. An album many would later declare one of the worst records of all time – 37 minutes and six seconds of on-stage jokes, off-the-cuff comments and odd anecdotes, without a single song in sight other than small snatches of humming and singing "Well, well, well…" repeatedly.
While Having Fun With Elvis On Stage became the record that launched a thousand snarky reviews, the story behind its recording, compilation and release is a classic example of the machinations and "anything for a buck" philosophy of the man who sold the king – Elvis's manager, Colonel Tom Parker.
From the moment he took control of the King's career in 1955, the Colonel viewed Elvis merchandise as a primary source of profits. Over the next two decades, Elvis's likeness and name appeared on posters, pins, clothing, charm bracelets, perfume, statues, dolls, glassware, games, pillows, lipstick and scores of other items. The Colonel even commissioned "I Hate Elvis" buttons in 1956, capitalising on the inevitable backlash to the wave of Presley-mania sweeping the nation.
By 1974, the Colonel had consolidated Elvis merchandising and licensing in Boxcar Enterprises, an independent corporation expressly designed to "exploit and commercialise Elvis' name, image, picture and likeness" with the Colonel as the majority stockholder (56%) and the remaining stock divided between Elvis and two of the Colonel's loyal, long-term employees. Boxcar was a well-oiled money-making machine. Only one area of merchandising eluded the Colonel's exploitation – records. Or so everyone but the Colonel believed.
After careful examination of Elvis's RCA contract, the Colonel felt confident the record company only held the recording rights to Elvis's singing voice, not his speaking voice. As a result, Boxcar could manufacture and sell Elvis records as long as they did not contain complete songs. The name Boxcar Enterprises was derived from one of the Colonel's favourite sayings, "He could make a hit record in a boxcar", a statement of his belief that it was simply Elvis's voice that sold Elvis records – not the songs, arrangements or production style. With the creation of Boxcar Records, the Colonel would test his theory.
RCA executives surely let out a collective groan upon the Colonel's announcement of his plan to release an Elvis album on his own label. It was far from the first time the Colonel played hardball with the company over a seemingly insignificant loophole in Elvis's contract. Having learned from past conflicts, RCA quickly acquiesced. Since the record label would manufacture the records and tapes for Boxcar, RCA would at least receive a small portion of the income from the Colonel's scheme.
With the business details nailed down, the Colonel dispatched a sound engineer to cull the master tapes of Elvis's live recordings from 1969-1972 in search of bits of dialogue cut from RCA-released live albums. Little care was given to finding the best or most complete excerpts. Several comments and jokes Elvis made in concert were tied to specific songs, and without the music they made little sense. There was also no attempt to sequence the material in a logical order. The only consideration was filling up two sides of an LP.
The result was a strung-together mish-mash of audio, jumping from subject to subject across four years' worth of performances. The individual snippets were not separated into distinct tracks on the record; the only section where a narrative snapped into focus is an almost four-minute sequence on side one of Elvis describing his early career. It was a fascinating moment of personal reflection that would have been a hidden gem in a conventional live album, but sadly its potential was completely lost in a sea of incongruous ephemera.
Throughout Elvis's August-September engagement in Vegas and a September-October tour of the Midwest and Texas, copies of Having Fun With Elvis On Stage sold like proverbial hot cakes. The Colonel's theory that fans would buy any record with Elvis's name on it seemed evident, and the steady sales provided the leverage he needed to enact the final part of his plan.
Elvis's RCA recording contract required him to deliver three completed albums per year. As his personal behaviour and health became unreliable in the 1970s, Elvis's interest in formal recording sessions waned. By October 1974, he had not set foot in a recording studio for 10 months. His first album release of 1974, Good Times, was compiled from material he had recorded at the 1973 sessions at Stax Studios in Memphis; his summer release for the year, Recorded Live On Stage In Memphis, was captured at a March 1974 hometown concert.
RCA still had enough tracks from the Stax sessions to compile one more album, but with no new material forthcoming and since Elvis's winter releases were usually his best-sellers, RCA planned to hold the release of the Stax-derived album until January 1975. With no other material on hand for a fall release, the Colonel 'magnanimously' offered the rights to Boxcar Records' sole release.
With thousands of copies of a new, unnamed album already pre-sold to retailers (as was case for every Elvis album), RCA had no choice but to accept the Colonel's offer, which was a part of the Colonel's plan from the beginning. Not only was the "Talking Album Only" a way to make extra profits for Boxcar Enterprises, but it was also an 'insurance policy' in case no one could tempt Elvis into the studio before the end of the year.
RCA released the album with little enthusiasm near the end of October 1974. Billboard magazine's review reflected the attitude of many retailers. "This one is really for hardcore fans, but there are plenty out there," the anonymous reviewer wrote, concluding with the less-than-enthusiastic assessment, "Interesting idea."
Rock critics were less reserved. Writing in the Rolling Stone Record Guide, Dave Marsh described the album as "the worst by far… bad jokes and about 10,000 requests for a glass of water". Three years later in Elvis's obituary in the The Village Voice, Lester Bangs wrote, "Elvis was perverse; only a true pervert could release something like Having Fun With Elvis On Stage, that album released three or so years back which consisted entirely of between-song onstage patter so redundant it would make both Willy Burroughs and Gert Stein blush." 
Despite the invectives heaped on Having Fun With Elvis On Stage, the album sold respectably, reaching No.130 on the Billboard Top Selling LPs chart and No.9 on Billboard Hot Country LPs listings.
regardless of its critical reputation, the album garnered releases in the UK, Canada, France, New Zealand and South Africa. After Elvis's death, RCA reissued the album in 1979, but eventually allowed it to slip out of print. The Dutch-based Elvis fan club It's Elvis Time reissued the album as a limited-edition LP in 1986, marking the last legal release of Having Fun With Elvis On Stage on vinyl.
After being out of print for many years, and inspiring a variety of bootleg releases and sequels, the Netherlands-based fan club Elvis for Everyone secured the rights to an expanded CD release in 2011. Issued as a limited-edition of 500 copies, the CD featured the original album divided into 30 tracks, several dialogue outtakes drawn from other live recordings, and a 12-page booklet of concert photos and liner notes.
In the decades following its release, the legend of Elvis's "worst album" continued to grow. In the 1991 publication The Worst Rock And Roll Records Of All Time, writers Jimmy Guterman and Owen O'Donnell named it "the worst rock album ever", beating out Lou Reed's Metal Machine Music, a notoriously unlistenable two-record set of grinding industrial noise. Today, a Google search for Having Fun With Elvis On Stage reveals dozens of blogs ranging from complete annotations of each segment to detailed histories and irony-laden "appreciations". 
For many record collectors – even non-Elvis fans – Having Fun With Elvis On Stage is a must-have album. That kind of devotion, whether motivated by love, hate or irony, would have made the Colonel very happy indeed… as long as he was getting his cut of the sales.