Soundtrack Of My Life – Joey Hill
By Vintage Rock | May 10, 2022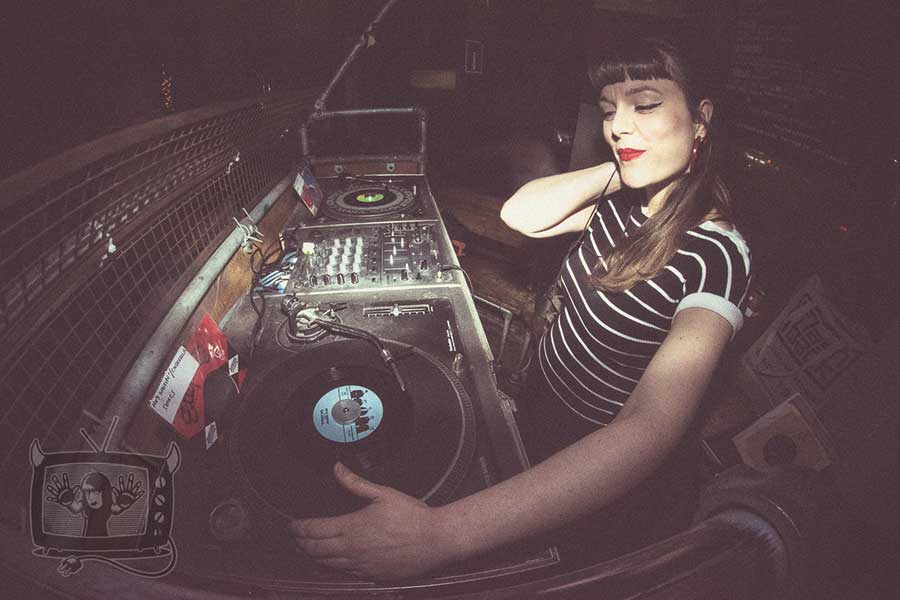 The singer and DJ picks the hits that powered her musical journey from punk to rockabilly… 
I'm having a ball," says Joey Hill. She's been whooping and hollering with London's The Obscuritones for over a decade, releasing three albums along the way. Now, she juggles singing rockabilly with getting her go-go dance moves on with 60s girl gang rockers The Trouble, presenting the Hey! Hey! Hey! Hey! show on Barrelhouse Radio and regular DJ gigs around London. It was her bandmate Bioux, guitarist in The Trouble, who introduced Hill to the joys of vinyl. She bought a record player, started collecting 45s, and dipped her toes into DJ waters by spinning between sets with The Obscuritones. "It's really character building because you're dealing with drunk idiots,"
she says. "It's a great excuse to keep buying more records, go out partying, and meet some fun people."
Buddy Holly –
Everyday,
1957
I've got a very vivid memory of my dad playing Everyday on guitar, sat on my parents' bed. My parents are separated, I don't remember a lot of living with my dad, so it's such a beautiful, sentimental song for me. Me, my dad and my brothers did a little project together – we've only played live once, but we performed that song, so it's really lovely. Me and my brother Matthew used to sing along to Early In The Morning, another good song, in the back of the car, doing all the backing vocals. I'm in love with Buddy Holly.
Blondie –
Denis,
1978
It's actually a cover. Denise, the original, is a doo-wop song by an American group called Randy & The Rainbows. I like female singers who can sound like a little girl one minute and then like a badass woman the next. That's my favourite, that juxtaposition of cuteness and innocence and then the strong, cool side. I still listen to Blondie now and Eat To The Beat is my favourite album. It was hard choosing what track but I gravitated towards Denis because it's just a nice pop song.
No Doubt –
Just A Girl,
1995
I was 13 or 14 when Tragic Kingdom came out. Seeing Gwen Stefani with her Hollywood glamour and the rockabilly look, the red lipstick, the cat eyes, the quiff, and the way she dressed, that was a gateway drug into ska-punk, then 2-Tone as well as traditional Jamaican ska. I started hanging around with a local ska-punk band, then it became apparent that I wanted to be in a band myself. Getting into punk made me realise that it wasn't something other people do; it was something I could do.
The Clash –
Safe European Home,
1978
I'd just finished university and saw an advert, a punk band looking for a female singer, "Must be able to travel." I had an audition, and it transpired the gig was in CBGB's. I'd never sung onstage, so we had an impromptu gig in Croydon at the Cartoon Club and four days later I was flying to New York for the Save CBGB's campaign. The band I joined, the Lost Cherrees, did two nights in a row, it was absolute madness. We did Safe European Home – singing The Clash onstage at CBGB's was something I will always remember.
Imelda May –
Johnny Got A Boom Boom,
2009
One December I said to my dad, "What do you want for Christmas?" He said, "Get me Imelda May's album." I'd never heard of her. That same week I was listening to Radio 2 and this song came on, Johnny Got A Boom Boom: "What the hell is this? This is brilliant!" I really started getting into vintage music and rock'n'roll again off the back of Imelda May. I was looking for a new project and The Obscuritones were advertising on Gumtree looking for a female singer for a rockabilly band. I was like, "I can do rockabilly!"
Johnny Burnette –
Rock Billy Boogie,
1957
After I saw The Obscuritones advert, they sent me the entire setlist. I got my dad to make me a CD and that's when I heard Johnny Burnette for the first time. We still play Rock Billy Boogie with The Obscuritones. We've got a YouTube video that's up to three million views now. Joining The Obscuritones was a massive milestone in my life. Having the audition, it just felt like home when I met them. We were all laughing and, since that day, every time we're together we just laugh the whole time.
The Collins Kids –
Hoy Hoy,
1958
Lorrie Collins is another idol to me. She was so beautiful, her singing voice is amazing as well as pulling out the rockabilly hiccupping. I've got so many happy memories of dancing like a lunatic onstage during Hoy Hoy. It was always the peak of the set, right in the middle where everything would go completely wild. It makes me think of playing in Europe and the Blues Kitchen in London, just a really happy time in my life and it still is. We've been together over 10 years now and it's still the most fun I've ever had.
Camille Howard –
Nasty Man,
1953 [not released until 2017]
After Bioux Hayes had showed me how to DJ, he recommended his friend DJ Sue Grant, so I started listening to her show. She played this song, Nasty Man. I'd been in a long-term relationship, and it had all gone t*ts up, so listening to Camille Howard sing, "Get out of my house, you nasty man," I was like,"Yeah! Get out of my house!" I literally rose out of my chair, it empowered me to say, "I want to be a DJ, and I'm going to kick this man out of my house and start this new life," which is what happened.
Rupert's People –
Dream On My Mind,
1967
"Find happiness where once was sorrow" is one of the lyrics and there's something about this song, it's melancholic but also euphoric. Coming out of a long-term relationship, my therapy was listening to DJ Sue's show. I'd be going to work every day trying not to cry, listening to the amazing music she plays. Following the breakup, I was going out go-go dancing to hone my skills for The Trouble and I got more into 60s styling, beehives etc. Rupert's People reminds me of that time.
Little Richard –
Hey-Hey-Hey-Hey,
1958
Little Richard is the epitome of everything I love – wild, screaming vocals, thumping keys, rhythm and blues and rock'n'roll. On a Venn diagram of my radio show, I imagine that's the epicentre and everything else is coming off Little Richard. It's important in the soundtrack to my life. A few years ago, my personal ambition was to be a paid DJ and that's what's happened. I've got a little way to go before it will pay all my bills but I'm halfway there. I'm doing what I wanted to do and having a great time.