Collecting Little Richard
By Vintage Rock | March 1, 2022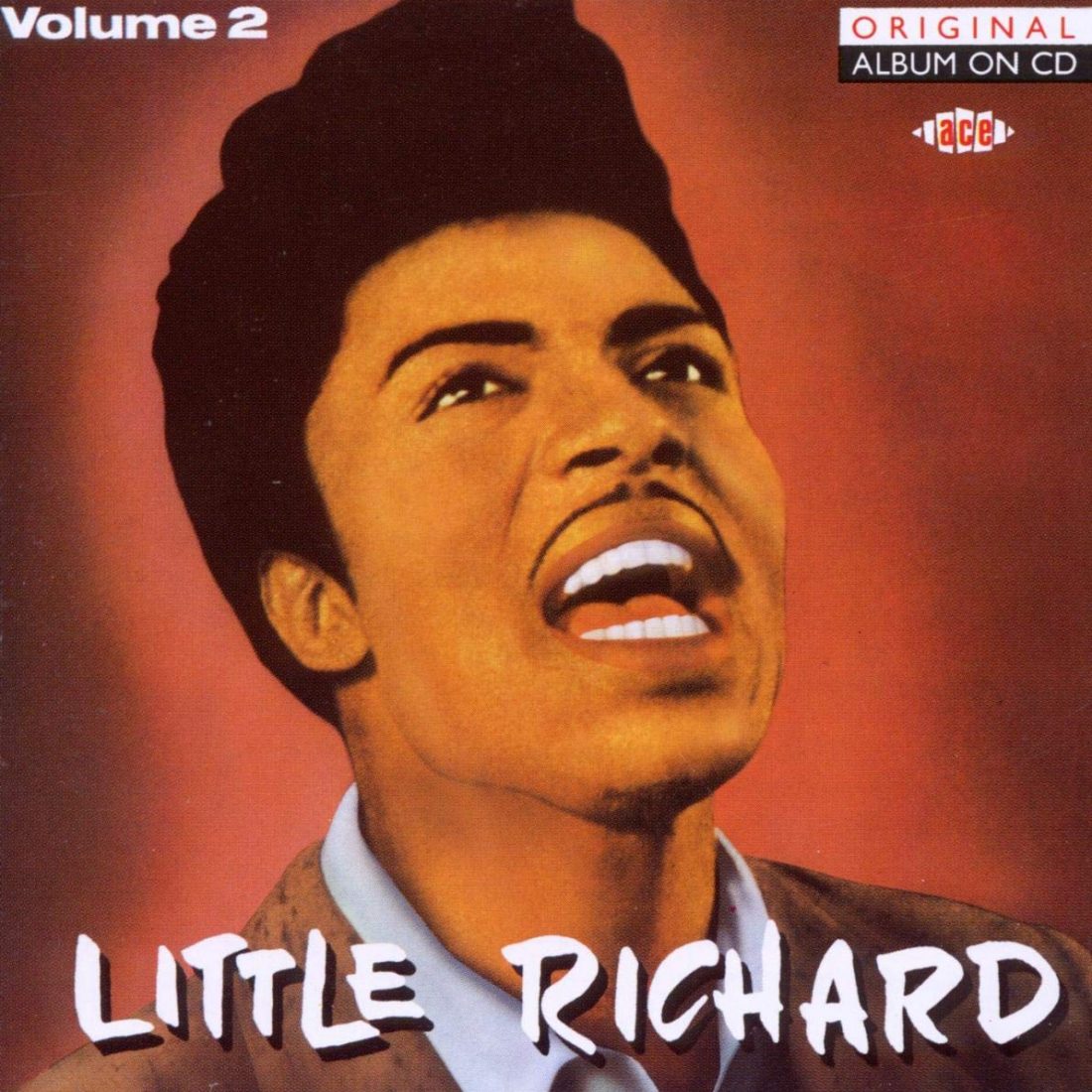 From early signs of greatness and dynamite cuts on Specialty, via two handsome box sets – and even a rare Northern Soul classic – certain Little Richard records are essential for the full peachy picture. We plunder the crates…  By Rik Flynn
With a gargantuan voice and a similarly-sized personality, it didn't take Little Richard long to establish himself as a world-class performer capable of uniting fans of all colours – and shifting a serious amount of records. Here, we uncover Richard's humble beginnings on wax, serving under Billy Wright; we revisit his run of firecracker hits on Specialty, highlight a promo that greatly pleasured the North of England, and survey some of his most cherished long-players. All in all, Little Richard's technicolour catalogue offers the rare, the intriguing… and plenty of affordable gems.
Taxi Blues/Every Hour, RCA (1951)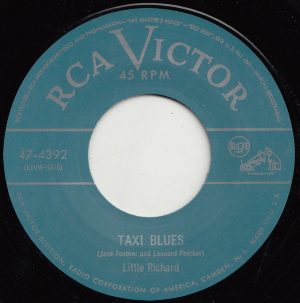 Perhaps the apogee for collectors of Little Richard vinyl, this, his debut release, recorded with the Billy Wright Orchestra, unleashes an effervescent – if a little restrained – '50s R&B sound that immediately revealed his potential. The flip, blues ballad Every Hour, made the regional listings in Atlanta and Macon and ensured him a second crack of the whip. As with all of Richard's early RCA releases (Get Rich Quick, Ain't Nothin' Happenin', I Brought It All On Myself), the few that pop up sell for biggish sums – a promo of Taxi Blues fetched over £400 in 2014, while the official 45 can be snapped up for £100-150. 
Tutti Frutti/I'm Just A Lonely Guy, Specialty (1955)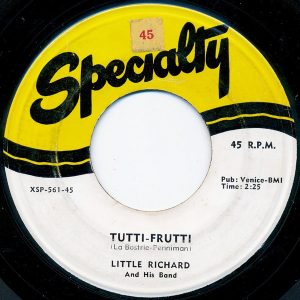 When surveying Richard's seminal work cut between 1955 and 1957 under the Specialty banner, there is much to be celebrated, perhaps none more so than his debut waxing. With the original unrepeatable – highly explicit – lyrics tempered by songwriter Dorothy LaBostrie for the mainstream palate, this after-hours romp was reworked in just a few takes and became Richard's first side to make the US pop listings. It also featured in the Alan Freed movie Don't Knock The Rock. Clean, first-press 10″ 78s and 7″ 45s sell for around £30-50 (and above).
Long Tall Sally/Slippin' And Slidin' (Peepin' And Hidin'), Specialty (1957)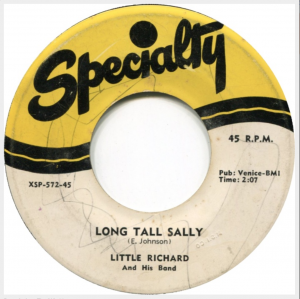 Yet more scarcely-hidden innuendo uttered atop pounding rock-laced rhythm and blues, this proved irresistible to the masses and gave Richard both his first spell at the top of the R&B charts and his inaugural Top 10 in the pop listings (it also left John Lennon stuck for words). Those on a budget can easily find copies for under a fiver, while rarer fare includes the UK London first pressing with black and gold label and tri-centre (£50-100 depending on condition), the original Specialty 78 (£30-40), the Canadian Regency version (£30) and the Belgian release, issued on Ronnex (£70).
Good Golly, Miss Molly/Hey-Hey-Hey-Hey, Specialty (1958)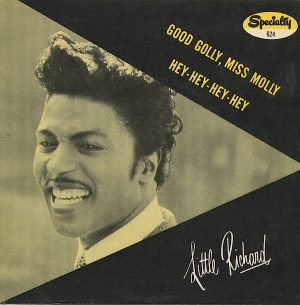 While all of Little Richard's cherished singles cut with Cosimo Matassa for Art Rupe's Specialty label are essential for any fully rounded rock'n'roll/rhythm and blues vinyl collection, Good Golly, Miss Molly is possibly the definitive cut to be harvested from those dynamite sessions. Penned by the team behind many of Richard's early hits, John Marascalco and producer Robert 'Bumps' Blackwell, this stormer was first released by vocal group The Valiants before Richard took it up the charts. Find a mint Specialty first pressing and expect to pay around £40-50.
Hurry Sundown/I Don't Want To Discuss It, Columbia promo (1967)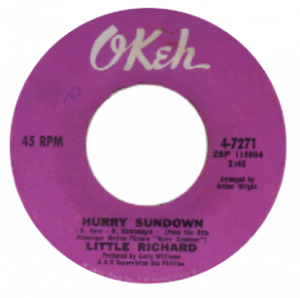 Drama-heavy ballad Hurry Sundown is a soulful wonder (co-written by Hugo Montenegro, famous for his cover of The Good, The Bad And The Ugly theme), but is not the main draw here: the value of this UK-issued rarity is inflated by its fast-paced B-side, a treasure that found its way into the heralded sphere of heady, dance-friendly Northern Soul classics, spun in scene meccas such as the Twisted Wheel. This Columbia promo – with distinctive green label – can change hands for up to £300, although around £20-40 should secure a more widely-available pressing.
Various EPS, Specialty/London (1958)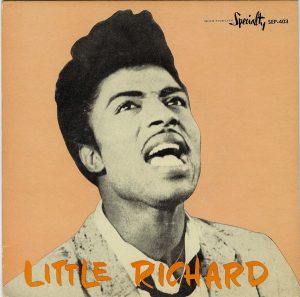 A neat trio of 1958 Specialty 4-track EPs – ostensibly the Little Richard LP split into three – pique collectors' interest on a regular basis. With catalogue numbers #403 (Boo Hoo Hoo Hoo), #404 (Ooh My Soul) and #405 (Lucille), this aesthetically pleasing triumvirate of delectable rarities come in three sleeve colours – green, red and orange. Copies vary in price, but can sell for up to £200. Also worthy of attention are the first pressings of the Stars And Hits No. 4 EP (London), or any of the three volumes of the Little Richard And His Band 7″ EPs, also on London (lead tracks She's Got It, Rip It Up and Lucille).
Here's Little Richard, Specialty (1957)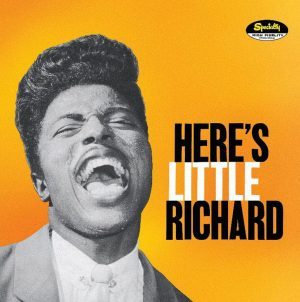 Deserving of its place amidst the finest albums fashioned by human hand, Little Richard's debut – and most successful – album is an absolute firecracker, defined by its boogie-woogie grooves and searing falsetto. Though easy to find on a budget, certain issues are high on the collector's lists; US and UK (London) mono first pressings with black and gold label can go for silly money (one sold in 2014 for over £1000). Reissues include the 2000 edition from Mobile Fidelity Soundlab, which scores around £80 if still sealed, and the 2012 Record Store Day reissue on red vinyl is also well worth a look.
Little Richard, Specialty (1958)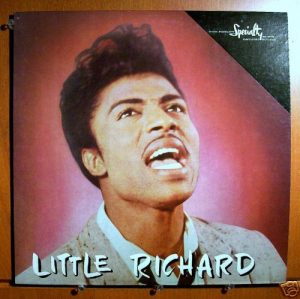 One side kicks off with the pumping  piano and bursts of brass that flavour frenetic rock'n'roll mainstay Keep A-Knockin', the other with incendiary classic Good Golly, Miss Molly. Elsewhere there's Heeby-Jeebies, Ooh My Soul, The Girl Can't Help It, Lucille and a rollicking R&B mover in the shape of By The Light Of The Silvery Moon. The Sheik Of Shriek's explosive sophomore album simply must take pride of place in any self-respecting rocker's haul. The ultimate vinyl copy is the US mono first pressing with gold and black labels. While one went for over £600 in 2008, clean copies can be snagged for far less.
The Specialty Sessions, Ace (1989)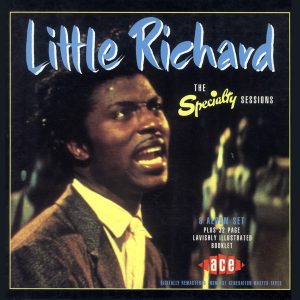 The first of our excellent vinyl box sets comes from the ever-reliable folk at Ace Records who, in 1989, assembled eight LPs for their collection of Specialty recordings 1955-1964, amassing New Orleans and LA studio tracks, radio sessions, demos and three live items cut at the Olympia Theatre in Paris. Lovingly-titled Wop Bop A Loo Bop A Lop Bam Boom, Peepin' And a' Hidin', Duck Back In The Alley, I'm Gonna Rock It Up!, Can't Believe You Wanna Leave, Drinkin' Gin You Can't Come In, He Knows How To Rock and Annie's Back!, each album has a 32-page booklet and new sleeve, all in a handsome box (around £50). 
Mono Box: The Complete Specialty And Vee-Jay Albums, UMC (2016)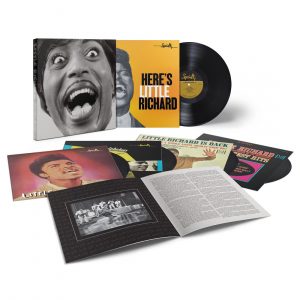 Fans who just want a decent overview of the early years on vinyl should track down Universal's ultra-smart Specialty and Vee-Jay boxset. This remastered set features his first five secular LPs – Here's Little Richard (1957), Little Richard (1958), The Fabulous Little Richard (1959), Little Richard Is Back (1964) and His Greatest Hits (1965). Presented in a sleeve jacket with slipcase, this box also features a 16-page booklet with liner notes from our very own Bill Dahl, as well as some wonderful photos. It's not too pricey, either, at £110.