Buddy Holly – 10 of the best
By Vintage Rock | February 1, 2022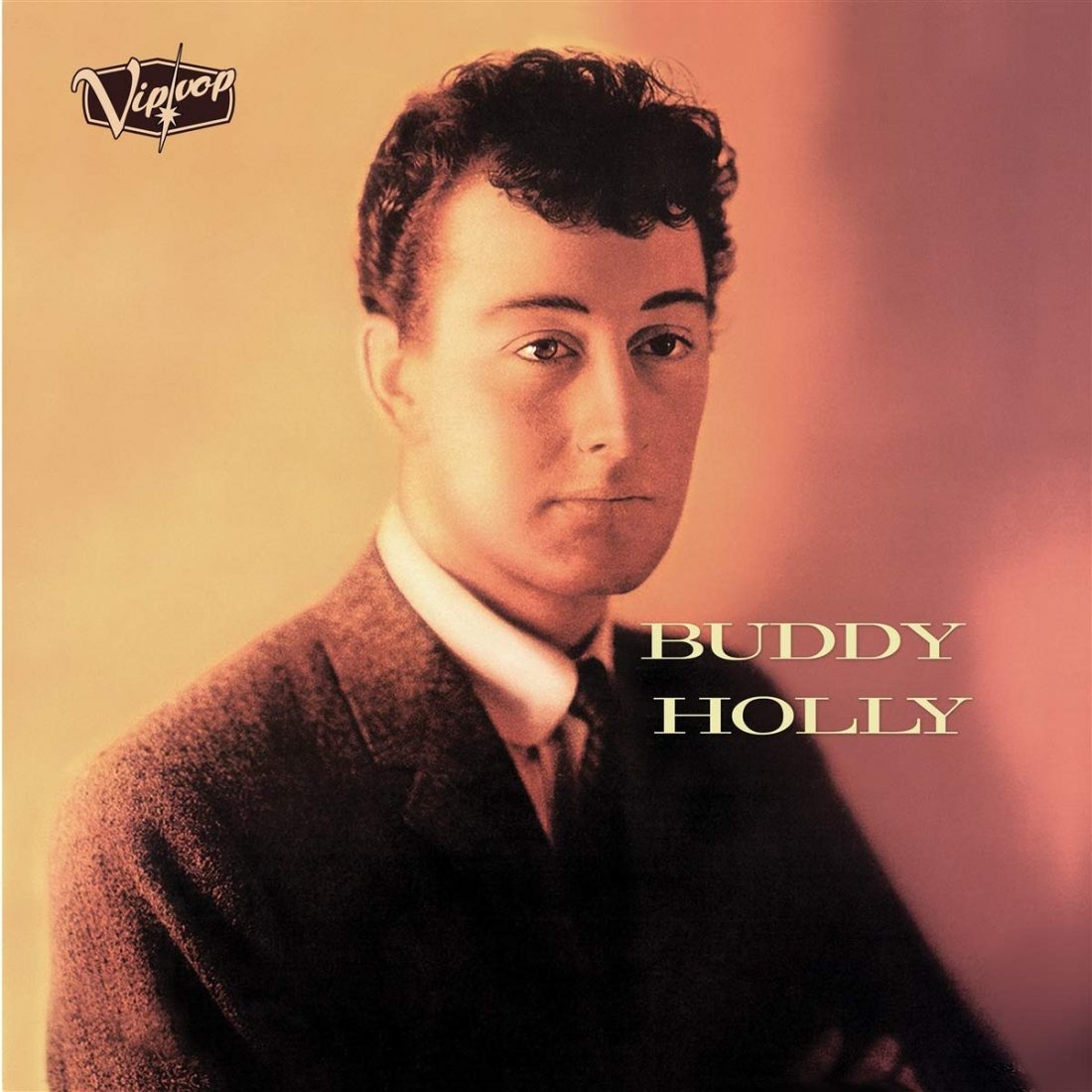 Just how good was Buddy Holly? Vintage Rock digs deep into Holly history, from apartment tapes to the biggest hits, to present 10 cracking tunes every rock'n'roll fan should know…
As a singer, songwriter, guitarist and record producer, Buddy Holly had few equals during the 50s. His professional recording career encompassed slightly more than three years, but he left behind almost 200 recordings made during that short span. Adding various home and demo recordings to that total increases the incredibly diverse and prolific legacy that Holly left behind.
Narrowing Holly's vast catalogue to a definitive 'Top 10' list is a challenging task bound to spark arguments and fierce defences of favourites not included. Rather than proclaim these "Buddy Holly's Best," view them as 10 indisputable examples of musical genius from one of rock'n'roll's greatest talents…
10 Learning The Game
In the autumn of 1958, big changes were underway for Holly's career as he split with The Crickets and producer Norman Petty. Holly's departure from The Crickets was amicable, but that was not the case with Petty. After an argument in November over money and other issues, Holly ended his business relationship with Petty and began a legal battle to recover royalty payments from his former producer. 
Holly and his new bride, Maria Elena, were living in an apartment in the Greenwich Village neighbourhood of New York City, and Holly spent most of December 1958 working on new songs. Before the split with Petty, Holly purchased a portable Ampex 401A tape recorder from Petty. Holly used it during this winter break from the road to record new songs and covers of some of his favourite rock'n'roll tunes. The so-called 'Apartment Tapes' are some of his finest solo recordings, demonstrating Holly's maturity as a songwriter and performer.
Learning The Game was the final original composition recorded by Holly. It was cut shortly before Holly and Maria Elena travelled to Texas for the Christmas holidays, and only six weeks before his death. This ballad of heartbreak, resignation and lessons learned is a powerful example of Holly's growing sophistication as a songwriter.
It is a bittersweet exemplar of the songs Holly surely would have written and recorded if history had taken a different course. A heavily overdubbed version of Learning The Game, orchestrated by Norman Petty, made its first appearance on the 1960 LP, The Buddy Holly Story, Volume II. 
The original, undubbed recording remained hidden away until its release on the 1979 UK boxset, The Complete Buddy Holly. These tracks are all on the Down The Line: Rarities boxset.
9 Rock Around With Ollie Vee
Between January and November 1956, Buddy Holly made three trips to Nashville, Tennessee to record for Decca Records at Owen Bradley's studio. Holly was given a fairly free hand in the studio regarding both material and arrangements. He recorded a number of rockers, capturing the same rockabilly excitement of Elvis Presley's Sun recordings. Therein lay the problem; Holly was searching for his voice — a process that would take several months of rehearsing and hours in recording studios — a luxury Decca was not willing to pay for. Holly cut 12 masters for Decca, but only two singles were released before he was dropped from the label.
At Holly's second Nashville session, in July 1956, Holly cut Rock Around With Ollie Vee, written by Sonny Curtis. The song's titular character was inspired by Ollie Vee Robinson, the wife of a black labourer that worked for Curtis' father on the family's farm. Curtis had always loved the name and combined it with the title of Bill Haley's Rock Around The Clock to create the lyrical hook of one of Holly's finest early recordings.
Inexplicably, the recording was rejected by Decca executive Paul Cohen, who refused to release any of the tracks from Holly's July session. Holly re-recorded the song at his final Decca session in November 1956, this time with ace session man Grady Martin playing the lead. The Sonny Curtis version made its debut on the That'll Be The Day LP, released by Decca after Holly scored his first hit for Brunswick Records.
8 Words Of Love
In 1957 multi-track recording (the ability to record multiple "tracks" featuring different instruments or vocals) was still in its infancy. Although a few multi-track recorders were available, Norman Petty was still working with single-track machines in his studio in Clovis, New Mexico, making overdubbing a complicated procedure involving recording one take of a song, then playing that recording through studio speakers while musicians added instrumental parts or vocals and a second machine captured the finished product. It was a complex and tedious process requiring perfect timing. 
Despite the challenges, Buddy Holly was determined to cut Words Of Love with multiple guitar and vocal parts – Petty and The Crickets spent more than six hours working on a song that was less than two minutes in running time. The final result paid off. It was an impressive technical achievement featuring Holly singing close harmony with himself as well as Holly on both rhythm and lead guitar. And it was also an artistic achievement, creating a ethereal romantic ballad that showcased Holly's growing songwriting talent while also producing one of the most unique and unusual songs in Holly's repertoire.
When Brunswick and Coral Records head Bob Thiele received the master in New York, he was so impressed that he suggested signing Holly as a "solo" artist to Brunswick's mother label, Coral Records. Words Of Love was released on Coral just three weeks after The Crickets made their debut with That'll Be The Day on Brunswick. While Holly's first outing for Coral failed to chart, a cover version by the doo wop group The Diamonds was rushed out on Mercury Records and scored a No.13 pop hit.
7 Not Fade Away
Not Fade Away was recorded just two days after the release of That'll Be The Day and demonstrated that the Crickets weren't waiting for success to find them. Instead, they were forging ahead with every recording, both creatively and technically. 
Built around a "Bo Diddley beat," the driving rhythm was produced by Jerry Allison drumming on a cardboard box rather than a drum kit and the vocal "bop-bops" were overdubbed by Niki Sullivan and Holly. 
This unusual arrangement softened the volume of the backbeat while losing none of its excitement, allowing Holly's vocals and lead guitar work to soar above the mix. Not Fade Away was another example of the progress that Holly had made as artist in just a few months. At his final session for Decca six months earlier, Holly was still under the spell of Elvis Presley, but with Not Fade Away, Holly's phrasing and his emphasis on specific syllables blossomed, creating the trademark Buddy Holly sound.
Released in October 1957 as the B-side of The Crickets' second single, Not Fade Away did not chart, but it was included on the album The "Chirping" Crickets.
In January 1964, The Rolling Stones recorded a version of Not Fade Away that became their third UK single and their first release in the US. It reached No.3 in the UK and No.48 in the US, ensuring its place as a rock'n'roll classic. 
Now recognised as one of Holly's greatest and most beloved recordings, the song was ranked No.107 on Rolling Stone's list of The 500 Greatest Songs of All Time in 2004.
6 Oh, Boy!
There were never set rules of what constituted a "Crickets" record and a "Buddy Holly" record. The distinction was left up to label head Bob Thiele: Norman Petty sent him finished masters and Thiele decided which recordings were to be released on Brunswick (by The Crickets) and which were to be on Coral (by Buddy Holly). 
Thiele eventually decided that recordings with backing vocals, usually by the vocal group The Picks, were credited to The Crickets, and recordings with only Holly singing were solo records. Since The Picks' vocals were often overdubbed later, without The Crickets' involvement, the band often did not know which label their recordings would appear on.
That was the case for Oh, Boy!, credited to The Crickets, the hot-rocking number was written by Sonny West and Bill Tilghman. West was a rockabilly singer who had recorded a thinly veiled re-write of Warren Smith's Rock'n'Roll Ruby entitled Rock-Ola Ruby for Norman Petty's Nor-Va-Jak label in the summer of 1956. Fortunately, West displayed far more originality in penning Oh, Boy! Holly heard a demo of the song and decided to cut his own version. As Tilghman later recalled: "Norman called us. He wanted us to come over to Clovis. He played us Buddy's version of Oh, Boy! Needless to say, it was fantastic — kind of put us both on cloud nine."
Oh, Boy! is one of Holly's finest rockers and a perfect example of the energy Holly captured in the studio, driven by Crickets drummer Jerry Allison's back beat. Released towards the end of 1957, the single shot to No.10 on the Billboard Top 100 and hit No.3 on the UK chart, bringing in a steady stream of royalties for West and Tilghman for decades.
5 It's So Easy!
The Crickets were on the road for most of March and April 1958, and returned to Clovis in May where they cut the power-packed rocker It's So Easy! The song features an unusual melodic pattern with each verse feeding directly into the chorus in a manner later copied by The Beatles for such songs as Tell Me Why and When I Get Home. It also features some excellent singing as Holly adds excitement to his vocals with perfectly placed growls on key lines of the song.
For the session, Holly added guitarist Tommy Allsup to the line-up. Five years older than Holly, Allsup was already a veteran musician with several years of experience playing with Johnnie Lee Wills (the brother of Western swing legend Bob Wills), and also leading his own Western swing band, the Southernaires. 
In April 1958, Allsup moved to Clovis to work as a session musician in Norman Petty's studio. After meeting Holly, the pair hit it off both personally and musically and Allsup joined The Crickets in the studio and on the road as an unofficial member. 
While Allsup's guitar playing was similar to Holly's, he provided fresh elements to the mix, immediately apparent on the classic lead guitar line he laid down for this rocker. 
Released in September 1958, It's So Easy! inexplicably failed to chart, despite an appearance on the TV programme American Bandstand in October 1958 where Holly lip-synched It's So Easy! and his next solo release Heartbeat. Shortly after the release of It's So Easy!, Holly announced his decision to leave The Crickets, making it the last single released by the group to feature Buddy.
4 Maybe Baby
Maybe Baby, certainly one of Buddy Holly's greatest songs, was actually co-written with his mother. Ella Holley was a diehard country music fan and part-time songwriter. While most of her songs were too serious for her son's tastes, a few lines from an unfinished song became the inspiration for this classic rocker. Ella insisted her son take full credit and The Crickets cut a half-hearted attempt of the song at a 12 March 1957 session in Norman Petty's studio. The first version featured a much slower tempo and goofy and ineffective backup vocals, weighing down the song's catchy lyrics like an anchor.
Unsatisfied with the recording, Holly continued to play with the arrangement, upping the tempo. In September 1957, he gave it another try at a make-shift session in the Officers Club Lounge at Tinker US Air Force Base in Oklahoma City while The Crickets were on tour. The session had been organised by Norman Petty in order to capture new songs for The Crickets' first album which Brunswick was eager to release.
First single on The "Chirping" Crickets album in November 1957, Brunswick also issued the song as the Crickets third single the next month. The single scored No.17 on the Billboard Top 100 in March 1958. That same month Holly performed Maybe Baby as part of his set on his first and only UK tour. He also performed the song live on the 25 March 1958 episode of the BBC's Off The Record TV programme. With that extra promotion, Maybe Baby hit No.4 on the British singles chart and The "Chirping" Crickets topped out at No.5 on the UK albums chart. The original version of Maybe Baby eventually surfaced on the 1983 LP For the First Time Anywhere.
3 Rave On
One of Buddy Holly's most exciting and dynamic records, Rave On was written by Sonny West and Bill Tilghman (the same composers of Oh, Boy!). West recorded his Rave On! in November 1957 at Norman Petty's studio and the title exclamation was inspired by the chorus of Carl Perkins' rockabilly anthem Dixie Fried. Petty was able to sell the master to Jerry Wexler at Atlantic Records and West's version was released in January 1958 on Atlantic, one of only a handful of rockabilly records released on the renowned R&B label. 
While West's version was squarely in the rockabilly camp, Holly's recording transcends its rockabilly roots in a seamless joining of country, R&B and pop music — in other words, pure rock'n'roll. 
Recorded in New York City at the famous Bell Sound Studio with Coral Records head Bob Thiele producing, it demonstrated Holly's magic wasn't the sole province of Norman Petty and his studio. 
Opening with an amazing transmogrification of the word "well" into a six syllable creature of rock'n'roll beauty ("A-weh-uh-heh-uh-ell…"), Holly delivers one minute and 47 seconds of rock'n'roll transcendent excitement, featuring wonderful interplay between Norman Petty's piano, Jerry Allison's drums and Joe Mauldin's bass.
Originally released on The Buddy Holly LP in March 1958, Coral also released it as a single one month later. Rave On reached No.37 on the Billboard Top 100 and scored a No.5 hit in the UK as well as becoming one of his most enduring songs and a rock'n'roll anthem for generations to come.
2 Peggy Sue
Peggy Sue is a masterpiece of rock'n'roll minimalism with just a simple arrangement of drums, guitar and vocals. In less than two and a half minutes, Buddy Holly created rock'n'roll pyrotechnics that have not faded one iota in their power to dazzle listeners and entrance music lovers across six decades.
Holly originally wrote the song as Cindy Lou, using the name of his niece for the title character. Jerry Allison happened to stop by Holly's house in Lubbock just as he was finishing the song. Allison immediately suggested a name change to Peggy Sue in honour of his girlfriend (and future wife), and the change fit perfectly with the song's plea to its "pretty, pretty, pretty, pretty" object of affection.
To achieve the oddly arresting echo-laden, in-and-out backbeat, Allison set up his drums in a separate room outside the studio while Norman Petty flicked the echo chamber switch on his control board up and down in time with the beat. Meanwhile, Holly sang and played the down stroke guitar rhythm while Niki Sullivan stood ready to flick the switch on Holly's Stratocaster for the short instrumental lead.
Released in late September 1957 as Holly's second "solo" single for Coral Records. A steady climber on the charts, Peggy Sue entered the US Top 10 by the end of December, eventually topping out at No.3 and at No.6 in the UK. Although the single did not top the charts, its strength as a continuing seller proved formidable, eventually selling more than five million copies worldwide.
Initially, only Allison and Petty were listed as the song's authors. At Allison's insistence, Holly was credited as a co-writer after his death and signed over his rights to the Holly estate.
1 That'll Be The Day
Buddy Holly's first and greatest hit, That'll Be The Day, originated with another pop culture icon, John Wayne. The star of the 1956 John Ford-directed Western epic The Searchers, Wayne portrayed Ethan Edwards, a hard and bitter man who embarks on a multi-year quest to find his niece after she is kidnapped by hostile Indians. Throughout the film, Wayne uses the phrase "That'll be the day." Holly and the rest of The Crickets loved the film, and the phrase became a joking smart-ass response for the group, along with inspiring Holly and Jerry Allison to write the song.
On 22 July 1956, Holly, Allison, Sonny Curtis and Don Guess cut the song at Owen Bradley's studio during Holly's second Nashville recording session. Whatever promise the song had as a future hit was unrecognisable. Holly's vocal style is still in thrall to the Elvis rockabilly template and he sings the lyrics much too high for his range. The beat is stiff and lacks the enticing swing of later versions, and the echo effects sound like they were applied with a trowel. The end result was a pale imitation of Gene Vincent's recently released Be-Bop-A-Lula. There's little surprise that Decca head Paul Cohen deemed the track unreleasable.
After Holly's contract with Decca Records expired on 26 January 1957, both he and Allison still believed in the hit potential of That'll Be The Day. However, Holly's contract with Decca stipulated he could not re-record any of the material he recorded for Decca for a period of five years. A call from Holly to Paul Cohen in late January proved fruitless in obtaining permission to re-record the song, so Holly proceeded anyway.
Throughout the last part of January and into February 1957, Holly, Allison and bass player Larry Welborn refined the arrangement of the tune. By the last week of February, Holly was ready, and the assembled group headed for Norman Petty's studio in Clovis, New Mexico. The session took several hours as Holly, Petty and the band strived to capture the perfect take.
Although Holly had intended it as a demo, Petty felt it was strong enough to sell as is and sent a dub to his friend Murray Deutch at Peer-Southern Publishing in New York. Murray pitched it to several record labels with no success until he reached Bob Thiele at Coral Records, coincidentally a subsidiary label of Decca. Thiele loved the song but faced opposition from his boss, until he worked out a deal to release the song on Brunswick, a subsidiary of Coral which was a dumping ground for recordings the parent label had no faith in.
Released by Brunswick on 27 May 1957, That'll Be The Day was a slow-burner, taking several weeks before DJs in Buffalo, New York and Philadelphia began spinning it. Soon the record's popularity spread across the country. The single entered Billboard Top 100 chart in early August and hit No.1 Pop and No.2 R&B in September while achieving the No.1 spot in the UK for three weeks in November 1957, selling over a million copies in 1957.
The group name The Crickets had been chosen in hopes of making an end run around the recording restrictions in Holly's Decca contract, but Decca wasn't fooled and quickly threatened legal action. Of course, the powers at Decca soon realised that because Holly signed with a sub-subsidiary label they would basically be suing themselves. While happenstance ended up protecting Holly from the full force of legal repercussions, Decca extracted spiteful revenge upon Holly by forcing him to forfeit of any royalties from future releases the original Decca recording of That'll Be The Day in trade for a full release from the requirements of his old contract.
Over the last six decades, That'll Be The Day has remained one of Holly's all-time greatest sellers and was inducted into the Grammy Hall Of Fame in 1998. In 2005, it was placed in the National Recording Registry, the list of sound recordings that are "culturally, historically, or aesthetically important, and/or inform or reflect life in the United States." 
That'll Be The Day was the culmination of more than a year of hard work, trying out new ideas as Holly searched for his musical voice. The end result moved beyond rockabilly and into Holly's own unique vision of rock'n'roll with irresistible pop appeal, which continues to influence generations of musicians.