Issue 55 of Vintage Rock is on sale now!
By Vintage Rock | January 26, 2022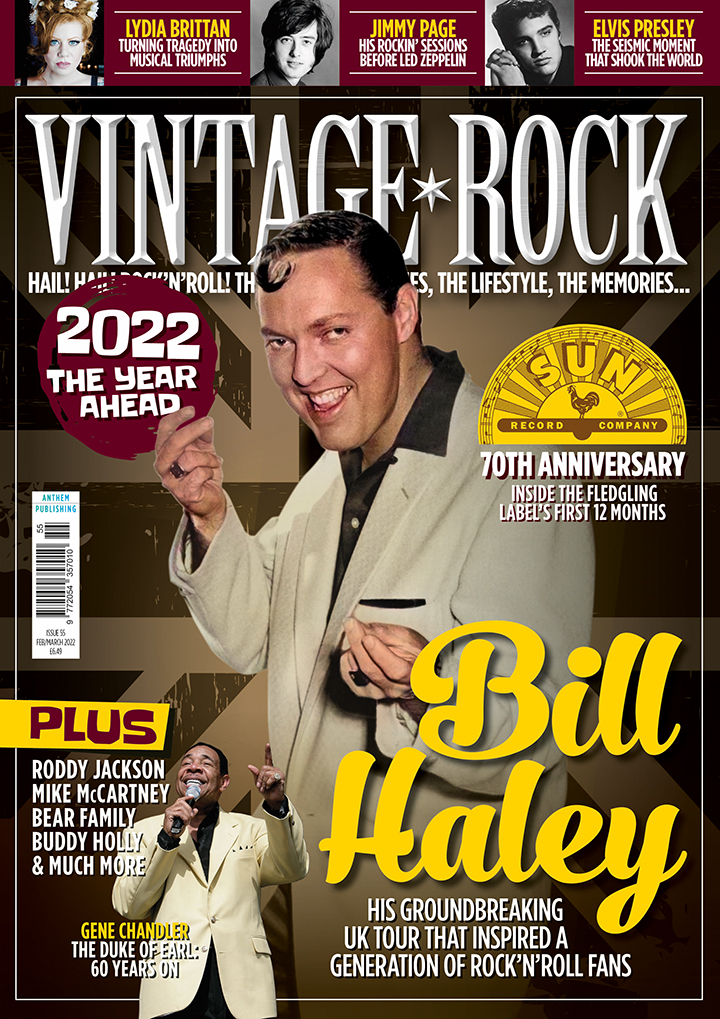 In the latest Vintage Rock we turn back the clock 65 years to the big bang of UK rock'n'roll when Bill Haley thrilled the nation's teenagers in 1957 as the first big-name US star to tour these shores.
We also celebrate the 70th anniversary of the formation of Sun Records and take a glimpse at the seminal label's first 12 months as it established a name for itself. The King makes an appearance this issue via an extract from Gary Parker's superb new book The Sonic Swagger Of Elvis Presley and we catch up with Nashville vocal powerhouse Lydia Brittan who is spreading the word about the transformative power of music.
New columnist Graham Fenton makes his Vintage Rock debut and we also meet Mike McCartney who gives us a flavour of what it was like witnessing brother Paul create timeless hits with John Lennon in his own front room.
We take a look at a pre-Led Zeppelin Jimmy Page's career as a prolific session musician as well as rockabilly icon Roddy Jackson and catch up with Bear Family's CEO Detlev Hoegen to discover just what it takes to run the world's most influential reissue record label.
Rik Flynn gazes into his crystal ball to preview the live shows, festivals and new albums for the forthcoming year and we also profile Gene Chandler 60 years after Duke Of Earl sealed his status as a doo-wop legend.
Our packed reviews section includes Elvis, Dorsey Burnette, Big Mama Thornton and Eddie Fontaine.

Order Vintage Rock issue 55 online
Get the magazine delivered direct to your door by ordering your copy of Vintage Rock issue 55 directly from us today for just £7.49 (inc. P&P) here.
Download the digital edition
Get the digital edition from Pocketmags. Or find the new issue in the Vintage Rock app.
Not downloaded the free Vintage Rock app yet? Find out more about the app here
Find Vintage Rock issue 55 in stores
Available from WH Smith High Street, selected WHS Travel, Independents and Easons – priced £6.49.. Use our handy Store Locator to find your nearest Vintage Rock stockists.
Subscribe to Vintage Rock and save!
Subscribe to Vintage Rock Plus today and get this issue for only £3.99, plus all our other fantastic subscriber benefits including the FREE digital issue archive, savings on the entire Vintage Rock shop plus the free monthly e-newsletter.