Review: Elvis Presley Summer Festival 1970 – The Rehearsals
By Vintage Rock | April 6, 2021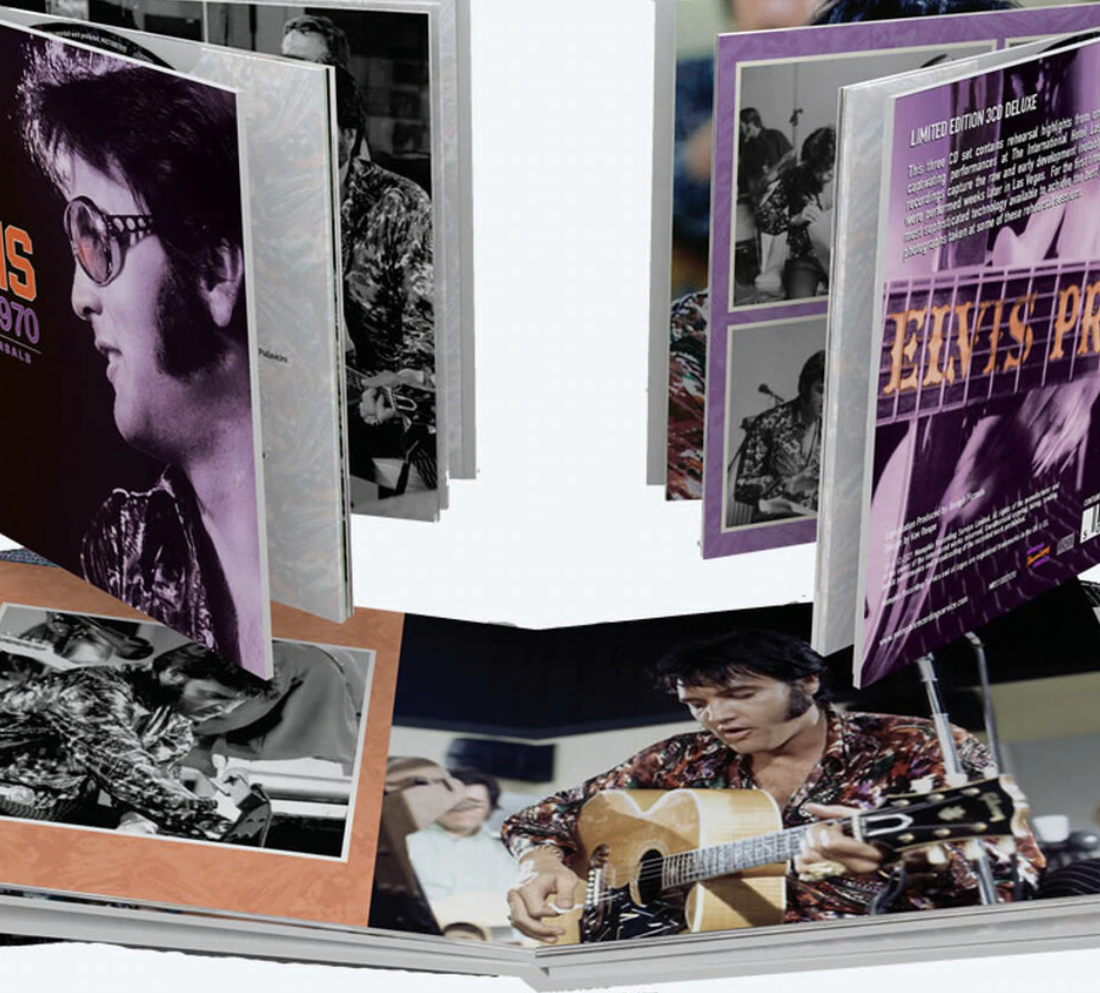 (Memphis Recording Service)
Memphis Recording Service really walk that extra mile (in their shoes) when creating these lavish Elvis packages, and this bumper collection positively creaks with the love and attention to detail that goes into all their releases. These recordings from 1970 capture the rehearsals that led to the well-known series of performances in August of the same year at the International Hotel in Las Vegas.
That period was featured at length in the Denis Sanders documentary movie Elvis: That's The Way It Is, but this collection adds a lot more background detail about the huge amount of preparation that went into those iconic live shows.
Also released on CD, this vinyl incarnation is even more stunning, with three LPs nestling within a full-colour gatefold sleeve. The limitations of the album do, however, result in the tracklisting being trimmed down slightly. These sessions were recorded over four hot Los Angeles days in July at both RCA Sound Studios in Hollywood and the MGM Sound Stage 1 in Culver City, and this collection features all of the 24 July recordings at RCA and selected tracks from the 15 July and 29 July sessions at MGM.
For Elvis fans, this represents the early genesis of songs that he would go on to slay in Las Vegas, including Suspicious Minds, I Just Can't Help Believin' and The Wonder Of You.
It's fantastic to hear all of these songs taking shape and there are even test runs of tunes at a different tempo, such as a faster version of the classic tearjerker Don't Cry Daddy.
It is fascinating to hear Elvis begin to work his way around tracks such as Sweet Caroline, Bridge Over Troubled Water and Something from the (then) hot young songwriters of the 60s, but it's also refreshing to witness comparatively less well-known songs such as I Washed My Hands In Muddy Water, Heart Of Rome and Stranger In My Own Home Town getting an alternative airing.
Often, these collections of alternate tracks attract only the true completists, who want every sound Presley ever made on tape, but this triple album really illustrates the King's development as he moved into a new era of live performances.
On CD, this makes a desirable purchase, but as a limited vinyl pressing it is damn near essential.
Craig Brackenridge