Live review: Rockin' Race Jamboree
By Vintage Rock | July 4, 2020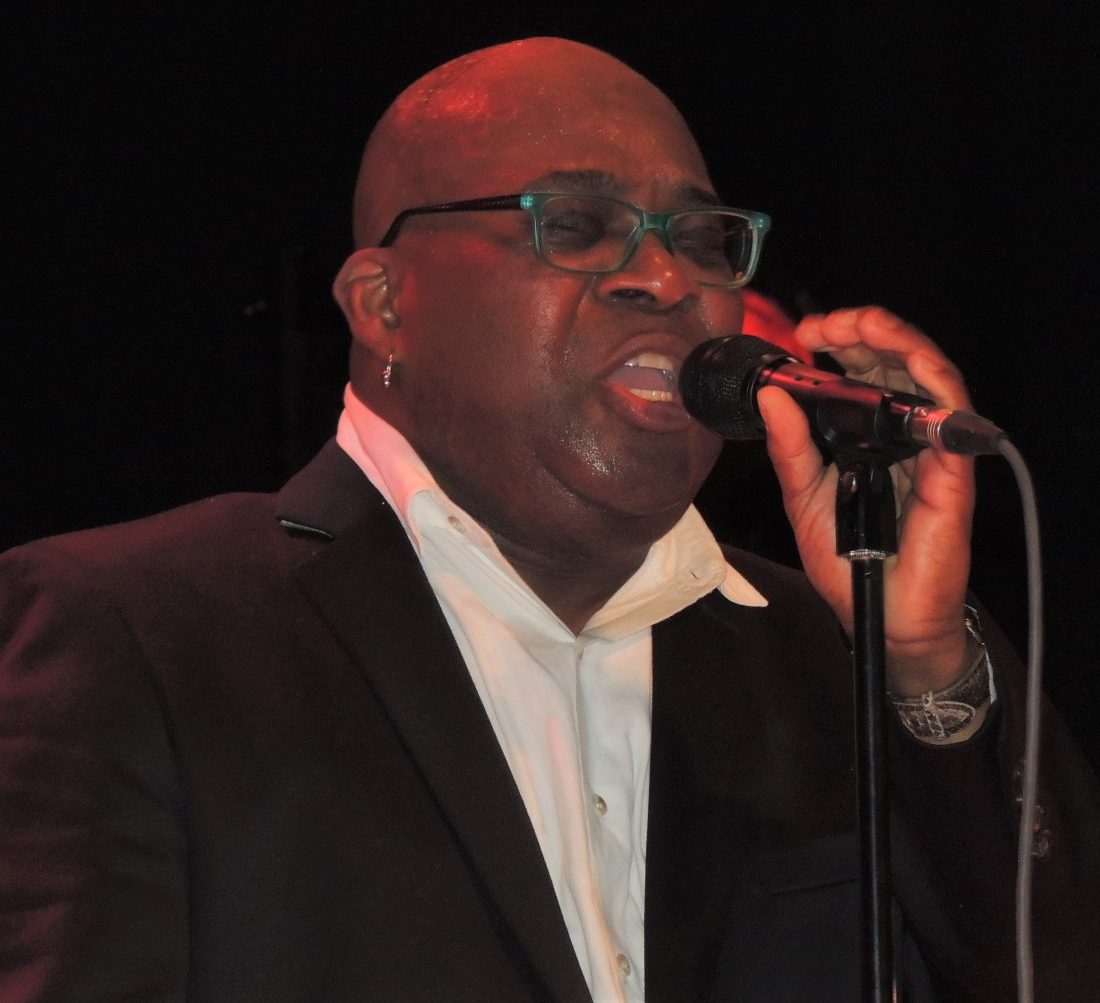 Every year the Mediterranean resort of Torremolinos hosts an award-winning hot rockin' weekender that's one of the finest in the calendar. We sent John Howard off to sunny Spain to enjoy the sounds of the Rockin' Race Jamboree.
Barrence Whitfield regained his crown as the king of screaming, sax-led rock'n'roll with a storming performance at the first major rock'n'roll festival of the year, in the sunny climes of southern Spain. He was helped by a band that featured six saxophones, three trumpets, three trombones and both electric and stand-up bass in the line-up for good measure – all wearing red fezzes and Lone Ranger masks. And Barrence was not even the headliner at the 26th annual Rockin' Race Jamboree in Torremolinos. That honour went to Doug Kershaw, the 84-year-old fiddle player beloved by fans of rockabilly, country and Cajun music, visiting Spain for the first time.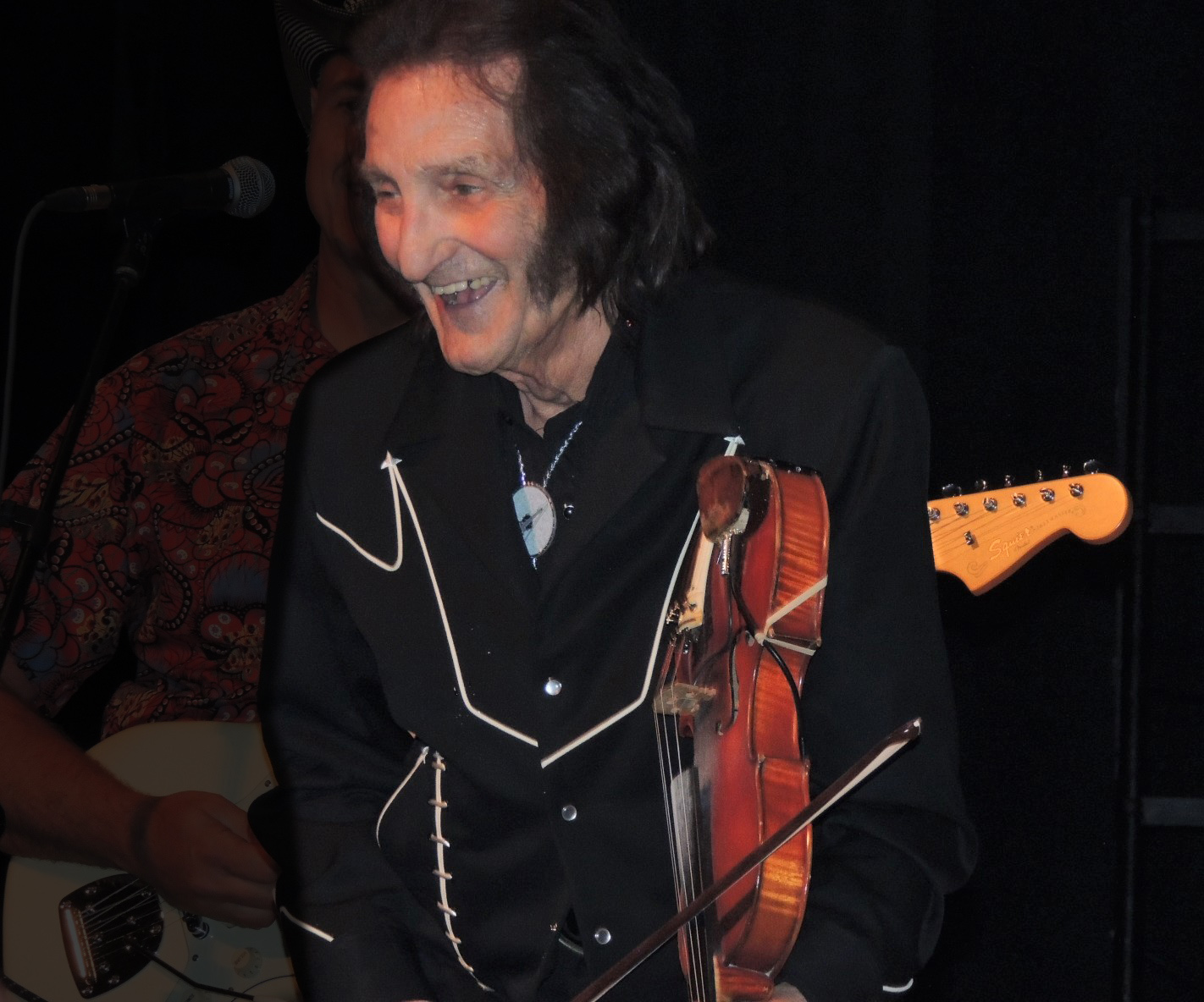 Veteran Doug Kerhaw headlined the event for his first trip to Spain
There were dozens of acts across at least three venues for this five-day event that attracted thousands of fans from around the world. Small wonder that this long-established event has been named the best festival on the planet by the well-qualified judges who hand out the Ameripolitan awards. As storms raged across northern Europe, the Costa del Sol daytime temperatures were peaking at 22°C.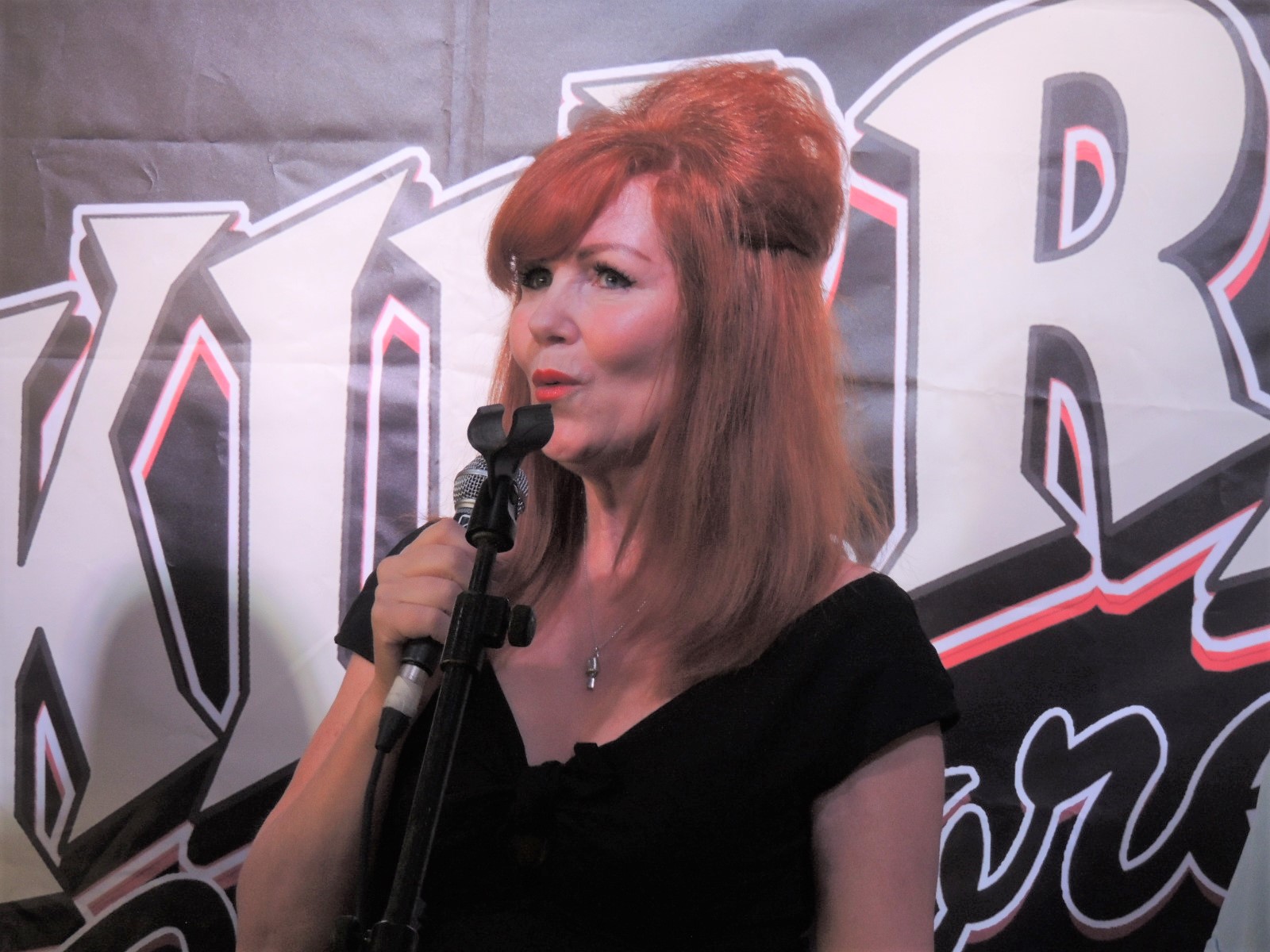 Above: Rusty And The Riots came all the way from Scotland
The initial band to make an impression on Thursday afternoon was Scotland's Rusty And The Riots, fronted by the first feisty redhead of the day at El Barracuda hotel. Next up was the similarly redheaded Anita O'Knight at the vast Auditorium Principe de Asturias where evening sessions are held, not a torch singer as the name might suggest, but a convincing rockabilly girl. Sightlines at the venue, thanks to a high stage and raked floor, are superb, and acoustics are equally excellent. Anita was a great warm-up for the rockabilly filly herself, Rosie Flores, direct from Austin, Texas, who hit the stage running with Johnny Cash's Get Rhythm, followed by her own composition, Simple Case Of The Blues. Playing her own lead guitar and dressed in a sparkling scarlet top, Rosie impressed as always, continuing with Dave Alvin's Long White Cadillac. On bass was the omnipresent Deke Dickerson (pictured below), but a surprise guest was Saturday headliner James Intveld who had written Crying Over You for Rosie to record, and they offered a fine duet on the number. Other highlights included a tribute to the late Janis Martin on Drugstore Rock'n'Roll, and a nod to Wanda Jackson on Let's Have A Party. We obeyed.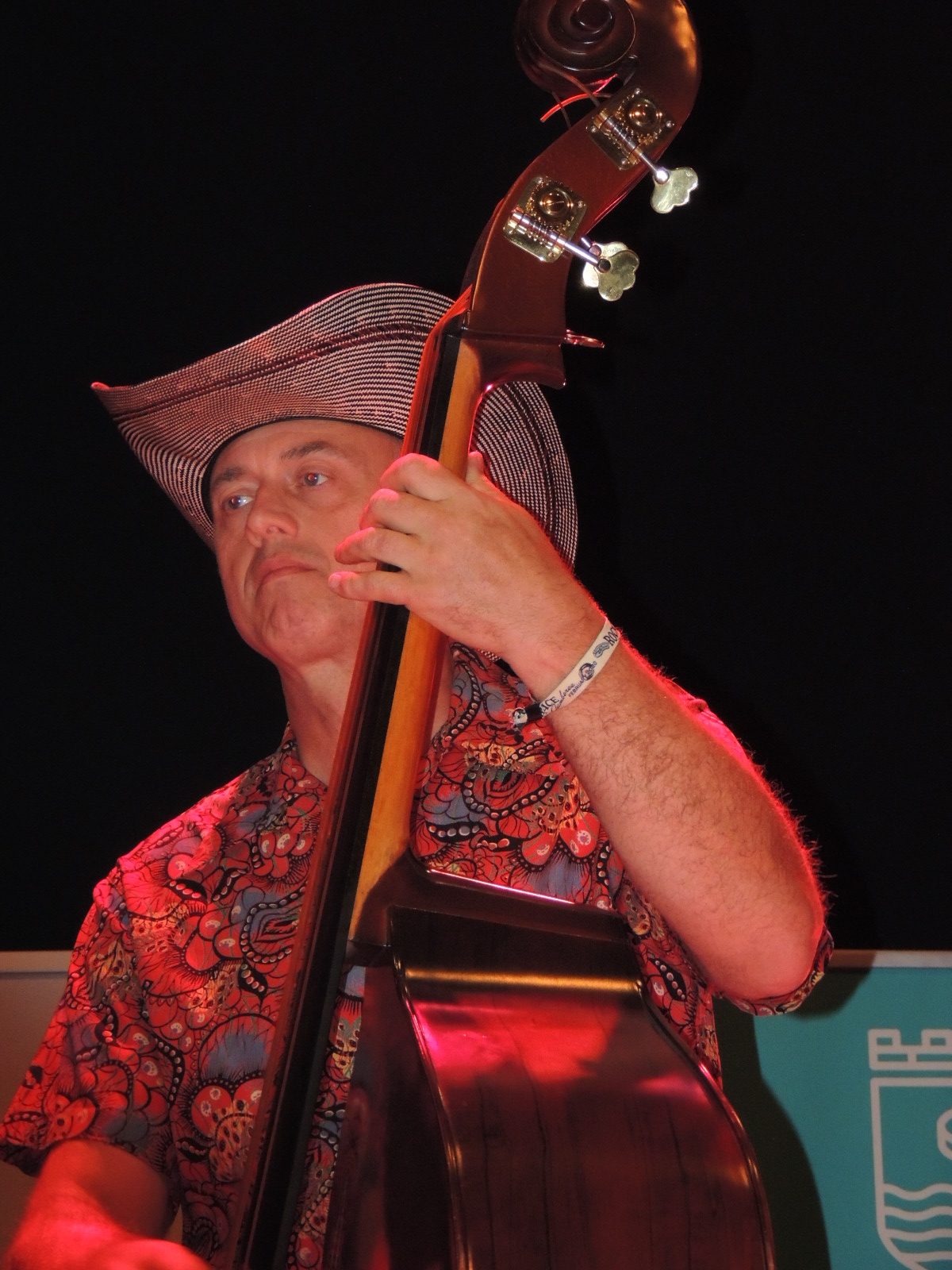 Deke was back on stage alongside his musical partner Dave Stuckey for the main man Doug Kershaw, honouring a promise made two years ago in Las Vegas that the 'Ragin' Cajun' should tour Europe. He opened with his debut hit Diggy Liggy Lo, an amusing romp that fits his light-hearted onstage approach, continuing with the equally less serious Hey Sheriff, which dates from 1958, part of his initial set of recordings for the Hickory label. He fiddles so fast his hands are a blur, none more so than on Cajun Joe (The Bully Of The Bayou) which was followed by It's Better To Be A Has Been (Than A Never Was), and Sweet Love Is Hard To Find. Dave and Deke, in perfect harmony, just the two of them, joined Doug for choruses, a great vocal sound that hopefully someone was recording.
It was Doug's own composition Hey Mae which introduced him both to U.K. rock'n'roll buyers in the 50s and the U.S. charts. That rockabilly-tinged anthem continues to resonate with today's audiences who favour cuffed jeans and long keychains, if not the general public. Probably his best-known song, attracting 30-plus covers over the years, not least by Rick Nelson, is the autobiographical Louisiana Man, which mentions his parents by name. Doug had a hardscrabble upbringing along with brother Rusty on a houseboat in the swamps, and the song celebrates that childhood, and he still performs it to perfection. Nearly as catchy is the chugging Why Don't You Love Me, worth a YouTube search if you don't know it.
Next up was long-term stalwart of the U.K. club scene Paul Ansell, fronting his band Number Nine, and Paul's choice of both Stetsons and material is exemplary. His familiar set included long-term favourites such as Sea Of Heartbreak, If You Ever Leave Me and I Forgot To Remember To Forget, sourced from Don Gibson, the Neville Brothers, and Elvis, illustrating the varied and eclectic nature of his set.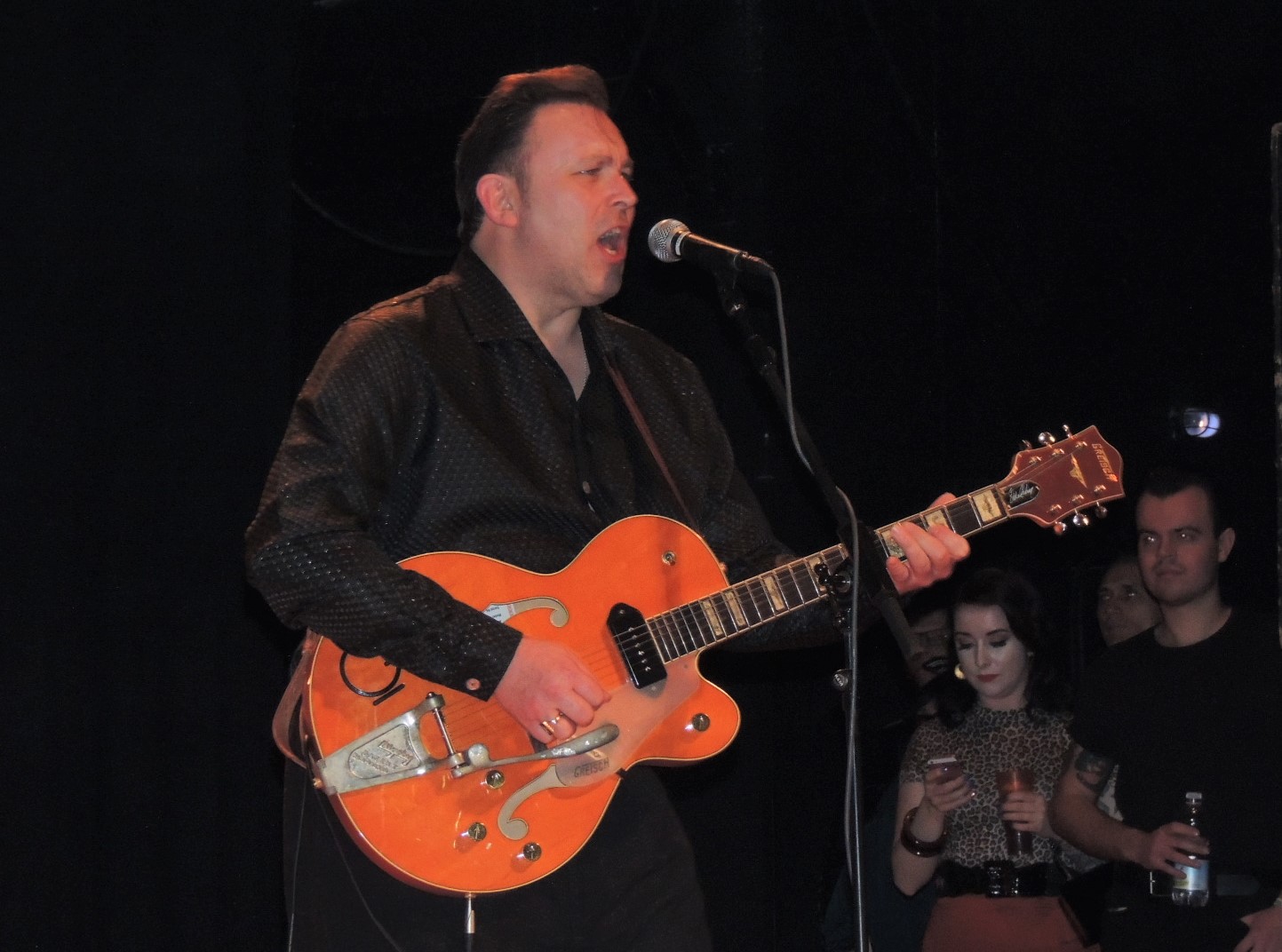 Darrel Higham performed alongside the esteemed Robert Gordon
U.S. visitor Robert Gordon always works with big-name guitarists, Link Wray and Chris Spedding among them, so to pair him with home-grown ace Darrel Higham seemed a natural choice [check out Gordon's new live album with Danny Gatton, The Real Humbler, out now – Ed]. Darrel had his own brief set, with three numbers including modern rockabilly standard Ice Cold, from Restless, delivered to the axeman's usual high standard. Robert himself, usually as motionless on stage as Roy Orbison, was uncharacteristically lively, roaming the large stage as he opened with what could have been a tribute to the late Jack Scott, The Way I Walk. This could have been bettered with the addition of a vocal group, but Robert's booming baritone remains the best voice of the 70s revivalists. The rest of the powerful set, including Johnny Horton's I'm Coming Home and Johnny Burnette's Little Boy Sad, was warmly received.
A feature of this festival is an unbilled "Surprise Band" with the late Crazy Cavan appearing in this slot last year. This time, with a 3am start, it was the turn of The Jets, and the 'Cotton Boys' did a fine set including hits Yes Tonight, Josephine, and Love Makes The World Go Round.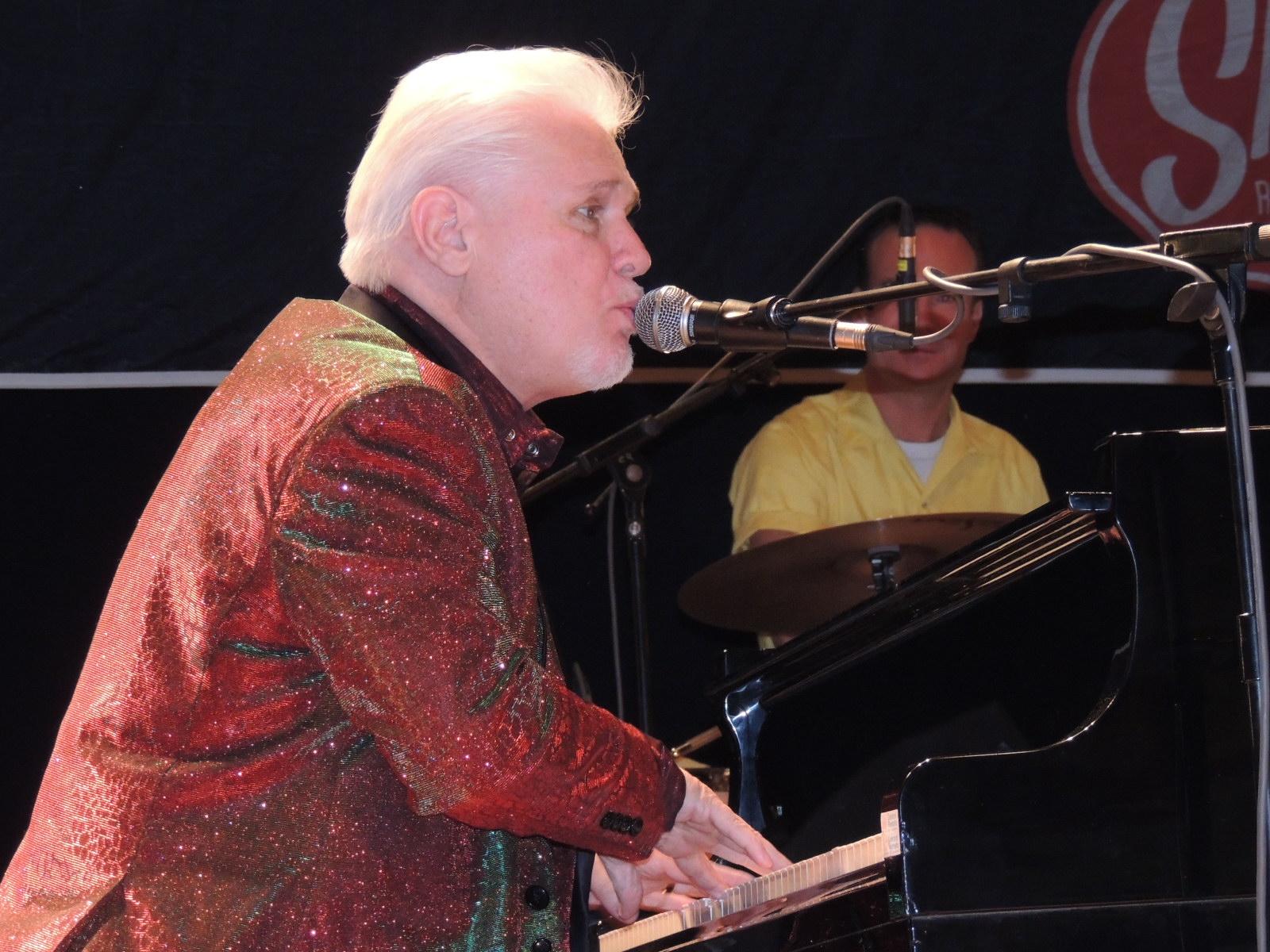 Charlie Rich Jr (above) kicked proceedings off in the main auditorium
Friday's show at the main auditorium opened with Charlie Rich Jr, who could well be described as the Silver Fox cub. Wisely, he chose to stick solely to his dad's Memphis recordings rather than his later country hits, and the crowd lapped up Big Boss Man, Mohair Sam and Rebound.
Dad wrote hits for other Sun/Phillips label artists, including Ray Smith, which led to the inclusion of Right Behind You Baby, but our favourites were faithful re-creations of No Headstone On My Grave and Midnight Blues. Nice to hear the seldom-played B-side, Everything I Do Is Wrong, flip of the big hit Lonely Weekends. Jr looks like his father and plays piano, too, but vocally there's no great similarity, but that does not detract from an enjoyable act. He has great taste in jackets as well.
The Hi-Jivers from Nashville lived up to their name with a 50s rhythm & blues set highlighted by a raspy female vocalist on numbers like Ike Turner's One More Time. A complete contrast was offered by The Dave & Deke Combo, fronted by Deke Dickerson and Dave Stuckey, who put the hilarity in hillbilly. Their harmony vocals recall the mastery of The Louvin Brothers as they present such unusual fare as The Hi-Tombs' Sweet Rockin' Mama, and Billy Briggs' Chew Tobacco Rag. From skiffle to rockabilly, the dungareed duo and their cohorts provided one of the highlights of the weekend thanks to originals like Deke's Chrome Dome and an unlikely revival of Elvis' Kissin' Cousins. The audience demanded, and got, two encores.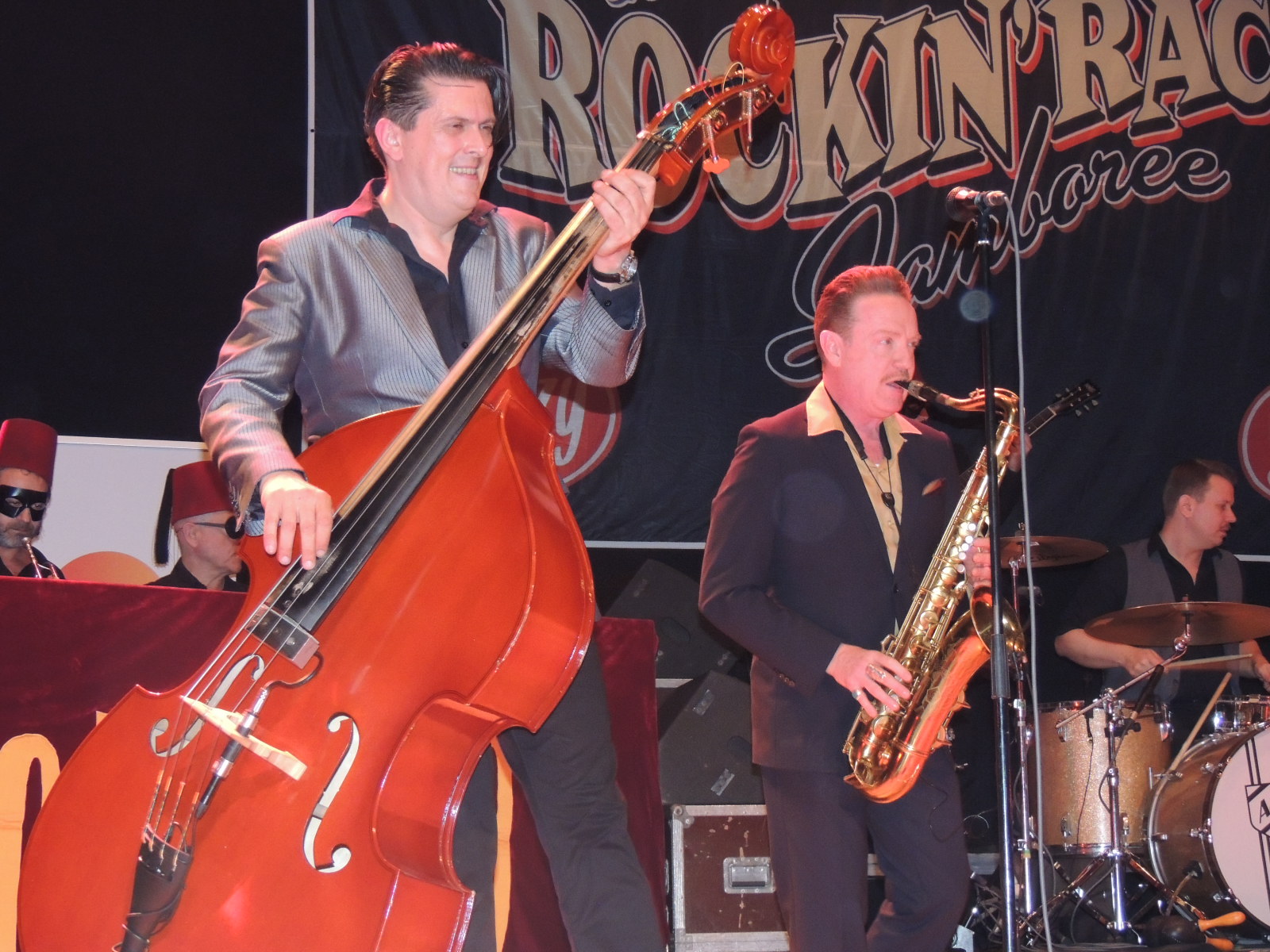 Above: Los Mambo Jambo Arkestra accompanied the great Barrence Whitfield
The down-home rural stylings gave way finally to the big city sound of Barrence Whitfield & Los Mambo Jambo Arkestra, perhaps the most powerful rock'n'roll ensemble I have encountered in decades of reviewing live music. It was the idea of the sax-blasting Dani Nel-lo to take six more saxophonists, three trombonists, and three trumpeters, dress them in red fez hats and masks, and team them with his group, who specialise in wild instrumental rock'n'roll. Then, to complete the line-up, he invited Barrence Whitfield from Salem, Massachusetts to provide the vocals. Barrence is a star in his own right with a string of rocking releases over the past 20 years and a blistering stage act.
R&B tour de force Barrence Whitfield was a highlight of the weekend
The band had learned the Barrence songbook, and he screamed into Bloody Mary, the opener from his second album Dig Yourself, to underline once more he is the successor to Little Richard and Larry Williams. "Power – that's what we bring you tonight," Barrence told the audience from the stage. Madhouse, Big Fat Mama, Georgia Slop, Stop Twisting My Arm, King Kong all followed, the high energy level maintained through to the climax, when Barrence doffed his suit to reveal a caveman leopard skin outfit. The final number? Caveman,
of course.
Saturday is often the highlight of any weekender, but it was going to be difficult to top Barrence and the band, and Sun And Lightning from Germany opening Saturday's main hall events didn't try. Instead they offered authentic sounding and sparse Sun label covers mixed with a few originals in a pleasing set.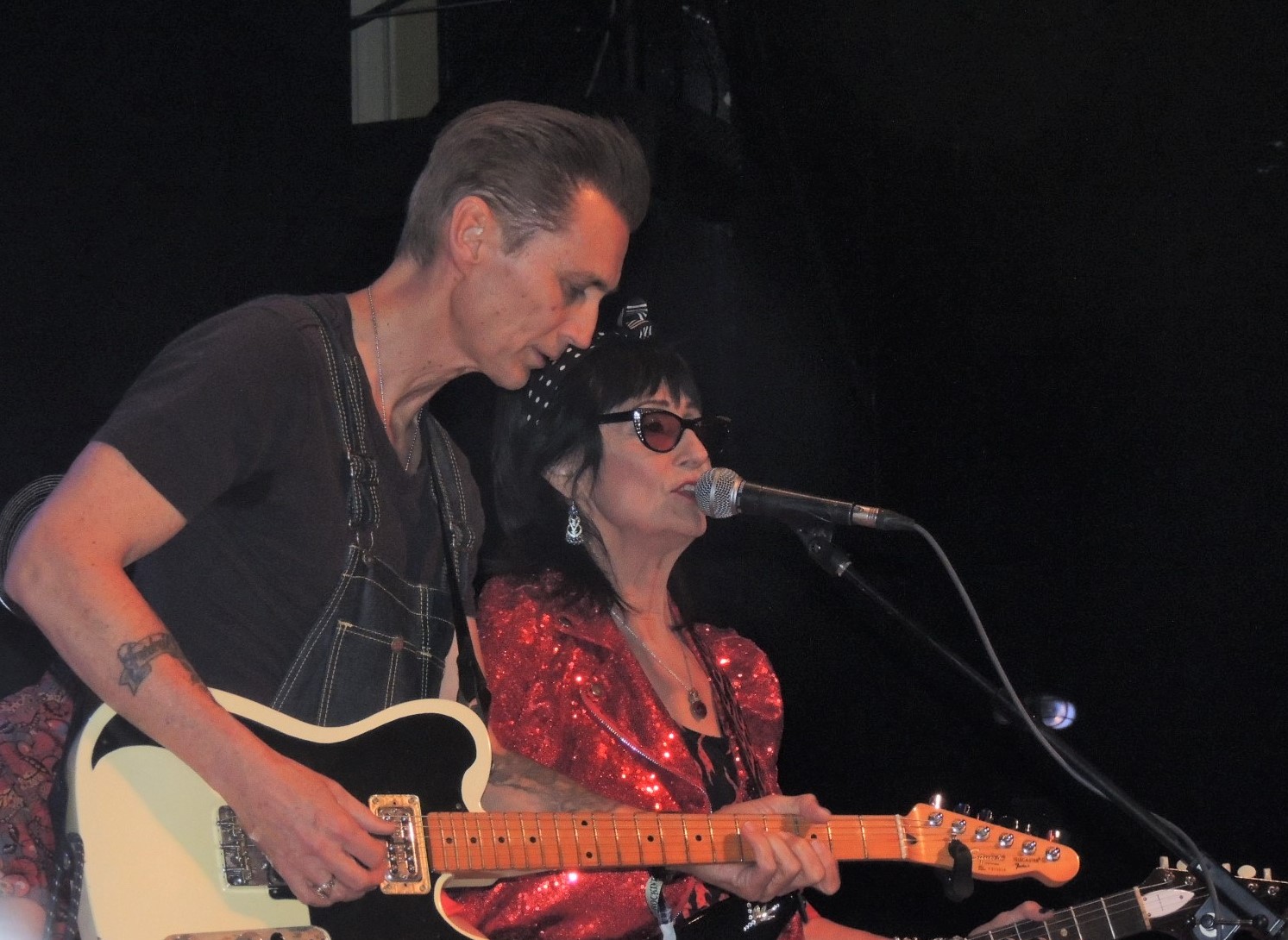 James Intveld (shown left with Rosie Flores) was probably the biggest name of the night, and his movie star looks attracted lots of young ladies to the front of stage. Always immaculately turned out in Western wear, James has a parallel career in film and TV in addition to his musical interests which have included a stint with The Blasters on lead guitar. Opening with the mid-tempo Stop The World, Let Me Off, he made several visits to the Buddy Holly songbook, starting with the seldom-heard Modern Don Juan and including Buddy's arrangement of Brown Eyed Handsome Man. James made full use of the whole stage, playing his amplified acoustic to both sides of the huge hall. Numbers included Playboy, a guest appearance by Rosie Flores to duet Crying Over You that he wrote for her last century, and a lengthy take on Tony Joe White's Polk Salad Annie. When Johnny Depp played the title character in John Waters' cult film Cry Baby, it was James who supplied the vocals for Depp, and a particularly strong version of Doing Time (For Being Young) concluded a well-
received set.
The Wailers, from Washington state, had a 1959 hit with the instrumental Tall Cool One, inspiring other bands from the Pacific North West including The Sonics, The Kingsmen and, now, Londonders MFC Chicken. The last named, in crisp white suits, presented a tribute to their near-forgotten neighbours which included the hit, its flip Dirty Robber, and Wailers covers like Little Richard's Bama Lama Bama Loo. No, nothing to do with Bob Marley's lot, this was a sax-driven combo whose slot went down well despite the audience no doubt unfamiliar with 90 per cent of the material.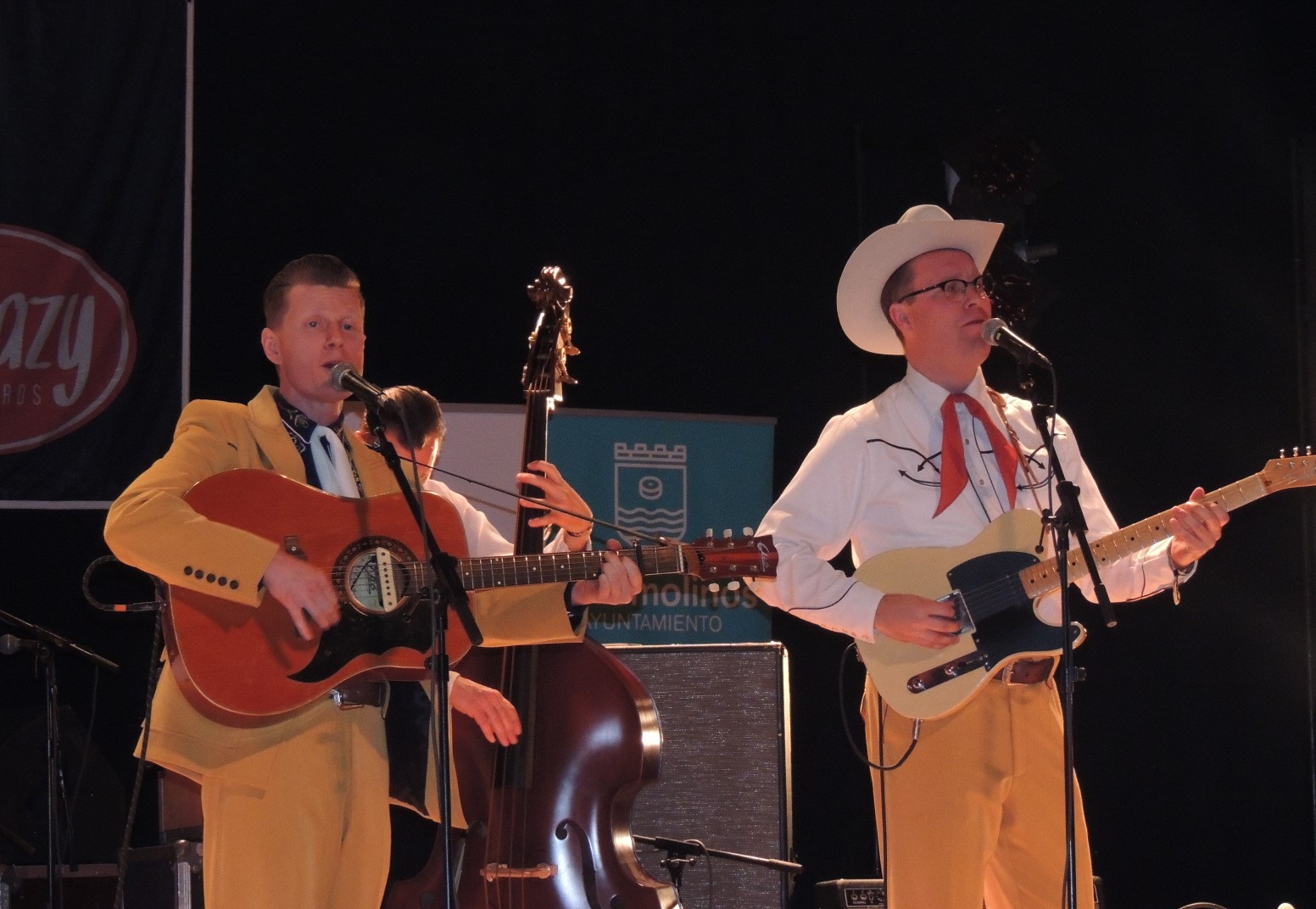 The Country Side Of Harmonica Sam is not the title of an album, but the name of the band fronted by Sam himself, and has three CDs under its collective belt. They sound so authentic, and look the part in Western wear, that it's difficult to believe they're Swedish, as they run through a set of 50s and 60s country. Look Out Heart is a dancefloor hit in rocking clubs in the U.K., and got the biggest cheer of their set. Sam, of course, came to prominence first blowing the blues with his fellow countrymen The Domestic Bumblebees, so The Blues Side of Harmonica Sam may well be imminent.
Chuck Mead, founder of the country revivalists BR549, has made umpteen appearances on the Grand Ole Opry and he stays with the country with his current band Grassy Knoll Boys. He pioneered the musical genre that was to become Americana, and has rock'n'roll credentials, too, as the producer of the stage show Million Dollar Quartet. Numbers like Shake, Big Bear In The Sky and Evil Wind got a good welcome despite the lateness of the hour.
It was left to the UK's Blue Cats, whose cult following continues to grow since they reformed, to close the night.
We've concentrated on the large main venue for the festival, but there were dozens of other bands and activities associated with the event, many at the El Barracuda Hotel. Notable was a lecture appearance by Richard Weize, founder of esteemed reissue label Bear Family, who explained why he gave up the reins to the operation when he turned 70. There were poolside parties at the hotel every afternoon too, with live bands playing, and the action moved to the seafront Plaza del Remo on Sunday for a second all-instrumental session with Mambo Jambo Arkestra. Not forgetting the vintage car show, hundreds of merchants selling everything from rare records to belt buckles, and rock'n'roll playing in most bars and restaurants throughout the resort.